Globally Inspired Design: Home Tour ~
Monica Bhargava: Executive Vice President of Pottery Barn & Williams-Sonoma
Monica Bhargava exhibits her impeccable taste revealing her 'globally inspired' California home that features a stunning white space filled with some of the best furniture and home décor carefully selected from both Pottery Barn and Williams Sonoma. The home tour was featured in House Beautiful and clearly defines Bhargava's global, collected design in every room.
"Someone once said that a home is like an autobiography, and my California living room is filled with things I love – a Beni Ourain rug, Indian sculpture, a wood mirror found at a local flea market." ~ Monica Bhargava
This magazine-worthy space manages to balance polish and warmth by adding layers of personality. Although she is loyally decorating from both brands, the space is entirely unique and inviting. It should also be noted that this look may appear to be a bit busy for some who prefer a more minimal approach to design, yet it still portrays how the layering of textiles can provide a cozy lived-in look to whatever degree you choose to incorporate in your own home. The natural materials mix textures and patterns in a subtle manner and the inclusion of show-stopping pieces with earthy, neutral accessories, creates a soothing yet sophisticated appearance. The original house was expanded with a new addition, encompassing an open kitchen, a dining area, and a family room.
In the image above, Bhargava achieved a designer look by converting photos to black and white and featuring them clustered together on a wall. Use white mats and black frames in a variety of sizes to create this feel.
Living Room
In the living room, there are two Bedford sofas by Williams-Sonoma Home that are slipcovered in washable Classic Linen. They are both accented with pillows made from vintage textiles and inspired by Moroccan and American blankets, that serve as strong anchors. Nailheads outline the shape of the Williams Sonoma Home's Chelsea wing chair, upholstered in Bitter Chocolate Mohair, and give it "a little more attitude," she explains. The floor lamp and sea-grass rug are by Pottery Barn. Farallon woven armchairs and wood and iron chandelier by Williams-Sonoma Home. Bolton Lanterns by Pottery Barn. Benjamin Moore Regal Select in China White on the walls and Simply White on the ceiling.
Every room contains at least one statement piece, like Williams-Sonoma Home's Drummond armchair, covered in zebra-print cowhide, next to a vintage chest of drawers.
Kitchen
The kitchen opens to the dining room and family room with an open concept that makes it a central hub for Bhargava's family. The large island is where everyone ends up spending their time. "Everything is centered here," Bhargava said in the interview. "I can put out the best hors d'oeuvres on another table somewhere else, and it doesn't matter. Everyone goes right back to that island." The combination of the white walls and neutral textiles provide the home with a refreshing and homey feel.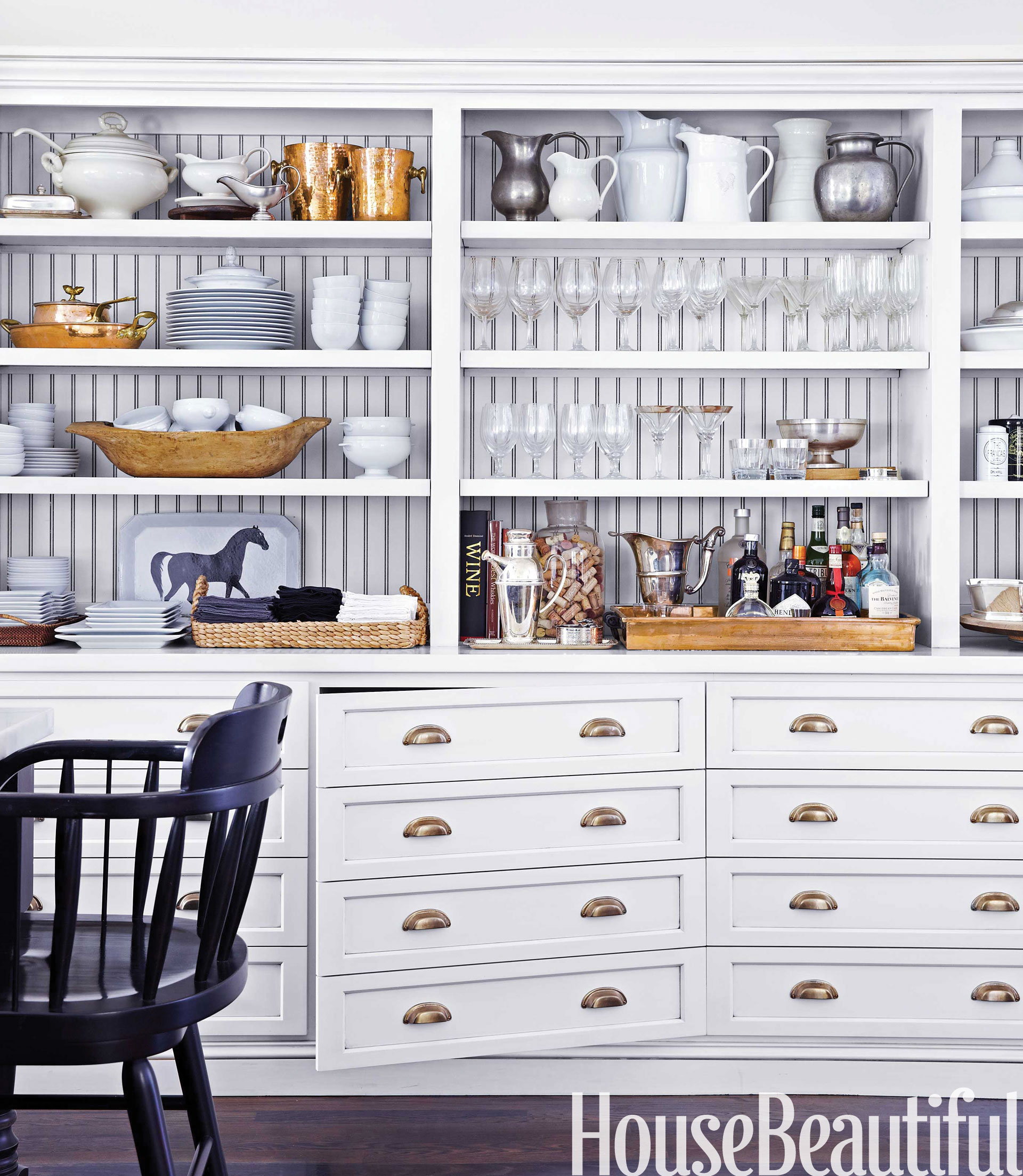 Items used every day are easily accessible on the kitchen's open shelves. Inspired by a vintage printer's desk, Bhargava had the cabinets made to look like drawers.
Master Bedroom
The master bedroom is most recent addition to the house. "We wanted a sanctuary", said Bhargava. A serene look is achieved by incorporated cozy textiles and a clean color palette. Shown above is the Robertson bed with clean lines and low headboard by Williams-Sonoma. The Rustic Luxe bedding and antique mercury glass lamp are by Pottery Barn.