Modern Coastal Design
Modern coastal design is a fresh take on the traditional coastal style.  It's all about creating a casual and laid-back space using stressed or distressed finishes, modern lighting, bright walls, shades of blues and grays and woven textures.
My two favorite sources for this style are Serena & Lily and McGee & Co. Both carry furniture and decor that fit in perfectly with this design aesthetic.  Their products share a similarity with the focus on incorporating exceptional pattern and texture.
Serena & Lily Modern Coastal Design Ideas
Serena & Lily has a gorgeous array of vibrant color and pattern this year in their furniture and home décor line. From beachy blues with plenty of texture and all the right details to airy seersucker that brings a seaside spirit to the home. The look is always relaxed, refined and is an elevated take on the casual. The result is a home with a vacation state of mind.
What I love best about Serena and Lily is that they make it easy to create a cohesive design that blends seamlessly from room to room. The patterns and prints all work well together, and allow one to either lean toward a minimalist aesthetic or go bright and bold.
Their style is breezy California with a passion for great design. Here you see classic influences with modern lines and eclectic inspiration combined with great American style. They believe home should be a welcome oasis – your favorite place to retreat, to gather and to live well everyday. Their collection at once feels put together, yet livable – from a well travelled and personal point of view. Here are a few of my favorite pieces this season.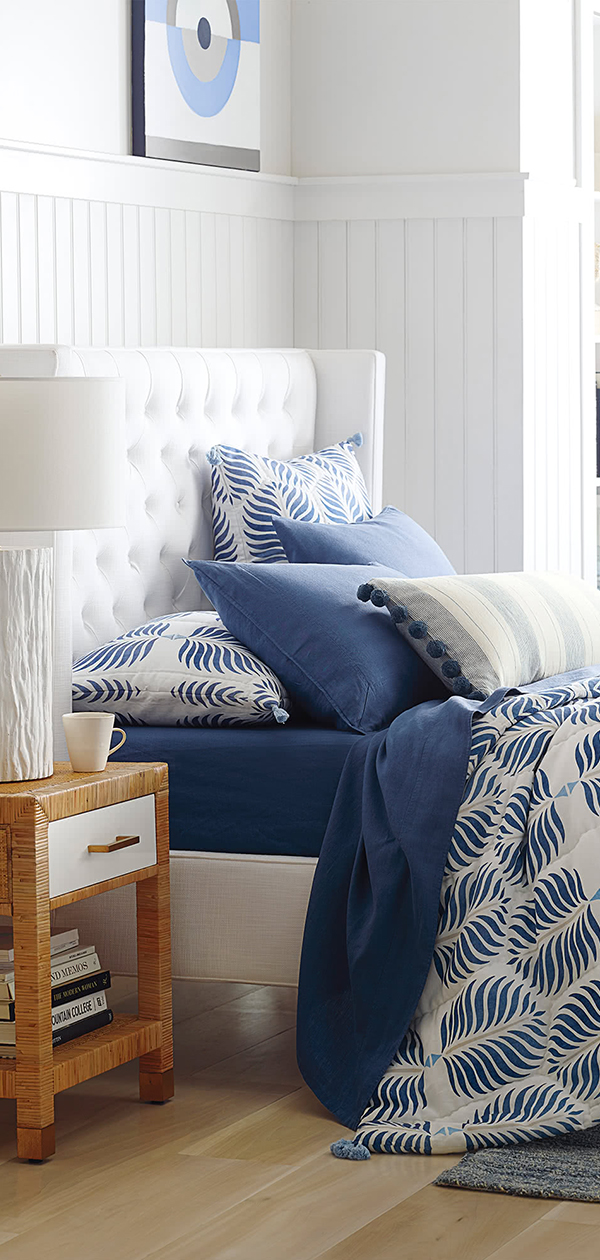 Serena & Lily's color palette this year includes the traditional modern coastal design aesthetic of gorgeous blues, grey and white as well as moss green and terracotta. You see this carried through everything from bedding to furniture, throw pillows, blankets and decor. The bedding shown above is from the Grenada Quilt Collection and was inspired by classic Indian botanicals. Quilted by hand, it has a charming quality made chic by the bold print and tassel detailing.
This breezy living room is Serena & Lily's 'Grady Design'. I think it's so well-done. Bright and fresh, it encompasses California coastal at its best. The coffee table lightens up the room with a coastal touch, and has a clam-shell veneer that's smooth as polished stone. Balance and texture are created with the fabric corner sectional, natural rattan chairs, unique lamps and stunning collection of throw pillows.
The 'Riviera' Dining Room incorporates shades of blue, with crisp white and a sumptuous mossy green. The Sunwashed Riviera Chairs are a reinvented version of the classic Parisian bistro chair and add a mix of the familiar and the chic. The upholstered dining bench is customize-able, offering a wide range of fabric choices to choose from.
The 'Jamieson' Living Room combines shades of blue from navy to sky with plenty of pattern and texture. What I love about this room is that it's contemporary, yet warm and inviting. The inlay table lamp, eclectic arrangement of throw pillows and furniture compliment the detailed wall and fireplace treatment. A lovely space!
A perfect 'Beach House' Dining Room that works beautifully with the subtle sophistication of natural matting. The texture is fantastic – it can go beachy or elegant with just the right amount of restraint. A blue-and-white wide stripe pattern was chosen for the dining bench and the chairs are part of the Riviera collection.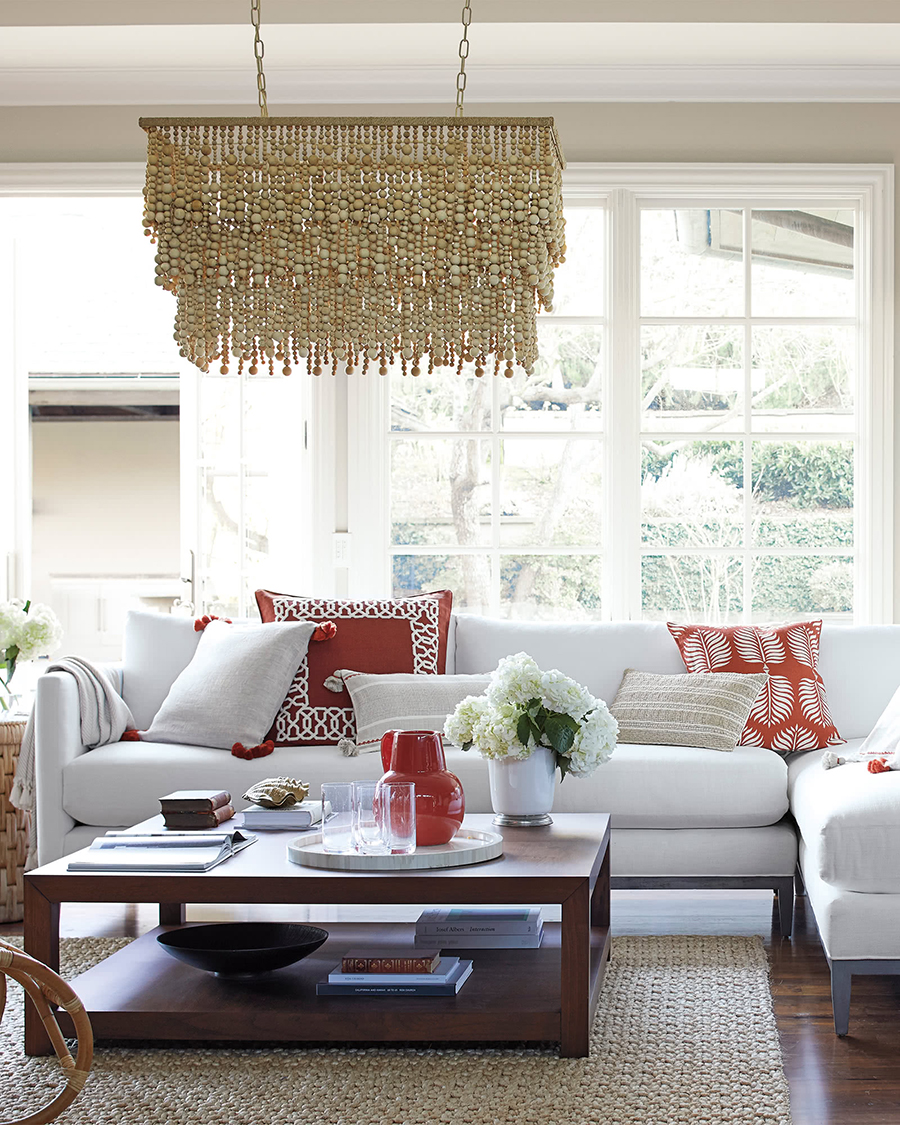 I love the beautiful layered elements incorporated in the 'Barton Living Room' designed in classic Serena & Lily style. It's a space that has the perfect balance of breezy and crisp, casual yet luxe. It's thoughtfully designed and yet not overdone. Another example of a room that inspires a more relaxed way of living.
Inspired by a botanical print from their travels, Serena & Lily pumped up the scale in the Granada Pillow Collection and played with vibrant contrasts to come up with this statement pattern. They love it as the single bold accent in the room or made more lush by a sea of solids in a complementary hue. With hand-embroidered metallic threads, an exposed brass zip, and a tassel pull, this is clearly all about the details (as any indispensable pillow should be). Available in Blue, Navy/Moss, Terracotta and Fog.
All three of the bedrooms above are great examples of modern coastal design. Light, airy with attention to detail. The first two images show Serena & Lily's Wesport Bedroom Design. The bedding is the Westport Quilt – a staple of coastal style, seersucker that has an airy quality and puckered texture. It's preppy meets romantic for a look that will never go out of style.
The third image is the 'Seabright Bedroom' and Seabright Linen Duvet Cover. True to its namesake, this original pattern is inspired by the colorful stripes of summer – beach towels, umbrellas, and surf tees. The result is a breezy vibe and a year-round versatility that makes this a bedding must-have. A chambray weave softens the stripes, giving them a slightly heathered look. Made in Portugal with European linen that just gets softer and better, wash after wash.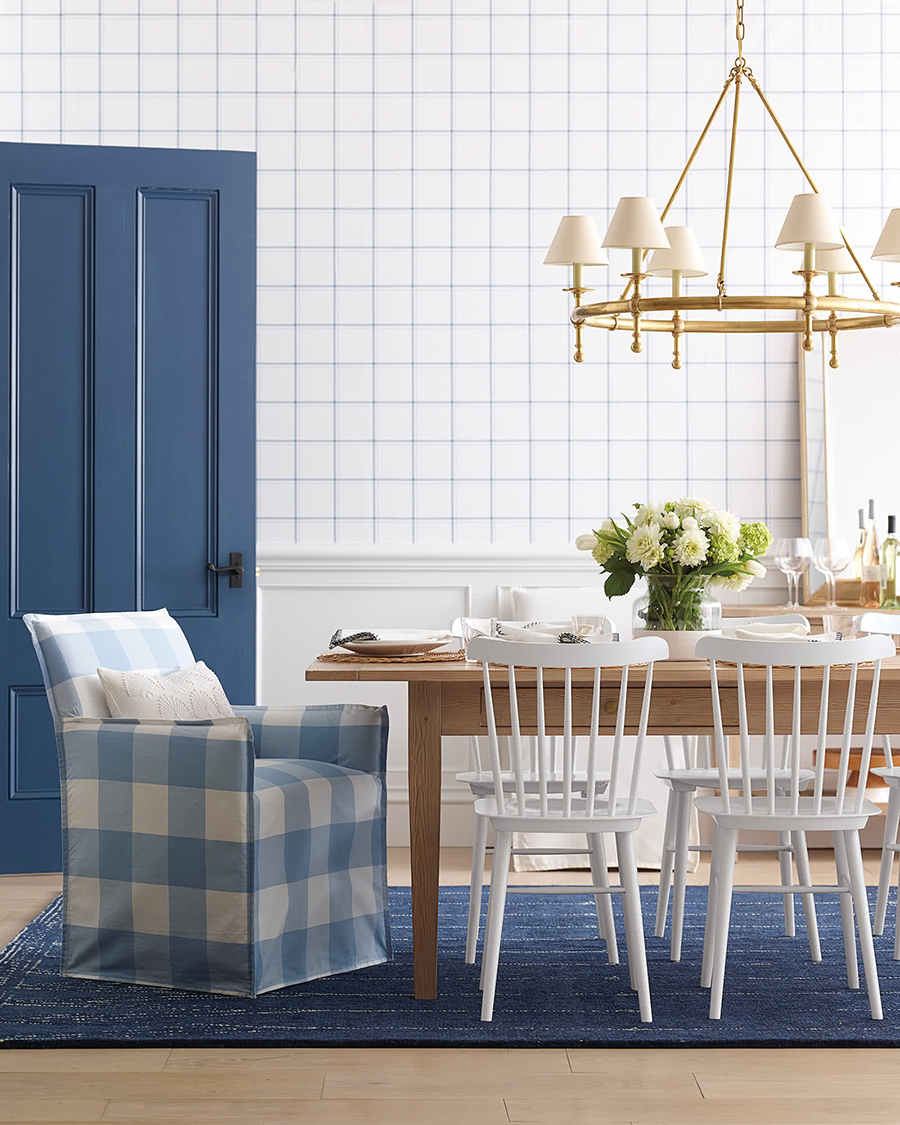 The 'Beach House Dining Room' incorporate shades of indigo to sky with bright white. It's another great example of the layered styles created by Serena & Lily, with great attention to fabric choices and exquisite details. The throw pillows show the many opportunities to add warmth and style to a living room using pattern and texture.
Shop the Modern Coastal Design Post

View Recent Posts
Summary
Article Name
Description
Modern coastal design is a fresh take on the traditional coastal style. It's all about creating a casual and laid-back space using stressed or distressed finishes, modern lighting, bright walls, shades of blues and grays and woven textures.
Author
Publisher Name
Publisher Logo