French Country Decorating Ideas
Looking for French country decorating ideas? This post covers the various aspects of this style of design with decorating tips and stunning images of French country living rooms, bedrooms, dining rooms and kitchens.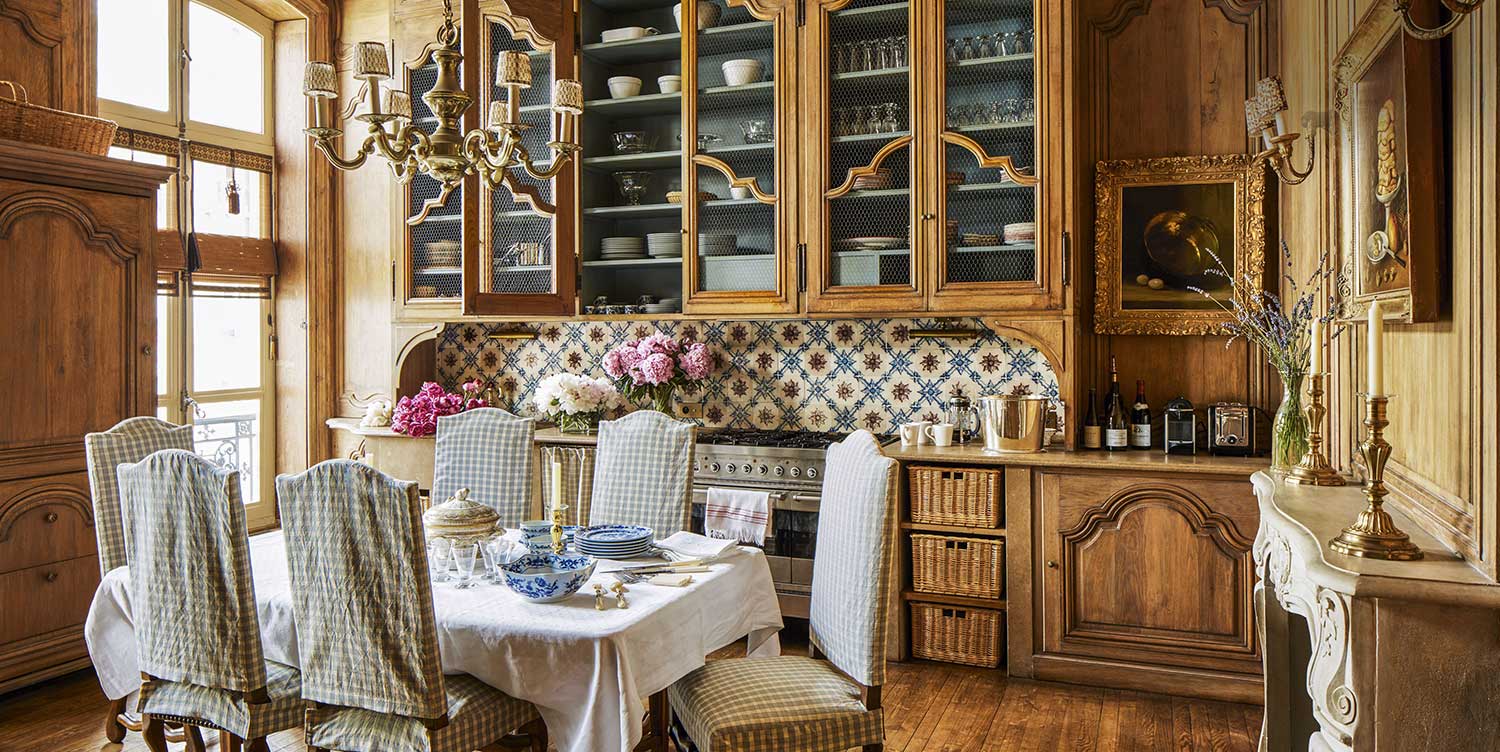 What is French Country Design?
French country is a broadly appealing design style that is inspired by the centuries-old farmhouses of rural France. It is the embodiment of elegance that strikes a perfect balance between beauty and comfort.
It is epitomized by soothing hues, rich use of fabrics, provincial furniture, exposed wood ceilings, fresh cut flowers, natural linen fabrics, finely upholstered chairs and sofas, rustic antiques, and intricate details. It is a curated blend of European elegance and rustic country style.
Rhode Island-based designer Cyndie Seely defines the difference between French country and English country design styles. She notes, "This style [French country] is marked with strong notes of elegance and polish, but still upholds its ode to countryside living. In a true French country kitchen, you'll easily spot characteristic mustard yellow and warm reds that reflect the surrounding countryside. The French country kitchen has earthier tones, while English tones are purer," says Ceely. "For example, a French kitchen may showcase a mossy green while an English kitchen has a hunter green. With French fabrics, you'll see flowers lined up in a somewhat organized way," says Ceely. "Toile fabrics are also very popular in French kitchens. They depict gardens, fountains, and other sanctuaries of elegance for the French."
French country design often incorporates distressed wood, mixed patterns, and ruffles. Buyer Select showcases high-end French Country Decor.
What are French Country Colors
The colors in French country design are serene and modest and draw inspiration from the natural landscape. Here you'll find earthy hues such as pale yellow, soft blues and greens, and peony pink. Stick to the warm side of the color wheel to remain true to this design aesthetic.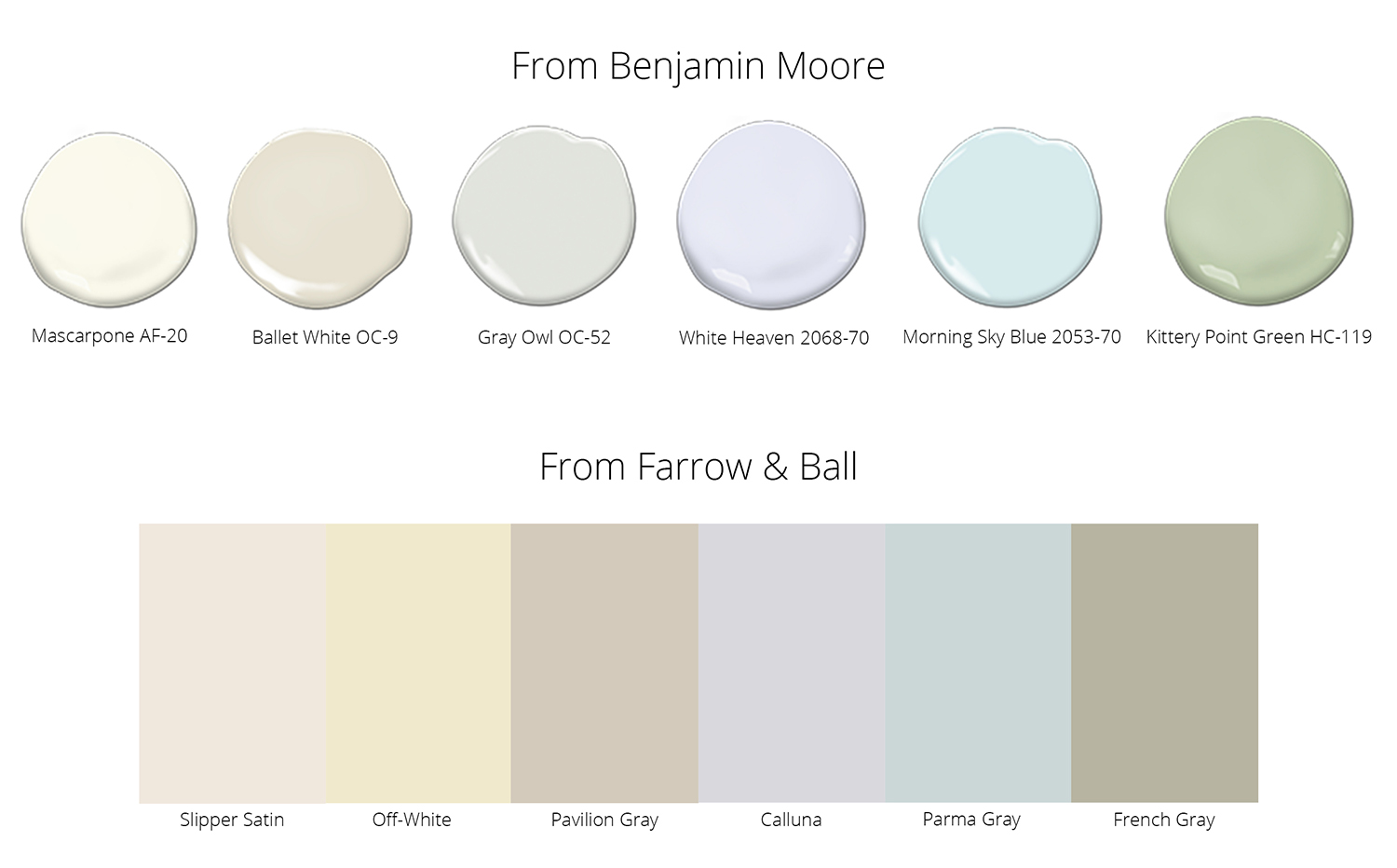 How to Decorate a French Country Bedroom
A well-designed French country bedroom recalls the rolling hills and valleys that exist in rural France. If you want to create a bedroom that transports you to the French countryside, it's important to create a space that combines effortless elegance, warmth, comfort, and homey details.
There's nothing that quite compares to a refined provincial bedroom in calming neutral tones. There are several approaches one can take in creating a French Country bedroom. As with most styles of country design, there is an opportunity to expand on the traditional concept.
From the elegance of old-world chateaux, to simple and rustic (cottage in Provence), to a modern aesthetic, what ties all of these together is that a French Country bedroom is always inviting, relaxing and welcoming.
The gentle hues, luxurious bedding, and homey details of a French Country bedroom engage the senses and invite relaxation. Designed as if accumulated over time, French provincial bedroom decor embraces simple accents, sturdy fabrics, and practical elements that keep the look uncluttered and refreshed. Layers of plush bedding and a deeply tufted fabric headboard create a comfortable and restorative sleeping space. Nature-inspired artwork breathes life into the room, as sheer window treatments allow soft sunlight to filter in. Enhance the space with useful pieces like an arm-chair, storage bench, mirror, and lamp to make daily routines a breeze. – Overstock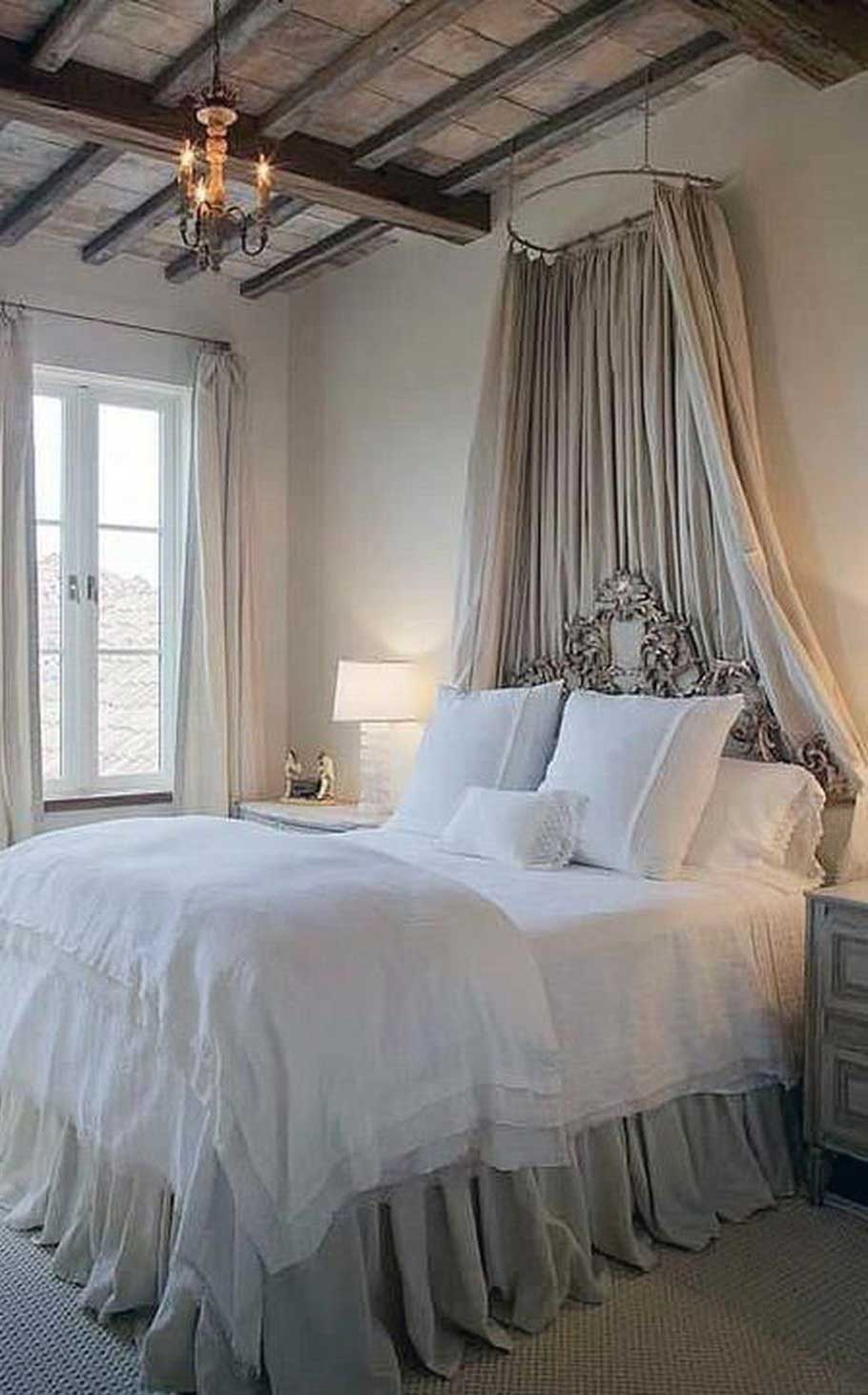 Elements of a French Country Bedroom
Muted Color Palette
Neutral walls are a trademark of French Country style bedrooms and should be in warm and creamy tones like ecru or ivory rather than a pure white to prevent the room from looking modern or cold. Additional colors to be added should be drawn from nature, such as soft yellows, pale greens, muted blues, and peony pinks.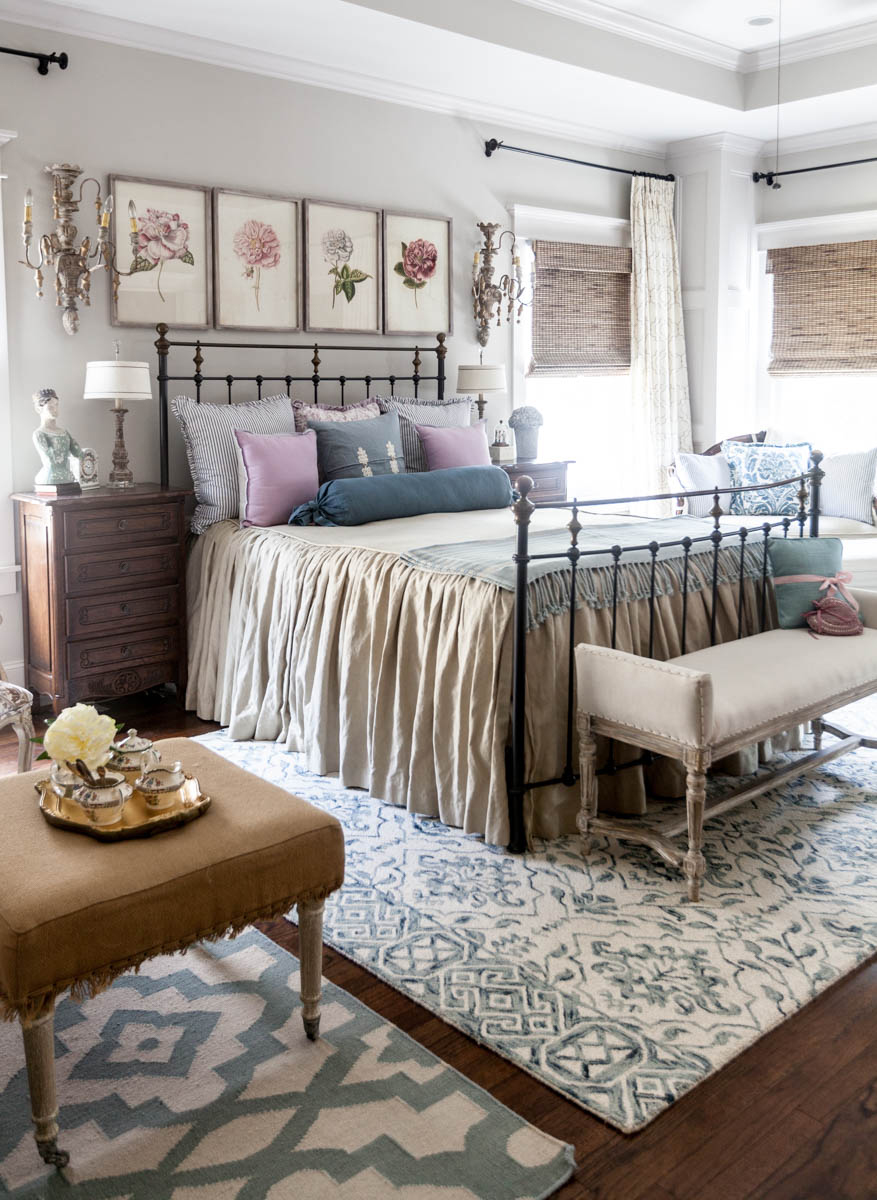 This beautiful rose colored linen duvet cover provides a warm and lived-in look to this French Country Bedroom. Linen bedding holds up well over time, and blends in perfectly with antiques.
French Country Bedrooms by Anita Joyce
These beautiful French Country Bedrooms were designed by Anita Joyce, named one of Country French magazine's favorite Stylemaker. She's also author of the book French Accents, Farmhouse French for Today's Home and has a wonderful blog focused on French Country Decorating titled Cedarhill Farmhouse. She's been working on her bedroom (image on left) for 6 years on and off, and the result is a delightfully feminine room with shades of lavender and blues, plenty of texture and delicate botanical prints.
Anita suggests adding a soft rug under your feet to add detail in the room.  She has three different rugs in shades of cream and blue.  A cozy chair and ottoman provide the perfect place to enjoy a morning cup of coffee or cozy up under a blanker to read a book. Another tip is to have a place to display some of your favorite things in your bedroom to personalize the space.  The throw pillows here instantly add color and personality to a room. Anita also places lavender sachets in the dresser with her clothes to provide a sumptuous smell to her clothing and bedroom.
Images courtesy of: Cedar Hill Farmhouse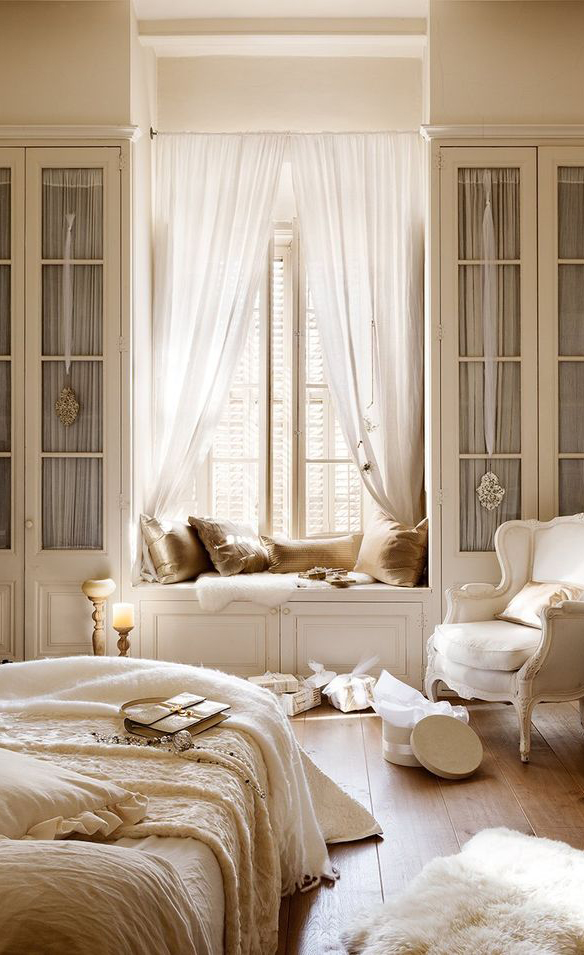 Image courtesy of: Pinterest
Distressed Furniture
French Provincial furniture is steeped in tradition, endurance and passed from generation to generation. The French love their antiques, and it's important to include vintage or antique furniture. Choose furniture that appears to have withstood the test of time to help create that old-world feel.
The bed should be the focal point of your bedroom, and the headboard works towards creating that special bit of magic. From white distressed pieces to wrought iron, antique brass, and burnished bronze – all work well in creating a French country bedroom. For a more modern approach, you could also incorporate an upholstered linen bed in antique white. Tufted, vintage and painted headboards are other great options.
Elegant Window Treatments
Window treatments can add softness and luxury to a bedroom and help to create a serene sanctuary. Frame your windows with beautifully pleated linen curtains in a variety of hues that provide additional texture, warmth, and elegance as well as a sense of timelessness.
Hang a Chandelier
Chandeliers add the perfect finishing touch to a French country bedroom, whether they are weathered and rustic or delicately designed with hints of gold and shimmering crystals.
Be Sure to Add the Bling
Subtle touches of silver or gold add refinement and elegance. This can be achieved by adding a gorgeous metallic trimmed mirror, sparkling lighting fixtures, and mirrored picture frames.
Create an Intimate Seating Area
This doesn't require a large area to accomplish. It's all about finding the right antique style chair where you can sit and enjoy a cup of coffee in the morning or read a book during the day. Place a small-scale table beside it, add an elegant lamp and a vase of flowers to create a cozy and inviting nook.
Add Accents that Make it Unique
Florals add a beautiful touch to any room – but with French Country decorating it is one of the essential layers in the design. From roses to lavender and peonies, flowers add warmth, depth, and country charm.
Choose vintage pieces that accentuate your personality and are timeless and chic. Throw a dreamy faux fur throw at the end of the bed and place glass vases on counters and shelves. Cozy rugs add further pattern and texture to the space.
French Country Bedding
The choice of bedding you use can make a powerful statement in defining your style. There are many options to choose from, such as cozy linens to comforters and duvet covers with country-inspired prints, such as toile.
French Country Kitchen Ideas
A French country kitchen is the heart of the home and features items such as whitewashed furniture butchers blocks, country fabrics and jars holding food staples.
"The French country kitchen is where your rustic charm will shine. And it's the perfect room to spruce up in time for Thanksgiving dinner and other fall gatherings. A clear way to add French country style to your kitchen is with a wooden kitchen island. The wood creates a lived in, country cottage look that will add richness to the kitchen. Want to add a modern twist? Paint your French country kitchen island in a bold color, like the sublime blue island in the example above. And if a wooden island is too "farmhouse" for your personal style, you can still incorporate rustic charm with subtler elements, like wooden counter stools upholstered in linen or leather. " – Kathy Kuo Interior Designer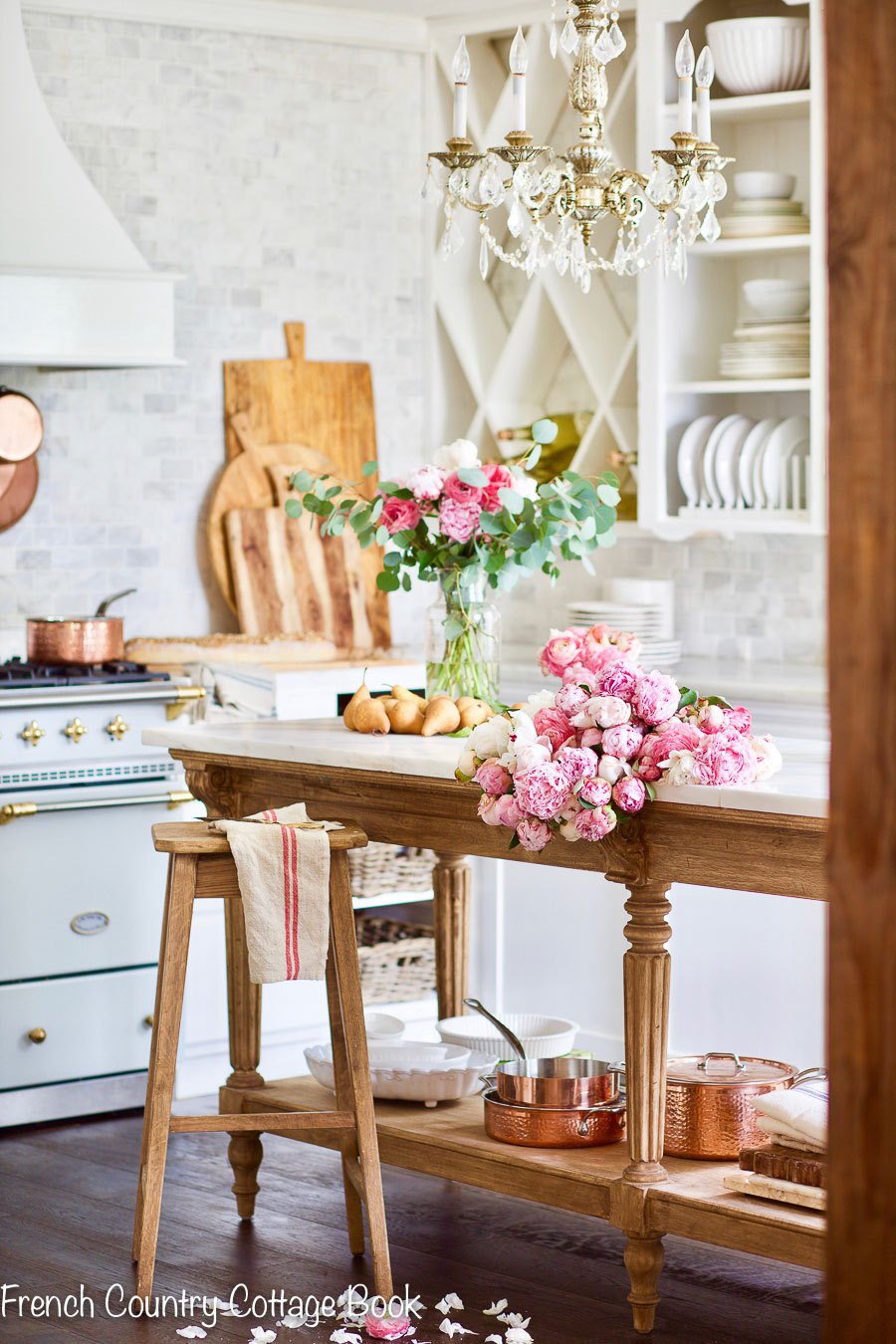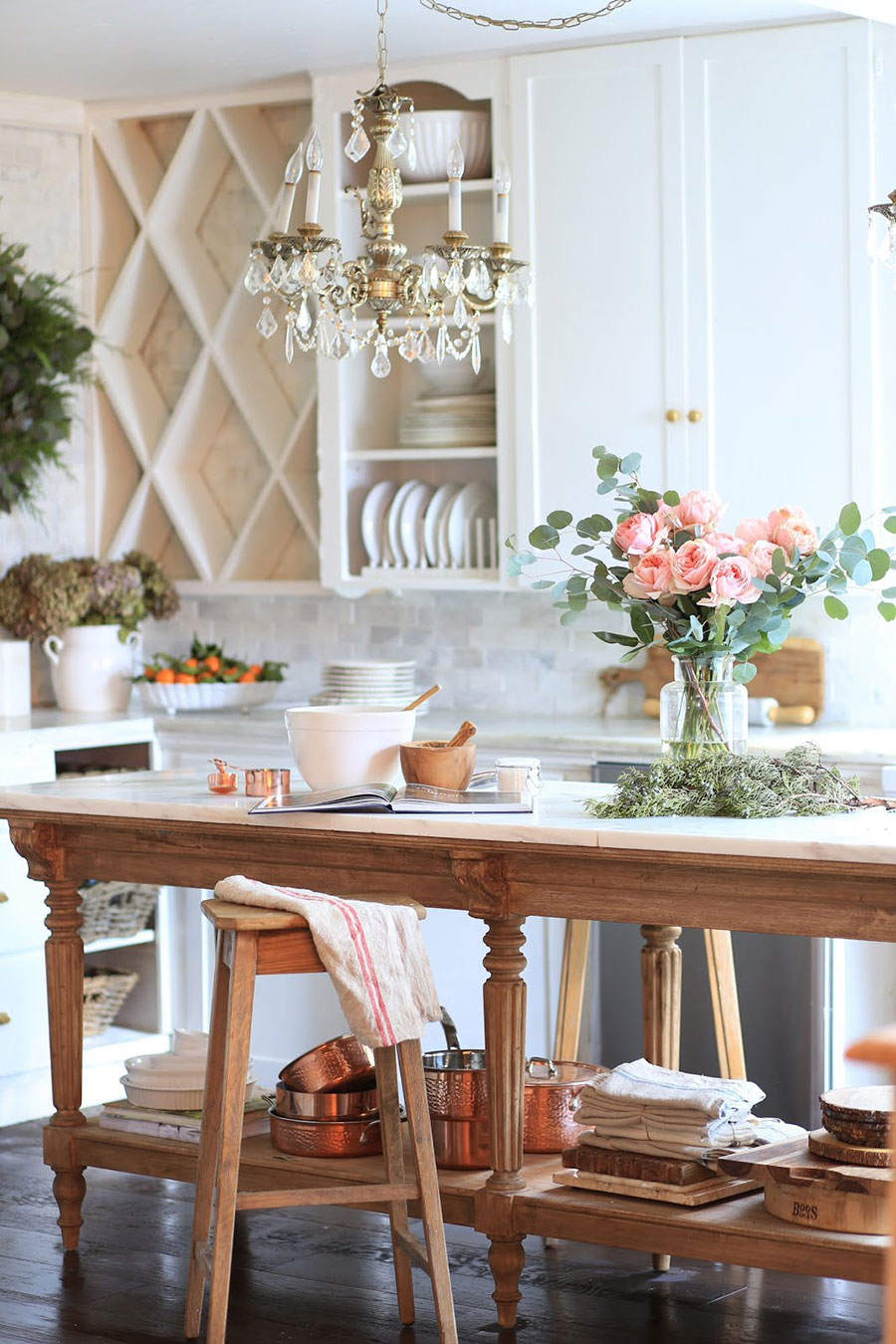 French Country Cottage Kitchen
This stunning French Country Kitchen is beyond charming. It was designed by Author and Photographer Courtney of the French Country Cottage blog. She believes in the power of patina, a good cup of coffee and that a room isn't truly finished without a chandelier and a bouquet of fresh flowers.
"Whether you use something like a drapers table, an old farmhouse table or even a big butcher block chunky topped stand- your kitchen island can be that statement piece in your kitchen. The best part- it can be a new but made to look old piece- or an antique that you transform into something else."
Courtney believes in adding copper pots and pants to the kitchen to provide a warm patina and the subtle sheen and elegance that copper adds. She also displays weathered cutting boards and a touch of marble for old world charm.
Image courtesy of: French Country Cottage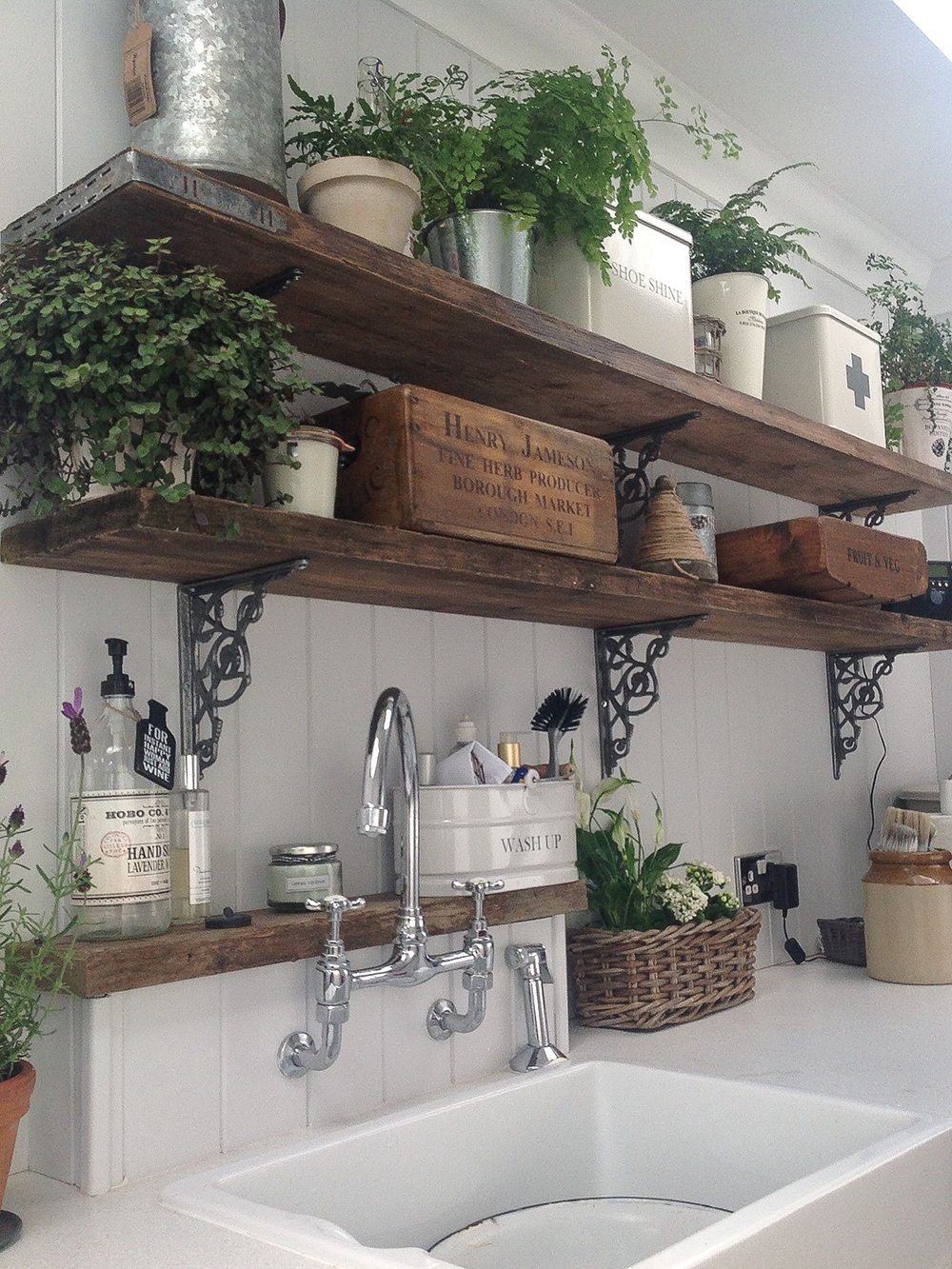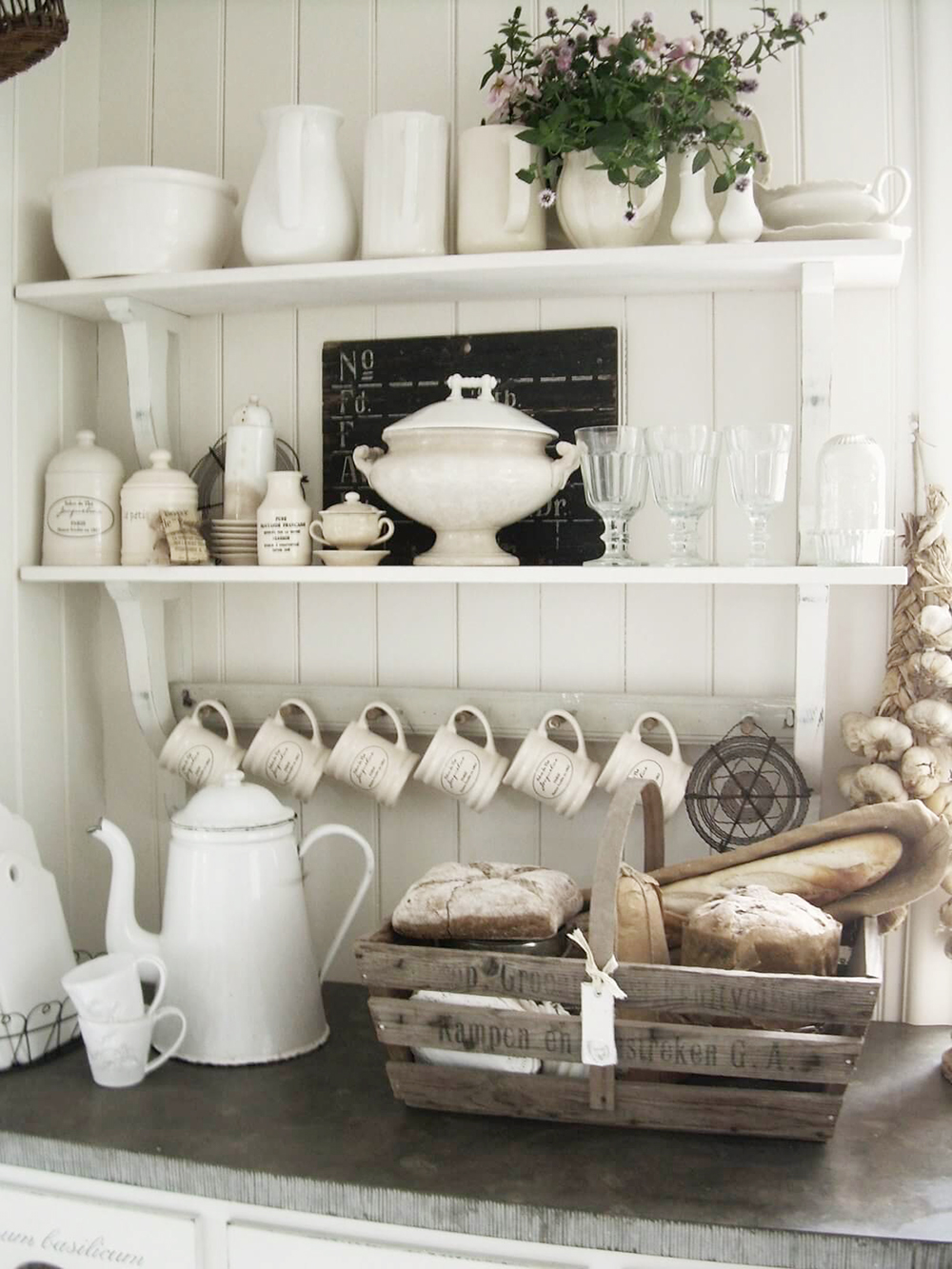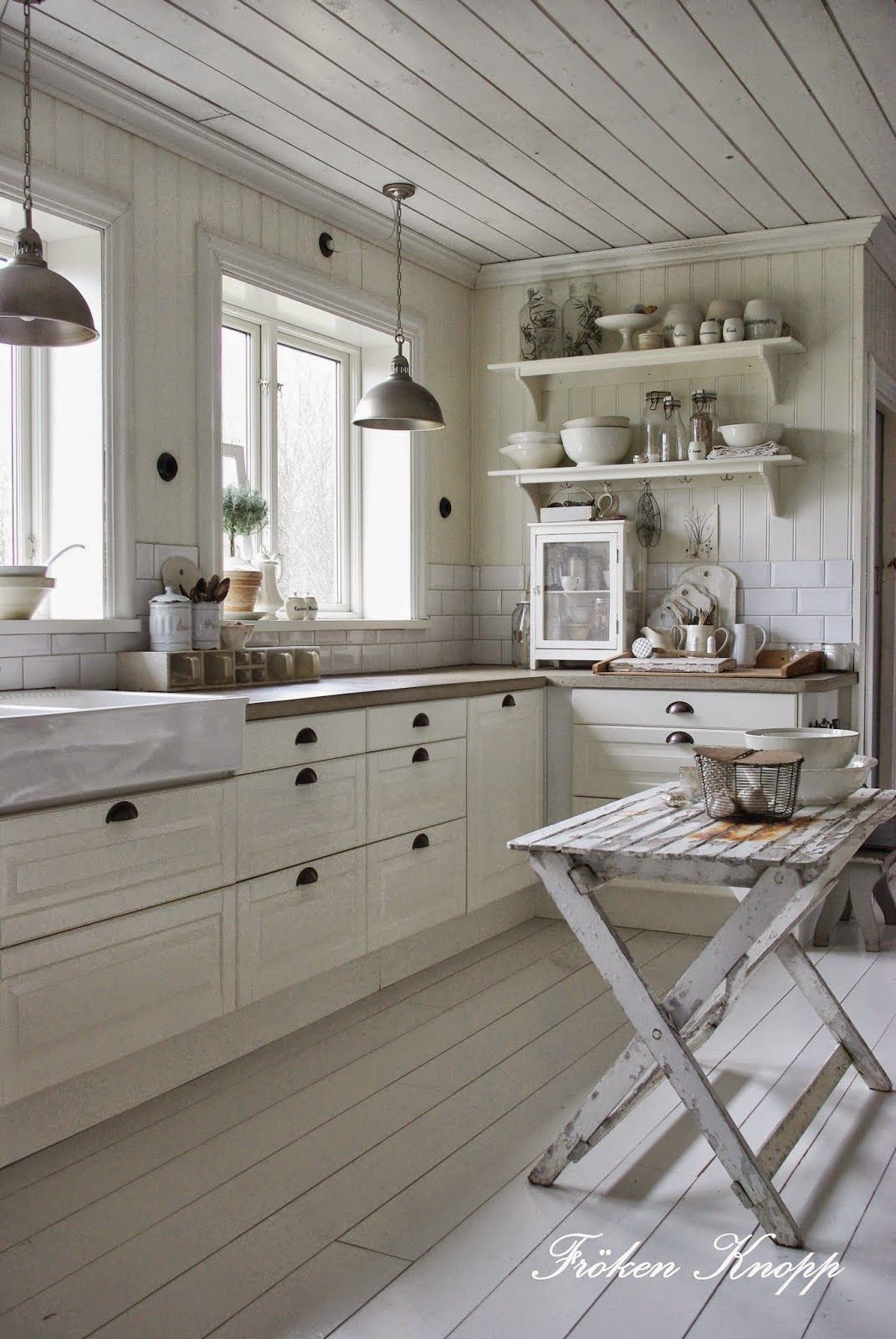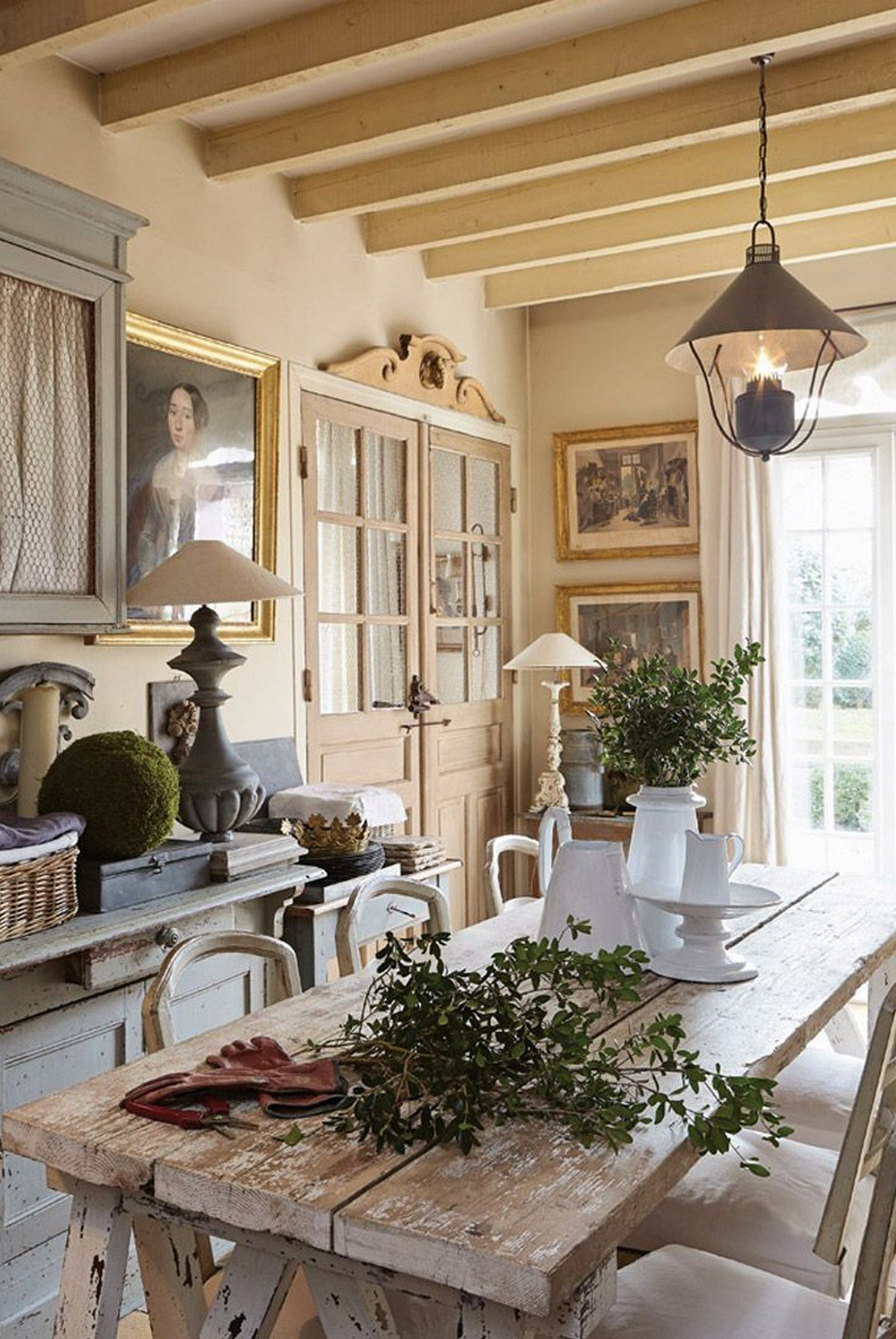 French Country Living Room Ideas
A living room in the French country style creates a sense of sophistication and elegance in the home. Components of a French country living room include:
Comfortable and oversized upholstered chairs and sofas
Provincial furniture
Rustic antiques
Natural linen fabrics
Exposed wood ceilings
A neutral palette for walls and soothing hues for furniture and decor
Wrought iron
Whitewashed woods
Blue-and-white porcelain
Robust gallery walls
Antique mirrors
Botanical elements
Detailed window treatments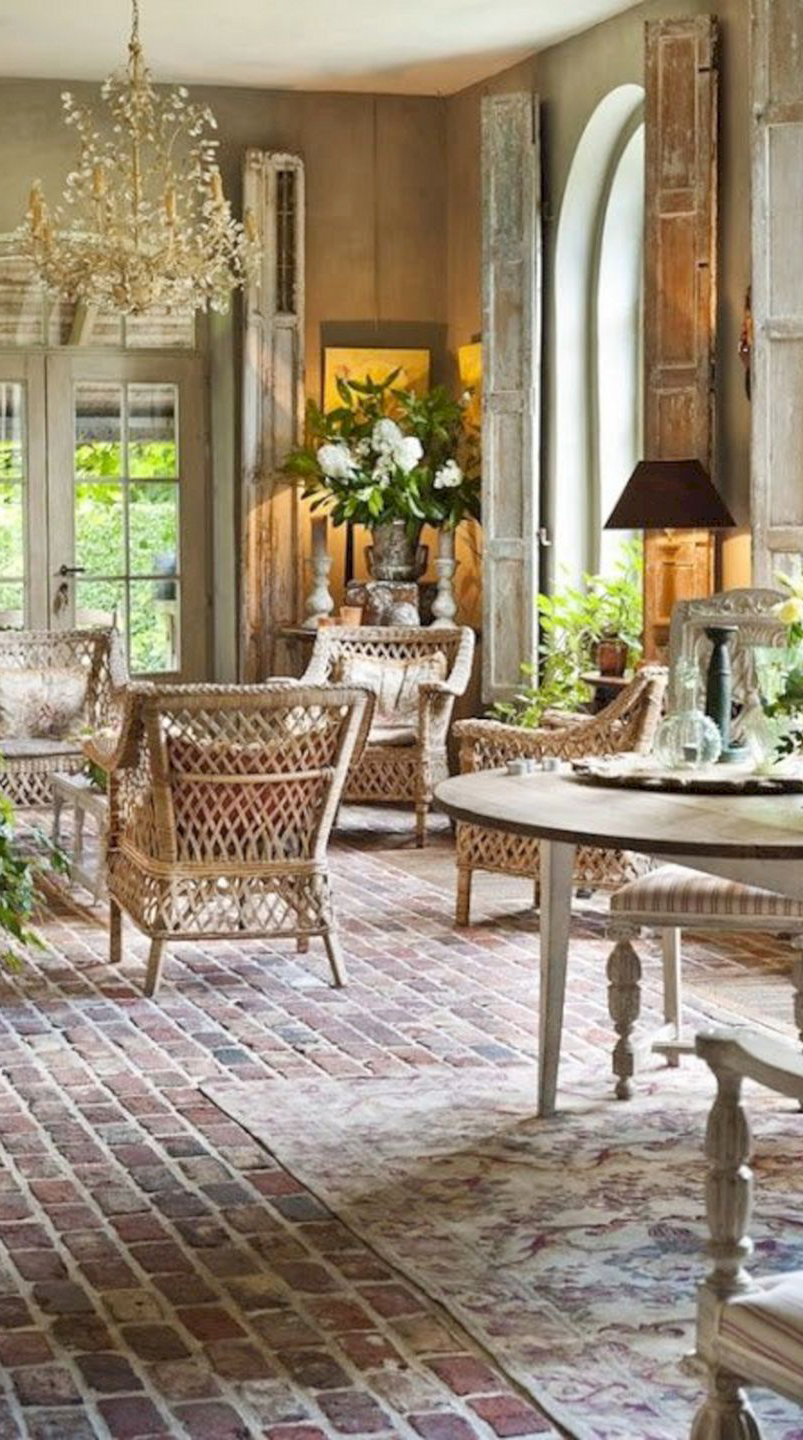 Image courtesy of: Pinterest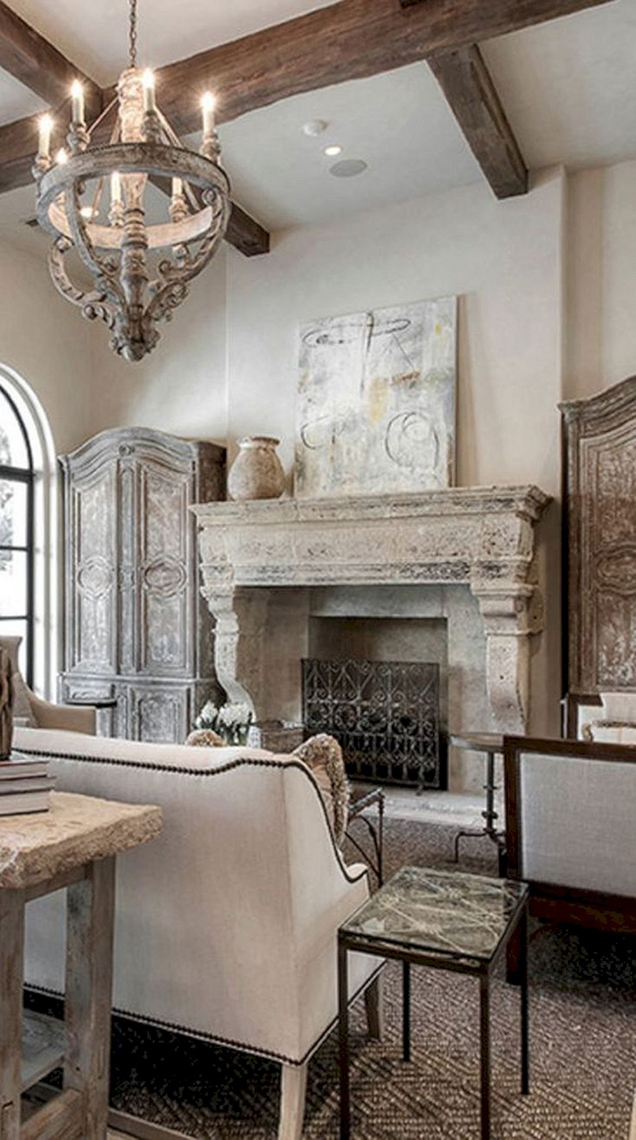 Image courtesy of: Pinterest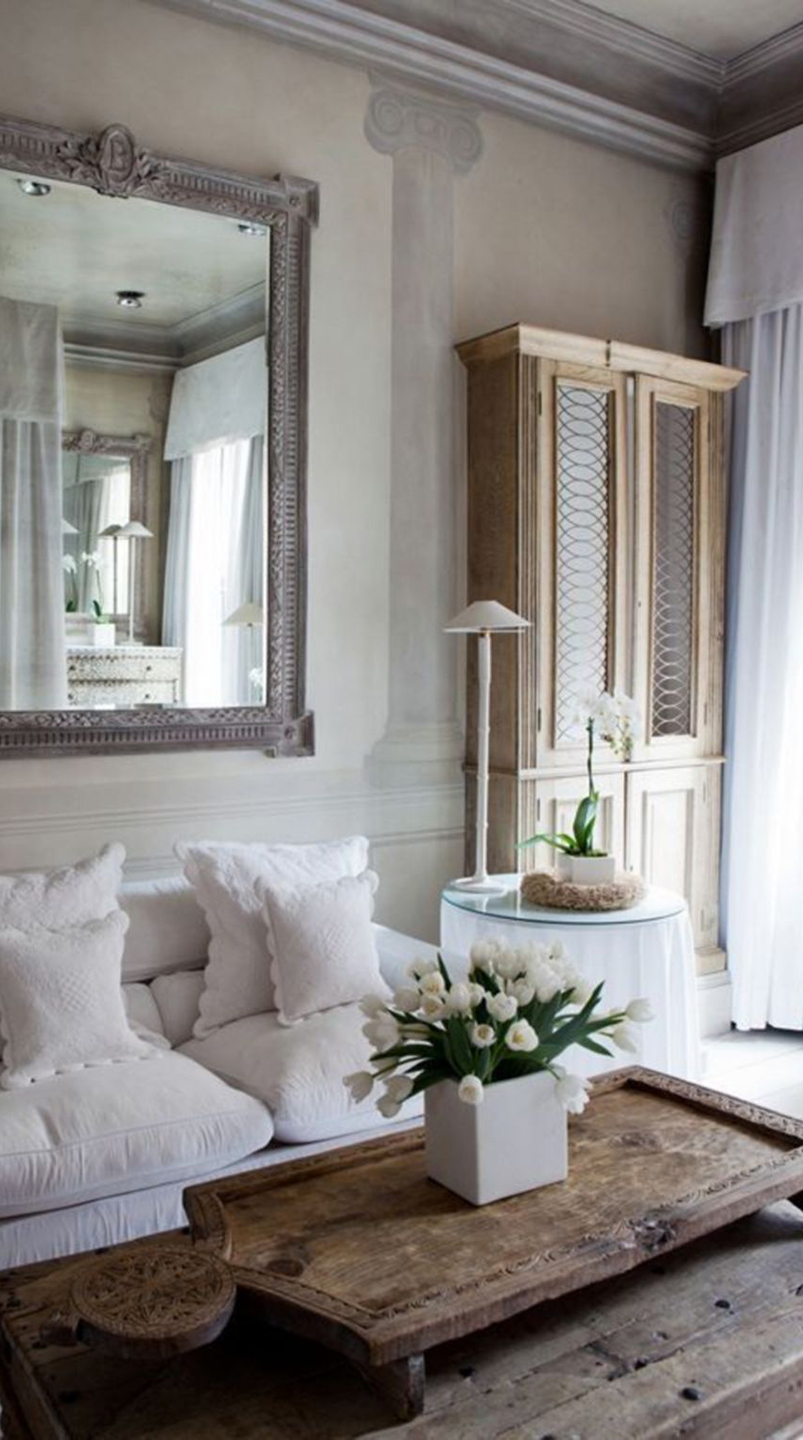 Image courtesy of: Pinterest
Share This Story, Choose Your Platform!
Summary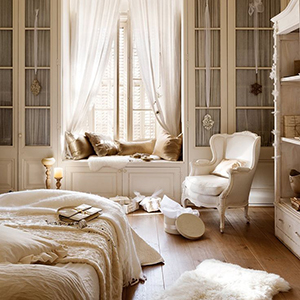 Article Name
French Country Decorating Ideas
Description
Discover French country decorating ideas by Interior Designer, Tracy Svendsen. Here you'll discover stunning images of French country kitchens, living rooms and bedrooms with design tips.
Author
Publisher Name
Publisher Logo