Bohemian Style Decorating & Where to Shop ~
Photo credit: Nickey Kehoe | Bohemian Style Interior Design Firm
Series 1: Top Home Decor Online Stores
Shopping for home décor and choosing the items you want can sometimes be a daunting task. Today I thought I'd share some of the best places to shop online for everything for the home, organized by design style as part of a cohesive series. I'll be starting with Bohemian style decorating and my favorite places to shop for it.
I always advocate that it's best to choose larger items in person whenever possible, however shopping for smaller items online is a great alternative to dealing with traffic and crowds in the stores. There are so many amazing sources for home décor available at your fingertips.
Many online stores now have a link to a 'Design Inspiration' page where they feature different home furnishings by style showing how to achieve a particular look – which makes it far easier for people to create a designer style in their own home.
As an interior designer, I keep a list on hand of the sites that offer something special and unique when it comes to products for the home for myself, and my clients. Whether you lean towards the Global/Bohemian style, Farmhouse, Scandinavian, Coastal or Modern Rustic, here are some wonderful sources for home decor around the web:
Where to Buy Global & Bohemian Style Decor
Trending for most of the past decade, the Bohemian style is still going strong.
Bohemian style decorating is eclectic, and can be difficult to define as it encompasses a little bit of everything; from romantic, to retro, a little bit hippie and somewhat random. The word "Bohemian" comes from the French word for "gypsy," and it applies to those who live an unconventional, creative and artistic lifestyle. It's dynamic and energetic as well as warm and inviting.
Bohemian decorating incorporates an eclectic array of energetic color, lots of texture and bright textiles, distressed woods, houseplants as well as vintage and retro accessories. Folk art and eclectic furniture add to the mix and highlights the original use of rich patterns with a purposefully 'messy' appearance.
"There's a certain creativity that's being manifested in the way people are decorating now. They're bringing things home from different places around the world, mixing cultures in ways that are really novel, unique, eclectic, and specific to this time" ~ Justina Blakeley | Interior Designer
With Bohemian style design becoming more and more popular, it's not a surprise that many online stores are now starting to feature some globally inspired objects for the home. Below you can find a list of some of my favorite places to shop for Bohemian style decor.
Photo credit: DL Rein Interiors
I've added The Citizenry at the top of my list as I love their products. I'm also in the process of updating my own living room, and tend to spend a few hours pouring through their website.
The Citizenry is a globally inspired home décor brand, where time-tested craftsmanship meets modern design and every purchase directly supports the advancement of artisan entrepreneurs. They personally travel to different countries and using only local materials, establish sustainable relationships with their artisans. Their name reflects the collective of individuals – artisans, designers, and dreamers – who rally together across cultures and continents to craft their collections.
They are hands down one of my favorite online stores for bohemian style decor. They are worth checking out, whether your style is strictly Bohemian or not, as they also have décor that borders on modern rustic and southwestern. From hand carved wooden planters carved in Uganda, to flat weave wool rugs hand woven in brilliant hues and pillows and throws created using exotic textiles.
They also have traveler photographers who've documented the team's adventures around the globe from the city of Marrakech to the capital city of Oaxaca, Tangier, Uganda, and Morocco. Their prints are globally inspired and fit in perfectly with the Bohemian style of design.
Here are a few of my favorite items in their collection:
Dahlia Rug
Meticulously crafted by a group of Zapotec weavers, this rug combines their traditional weaving techniques with a bold, jewel-toned palette. Colors of ruby, garnet, and amethyst swirl through the design to make this modern masterpiece.
Pedra Azul Rug
Hand-dyed using natural indigo plants, this flat weave rug features a gorgeous mix of blues. With its rich palette and intricate Zapotec designs, this beauty is certain to become the conversation piece of any room.
Baya Lumbar Pillow
Inspired by the geometric patterns used by the Zapotec tribes of the Oaxaca region, this lumbar pillow's structural designs and vibrant color scheme add that perfect pop of color to your bed or couch.
No more stressing to find the perfect pillow combination – with this one piece, a room can take on a whole new look. This pillow is hand woven with sheep's wool and naturally dyed using native plant extracts. From start to finish, it takes three days to complete, all made by a fair-trade cooperative of 14 Zapotec women who live and work in Oaxaca.
View the complete collection at Citizenry
I swear, everytime a new Anthropologie catalog comes out – I just want to jump in and dive into the rooms that they have designed!
Anthropologie has a diverse collection of bohemian home décor to help create boho harmony in the home. They have an updated global approach that will have your home reading like a travelogue. The focus this season is on bright Rajasthani prints in vibrant color combinations, gorgeous mix and match patterns and furniture with modern inlay. They cater to the creative minded individual who has a sense of adventure.
View the complete collection at Anthropology
Terrain is another cool online store that's affiliated with Anthropologie and features an array of locally sourced plants, home items, and outdoor décor imbued with a sense of heritage and community. Terrain was inspired by the idea of merging house and garden to create an experience for the senses. Their products are sourced from around the world and they have a unique collection of furniture, room décor as well as items for the kitchen. They've also got a great selection of wreaths made from bark, twigs and florals.
View the complete collection at Terrain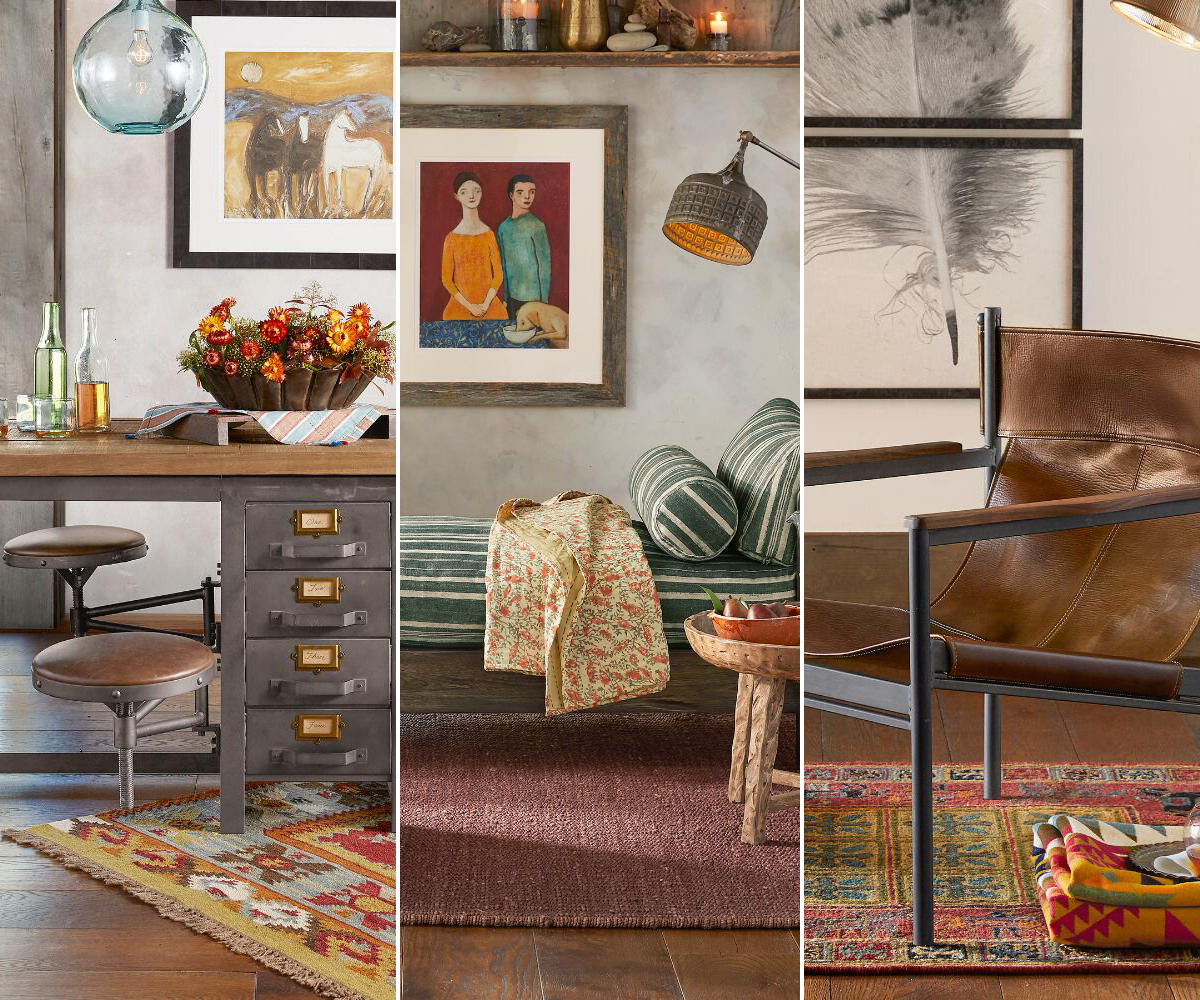 I just stumbled upon Sundance recently. It was founded in 1969 by Robert Redford when he purchased land at the base of beautiful 12,000-foot Mount Timpanogos in Utah's Wasatch Mountains. When you make a purchase from Sundance, you are supporting American Craftspeople. They have everything from really funky abstract art to beautiful leather sling chairs, Kilim poufs, Soumak rugs, Desert Stripe Dhurrie Rugs, iron candle holders, rustic furniture, and really unique quilts. My favorite item is their Kilim Rugs as there is such a great selection.
View the complete collection at Sundance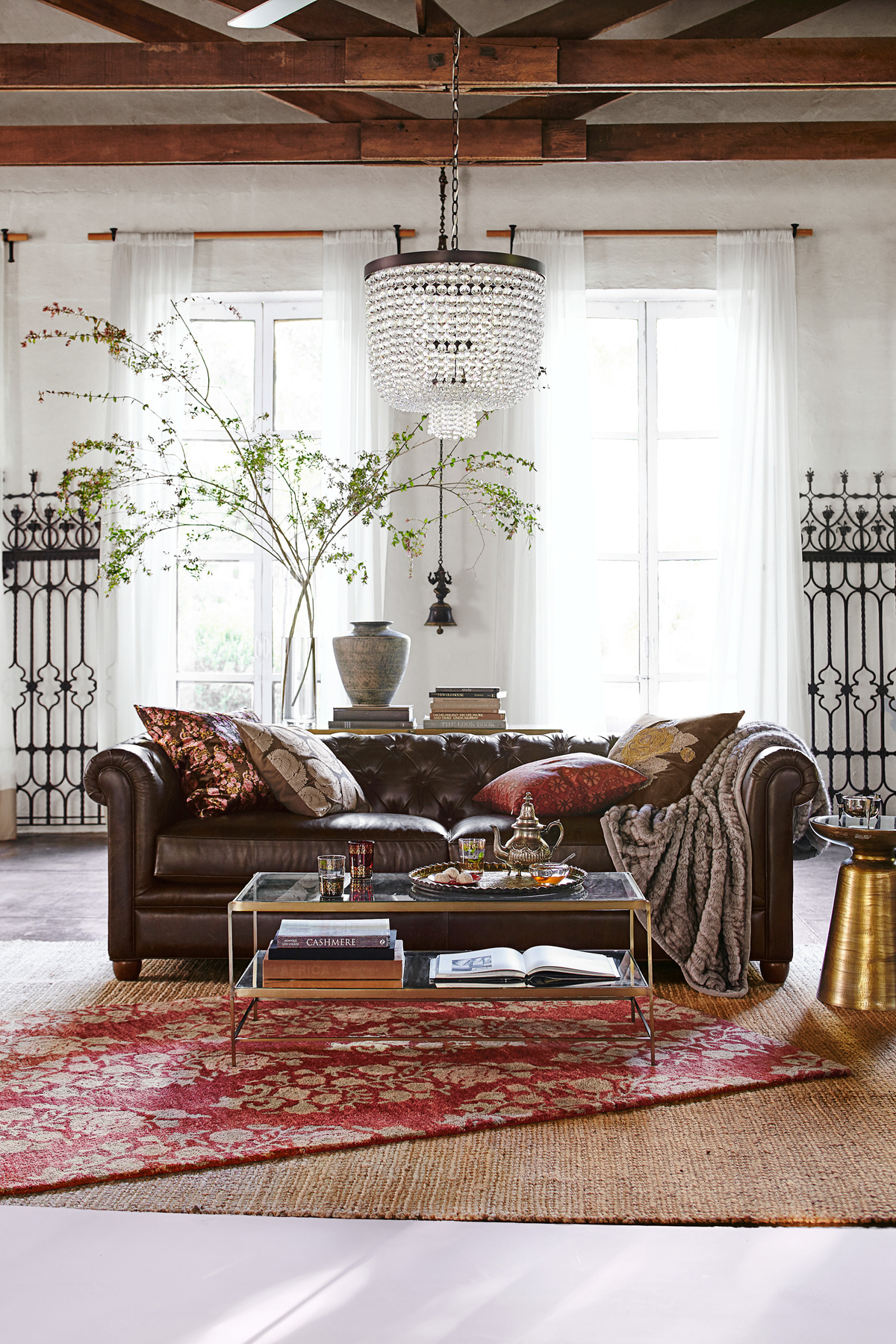 You wouldn't normally think of Pottery Barn having bohemian décor, but they recently created a Global Chic section to their website, that consists of bold patterns, found objects and eclectic styling. It's a great place if you're looking for a rustic coffee table, brightly patterned pillow covers, metal accent stools, textured headboards, and global printed bedding patterns.
View the complete collection at Pottery Barn
Williams Sonoma is another store that has created a shop by style and Get the Look feature on their website, with categories ranging from Bohemian Luxury to Heritage Style, to New Traditional, Rustic Modern, Contemporary Luxe, Wine Country, to name just a few.
Their Bohemian Luxury uses creative color combinations, distinctly luxurious materials and a fearless use of prints and patterns to create a free-spirited space for letting imaginations run wild.
View the complete collection at Williams Sonoma
One Kings Lane has a shop by style category for Bohemian Allure with color, pattern and global mystique. One Kings Lane is a leading online destination for the home that connects daily design inspiration with a fresh collection of select home goods, designer and vintage items you won't find anywhere else. One Kings Lane works directly with leading home brands, antique and vintage dealers and designers to bring the very best products at exceptional prices to its shoppers – every day of the week.
View the complete collection at One King's Lane
Buyer Select features decor from all the top brands in one place. Unlock your inner free spirit with Buyer Select's curated collection of bohemian décor with vibrant colors and exotic patterns. Capture the eclectic charm of boho living by surrounding yourself with artistic elements. Incorporate lanterns, handcrafted pillows, playful patterns and vibrant hues. Buyer Select also has a curated selection of Coastal, Farmhouse, French Country, Modern Glam, Scandinavian, Urban Earthy and Modern Rustic Decor.
View the complete collection at Buyer Select
Bohemian Style Decorating Inspiration
Photo credit:  Amy Bartlam Photography | Design by Kirsten Marie Interiors.
Photo credit: Nickey Kehoe Interiors | Rustic Bohemian Design
Photo credit: Nickey Kehoe Interiors | Rustic Bohemian Design
Photo credit: Amy Bartlam Photography
Photo credit: Amy Bartlam Photography
Photo credit: Amy Bartlam Photography
View Recent Posts