Home Office Ideas
Looking for home office ideas? There are many ways in which 2020 has changed the world around us on a grand scale. Work culture has been redefined as a result of professionals who have had to recalibrate their entire lives to work from home.
In the past, home offices have traditionally been a luxury, reserved for those with ample space to re-appropriate unused bedrooms. Today, with so many office workers being sent home, many of us had to create improvised smart workspaces that make the most of small areas.
Whether your home office is big or small, create a comfortable and functional space with these home office ideas.
This article includes:
1.   Home Office Organization Ideas
2.   How to Add Color to Your Home Office
3.   Get Vertical: How to Keep Organized with Vertical Shelving
4.   How to Convert a Nook into a Well-Designed and Comfortable Work Space
5.   How to Conceal Tech
6.   Why Gallery Walls Are Interior Designer's Go-To Solution
7.   The Importance of Adding Layers
8.   Why Windows and Mirrors Are an Important Design Feature
9.   The Beauty of Plants in a Home Office
10. The Importance of Area Rugs
11.  The Importance of a Smart Chair
12.  How to Make a Home Office Glamorous
13.  How to Create a Good Lighting Scheme
1.  Home Office Organization
Regardless if your situated in a large room or is neatly tucked away in a quiet corner, designing and organizing your workspace takes careful planning. You want to get the most out of the available space and create a comfortable work area so you can focus on the task at hand.
The set up of your home office space can directly influence how productive you are. With a few simple changes, you can increase productivity and focus.
The first step is to optimize your desk space. Keep what is necessary, and store the rest in bins or drawers. Bins within your desk drawers are the perfect solution to keeping important items within reach, such as highlighters, tape, scissors, and extra pens. Stylish wicker baskets can be used for storage and can soften the space.
Cabinets that extend to the ceiling provide ample storage space while also making the room appear larger and grander. Using a combination of vertical and horizontal fixtures creates a streamlined area that flows well.
Walking into an organized office gives you an immediate mood boost and helps keep you productive and happy in your home office.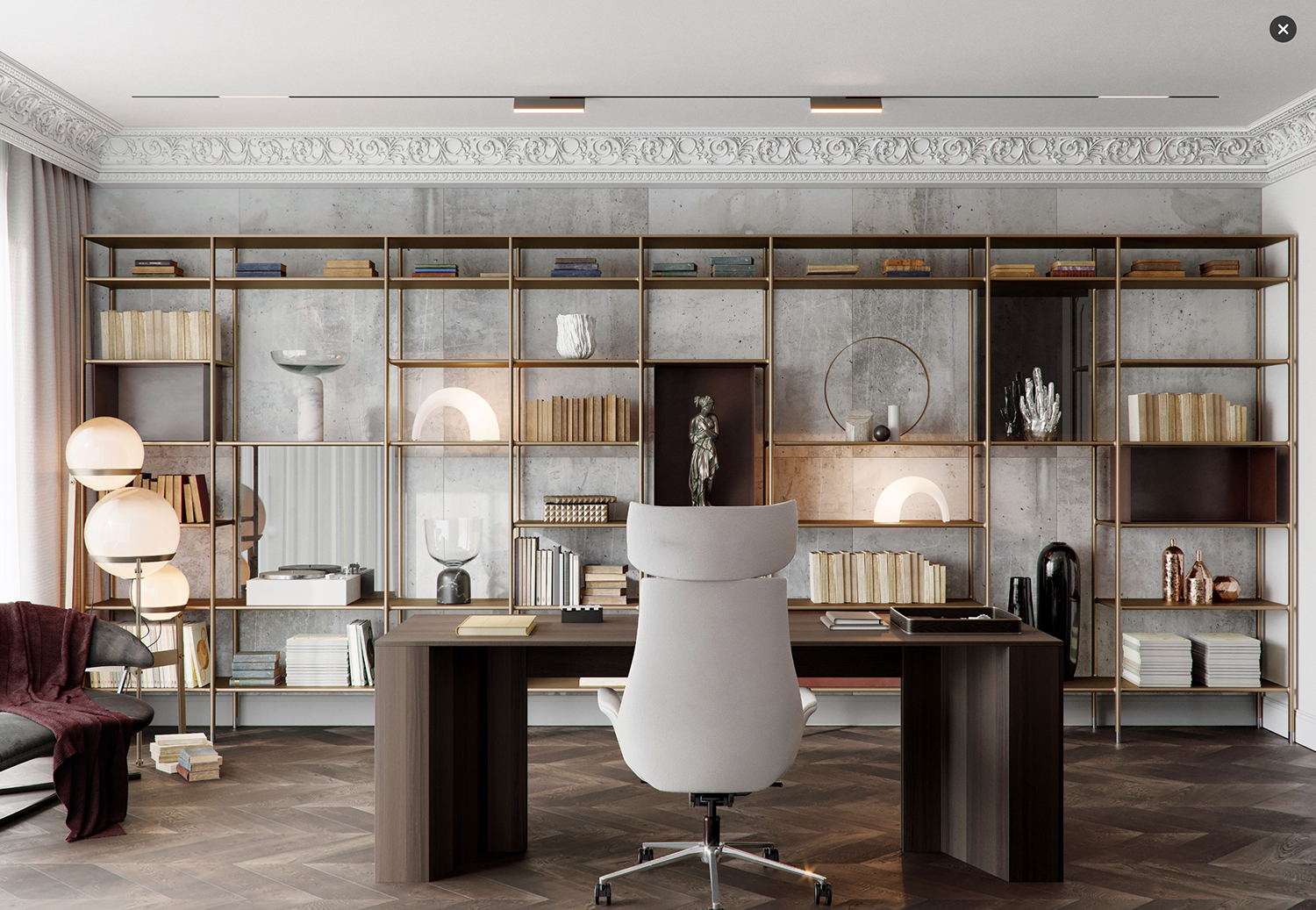 Modern Home Office Design
Image courtesy of: Park Rublevo, Behance
A modern and sophisticated home office with luxurious detailing. It's important to note that although this is a very spacious office, many design elements could be introduced into a smaller space, such as a metallic shelving unit, contemporary lighting fixtures and a glamorous chair.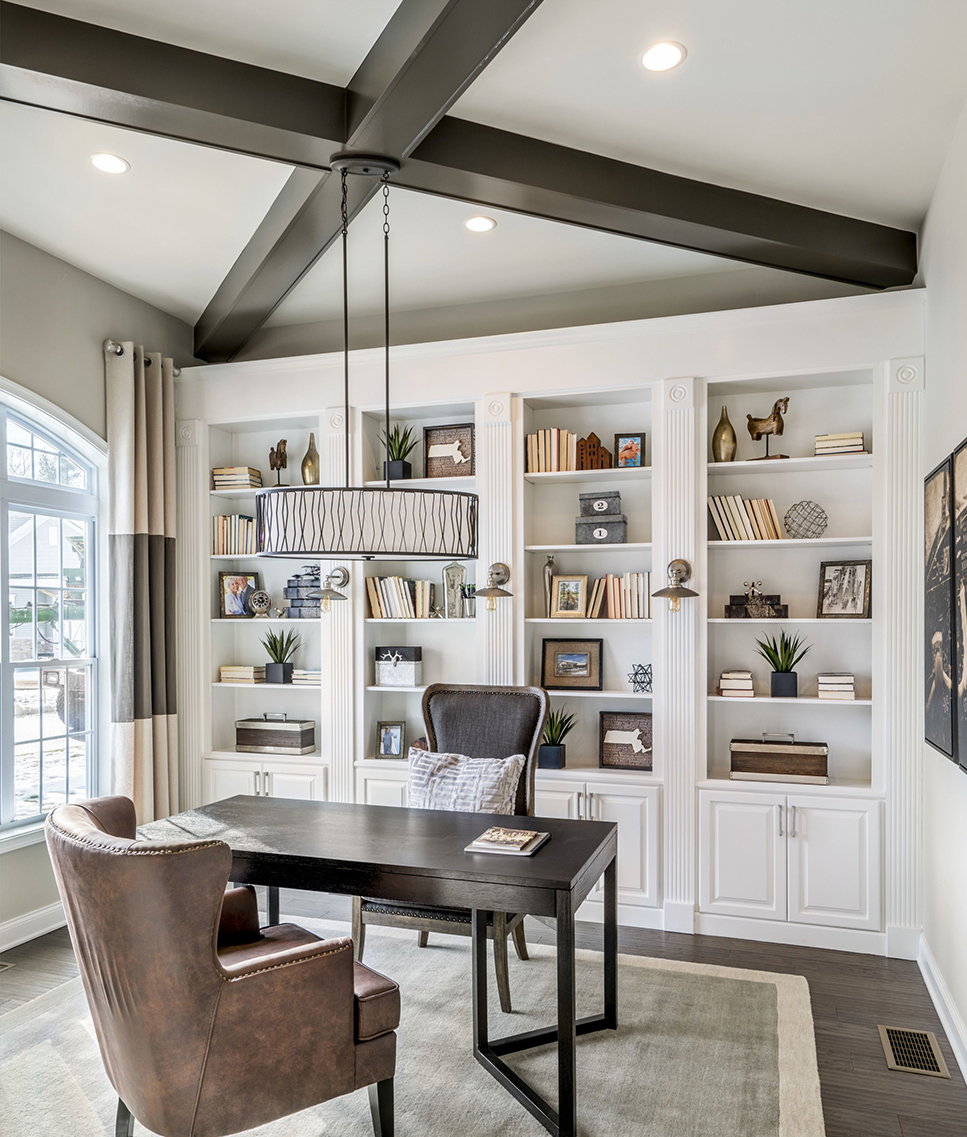 Traditional Office Design
Image courtesy of: Pinterest
Two traditional home offices that feature built in cabinets that serve as an ideal backdrop for online meetings.  Not only does the shelving serve as storage for book collections, but also provides the perfect opportunity to add home décor such as plants, sculpture and family photos. Both offices have ample natural light and combine warm wood tones with white walls.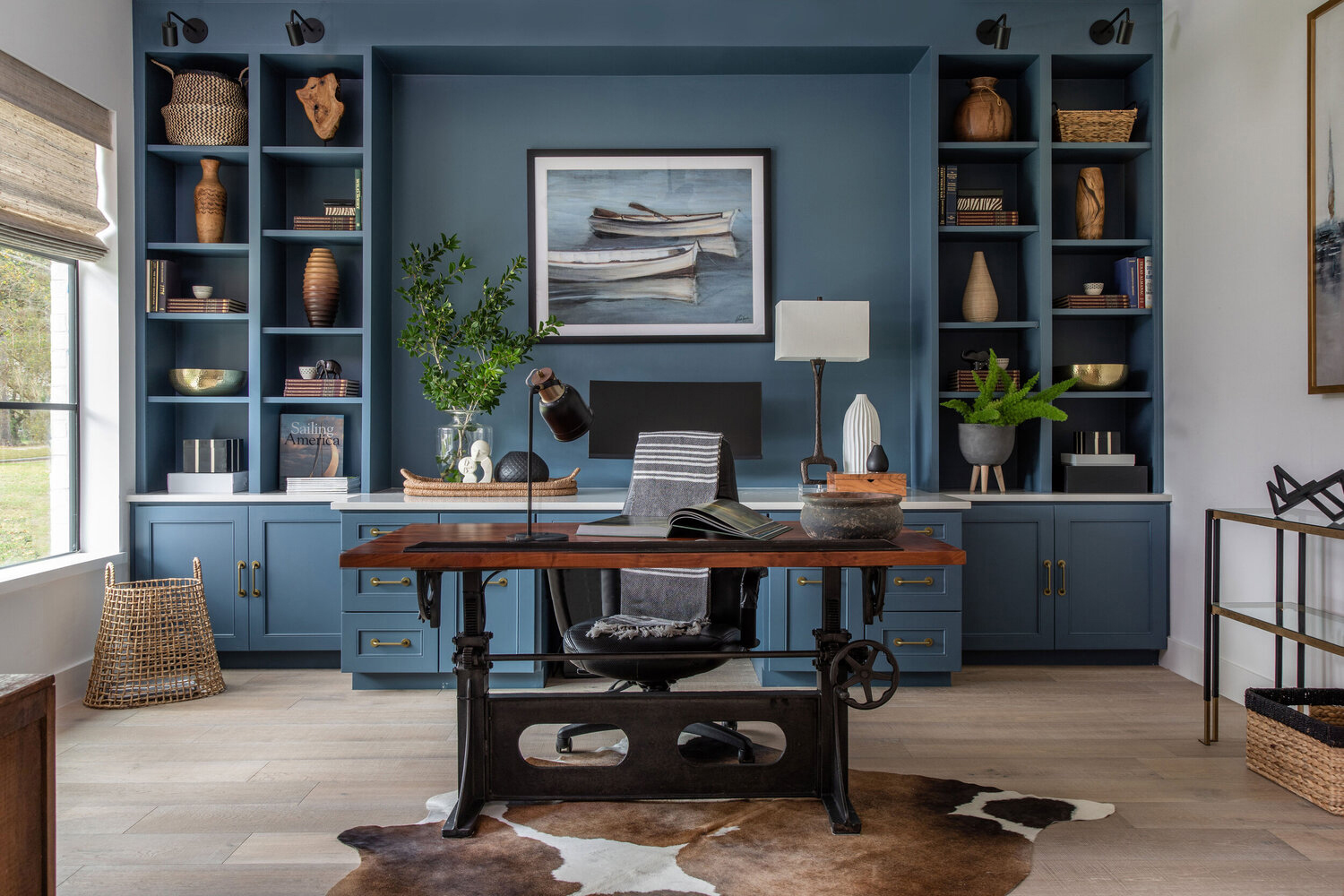 Image courtesy of: Holender Designs
A coastal home office design with built in storage that serves two purposes; closed storage for office supplies, and open storage for displaying artwork. This well designed office provides two separate work areas, one for reading, writing and meeting with clients and another for computer access.  This makes concealing tech-related items such as chords more convenient. Baskets are strategically placed throughout the space, and can be used as a convenient way to store items such as extra pens.  Baskets on the floor work well for holding extra blankets for those who like an extra layer of cozy warmth while they work.
2.  Adding Color to Your Home Office
If your office is located in a designated room, try painting the walls for an instant refresh. If painting isn't an option, color can be introduced through artwork, window treatments, and upholstery. Pale blues and greens are calming, while a splash of soft yellow sets an optimistic tone. Pastel colors are inherently calming and create a tranquil environment.
Even in a small nook, a bit of color goes a long way in creating the perfect setting to get down to business.
Image courtesy of: Kachmar Design
This office brings in warm tones of green and yellow with hand-painted wall paper.  It's furnished with an oval French desk, white camelback chair placed on a white and gold trellis rug. The golden wall mounted mirror and table lamp reflect the golden tones in the wallpaper.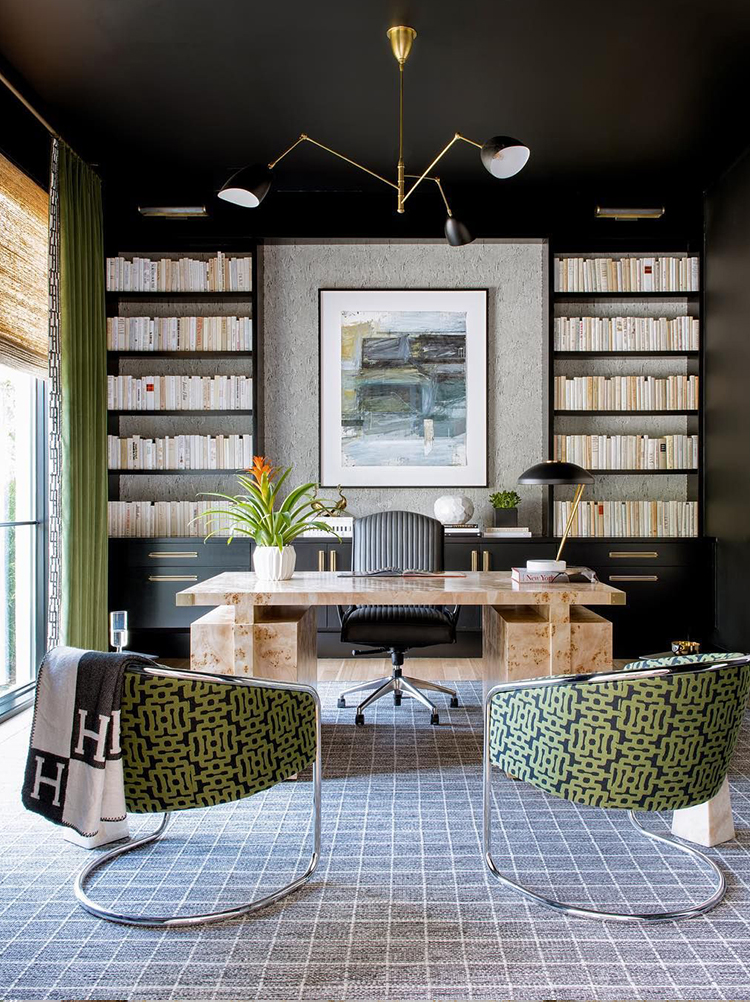 Image courtesy of: Studio Thomas James
This chic, contemporary home office has a modern burl wood desk with gold and black modular chandelier positioned above. Two green and black accent chairs are placed facing a black leather task chair. A modern piece of art ties in the color scheme, and hangs from a gray wallpapered wall with black cabinets and brass hardware.  The built in book-shelves have brass hardware, and serve as space to store a book collection.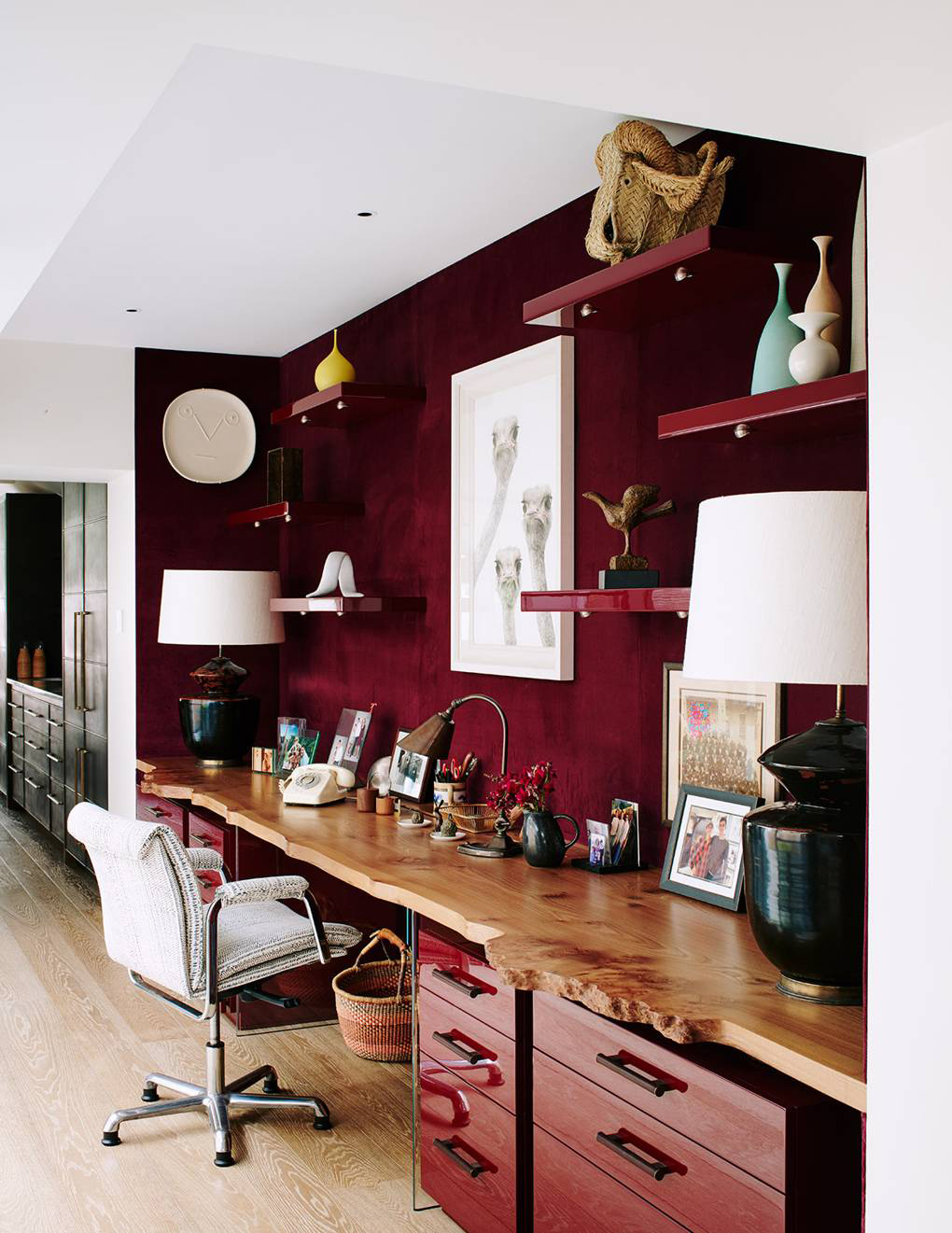 Image courtesy of: Emily Todhunter Design
An innovative modern cherry red office nook with a live-edge desk top designed by Emily Todhunter.  This small home office makes a bold statement with plenty of character and charm.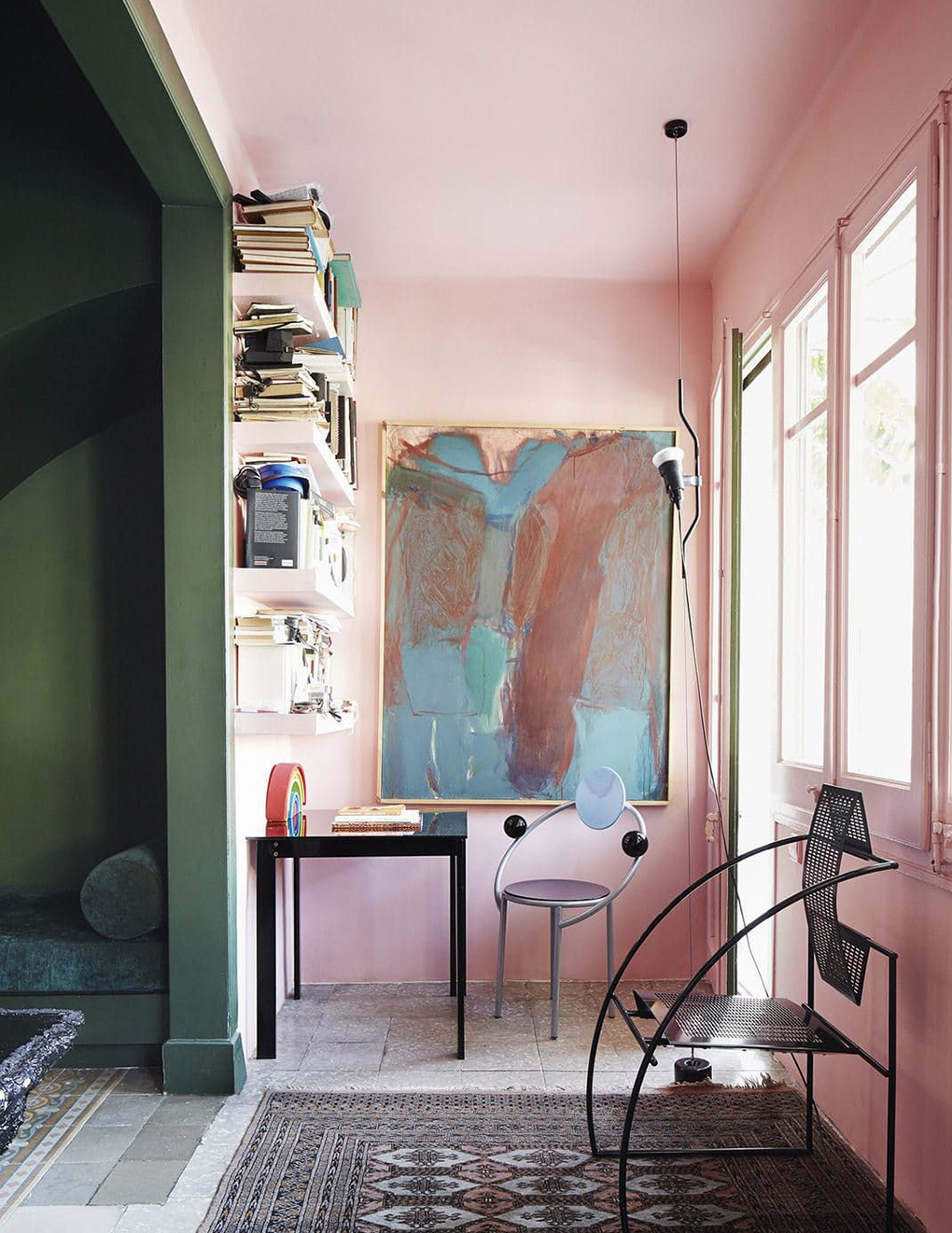 Image courtesy of: Simon Watson Photography
A contemporary and eclectic small office with colorful artwork, a unique office chair and vertical storage space.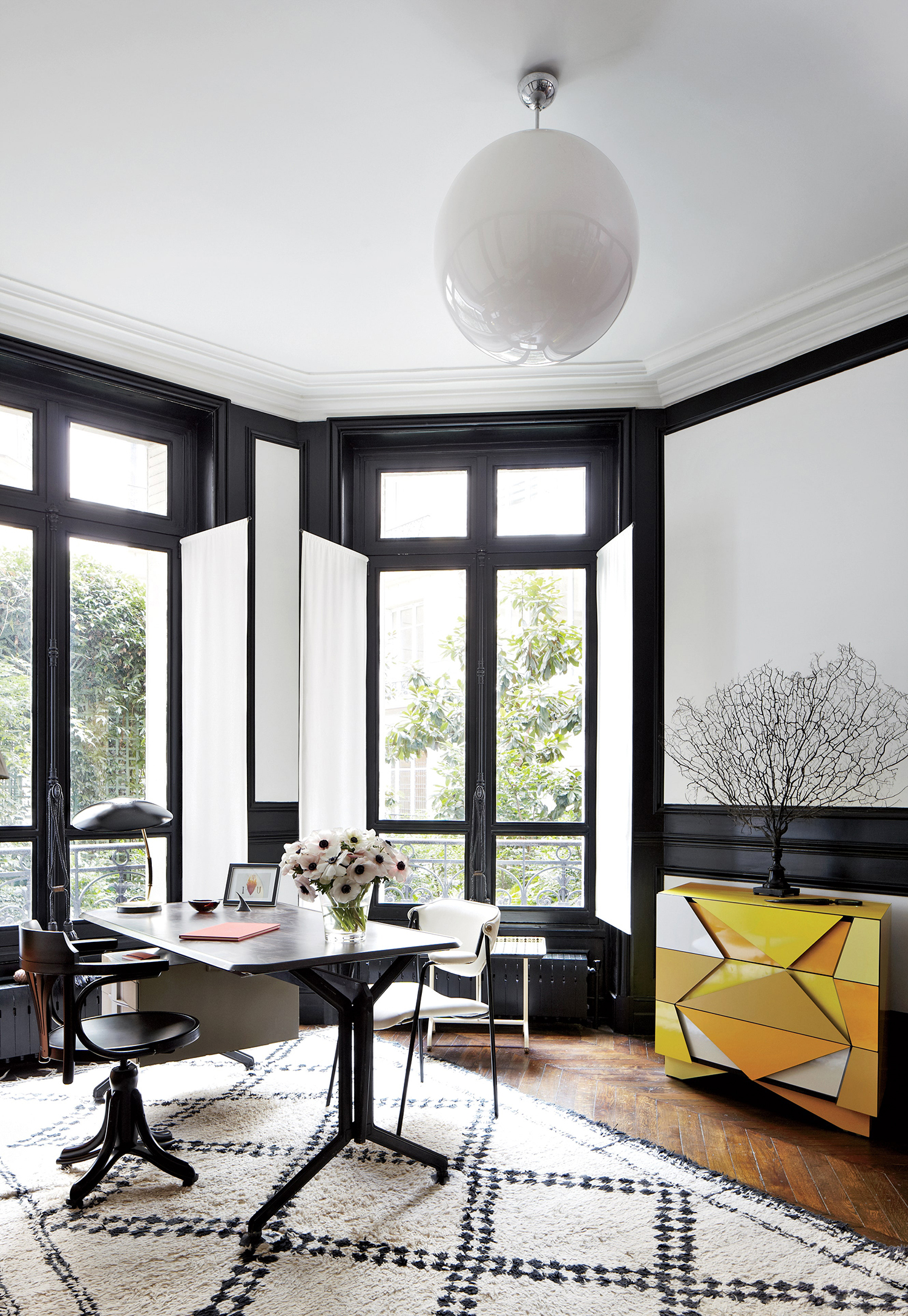 Image courtesy of: Architectural Digest
Brooke Shields's Manhattan study is furnished with an Italian neoclassical secretary. The green chair and art are easy adds for a pop energy.
3.  Get Vertical
As with any workspace, your home office should be organized and optimized for working. Install shelving to provide a place to store extra knick-knacks to keep your desk clear. A combination of open and closed shelving is a great way to make the most of your space and is the perfect solution for small home offices.
Whether you use white shelves to open up the room or paint them in a bright contrasting color, this provides ample surface to place colorful storage baskets or boxes for additional storage. Shelving also allows you to personalize your space with framed prints, photos of family and friends as well as well-loved books, sculptures, and plants.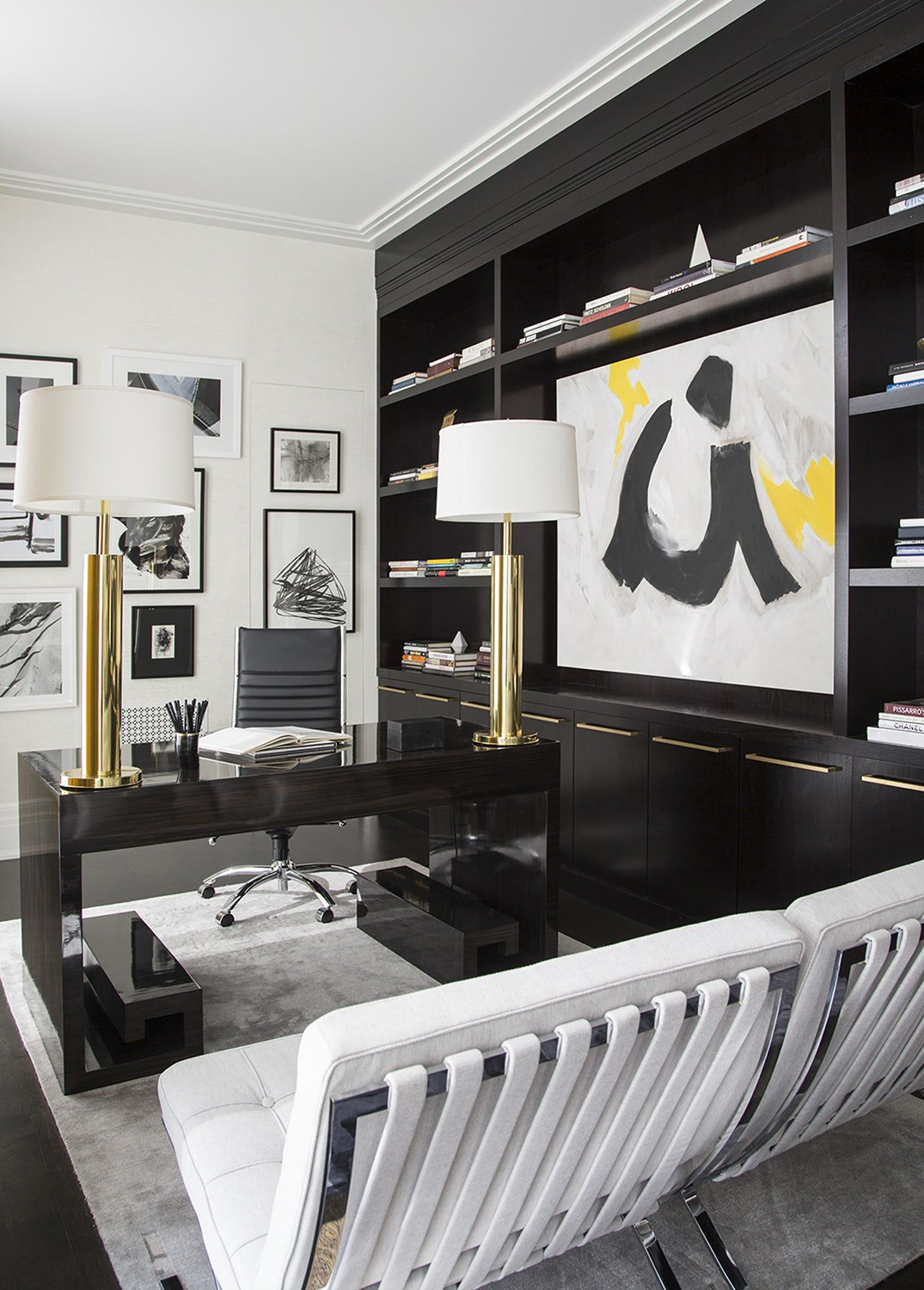 Image courtesy of: Wendy Labrum Interiors
A striking contemporary home office designed by Wendy Labrum Interiors, with a gallery wall of black and white prints, a bold abstract print and a mix of gleaming metallics.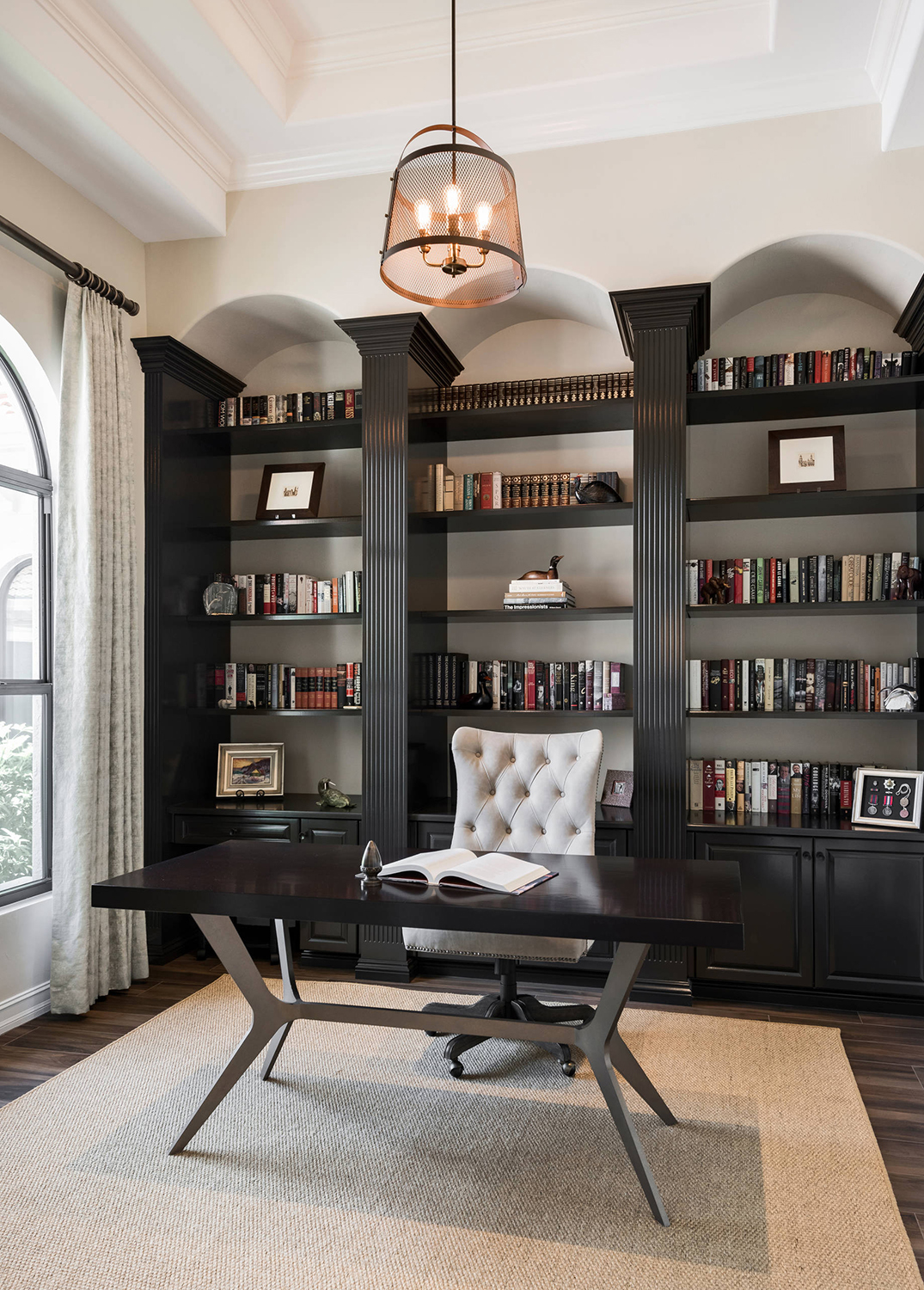 Image courtesy of: Jinx McDonald Design
This well-designed office has a contemporary black free standing desk with a silver base and plenty of cabinet space for books and decor.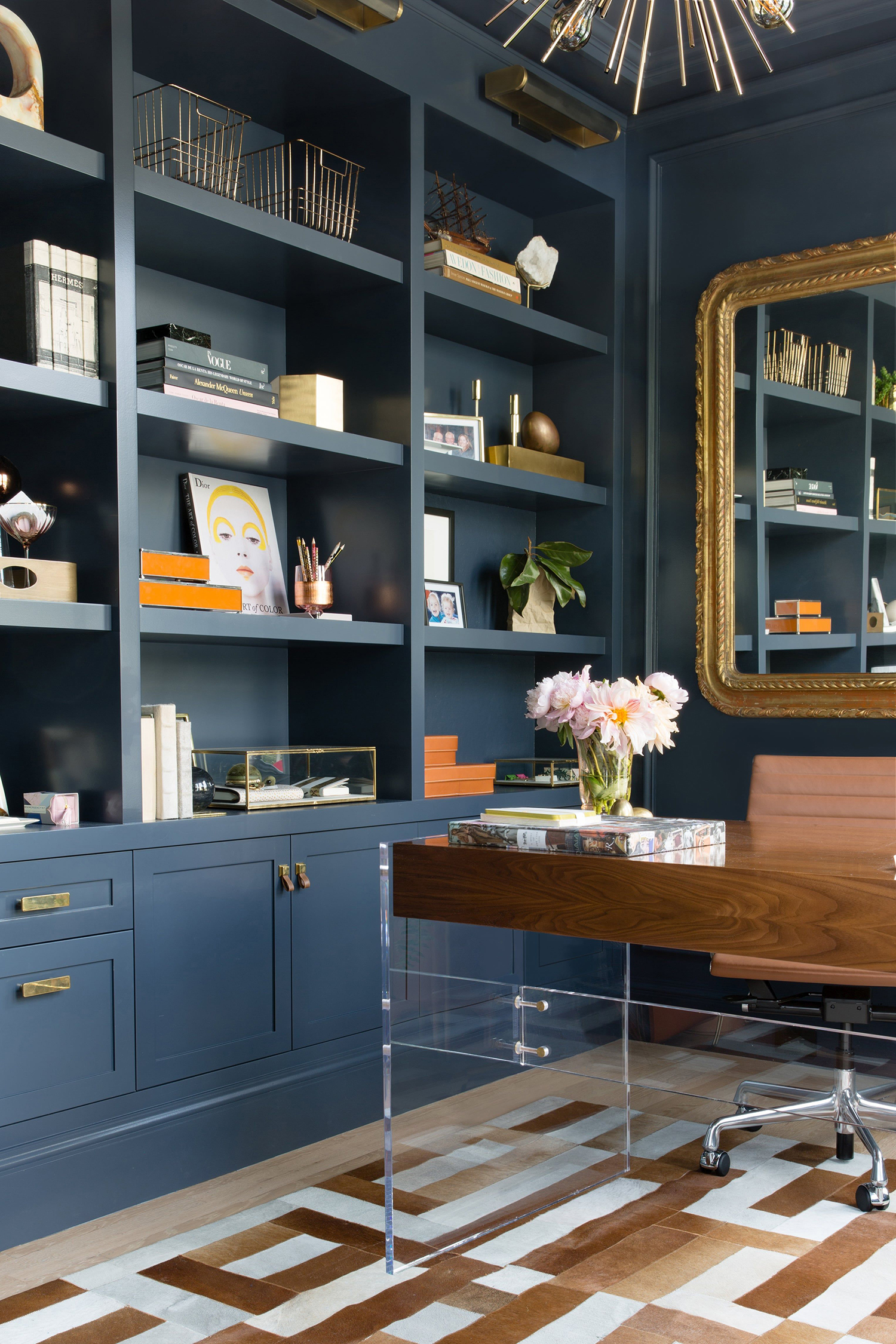 Image courtesy of: Regan Baker Design
A perfectly styled home office designed by Regan Baker, with blue built-in shelves mounted over cabinets.
4.  Find a Quiet Nook
For those who don't have space for a home office, a nook can be converted into a well-designed and comfortable workspace. Nooks can be located in living rooms and kitchens as well as in dining rooms and bedrooms.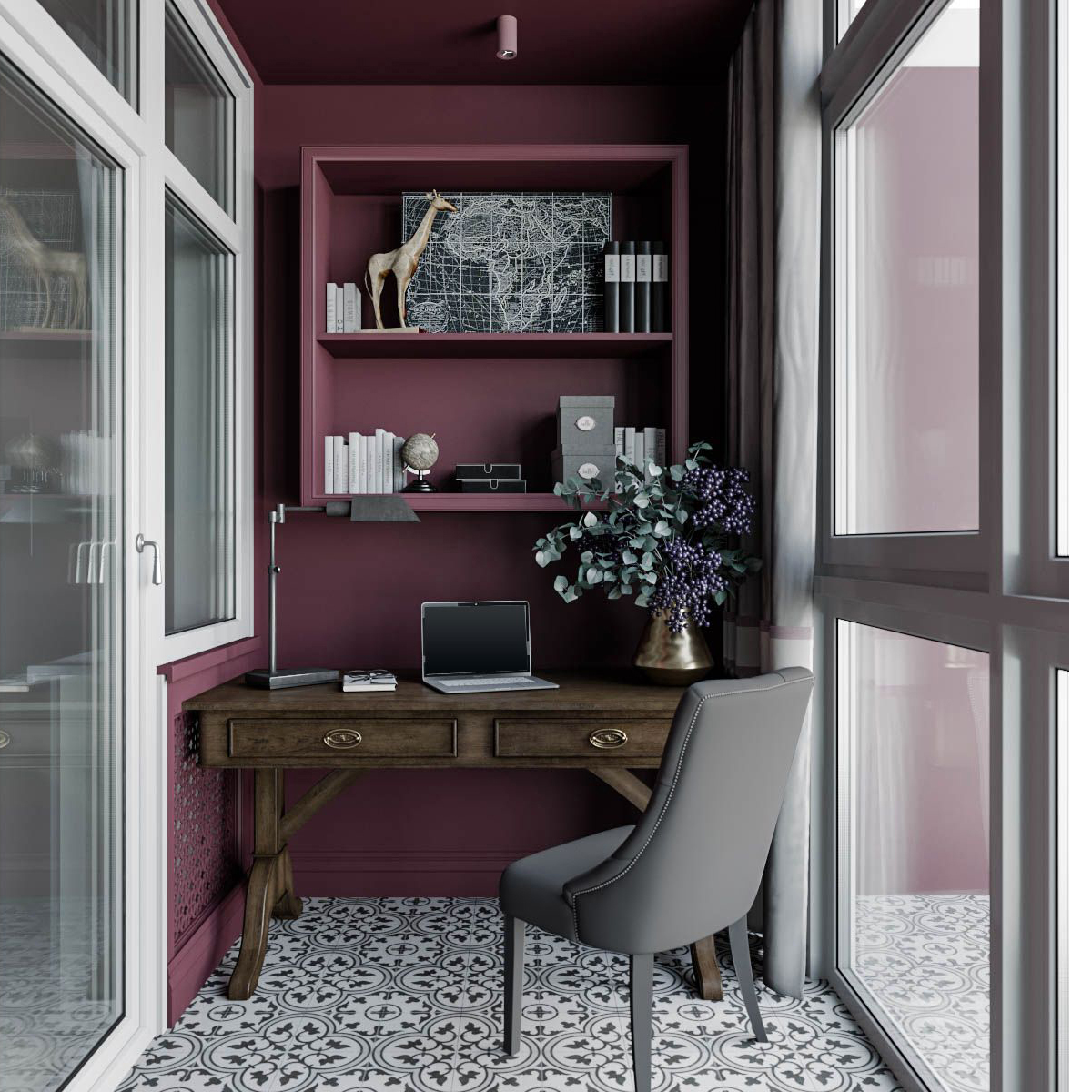 Image courtesy of: Pinterest
An elegant office nook in a small alcove.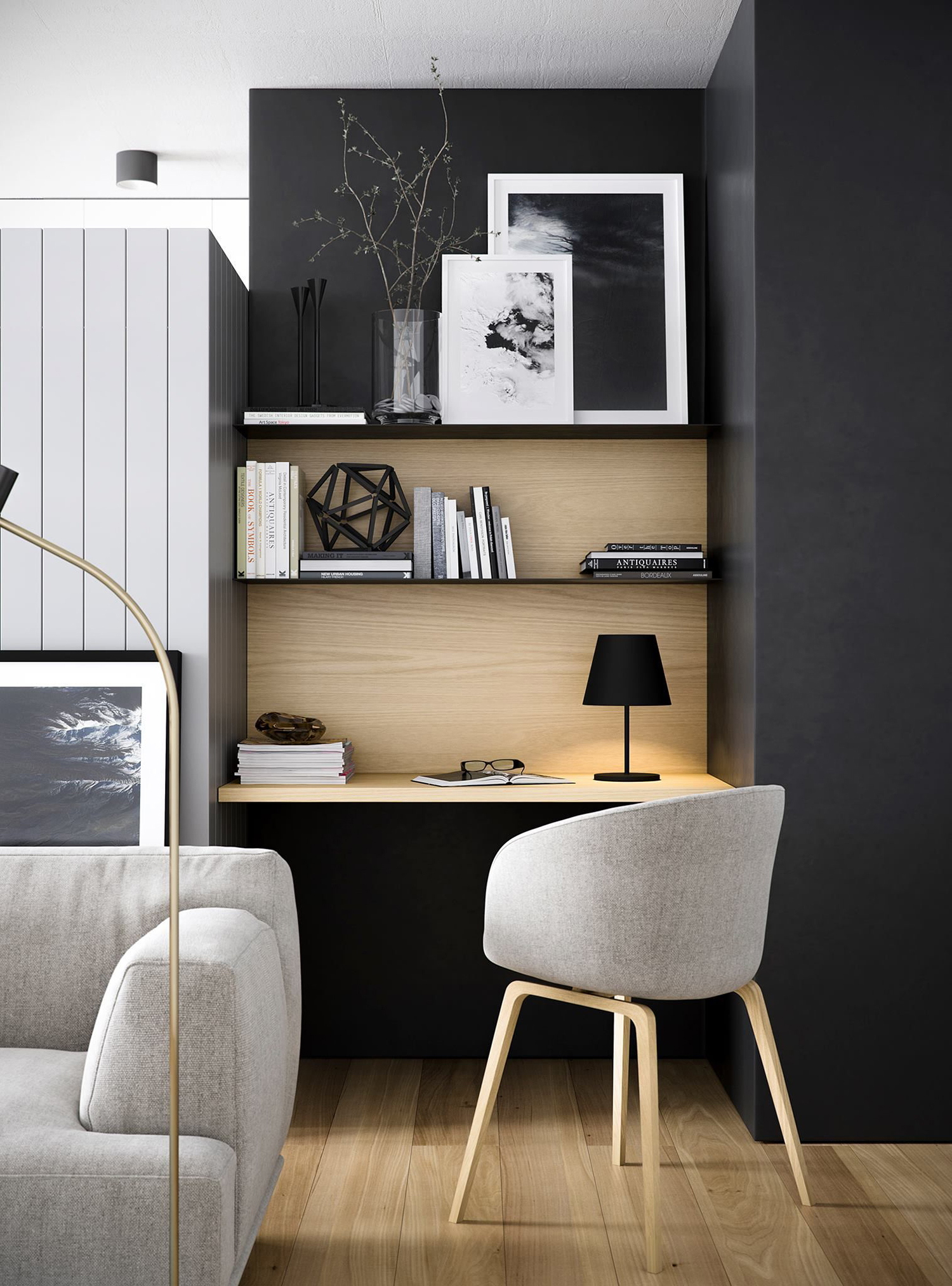 Image courtesy of: Blakhaus Studio 
Even the smallest alcove or nook can make an ideal place to set up a home office.
Image courtesy of: Kelly Deck Design
An elegant and serene work space in an all-white kitchen designed by Kelly Deck.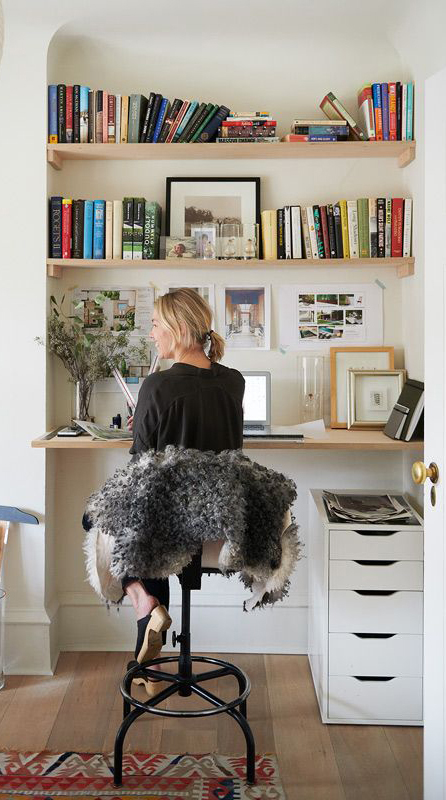 Image courtesy of: House & Home
This innovative office nook used to be a second-floor bedroom, but simple built-ins, an understated filing cabinet and sleek desk chair make this space all business (not leisure).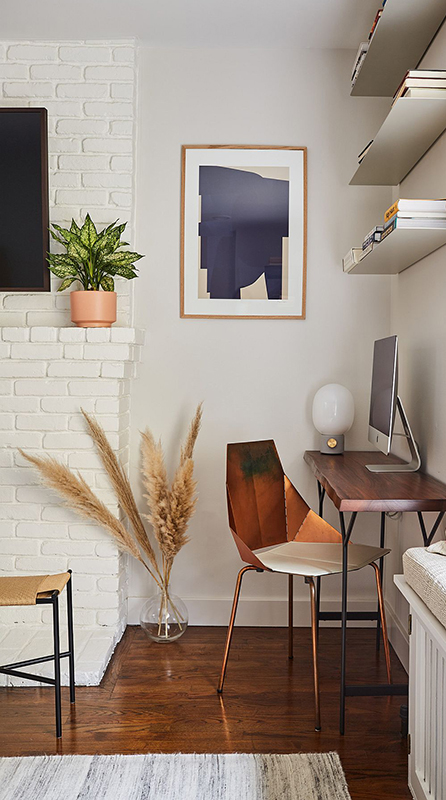 Image courtesy of: Broderic Design
Three floating shelves and desk turn the corner into a cozy home workspace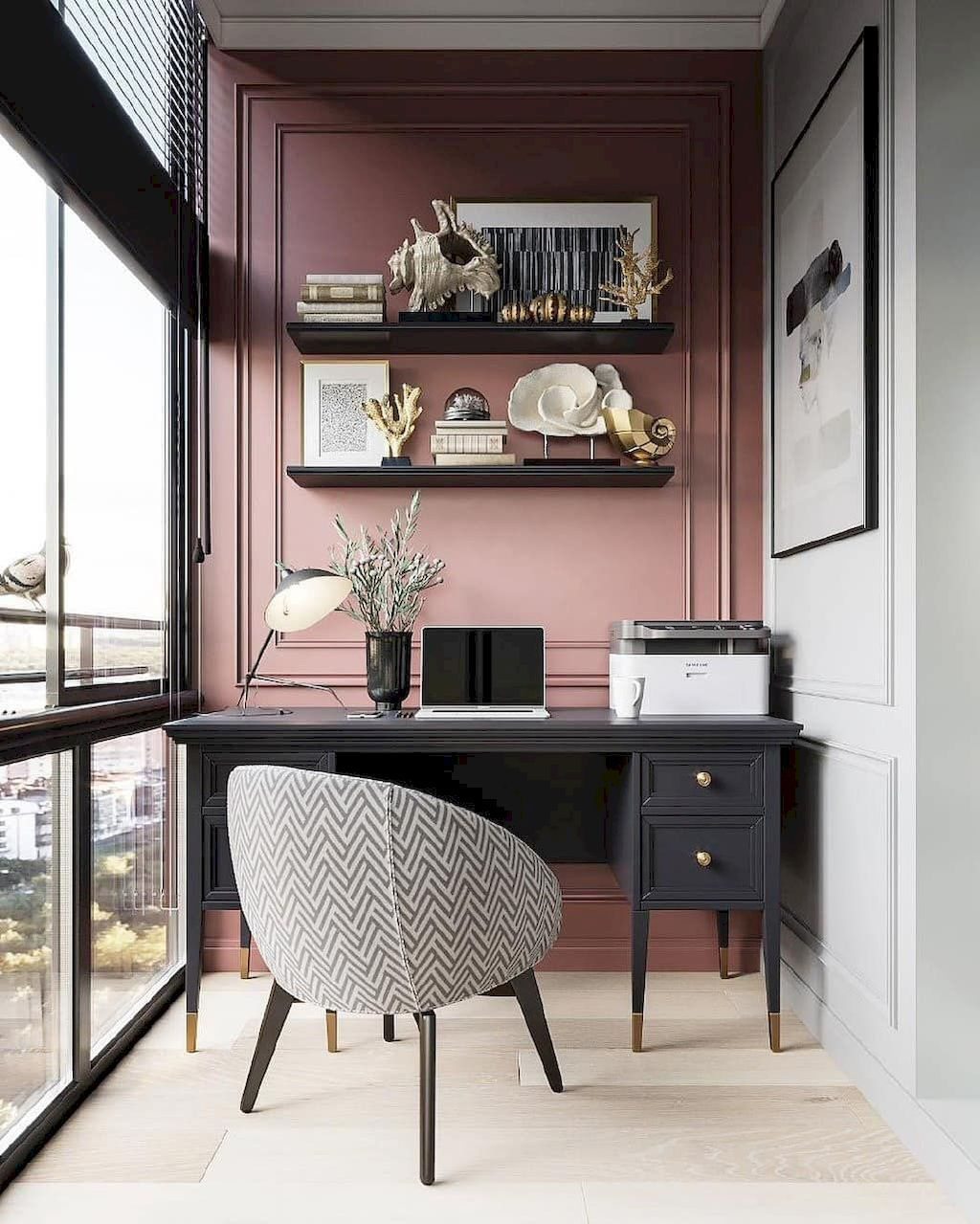 Image courtesy of: Pinterest
Image courtesy of: Pinterest
5.  Conceal Tech
Integrating technology and electricals in an aesthetically pleasing way can be a daunting task. For my own home office, I used a combination of double-sided Velcro and multi-purpose cable ties. The image below shows the process of keeping the area both on top of my desk and directly underneath, clear of clutter.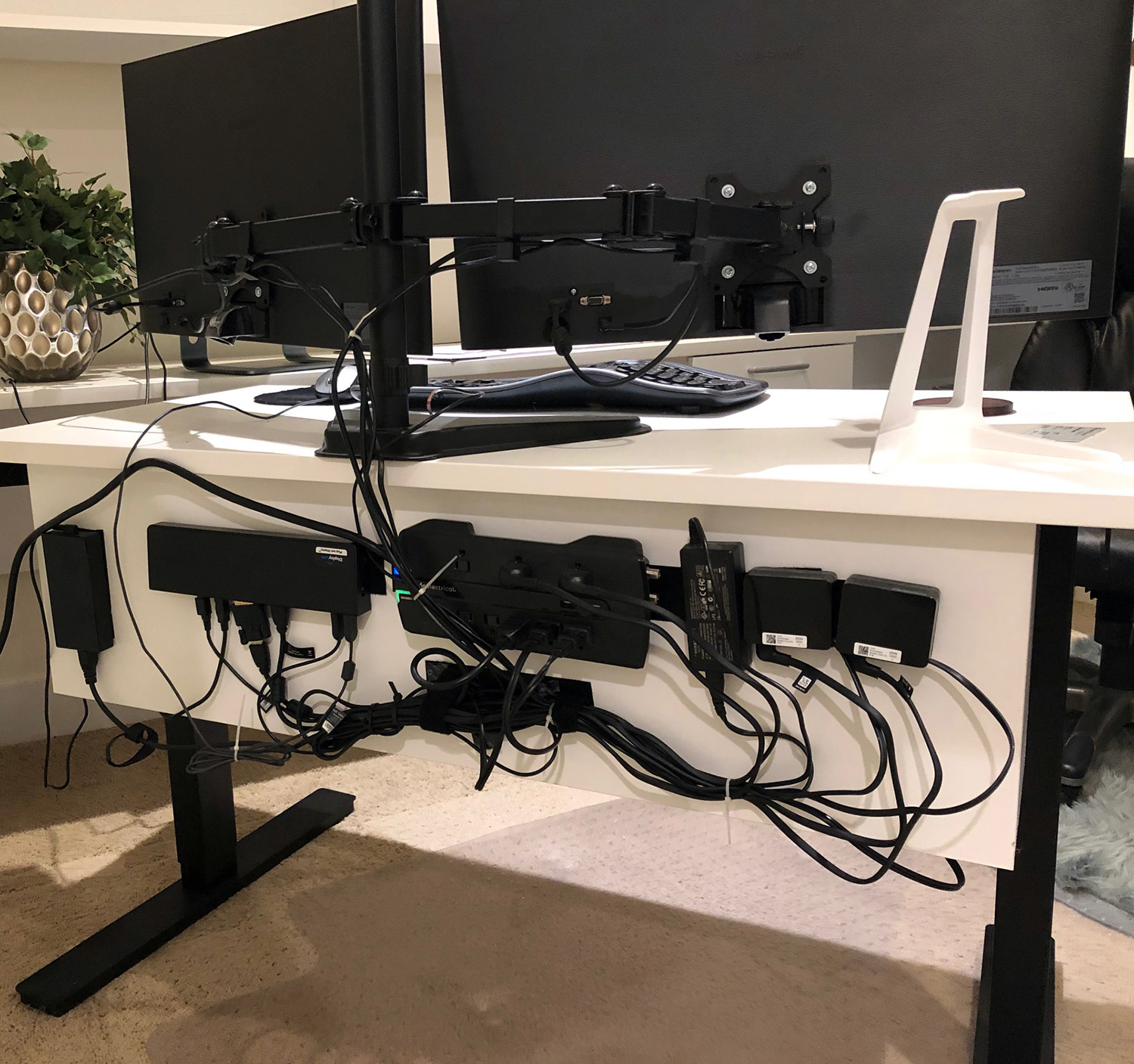 You can see that I have a lot of cables to hide in my own home office! These cables are hidden from view once the desk is backed up against the wall. Double-sided Velcro keeps everything neatly attached to the desk, and the cable-ties keeps everything off of the floor.  The result is concealed tech that doesn't have to be moved around when vacuuming under the desk area. It also is a great way to keep chords away from pets.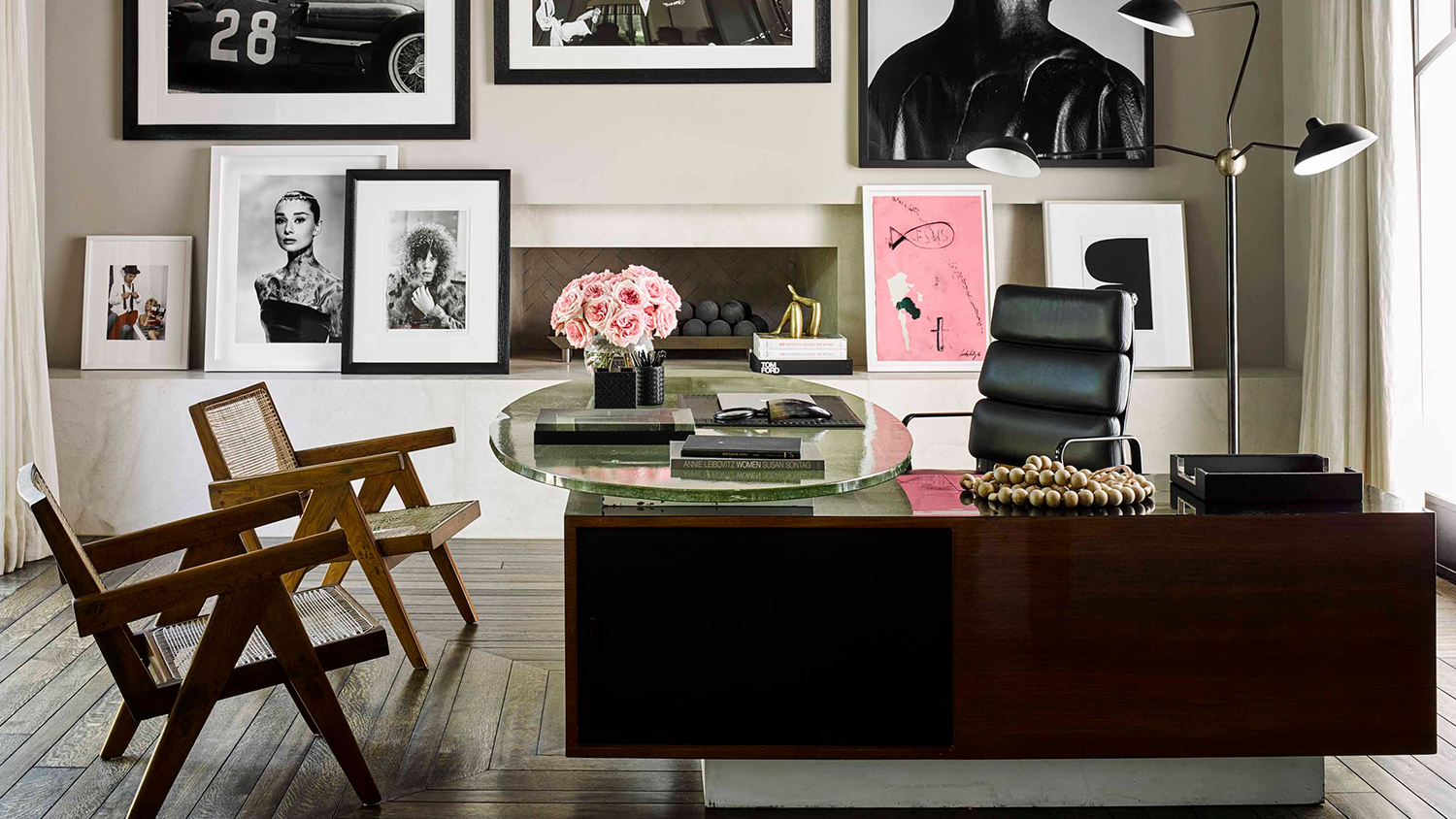 6.  Add a Gallery Wall
Few things are as perfect as a well-appointed gallery wall. No wonder it's an interior designer's go-to solution. A gallery wall provides the ability to create a flexible and customizable narrative that can be added to and improved on overtime.
Gallery walls instantly add a sense of style and sophistication to a home office and are the perfect way to bring in color, shape, and form.
7.  Be Sure to Add Layers
A home office should be comfortable and inviting. As with all spaces within the home, layering is a great way to introduce pattern, color, and texture. Layering is the act of building the room from the ground up by taking individual design elements and pulling them together to create a cohesive look. It's used to provide depth to a space that can take any room from ordinary to extraordinary.
Effective layering includes everything from textiles (pillows, area rugs, throws), lighting (overhead, table lamps, ambient features), furniture (sofas, chairs, coffee tables, accent tables), wall hangings (artwork, mirrors, photos), wall treatments (paint, wallpaper) and décor (vases, floral arrangements, books).
8.  Windows and Mirrors
Situating your workstation by a window boosts productivity. If a location near this natural light source is not an option, bring in visually impactful mirrors. Mirrors can make spaces feel more expansive, and bounce around natural light. They absorb the image of light in the room and create the sensation of brightness and depth.
9.  Add Some Plants
Plants not only add color, but some can also improve air quality. Try adding a houseplant in a decorative pot and place it next to your desk. Unique vases can also be the perfect place to add fresh flowers to every other week.
10.  Invest in an Area Rug
Area rugs provide the opportunity to bring in color and texture while also tying the various elements in a room together.
11.  Bring in a Smart Chair
Your work chair is an extremely important piece of furniture. It's important to invest in a high-quality ergonomic chair that provides comfort throughout the day. These chairs conform to your shape while supporting the spine.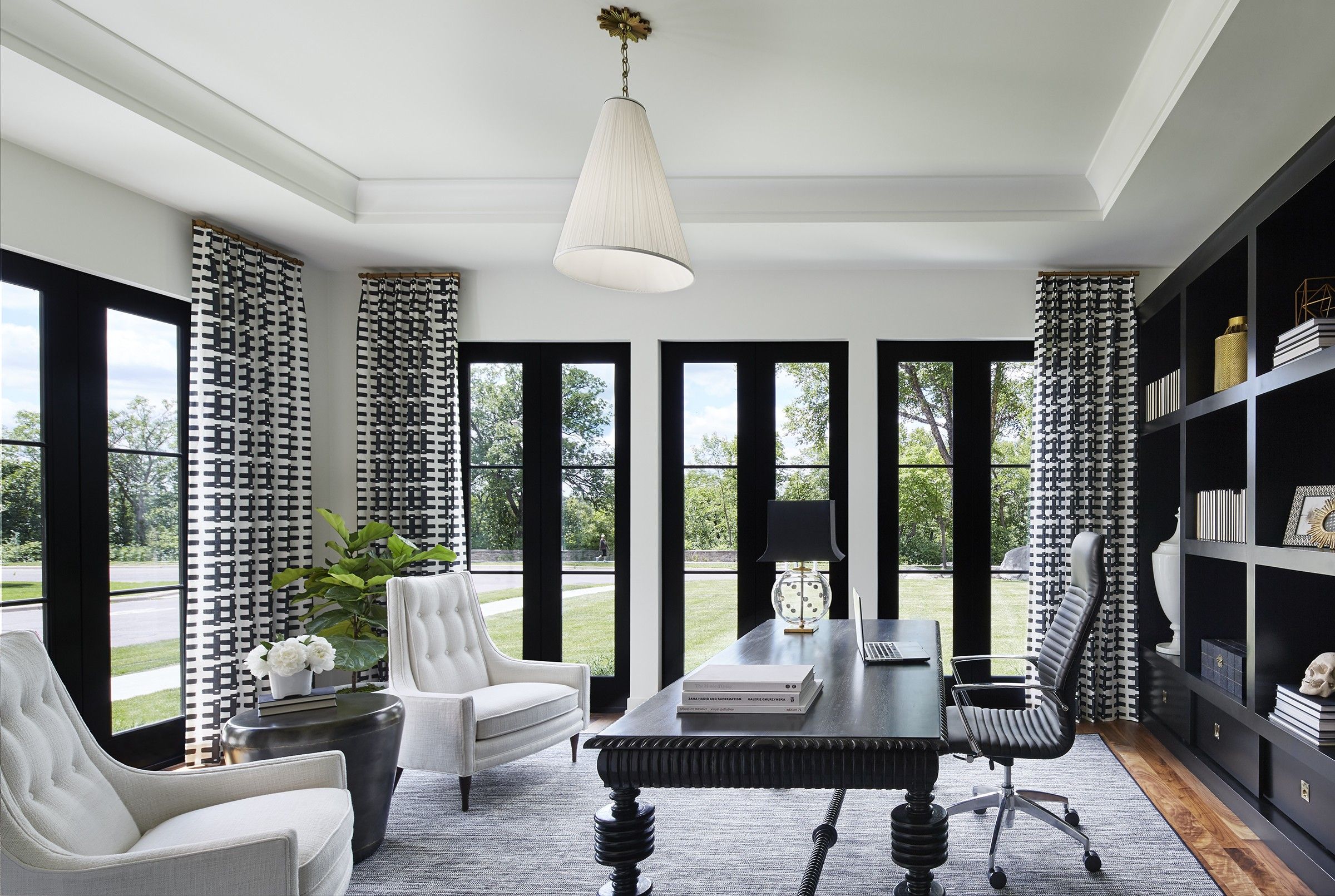 12.  Make it Glamorous
A home office space can be glamorous, sophisticated, and elegant. Add a hint of sparkle with a chandelier and metallic surfaces. Throw down a plush faux fur rug, and introduce sumptuous textures such as velvet furnishings.
Image courtesy of: Eicholtz
This home office is from the Eicholtz home furnishings product line and displays a glamorous glass table on a contemporary silver stand, a gallery wall, and beautifully designed mirrors. Eicholtz carries everything from sumptuous sofas and shiny chandeliers to classy club chairs and majestic mirrors. All designed to personalize your home in high style.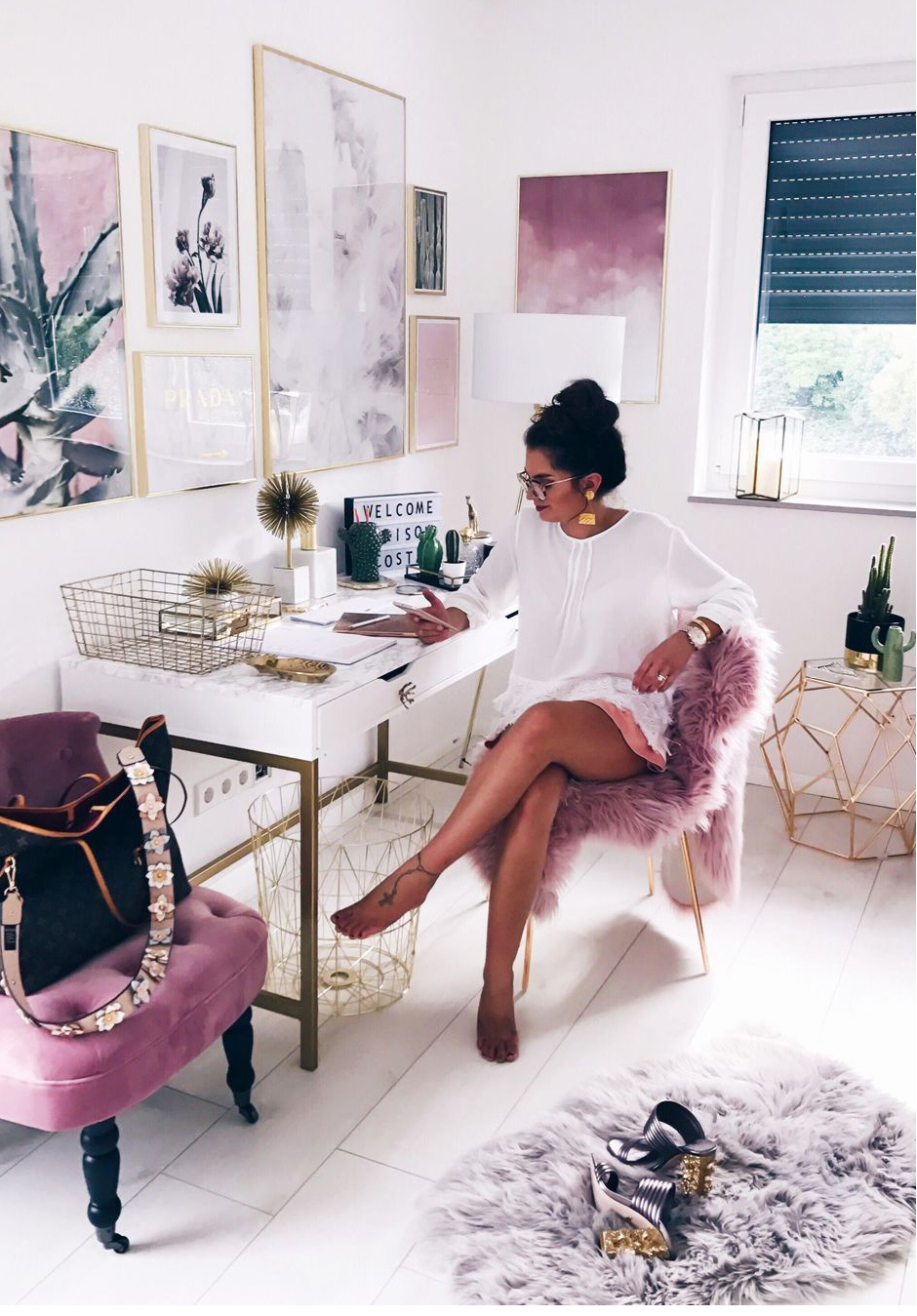 Image courtesy of: Pinterest
A glamorous and feminine home office design with delicate hues of pink and purple.  This is the perfect design for those who love a bit of bling in their work space. The faux fur throw and sumptuous richly colored velvet chair and warmth and texture. A gallery wall framed in metallics adds a punch of color and instant glam.
Image courtesy of: JK Interiors
This stunning white and gold desk is illuminated by a brass sputnik flush mount and wall-mounted brass sconces. A brown cowhide rug is layered over a white and gray rug for additional texture and interest.  An abstract art piece is mounted to a wall finished with white moldings.  The built-in bookcase is styled and complemented with gray grasscloth wallpaper on the backs of the shelves.
13.  Create a Good Lighting Scheme
Lighting for a home office generally falls into three distinct categories: Overall or ambient, task, and accent lighting. In well-planned rooms, however, ambient lighting can be imaginative and individualized, used to supplement natural light and to enhance the surroundings.
That should be your goal, and it is entirely possible to achieve without too much effort. What it takes, however, is a bit of planning. Putting light in your life should be a matter of shining it where it is needed. Supplement overhead lighting with well-placed lamps.
When adding lighting to the office, start by defining what the function is of different areas in the room. Do you want the space to be bright and focused or would you prefer background ambient light? Incorporate different layers of lighting such as ceiling lamps, floor lights, and table lamps. A chandelier or pendant lights can be hung from the ceiling and wall sconces can be situated at the sides of the room.
Summary
Article Name
Description
Tips on how to design a home office, including home office organization tips, adding color, how to conceal tech, the importance of a good lighting scheme and the importance of adding layers. Design Ideas & Stunning Images.
Author
Tracy Svendsen, Interior Design
Publisher Name
Publisher Logo