Urban Earthy Interiors: Jenni Kayne
Urban, earthy & au naturel, these stunning spaces accomplish their balance and sophistication through the layering of textures, keeping color scheme to a minimum and incorporating organic and monochromatic accents. If you are designing a monochromatic color scheme based on neutrals, it works well to tailor your neutral scheme to harmonize with the neutral colors that already exist in the room.
The first series of images are of the home of Jenni Kayne (image above), an American designer, known for her timeless wardrobe classics that span both age and seasons. Her soulful approach to California living, illustrates that modern luxury is not defined by product or price, but by culture and experience. Her professional and personal pursuits have informed her aesthetic point of view – which is reflected by warm and inviting minimalism that is effortless, elegant and natural.
After recently moving into to her new home in Los Angeles, the designer who's known for her laid-back apparel and accessories, called upon the team at The Studio at One Kings Lane to help her install a similar sense of effortless cool into the space.
A blank slate existed with soaring beamed ceilings, classic brick fireplace, expanse of window and elegant paneled walls. She sought to create a space that was simple, organic, and natural, "not too complicated or serious, but with each item still being thoughtfully considered." Think natural furnishings, monochromatic accents, wood furniture, burls, sea-grass planters, cane Hoffmann dining chairs and an influence of the outdoors.
" I look for special items in my wardrobe the same way I look them for a room.  I want something that's hand-worked and considered, something that tells a story and will age beautifully." ~ Jenni Kayne
Photos by David Tsay – Styling by Alex Reid
post updated May 2019.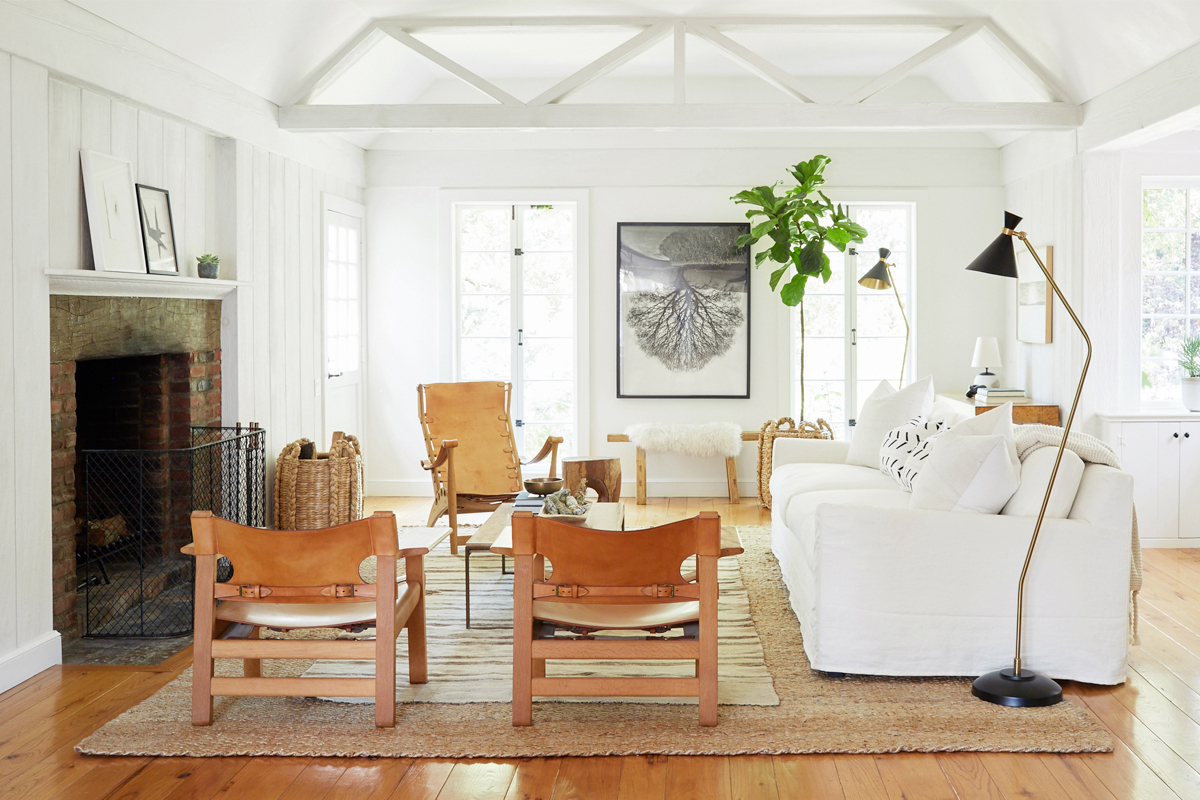 Everything in the living room is centered around the fireplace. The simple slipcovered sofa in white in addition to vintage pieces pull the look together. Monochromatic accents, such as the mud-cloth pillows, mid-century floor lamps and artwork, create graphic, eye-catching pops of black that provide vivid contrast to the subdued space.  The kilim adds personality and is reflective of Jenni's style
"I like to layer old rugs over jute or sea grass so that you don't have to worry about finding the perfect size. I look for special items in my wardrobe the same way I look them for a room.  I want something that's hand-worked and considered, something that tells a story and will age beautifully." ~ Jenni Kayne
While Jenni praises The Studio for "making [her] vision come to life," Alex admits he learned a lot from his client as well. "I can sometimes be a 'more is more' type of designer, but working with Jenni I definitely became much more edited and somewhat of a minimalist," he says. "It's not about having a ton of pieces to fill a room. It's more about having the right pieces." Intriguing, unusual finds such as a chandelier with articulated arms and a bronze figurative sculpture provided just the right amount of interest. Clean. Simple. Organic.
Alex Reid's Top Tips to Get the Look
Keep your color palette to a minimum, and bring in details through texture.
Use contemporary light fixtures juxtaposed with more-traditional furnishings—it creates that cool mix.
Layer your rugs. I do this in every project—it's comfortable and chic.
Pop your neutral upholstery pieces with black. We used this in the art and lamps, and it helps give a stronger edge to your design and keeps it fresh!
Jenni Kayne's blog titled Rip & Tan,  also features the home of interior designer and chef, Athena Calderone who has a similar style of design.
Urban Earthy Interiors: Alison Davin of Jute
Alison Davin of Jute is making a name for herself in the Bay Area with her "urban earthy" interiors, ranging from a small kitchen makeover in San Francisco to grander projects. Alison Davin leads Jute with a sharp eye for one-of-a-kind furnishings and a personal love for design-build projects that allow light, space and furniture to flow with the daily life of the home. Every aspect from the flooring to each finishing touch is carefully layered to create an atmosphere that's perfectly balanced and approachable.
"It's not about picking lots of pretty things," she explains. "It's thinking through the flow, the furnishings, and how the space will be used in the future. The feel of a room is what gives it finish."
Davin feels it's important to make palette a secondary player – preferring color to play a supporting role rather than being the star.
"Personally I like a piece's shape, scale, and texture to be what you notice and not so much the color," she says. Neutrals abound in this cozy bungalow living room, but tactile elements such as wood, fur, and nubby knits keep the eye intrigued. "Paint is always the very last thing we do so that it complements the room rather than dictates it."

 
Davin layers in natural textures, mixing an equal amount of metal, leather, linen, wool, glass, stone and wood to achieve an earthy elegance. Her advice is to use antiques or re-purposed pieces as the patina that comes with age adds so much warmth to a space.
Davin believes that wood should be worked into the foundation of the interior.
"Wood beams, mantels, built-in bookshelves, countertops, or custom doors are a great starting point for decorating," she says. Worried your woods won't match? "Woods won't clash if their undertones are similar," says Davin. "It helps if they all have either a warm or an ash base. At Jute we try to steer clear of woods with red undertones and use more walnuts and oaks."
The home of interior designer Nick Berman and his partner Gennaro Rosetti.  In the living room, among Berman's furniture, a painting by California artist Larry Cohen and sculptures by married artists Echiko and Minoru Ohira join a serene concrete head from Sumatra, an antique wood chicken feeder and a spiked Indonesian fish basket.
via: Interior Architecture
Shop the Post