Interior Design Styles
There are many different interior design styles, and it can often be difficult to choose one that resonates with us as individuals. As an interior designer, I have an appreciation of design done well – regardless of whether it's modern, coastal, glamorous, industrial or farmhouse. The beauty is always in the details.
It can also be difficult to find decor that matches our design aesthetic. In this post, I have provided images and an explanation of each of the interior design styles, as well as links on where to find home decor that suits each one.
Although the top 5 design styles are typically Modern, Contemporary, Traditional, Industrial/Urban, and Classic, decorating styles have dramatically evolved over the centuries. Many of these interior design styles were created out of previous styles and have evolved into very unique forms that allow us to express individual personality and taste.
post updated: Feb 2021
Interior Design Styles:

1.  Tonal Chic: Perfect for those who love a tonal palette enhanced with reflective surfaces.  This style layers organic pieces, lush layers and contemporary pieces.
2.  Modern Glam: For those drawn to polish and glamour. From animal prints to crystal chandeliers, mirrored surfaces, global patterns and plenty of sparkle.
3. Coastal Design: Coastal-style is for those who love everything to do with the sea-side lifestyle. From over-sized sofas to nautical stripes, whitewashed accents and a subtle palette of sandy hues and soft blues and greens.
4.  Farmhouse: Farmhouse is a decorating style that reflects the relaxed pace of life in the country in a home based in neutral colors, rustic surfaces and salvaged goods.
5.  Urban Earthy: These stunning spaces accomplish balance through layered textures, a minimum color scheme and organic accents.
6.  Bohemian: For those who want to capture eclectic charm in their homes, with vibrant color, exotic pattern and the spirit of the wanderer.
Come explore a few fun, fresh and adventurous approaches to design.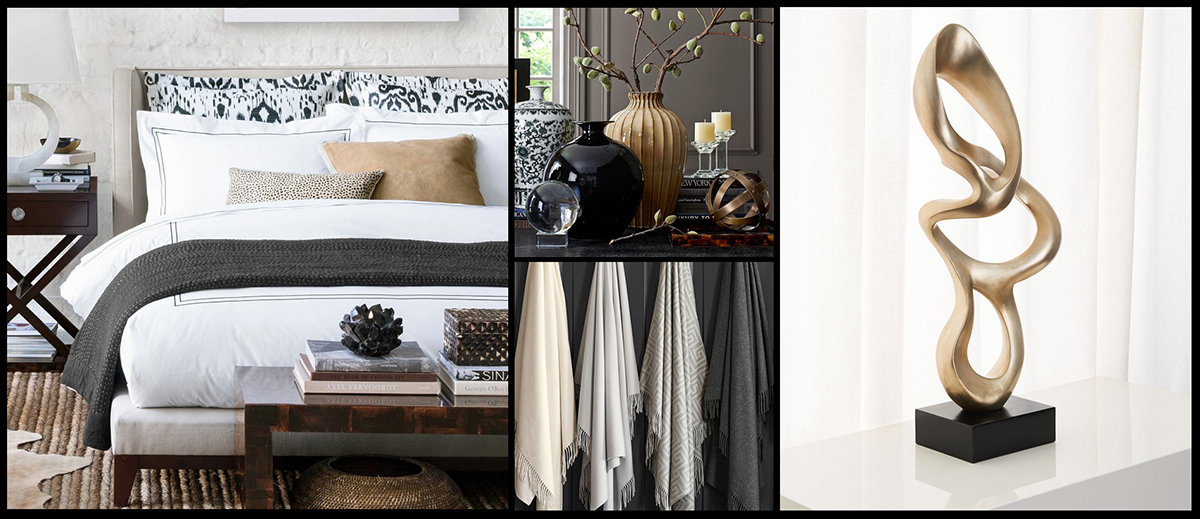 1. INTERIOR DESIGN STYLES: TONAL CHIC
Create a modern tonal chic decor style by using one or two colors or by layering pale neutral shades of toffee, cream, and caramel. A modern feel can be achieved by incorporating a tonal palette enhanced with reflective surface treatments such as gleaming hints of brass or silver that catch the light.
These clean lines don't need to be cold and minimalist – add layers of earthy organic pieces, lush layers, and contemporary pieces. One of my favorite interior designers is Mollie Johnson. Her interiors lean toward a pared-down palette, yet each one is incredibly inviting and unique. "When you have one or two colors, it's just much easier on the eye. It's quieter than a bunch of shades, but can be more elegant and beautiful." – Mollie Johnson.
Photo Credit: Bernhard Design
Shop the Tonal Chic Collection at Buyer Select
Photo Credit: Bernhardt Design
Photo Credit: Bernhardt Design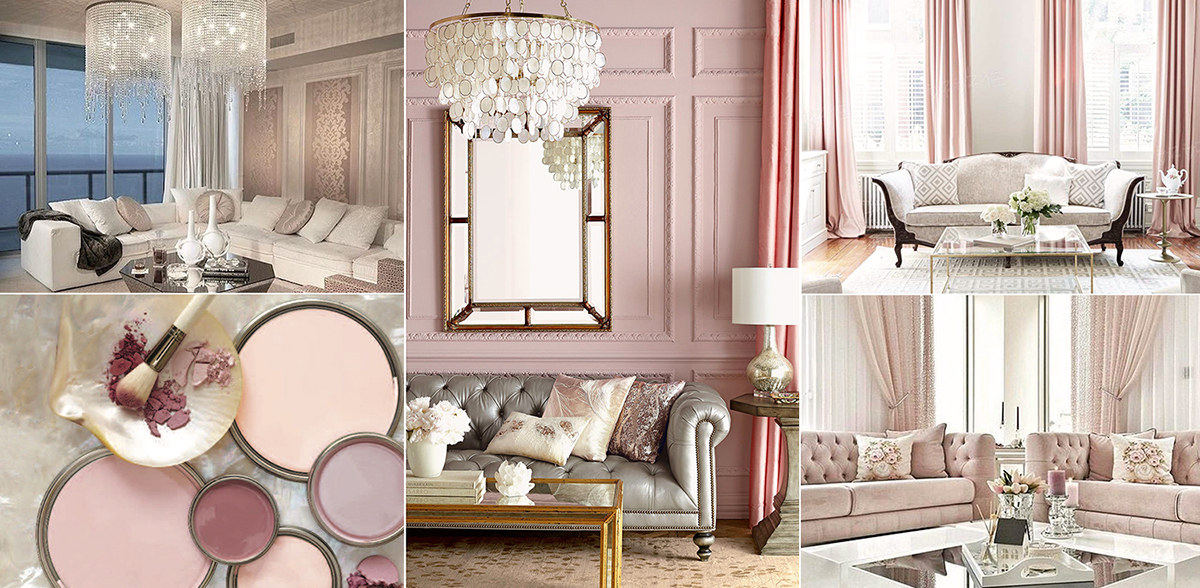 2.  MODERN GLAM DESIGN
I've assembled all the essentials for a polished pad of your own where luxe classics meet fashion edge. From animals prints to sparkling chandeliers, classic furnishings, pretty pastels, global patterns, and glamorous gold accents. It's glam, fun and slightly daring – and these items are all spot-on for creating a space that's ladylike with an edge.
Chic neutrals and brilliant metallics are the foundation of classic glam. It's all about showcasing a distinct sense of self – an elegant interplay of the under and overstated. Furniture generally has sculptural lines with intricate detailing. Light-catching materials such as crystal, lacquer, and mirrors add sophistication and dramatic lighting such as crystal-adorned chandeliers fill the space with elegant sparkle. This is the perfect design for those that are drawn to marble, lacquered black and white, lucite and gold or silver accents.
Mirrored accent furniture is a perfect fit in this style of design, as well as bygone influences that have traces of Old Hollywood and Art Deco. Glam design can include bold color and daring prints. When picking color, remember to 60-30-10 rule (when using a three-color palette, decorate 60% of a room with the dominant color, 30% with the secondary color, and 10% with the remaining color). In this regard, it often works best to choose a neutral shade as the dominant color.
Balance is the key to creating a successful design. Include eye-catching pieces but including too many can cause a room to feel overwhelming. You want to add enough glitz and glamour to show your personality, but at the same time, to keep it from becoming over-the-top.
Shop Modern Glam Decor at Buyer Select
Soho Luxe by Bernhardt Designs
3.  COASTAL INTERIORS
A coastal look can easily be achieved by incorporating a sandy palette, gentle hues of blues and greens with whitewashed accents. Nothing says "coastal living" quite like an open living room, over-sized sofas, nautical stripes and sea-inspired accents such as ropes, sailboats, and sea-side prints.
Rich polished wood reminds us of the hull of a mighty ship, and thickly woven jute, high luster finishes and crisp linen pair well with a range of oceanic hues and stormy grays. Navy and white are the backbone of a sailing-inspired look.
You can tone down the nautical theme by incorporating pillows in modern prints and creamy neutrals instead of stark whites as shown in the featured image above (designed by Muskoka Living Interiors designer Cory DeFrancisco). Create your own breezy and effortless chic space with these coastal-inspired finds.
Shop Coastal Decor at Buyer Select
4.  FARMHOUSE DESIGN
Farmhouse decor and decorating style reflects a slower, more relaxed pace of life in the country. Farmhouse decorating is all about simplicity and keeping things organic. The finer details matter with this approach, and it works best when elements incorporated portray a rustic, minimal and cozy feel. Old is gold and it's good to keep things as authentic as possible.
Think exposed beams overhead, distressed woods, natural textures, floral curtains, vintage and whitewashed décor, a neutral color palette, galvanized metal accents, salvaged goods and implementing raw and organic materials in the foundation. Forego clutter and be selective in where items are placed. Bring the outdoors in with houseplants, preserved wreaths, and herb gardens.
When in doubt, fill a mason jar with fresh flowers to complete the look for any space. When it comes to colors, neutral hues create a calming space; linen and cotton upholstery reinforce this laid-back style. Rustic wood furniture and galvanized metal finishes add to the lived-in feel. Image above via: Architectural Digest.
Shop Farmhouse Decor at Buyer Select
5.  URBAN EARTHY INTERIOR DESIGN
Urban, earthy & au naturel, these stunning spaces accomplish their balance and sophistication through the layering of textures, keeping the color scheme to a minimum and incorporating organic and monochromatic accents.
If you are designing a monochromatic color scheme based on neutrals, it works well to tailor your neutral scheme to harmonize with the neutral colors that already exist in the room. Think natural furnishings, monochromatic accents, wood furniture, burls, sea-grass planters, cane Hoffmann dining chairs and influence of the outdoors. Image above courtesy of: Nick Berman Interior Architecture
Shop Urban Earthy Decor at Buyer Select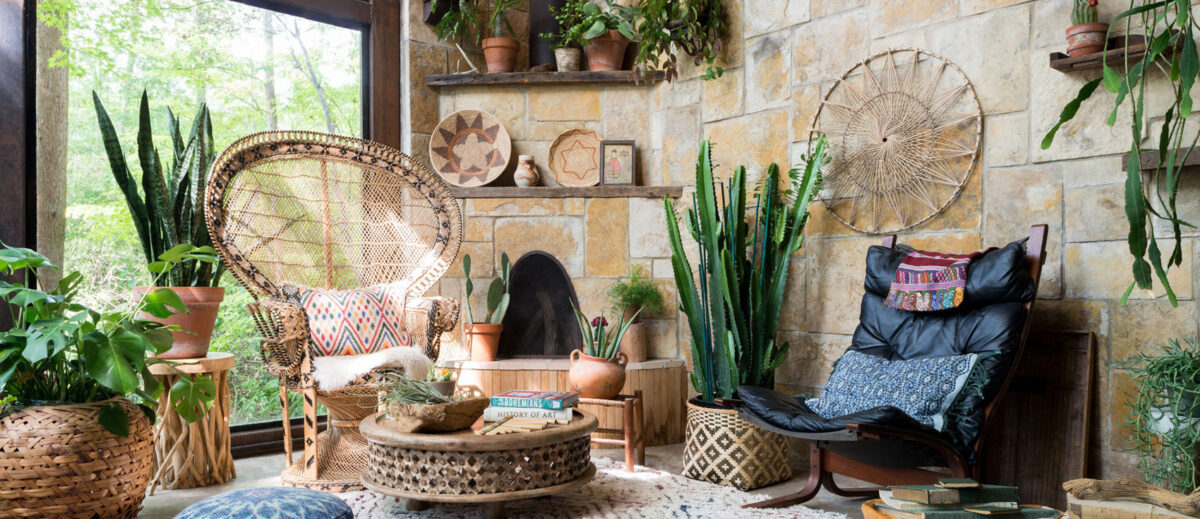 6.  BOHEMIAN DESIGN
Are you inspired by bohemian decor and design? Unlock your inner free spirit with Buyer Select's curated collection of bohemian décor with vibrant colors and exotic patterns. Capture the eclectic charm of boho living by surrounding yourself with artistic elements. Incorporate lanterns, hand-crafted pillows, playful patterns and vibrant hues.
The image above is the work of, Justina Blakeney, a designer and artist who believes creativity is the key to having an amazing home. "I like to bring in items that stimulate senses other than just sight – things that you touch, things that you smell, things that you hear." – Justina Blakeney
Shop Bohemian Decor at Buyer Select
BERNHARDT DESIGN
Here's a few more stunning images from Bernhardt. They have an amazing collection of furniture, home decor and design galleries.
Bernhardt is one of the largest family-owned furniture companies in the world with 3rd and 4th generation Bernhardt family members still actively involved in the direction and management of the family business.
The company operates eight manufacturing facilities and its corporate headquarters in North Carolina and five offices overseas.  The company's "extended family" includes more than 1,250 employees plus dedicated sales people who represent Bernhardt in more than 50 countries.
Bernhardt's story is a tale of vision, perseverance, and uncompromising commitment to high standards of doing business. This story continues 125 years later with a focus to anticipate and satisfy the ever-changing needs of customers who expect the very best furniture for their homes, offices, hotels and universities. Photo credit: Bernhardt 
Images Optimized for Pinterest