Small Backyard Ideas
We live in a modern 2,800 + sq ft. 4-bedroom condo in close proximately to two beautiful beaches, tons of outdoor hiking trails through old-growth forests, and a short walking distance to 100's of fabulous restaurants and shops. The trade-off to living so close to the heart of the community is a rather small backyard area. Every year we try to invest time into at least one or two updates to our condo and this year creating an outdoor oasis felt like the best choice.
My partner and I have five children between us that visit as often as they can, and we wanted an outdoor living space that we could enjoy each other's company. Our adult kids are also great friends with each other, and we knew they'd be spending a good deal of time hanging out outside long after we had retired for the evening. An oasis for just the two of us, our kids and friends and family.
How to Create an Inviting Outdoor Oasis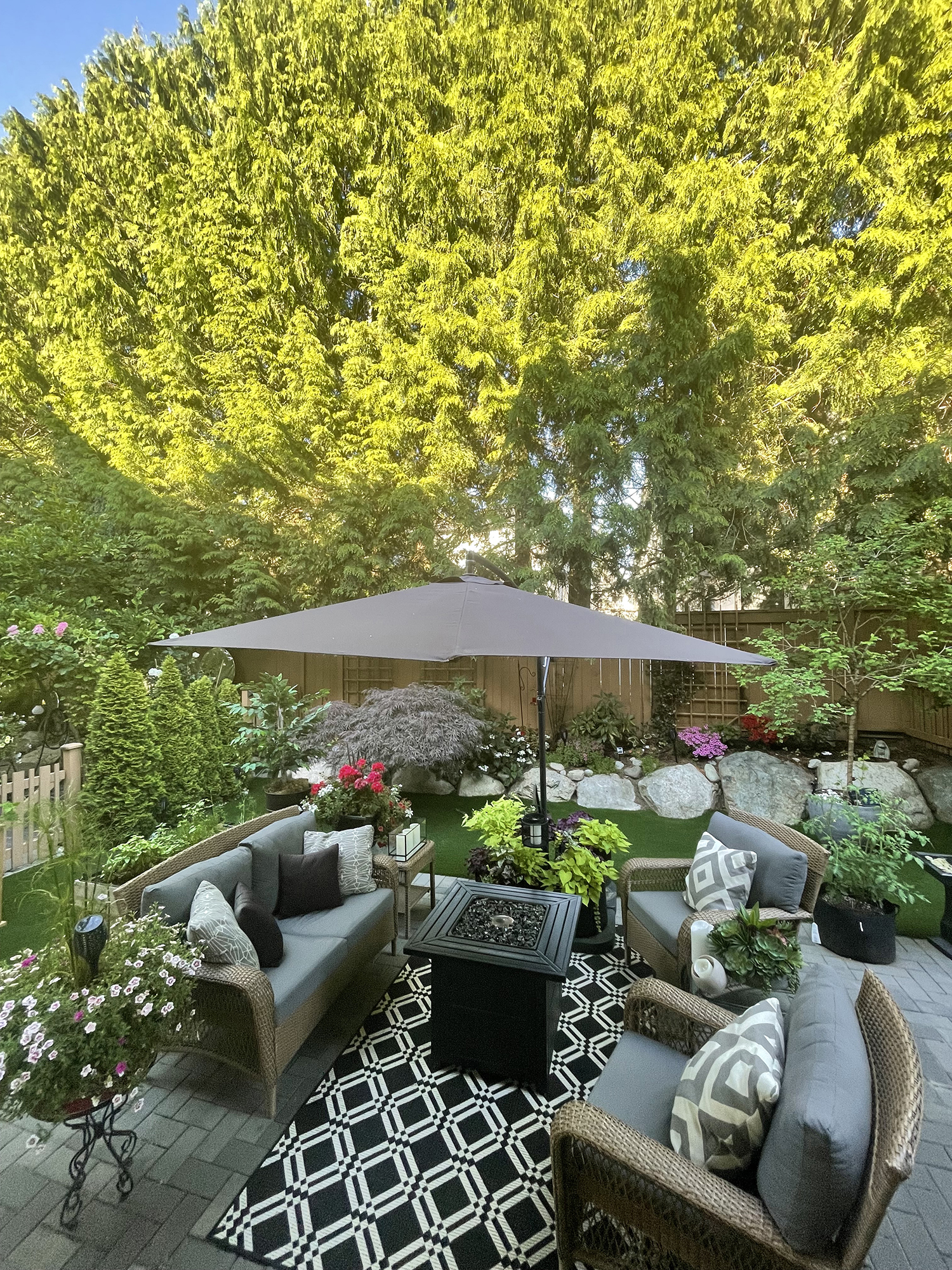 Shown in image: Home Depot Patio Set, Crate & Barrel 3 Candle Holder (on side table), Wayfair Cantilever Umbrella & Base, Crate & Barrel Single Candle Holder and Stand (on umbrella base), Crate & Barrel Outdoor Area Rug.
We had already had begun to make a few changes several years ago after we purchased our home. The first step was to have the soil in the garden along the fence tested. There is a huge expanse of a 25' cedar hedge that provides the ultimate privacy, but we were concerned it may have provided poor soil conditions for the garden area below. Once we received the results, we purchased 8 bags of high-quality soil to prep for new plants. This area received only a few hours of sunlight a day, so we had to ensure that we planted bushes and flowers that worked best in these conditions.
We then purchased a small-scale, comfortable patio set from Home Depot. Only one set was available in the size and configuration we were interested in, but it was bright orange. I liked the color, but prefer neutral tones. I planned to have them re-upholstered once they started to fade.
The grass was in terrible shape, and our German Shephard Rose had damaged it even further. We have an incredibly rainy season here, and she began dragging mud throughout the house. Next step – we had artificial grass laid down, which solved the problem quickly!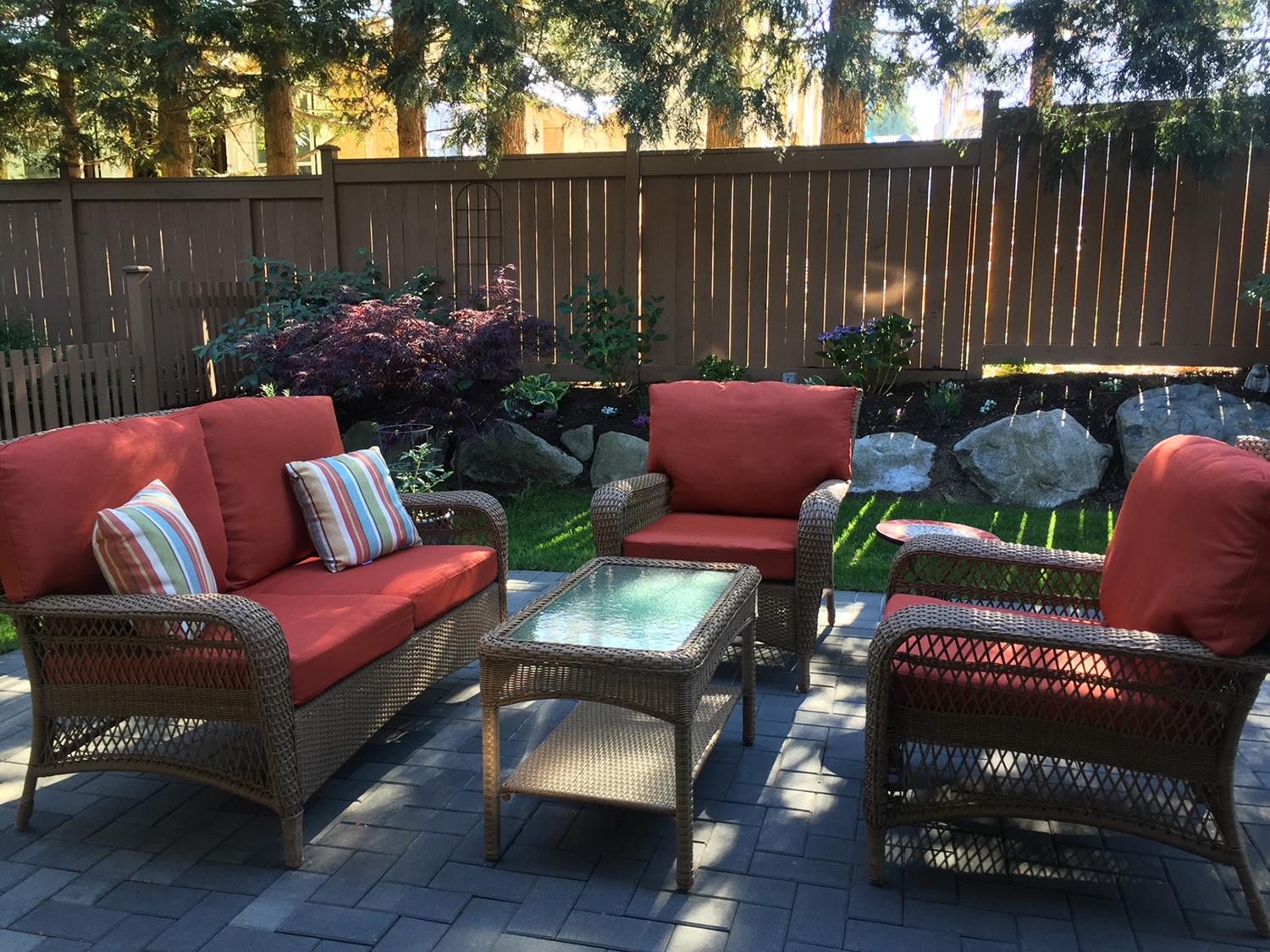 We then purchased a small-scale, comfortable patio set from Home Depot (shown above). Only one set was available in the size and configuration we were interested in, but it was bright orange. I liked the color, but prefer neutral tones. I planned to have them re-upholstered once they started to fade.
The grass was in terrible shape, and our German Shephard Rose had damaged it even further. We have an incredibly rainy season here, and she began dragging mud throughout the house. Next step – we had artificial grass laid down, which solved the problem quickly!
Once everything was set up, we found that this was the perfect place for us to sit and talk and relax at the end of our workday. It became the place that we shared what happened during the day, planned future vacations, and chatted over what other changes we'd like to make to our home down the road. It was good – but we wanted to amp it up a notch!
This Year's Changes
This year I wanted to take the initial design one step further, and develop a more healing and sensory sanctuary. The goal was to create a space that appealed to sight, smell, hearing, and touch.
The vision entailed a stone waterfall that would provide the soothing sound of running water as it splashes down from basin to basin.
Sight would apply to the overall visual aesthetic – a peaceful environment with well-designed elements as well as the natural beauty of trees, shrubs, and floral arrangements.
A firepit would provide additional warmth, as well as become a glowing focal point. A large overhead umbrella added to the mix would provide the ability to remain outside in light rain, while also further defining the seating area.
To provide a pleasing scent in the air, trellises were added along the fence to draw the eye upward with vertical features. Although this is a work in progress, we plan to add trellises to the full extent of the fence line and continue to plant jasmine as its smell is intoxicating, exotic, and intense. It's also the ancient smell of calm.
An area rug would work to ground the space while new throw pillows, blankets, and woven baskets would add cozy layers of soft textures.
Most importantly, different light sources would be included to create a warm glowing ambiance.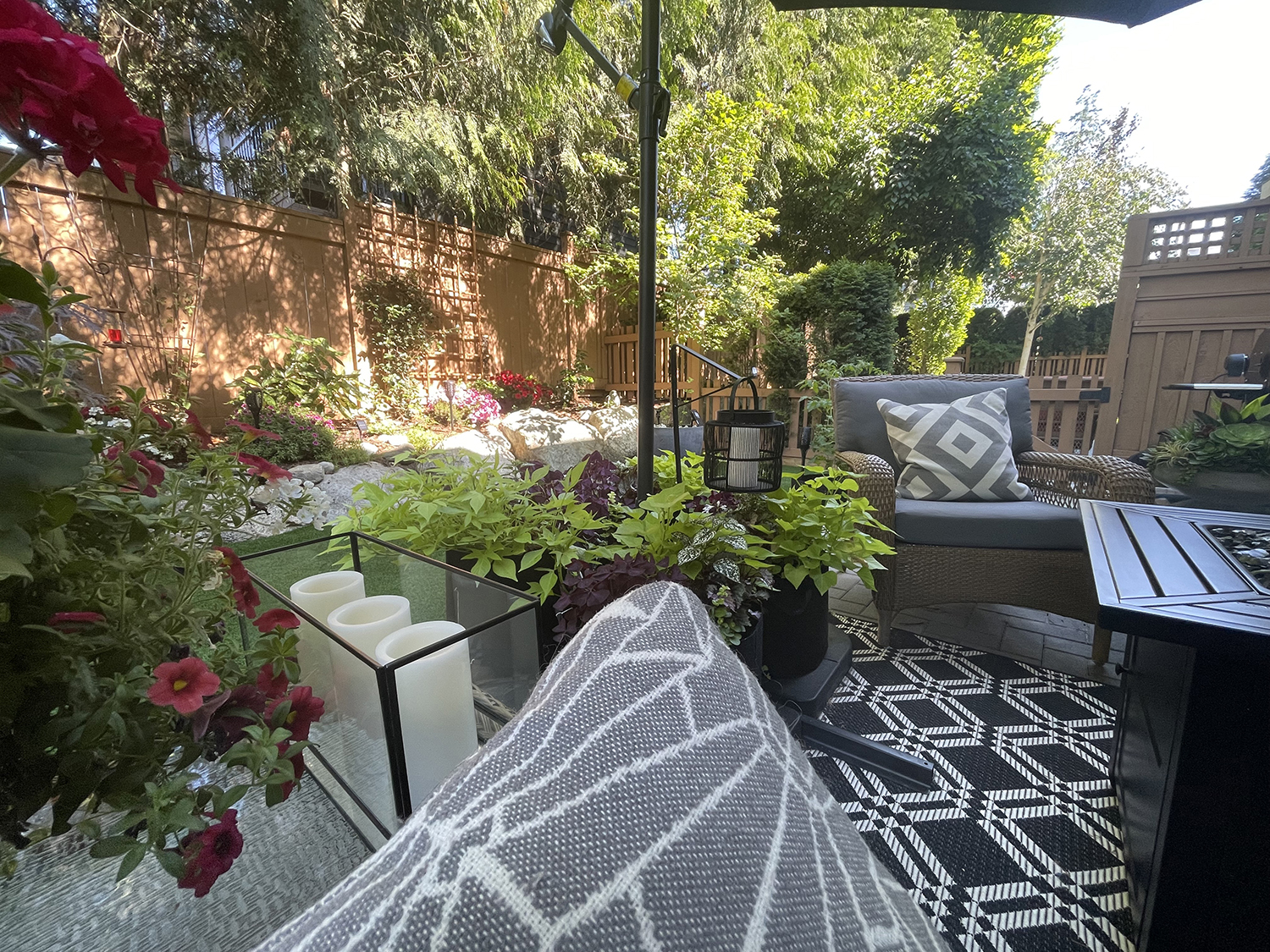 Furniture Re-Upholstered
Our open-concept living room, dining room, and kitchen have high ceilings with a stunning panoramic view of the backyard. I wanted there to be a seamless flow from the interior to the exterior, incorporating the same hues of gray with black and white accents.
It was finally time to have the furniture reupholstered. I decided to go with Sunbrella fabric as it's water-repellent and there was a wide selection of solids, stripes, geometrics, florals, and ikats to choose from.
After receiving several quotes, I chose the lowest quote as it came in at approximately $600.00 and the company had great reviews. A few of the quotes came in at 3X that amount, and although it may have been due to the difference in fabric quality levels, the lowest quote fit into the total budget. I chose a solid gray as I thought it would make a perfect backdrop to brightly colored floral arrangements and decorative pillows.
Outdoor Area Rug
I love outdoor area rugs as they add a cozy touch to patios, decks, and porches. They warm up any area while providing comfort, texture, pattern, and color. They instantly pull together a seating area and elevate outdoor living spaces. I chose a geometric pattern in black and white as it was similar to the area rug in our dining room and went perfectly with two woven black and white striped outdoor baskets that I had purchased from Crate & Barrel the previous year.
Outdoor Umbrella
The outdoor umbrella was purchased from Wayfair. Outdoor umbrellas are great for providing additional privacy, but they also block out the harmful rays of the sun. A cantilevered umbrella with an articulating arm allows you to face the umbrella from whichever direction you need to block. They provide a shaded area for pets and assist in protecting outdoor furniture and décor from sun and water damage. 
In the image above, you can see Rosie is enjoying a break from the sun after a long hike at the dog park, and a swim in the ocean! When we had the furniture reupholstered, I had the seamstress make a removeable pad for her to protect the fabric on the chair.
I think the umbrella has made a dramatic difference to the space. It just feels cozy and protected sitting under it and like the outdoor rug, works to define the seating area. We've also found that we don't have to run outside and cover the furniture and the fire pit when it starts to rain.
Design Tip: Be sure to order a structural support system to prevent the umbrella from blowing over in the wind. They give the base a professional look when used with a cross-arm stand. Just fill each block with water for a total weight of up to 140-lbs. For various options, I typed in Umbrella base self-filled water weights on Wayfair. 
I also added four potted plants on the support system that are slightly elevated by rubber blocks.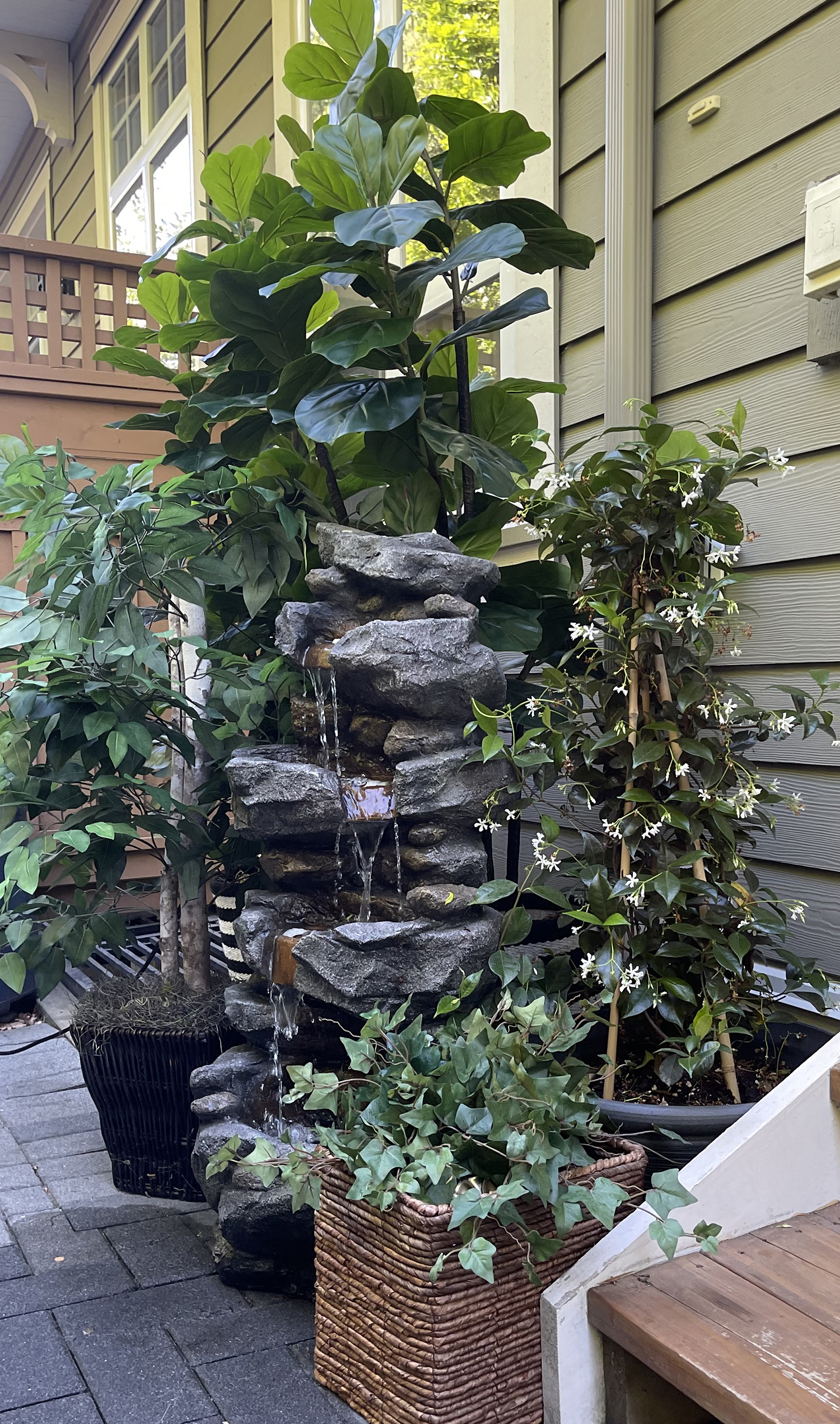 Stone Waterfall
The image above shows the stone waterfall we purchased from Wayfair. It plugs into an outdoor outlet, and sounds absolutely beautiful. I surrounded it with plants to create a tropical vibe. Next year we will be adding a built in area underneath to elevate the waterfall and to provide a high trellis for the Jasmine as it grows.
Waterfalls provide the tranquil and gentle sound of running water and are highly therapeutic, greatly reducing stress and anxiety. They can drown out obtrusive sounds you may hear in your yard, like street traffic, or additional noise from the neighbors. If you're into feng shui, fountains and flowing water help restore balance and positive vibes in any indoor or outdoor environment ("shui" means "water" in Chinese, and "feng" means "wind"). Being surrounded by beauty has an incredible effect on the mind and spirit, and there's no denying that water features are visually pleasing. The reason that Buddhist monks have used water fountains in their gardens for centuries is that there are so many benefits to the soothing sounds of water.
Dog owners know that it is crucial to keep fresh drinking water available to their pets at all times. During the summer months, dogs love to while away their time in the heat lapping up cool water. Dogs love the freshwater that they can get from an outdoor fountain plus they are fascinated with their motion.
Water elements stand out against the greenery and foliage and can be used to create focal points around the garden or yard. A single fountain can draw the eye, while a trickling stream or waterfall can deliver water to various spots in the landscape. We chose a waterfall that adds various levels of soft lighting.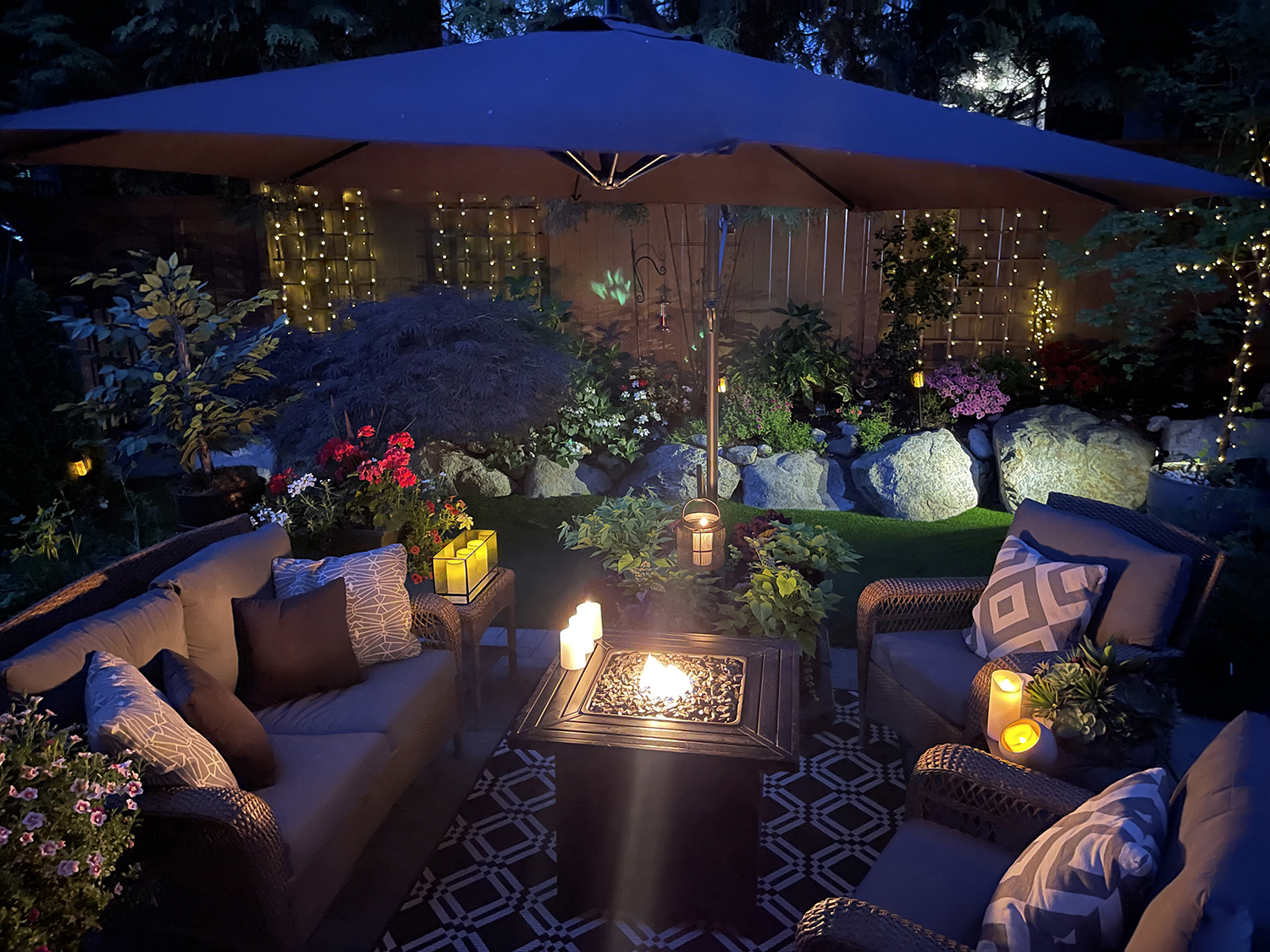 Firepit Table
Sitting around an outside fire isn't just about keeping warm. An outdoor fire pit has many practical, emotional, and health benefits too.
A fire pit is the ultimate focal point and creates an irresistibly ambient glow for a cozy evening outdoors.
Not only does a fire pit provide warmth once the day's sun has gone down, but it can also change the aesthetics of your home and give your garden a wonderful warm glow. The most underused area is often the garden, but when you have a fire pit, there's no excuse that it's too cold when you can sit next to those flames in the still of the night.
When the sun goes down, there's nothing better than to relax and unwind watching the flames dancing. In fact, a study by Christopher Lynn, Anthropologist at the University of Alabama claims that the effect of fire helps us become calmer and more sociable and even causes our blood pressure to drop!
Whether it's due to the entrancing flickering of flames or an innate sense of safety, outdoor firepits seem to calm the nerves and bring us to stillness.
Speaking of ambiance, nothing promotes a social gathering or a long, in-depth conversation like the open flames of a firepit. We found our adult children stayed outside chatting with us much later in the evening than usual – minus any viewing of screens. 
Twinkly Lights
I have always been drawn to soft twinkly lights as they add a certain magical and romantic element to a space. No other style of lighting feels as festive as string lighting. We began by purchasing and installing wood trellises that were attached to the back fence. Vertical features such as a trellis create the illusion of more space and provide the perfect place for beautiful vines to flourish. We lined the trellises with bulk string lighting purchased from Amazon by stapling them to the wood.
The outcome was magnificent! Lighting adds drama and interest to an architectural landscape and helps to define specific areas of the property.
Most of the lighting we chose is solar-powered as they allow for effortless backyard illumination. You don't have to worry about wiring or scheduling their activation.
Outdoor Garden Area
When we first moved in, we purchased an elevated herb garden stand as we both love cooking with fresh herbs. We typically grow a ton of basil as well as parsley, sage, oregano, thyme, dill and rosemary.  This year we added a larger wooden stand that runs along the fence line. Here we planted tomatoes, zucchini, red peppers, cucumbers, peas and beans.
I hope this article helps to inspire you to create the backyard of your dreams! We did take on another project this year – a DIY garage makeover that I'll be sharing next.