20 Ways to Use Herbs ~
Looking for ways to use herbs? With Summer right around the corner, it will soon be the season for an abundance of herbs available at your local market or in your garden. It's also the perfect time to round up a few ways to use them up so they don't go bad in the fridge. Fresh herbs are a great way to add flavor, color, and nutrients to many main dishes, but they also can be used in cocktails, desserts, bread or in creating a savory compound butter.
Herbs are classed as either being woody (rosemary and thyme) or soft (basil, coriander and parsley). Woody herbs are generally cooked alongside whatever they're intended to flavour and often are removed before serving. Soft herbs can be eaten raw in salads as well as stirred into cooked food. They also provide an added health benefit. Fresh herbs like rosemary, thyme and basil are rich in vitamins and antioxidants and can even fight inflammation and help prevent cancer. Boost flavour and your health by adding fresh herbs to food. Feature images courtesy of Le Creuset.
Here's a round-up of my favorite uses for culinary herbs.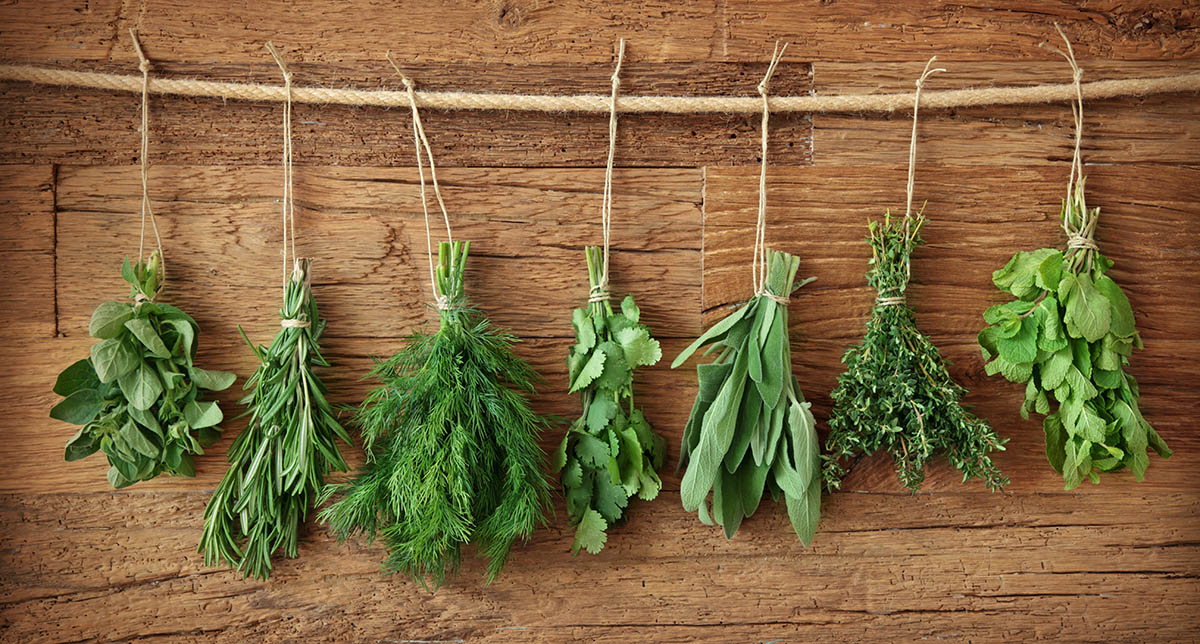 1. Add a Punch to Salads
Ways to Use Herbs:  Herbs add a fresh note to greens, and for those of you who love salad, it's time to kick it up a notch and add lots of herbs to the mix. The perfect herbs to use are cilantro, tarragon, mint, dill and parsley as they are lighter and more tender than some of the woodier herbs.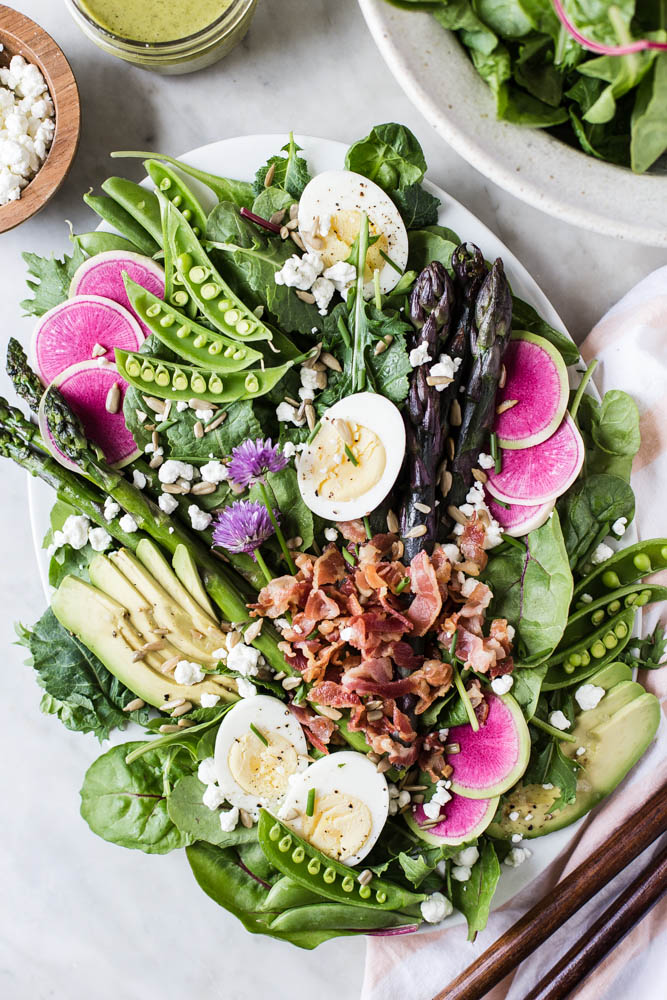 Spring Cobb Salad
This salad has delightful combination of spinach, chard, kale and mizuna. Added to the greens are asparagus, radishes, and chives as well as crumbly goat cheese, sunflower seeds for crunch, creamy avocado, hard boiled egg and crispy prosciutto. A fresh herb vinaigrette graces the top of this gorgeous salad.
View the complete recipe: The Modern Proper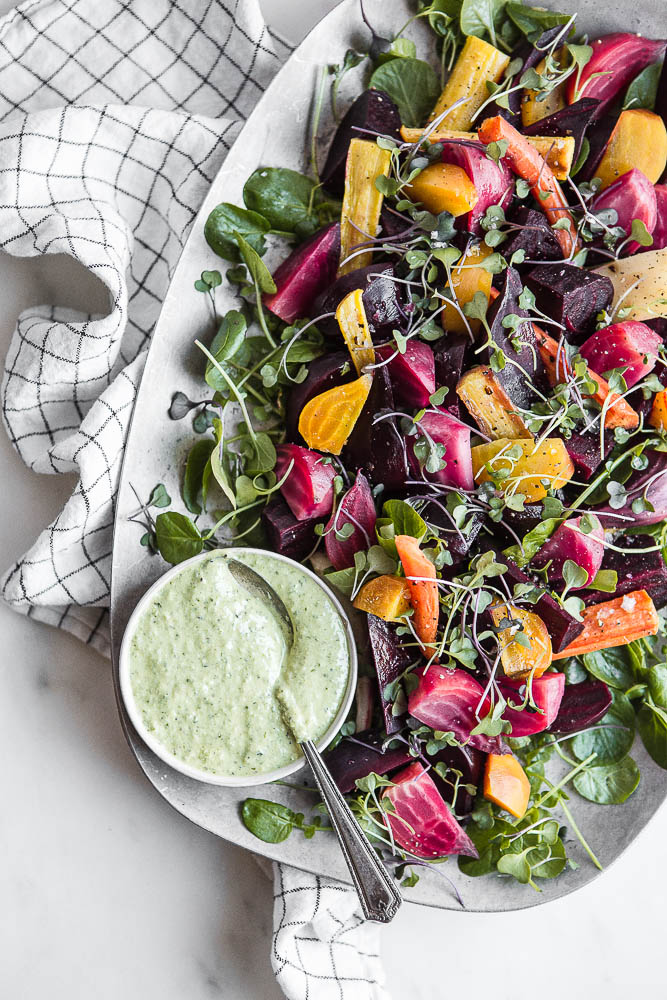 Roasted Beet Salad with Chevre Green Goddess Dressing
This healthy salad has a rich and delicious flavor and is packed with herbs, plenty of garlic, as well as chevre goat cheese, fish sauce, freshly squeezed lemon, beets and carrots.
View the complete recipe: The Modern Proper
2.  Concoct Your Own Butter
Ways to Use Herbs: Another great way to conserve extra herbs is with compound butters. It's also one of the easiest ways to add a delicious taste to everything, from blanched season vegetables, seared steak or on hot biscuits. Cilantro butter can be rubbed onto grilled corn or try poached salmon with a dill butter. It's the perfect way to pep up sandwiches. Finely chop up herbs and then fold into softened butter. For every single stick of butter, use two tablespoons of fresh herbs.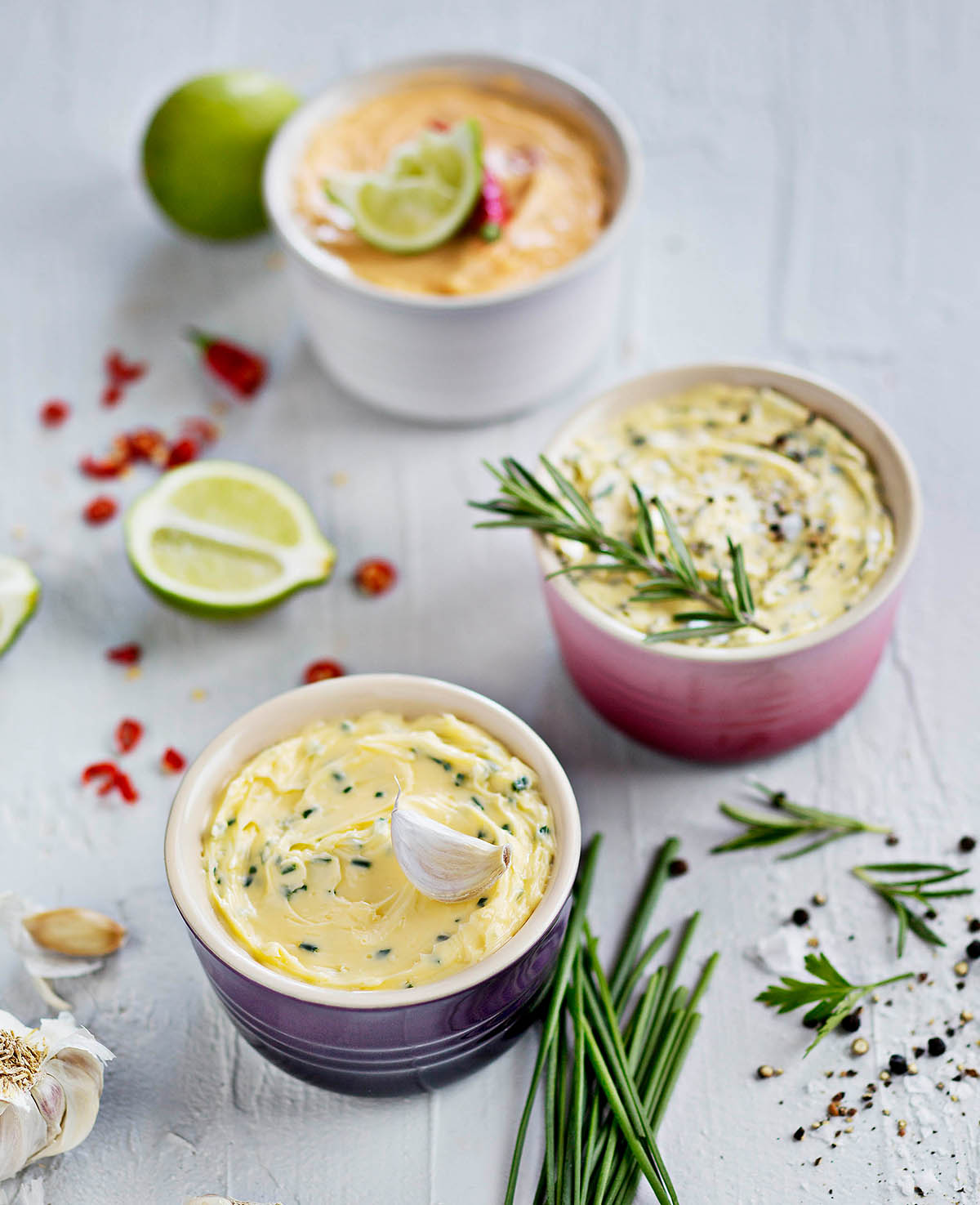 Flavored Butter
This recipe calls for salted butter, sriracha sauce, red chillies, garlic, chives, parsley, rosemary and thyme.
View the complete recipe: Le Creuset
3.  Transform Your Breakfast
Ways to Use Herbs: Looking for great breakfast ideas? Transform your breakfast with an abundance of fresh basil, rosemary, thyme and other fragrant herbs currently taking over your garden or local farmer's market.

Avocado, Chevre & Bacon Omelette
This seasonal and healthy omelette combines creamy chèvre, perfectly ripe avocado, and crispy bacon. Use microgreens and herbs for garnish.
View the complete recipe: The Modern Proper

Get Creative with Bagels
Turn bagels into an irresistible feast by adding a combination sumptuous toppings such as cream cheeses, smoked salmon, thinly sliced vegetables and a variety of savory herbs.
Photography by: Eva Kolenko

Shakshuka with Spinach, Parsley & Harissa
A one-skillet breakfast with eggs, red bell peppers, smoked paprika, harissa, avocado, crumbled feta, crushed tomatoes, fresh spinach and herbs. It goes perfectly with toasted slices of ciabatta bread.
View the complete recipe: Love & Lemons
4.  Infuse Your Sea Salt
Ways to Use Herbs: Infused salts are the simplest preservation technique that can stretch the flavor of herbs the longest. Simply spread the herbs out on a sheet tray and place in an oven set to the lowest temperature. It's important to be sure they are completely dry before combining them with the salt. A good ratio is 1 tablespoon of herbs per half cup salt, but you can also adjust to taste. The mixture can be used on roasts of all kinds, on chicken and game birds, tossed with popcorn or sprinkled on top of scrambled eggs.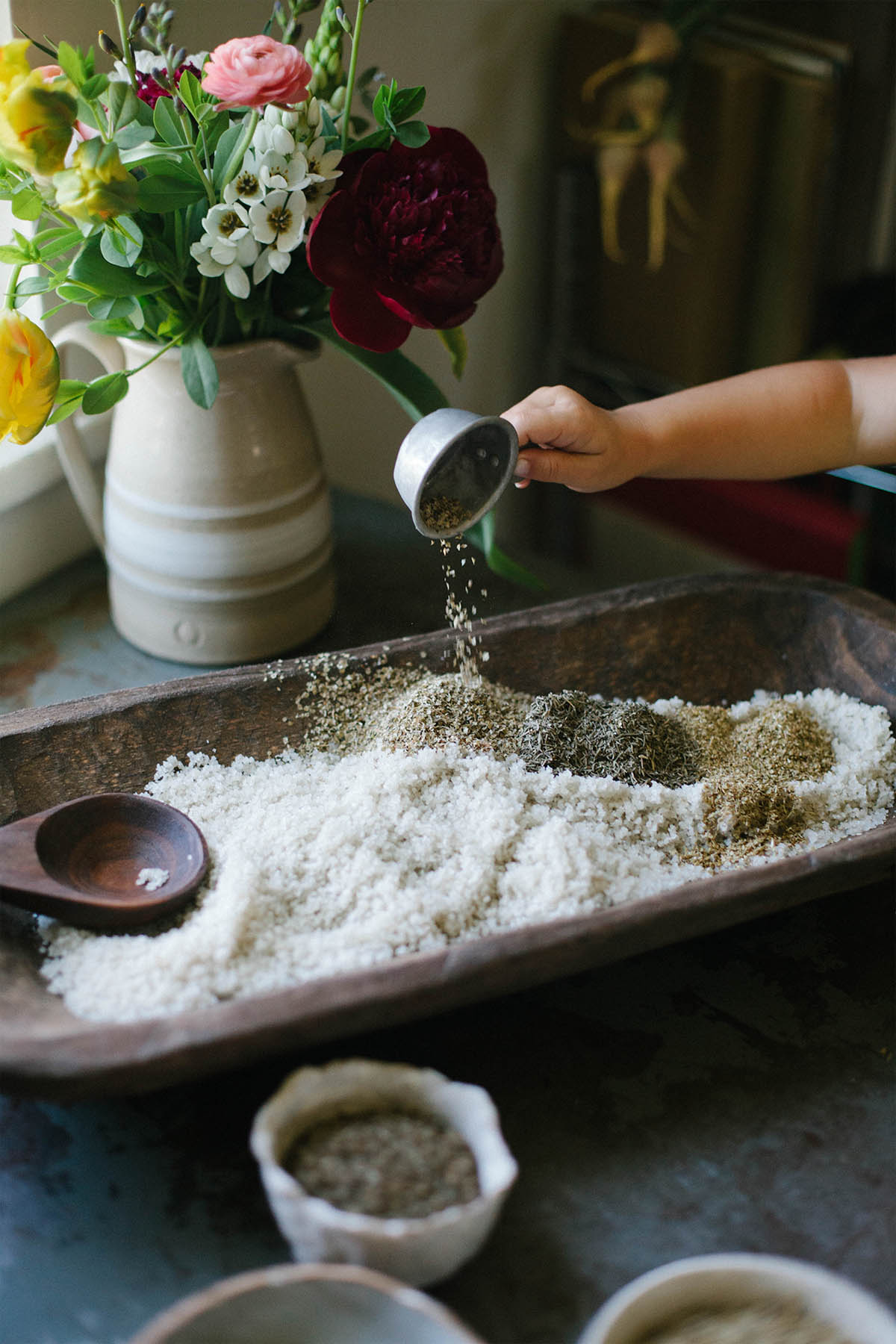 DIY Herbs de Provence Sea Salt
This salt is a perfect blend of herbs and chunky sea salt. It can be used on eggs, roasted veggies, chicken, fish, salad, soup, etc. It also makes a fabulous gift for Christmas, Mother's Day or as favors for guests. The recipe combines oregano, basil, marjoram, thyme, rosemary, summer savory, sage and lavender buds and looks beautiful when scooped into jars with home-made labels.
View the complete recipe: A Daily Something
5.  Infuse Cocktails with Herbs
Ways to Use Herbs: Whether you are a cocktail connoisseur or a budding drink mixer, it can be fun to experiment with adding herbs to cocktails. There aren't any cardinal sins when it comes to mixing with herbs, but some general flavor pairings work especially well:
• Rosemary: because of the hearty, savory nature of rosemary, it works best in sweet, citrusy cocktails.
• Basil: these light, delicate leaves work well with light spirits like gin.
• Tarragon: this licoricey herb works especially well with a golden rum.
• Cilantro: some people find it soapy-tasting, but for those who have the right palate for it, cilantro has a distinctly tropical vibe. It works well with tequila.
Try it out in your next drink – ideally in an old favorite whose flavor profile you already know and like. Just shaking or stirring it with your drink will capture some of the freshness of the herb, or they can be used as a garnish for the aromatics.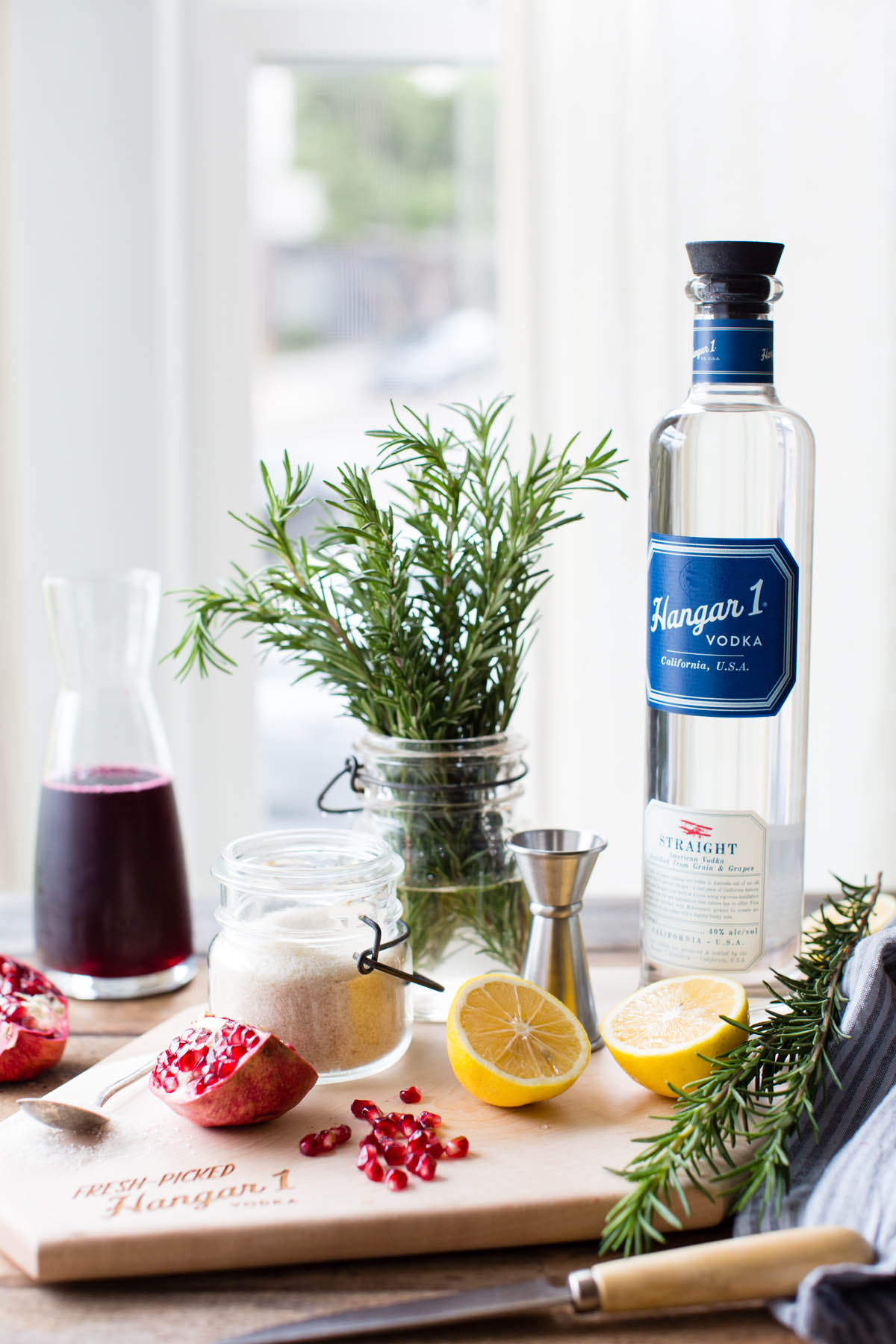 Rosemary, Pomegranate & Grilled Meyer Lemon Vodka Sparklers
The lemons' sweet juices caramelize from the heat of the grill, adding bitter-sweet depth. It pairs beautifully with fresh pomegranate juice, which also has flowery/sweet/tart/bitter tastes. Rosemary simple syrup adds a bit of piney depth, and the drink is punctuated by Hangar 1 Vodka's clean flavor and a bit of fizzy water.
View the complete recipe: The Bojon Gourmet
6.  Get Creative with Desserts
Ways to Use Herbs: Herbs marry with ingredients to unlock brand new flavor profiles. The top pairings for desserts made with herbs:
• basil + blueberries
• mint + strawberries
• tarragon + plums
• thyme + peaches
• sorrel + citrus
• rosemary + orange
• bay leaf + pumpkin (pie)
• cilantro + lime
• lavender + honey
• sage + apples
• camomile + cream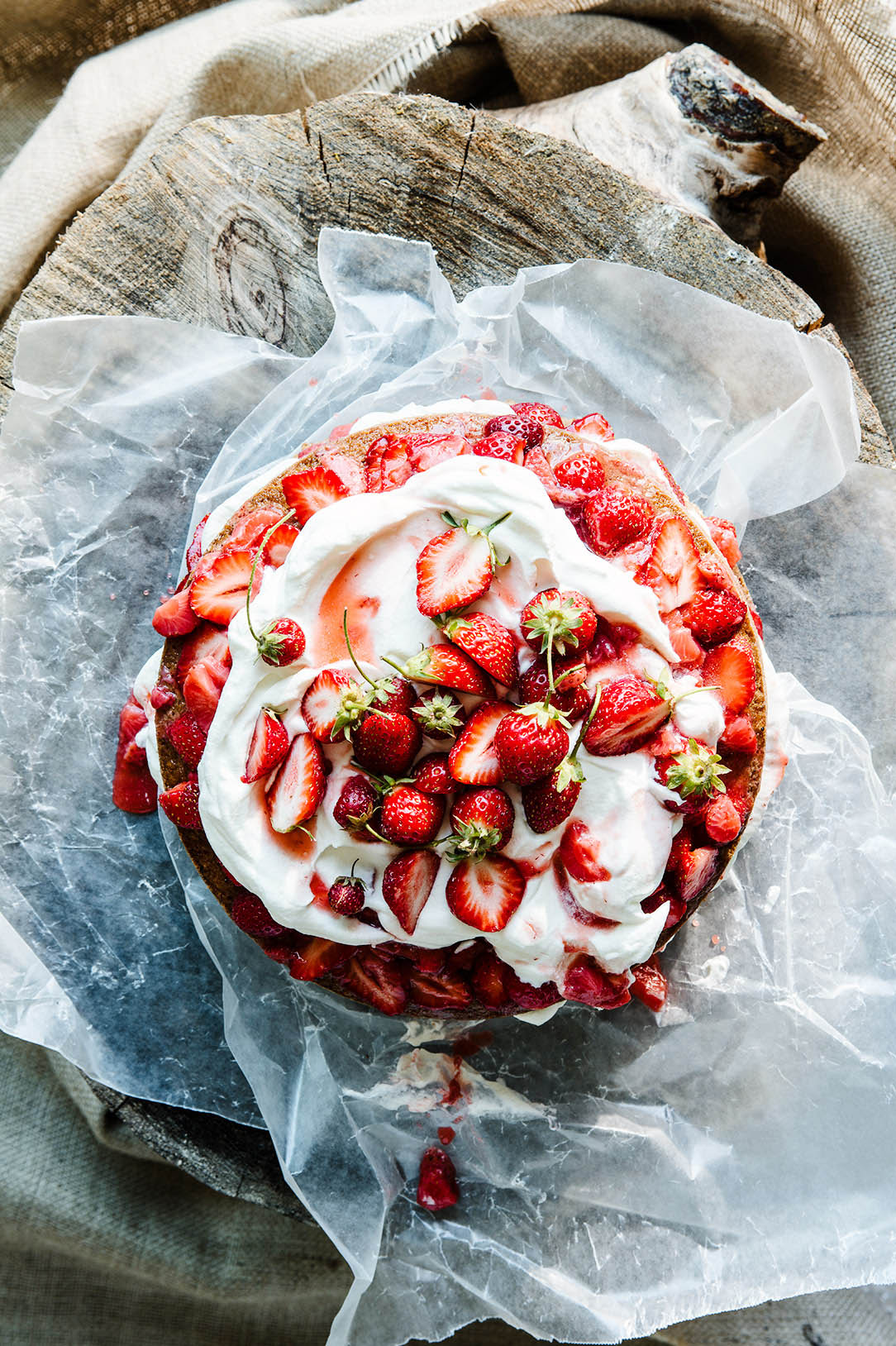 Ali Larter's Strawberry Mint Cake
You know summer is right around the corner when you start to see an abundance of gorgeous, juicy strawberries at the farmer's market. This decadent cake has 1/4 cup of fresh mint leaves to add a fresh take on strawberry cake.
View the complete recipe: My Domaine
7.  Put a New Spin on Entertaining
Ways to Use Herbs: Entertain with herbs while making the most of your herb garden.  Try cooking and decorating with herbs. Add an herb flavored smoke that will infuse the food by wrapping the herbs in foil, punching holes in the parcel and placing next to the coals. Add herbs to festive party platters, on top of pizza and on skewers ready for the barbecue.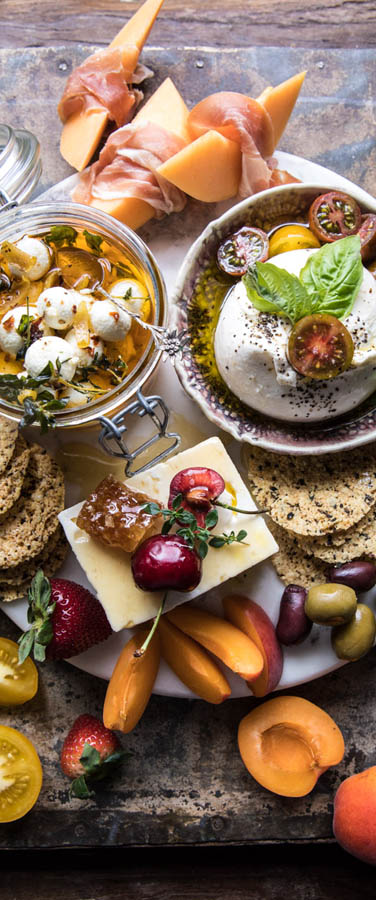 Cheese Board
This late spring/summer cheese board contains three cheeses: goat cheese, burrata cheese and feta cheese as well as fresh prosciutto wrapped around sweet cantaloupe. Added to the mix are berries, apricots, kumquats, salty olives, and whole grain crackers with fresh thyme and oregano.
View the complete recipe: Half Baked Harvest
Crystal Spring Rolls
Deliciously crunchy and fresh, these crystal spring rolls with char-grilled tuna, avocado, apple and herbs are the ideal light meal to welcome the warmer weather.
View the complete recipe: Food & Home Entertaining
Antipasto Skewers
Perfect for outdoor entertaining, these antipasto skewers have toasted bread cubes, olives, cherry tomatoes, artichokes, melon balls, red pepper, prosciutto, mozzarella and fresh basil.
View the complete recipe: Half Baked Harvest
8.  Make Homemade Dressing & Tasty Vinaigrettes
Ways to Use Herbs: Fresh herbs instantly liven up a salad and you can use your leftover herbs to make flavor-filled creamy salad dressings and vinaigrettes. Bottled salad dressings tend to be loaded with extra sugar and salt and just can't compete with the flavor of homemade. Combine one part vinegar to three parts olive oil in a mason jar, and add chopped herbs and salt and better. You can use your choice of vinegar (balsamic, rice, malt or apple cider). Let the herbs steep for four days, shaking the container daily. Once the oil and vinegar has been infused, strain the herbs and pour into a dark glass container.
Homemade Vinaigrette

For a DIY dressing, remember these three components: oil, acid, and an emulsifier.
Oil: Your best choice for a flavorful and heart-healthy homemade vinaigrette is extra virgin olive oil. This oil is known for being a healthy fat, so a little in your diet has its perks. You want to pick "virgin" or "extra virgin" because these versions are  less processed and have a stronger flavor than plain olive oil.

Acid: Your acid could be either citrus or vinegar. Fresh lemon juice is a common choice, but other types of citrus, like blood oranges or grapefruits, can also make an exciting salad! When it comes to vinegar, choose wisely. Plain white vinegar, for example, will probably not make the best homemade vinaigrette. Most chefs stick to red or white wine vinegar, apple cider vinegar, or balsamic vinegar. And know this: You don't need to buy top-shelf vinegars, but you definitely get what you pay for when it comes to this ingredient.

Emulsifier: An "emulsifier" means an ingredient that helps marry two opposing ingredients—oil and acid, in the case of vinaigrettes. This process involves a whole lot of chemistry, but here's the short version: An emulsifier has properties that jive with both oil and water, so it helps bind the two together. Common emulsifiers are dijon mustard, egg yolks, minced or roasted garlic, and honey.
View the complete recipe: Health Nation
9.  Try Drying Your Herbs
Ways to Use Herbs: Group your herbs in small bunches and tie them down with a rubber band or twine and hang them upside down in a cool room with adequate circulation. You may have to tighten them as the herbs begin to dry and shrink. It generally takes a few days for them to fully dry. Once they are ready they can be crumbled and stored in jars or placed whole in air-tight bags.
10.  Try Freezing Your Herbs
Ways to Use Herbs: The tougher herbs such as rosemary, sage, oregano and thyme freeze best. By chopping up your leftover herbs and freezing them in ice cube trays, their color and flavor is easy to preserve. Press the chopped herbs into ice cube tray cups to about ¾ full. They can be covered with olive oil, or by covering with boiling water (to blanch them before freezing). Once frozen, they can be stored in freezer bags and used in the same proportion as fresh herbs. They make a great base for winter stews, soups and roasts.
Image courtesy of: Hello Fresh
11.  Make Herb Infused Water & Popsicles
Ways to Use Herbs: Herb infused water is simple to make and should keep in the fridge for up to a week. For an instant herbal infusion, place fresh herbs, fruit or vegetables into the bottom of a glass jar and fill your glass with sparkling water. Keep it simple with just one or two herbs or mix in a variety.
Infused Water for Summer
Grab a pitcher, some water, and ice and infuse your water with so a ton of flavor.
View the complete recipe: Little Spice Jar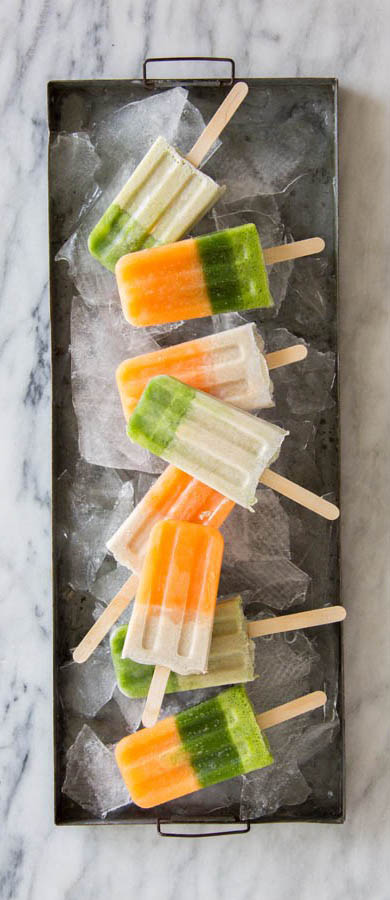 Easy Fresh Juice Pops with Herbs
Turn any remnants from your morning juice into irresistible fresh juice pops for afternoon snacks that are delicious and healthy too.
View the complete recipe: This Mess is Ours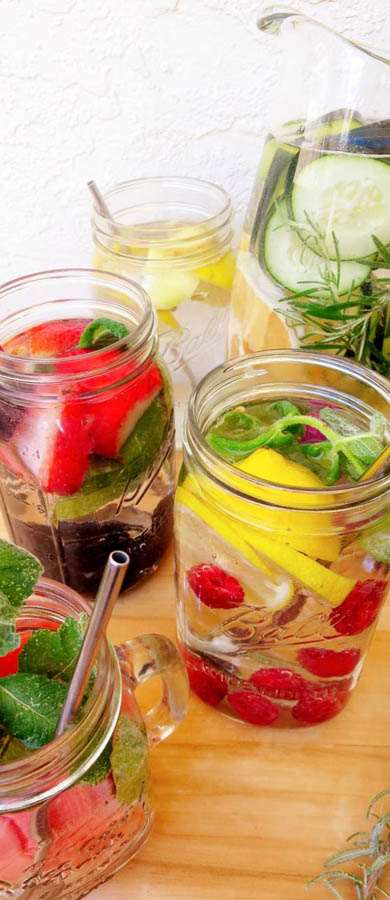 Fruit & Herb Infused Water
Plain water is quite simple and flavorless, but we can solve this problem by simply infusing it with real fruit, herbs and vegetables.
View the complete recipe: Vegukate
12. Consider an Infusion Fushion
Ways to Use Herbs: Infused oil is easy and great to use on roasted meat, drizzled over grilled seafood, as a dip for good bread, in marinades or blended into salad dressing. Add some red chili flakes and garlic to give it a stronger pop of falavour. It keeps well in the fridge
Herbs like mint and tarragon can be added to sugar syrup to blend later with cocktails. You can also add a big handful of fresh herbs to a mixture of equal parts sugar and water. Bring to a boil, stir and remove from the heat. Once the herbs are strained, you can add the syrup to everything from lattes to sweetened ice coffee and tea.
Herb Infused Oil
Herb infused oil is the perfect homemade gift, whether it's for a birthday, holiday or favor. DIY herb oil not only looks lovely, but tastes wonderful as well. Fill each bottle with oil and a specific herb or several. Tie a stem of that herb on the outside of the bottle as decoration and to identify the flavor. The possibilities are truly endless with the types of infusions you can create. The herb infused oils above feature a few classic herbs: rosemary, sage and thyme.
Photo courtesy of: Rip and Tan
13. A Fresh Take on Pesto
Ways to Use Herbs: Pesto is a delicious way to use up a lot of leftover herbs at once. In a food processor, whirl some parsley, garlic cloves, walnuts, grated Parmesan cheese and enough olive oil to create a thick paste. You can also make a basic pesto by adding 2 cups of leftover basil leaves with garlic, Parmesan cheese and some pine nuts and olive oil. Add a squeeze of lemon to the mixture and whirl until smooth. Pesto can also be made with mint, cilantro, spinach, arugula or parsley. Get creative and toss any leftover herbs to add additional flavor.
Roasted Lemon Mint Pesto & Ricotta Tartines
A vibrant pesto made of roasted lemon slices, fresh mint, and toasted almonds from the Kale & Caramel cookbook – atop a bed of creamy whole milk ricotta with two topping variations. Garlicky pea and fava beans for a savory take and plump tart blackberries for a sweet bite. These pesto & ricotta tartines make the perfect midday snack!
View the complete recipe: Snixy Kitchen
Additional Ways to Use Herbs
14.  Cook Up a Sauce
Gently brown some butter and toss in a handful of fragrant herbs such as tarragon or sage and finish with a squeeze of lemon.
15.  Breads & Pastas
Dress up plain pasta and bread with the addition of fresh herbs. Mix them directly into the dough of these delicious staples.
16.  The Throw-It-All-In-Sauce
If you have a large quantity of herbs, rough chop a variety of herbs and combine with a variety of spices such as lemon zest, capers, garlic, chili flakes, etc. Cover completely with oil, and you will have a delicious and rich herb sauce to pour over roast vegetables, stir into hummus, mayonnaise, cream cheese or grilled meats.
17.  Rub Down a Chicken
Combine fresh chopped herbs with garlic, salt and sugar to make a homemade brine. This mixture works perfectly to flavor a slow-roasted chicken.
18.  Give Your Smoothies Some Extra Kick
Herbs are greens too, and pack a nutrient punch that can compliment the flavors of fruit and vegetables.
19.  Add Punch to a Broth
Use leftover herbs to make a delicious and hearty broth.
20.  Make Your Own Herbal Tea
Create your own house blend with your own combination of herbs.
Ways to Use Herbs: Popular Culinary Herbs & Their Uses
BASIL
Basil is perfect for pasta dishes and salads, and works well combined with eggs, tomatoes, artichokes, seafood, on omelettes, vinaigrettes, layered on flatbread with strawberries. This herb is central to Italian dishes.
CHIVES
Chives are great for sprucing up salads and add freshness to savory dishes. The chive is a member of the onion family, yet has a more delicate flavor. Chives pair well with salad, potatoes, eggs and cheese.
PARSLEY
Parsley is the perfect finish to most recipes, with its bitter fresh flavor. Toss some fresh parsley over savory and rich dishes such as grilled fish, a spicy chorizo omelette, roasted lamb or beef stroganoff.
OREGANO
Oregano pairs well with red meats and slow cooked vegetables as well as pasta dishes. Like basil, it also features in a wide variety of classic Italian recipes.
MARJORAM
Marjoram is perfect in salads and pairs well with carrots, pork and baked fish. It makes a balanced companion to oregano in pasta with garlic and juicy tomatoes.
THYME
Thyme is a popular ingredient in stews and stocks. It is a short sturdy bush with tiny perfumed leaves and long thin branches. Thyme is wonderful roasted with meat or vegetables like squash, leeks or carrots as well as cheesy bakes. Due to its strong flavor, it should be used sparingly.
ROSEMARY
Rosemary, along with thyme, is a woody herb. Like thyme, its great for adding flavor to soups and stews. Its also used with roast meats, potatoes and in breads like focaccia. Rosemary is also a common addition to cocktail recipes.
SAGE
Sage is incredibly aromatic and goes well with deep flavors. It can be added to pork chops, pasta dishes as well as soups and stews.
MINT
Fresh mint goes extremely well with fruit: in a fresh fruit salad, on grilled pineapple, or to add a kick to the classic mojito. Mint also is great in savory salads, served with peas or fish or added to delicate and cooling yoghurt.
CORIANDER
This citrussy herb is widely used in Latin American and Mexican cooking, from adding it to guacamole or salsa, to civiche, chili, avocado and eggs. It's also a brilliant herb to add to Asian cooking.
DILL
This fragrant herb is used throughout eastern Europe, and is delicious with smoked salmon, in salads, with potatoes, eggs, carrots and fish.
TARRAGON
Tarragon goes well with chicken, eggs, tomatoes, potatoes and chopped into salads. It's flavor is similar to aniseed.