Patio Design Ideas for 2023
Turn Your Backyard Into Your Personal Oasis with These Decorating Ideas
Patio Design Ideas: It's that time of year again when many of us are looking to refresh our outdoor areas to provide a place for friends and family to get together and relax.  This year especially – creating an outdoor paradise is an inviting endeavor.
"This year's outdoor living trends are all about making your backyard, porch, or even balcony a regular part of everyday life. Building on last year's momentum, homeowners can expect to bring indoor conveniences outdoors with smart technology, multipurpose add-ons, and structures that allow us to be outside longer and more often throughout the year. Whether it's a spot to grow herbs for homemade meals, a private patio with plenty of shade, or a place to do the cooking, outdoor living is synonymous with time spent at home." – BHG
No matter what kind of backyard you have, you can make it your personal sanctuary with these decorating tips. Use these ideas to create the backyard of your dreams.
Small Backyard? It Can Still Be Gorgeous
If your backyard feels like the size of a postage stamp, don't despair. There are two tacks you can take when decorating it to make it beautiful and inviting.
Trick the eye into making it look larger
To make your yard look bigger than it is, follow the same decorating principles you would indoors. Draw the eye upward with vertical features like arbors and trellises. Vertical gardening lets you create the illusion of more space and save on actual square footage when adding greenery or growing your own food. 
Balance vertical features with some low or see-through fencing along one edge if possible to prevent feeling hemmed in.
Anything reflective will always create a sense of more spaciousness. Use strategically placed small water features to accomplish this. Likewise, light colors will also make the area look more sizeable.
Use zoning to delineate different uses in the yard. For example, make one space clearly for dining, another for napping in the shade, and a third for enjoying the fire pit. Arrange large elements with plenty of space in between, and use curved pathways for traffic to give a sense of further roominess.
Don't skimp on the greenery. Use dwarf species of potted trees and smaller plant containers of different heights to add interest. Your furniture should be scaled down too, so it doesn't overwhelm the yard.
A Perfect Example of a Small DIY Backyard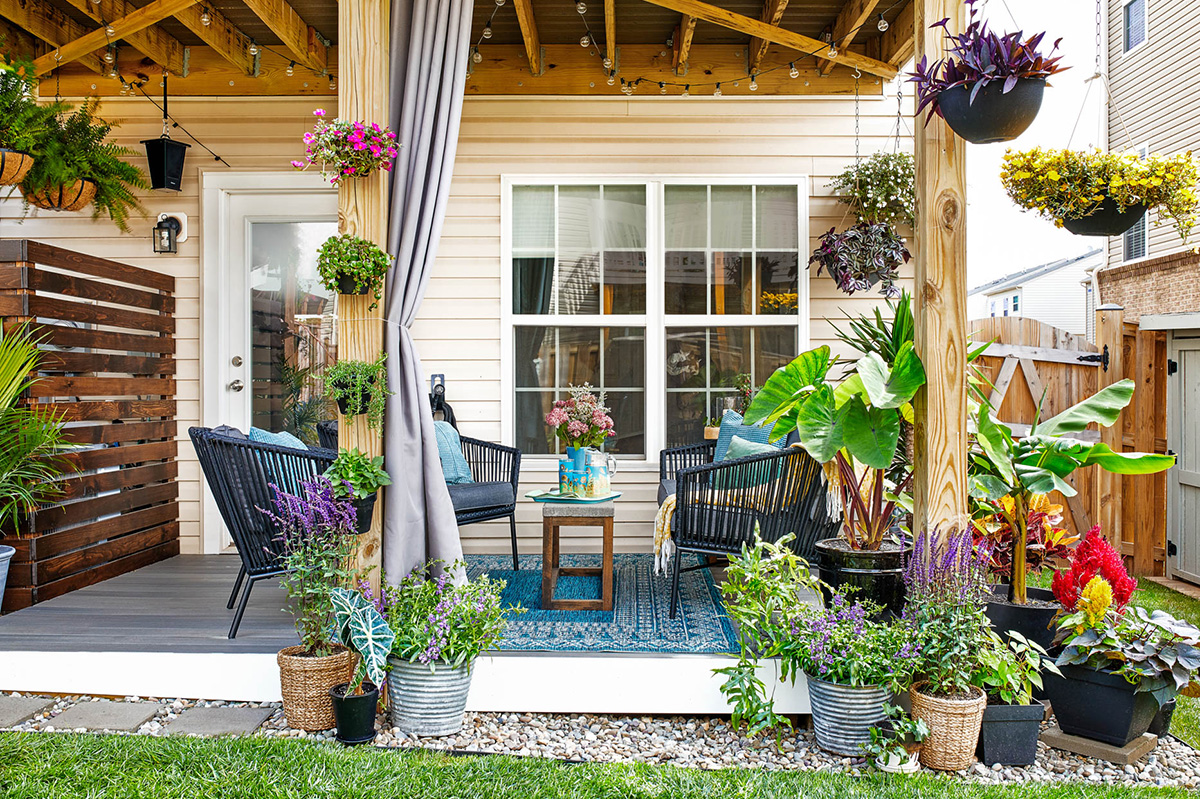 Small Townhouse Backyard Design
Image courtesy of: Brittany Goldwin
This beautiful backyard was designed by blogger Brittany Goldwyn Merth, and her husband Mike.  Small-scale projects net a huge transformation in this young family's tiny townhouse backyard, providing the at-home lifestyle of their dreams. They wanted to provide privacy in their 25 x 25 foot space while turning it into a retreat.  A wide variety of plants and planters were added as well as sheer voiles that form a flowing wall. A romantic chandelier, twinkling storm lanterns and table tealights provides ambiance. "DIY is a great way to go because most outdoor furniture pieces don't cater to smaller spaces," Brittany says. With limited floor space for furnishings and her beloved plants, she turned to vertical options.  The coffee table and side tables were made with 2×2 pine for the bases and 12×12 inch concrete pavers for the top.
DIY Raised Beds
A pair of DIY raised beds (approximately 11 inches deep, 81 inches long, and 35 inches wide) produce cherry tomatoes, pickling cucumbers, and peppers in one sunny corner of the backyard.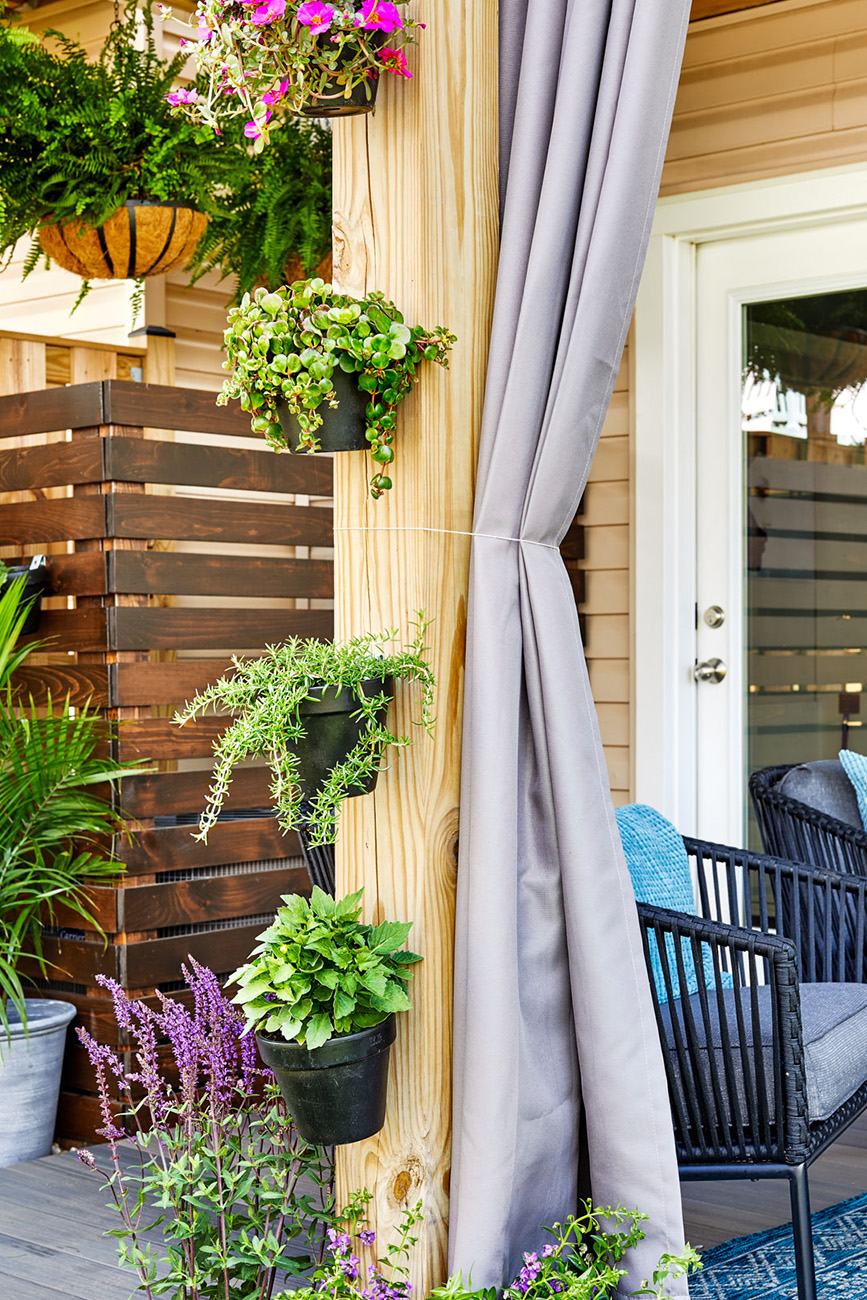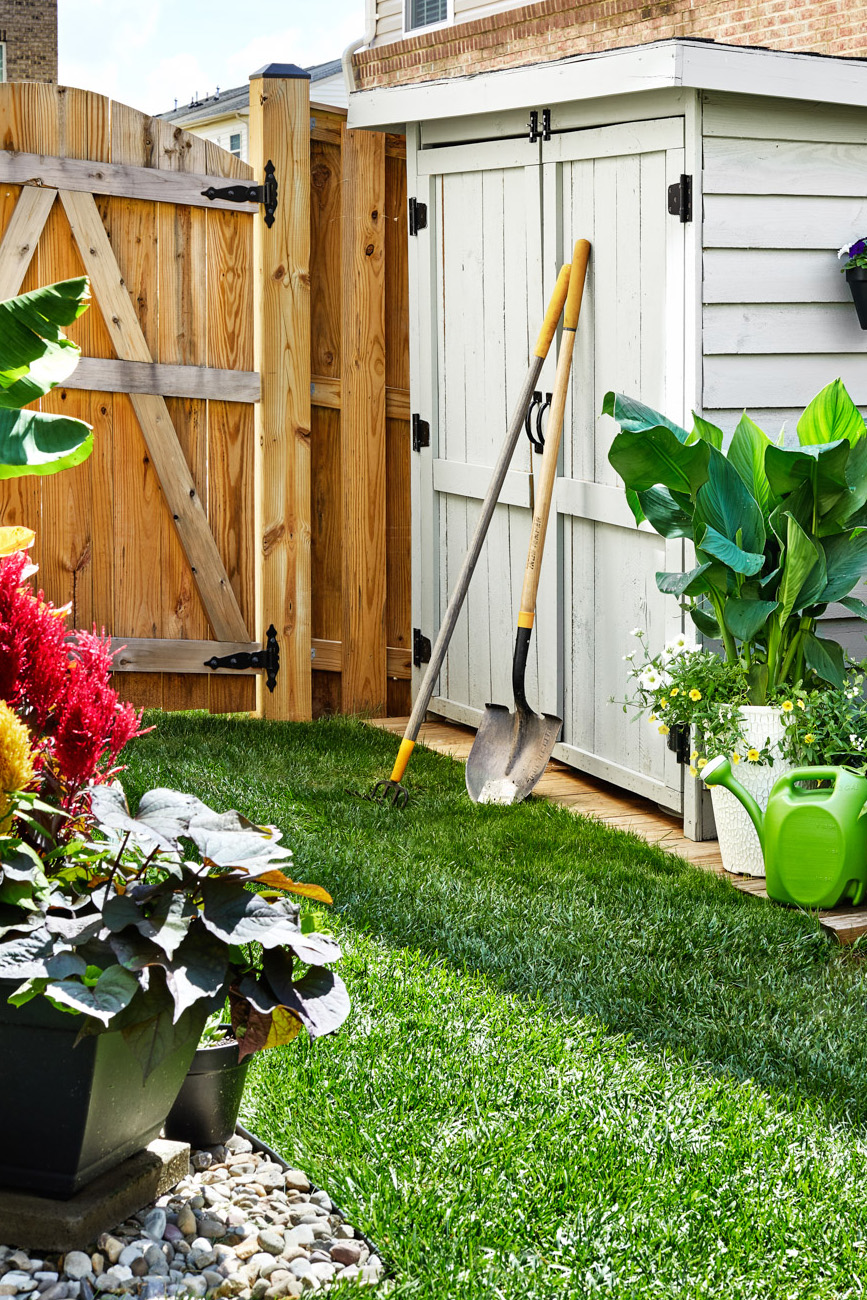 Patio Design Ideas : Embrace the coziness
Of course, you can also play up a tiny backyard by making it feel ultra cozy. Pick one focus or motif and go with it, such as a sublime seating area or Zen garden. Boho styling works great with this type of yard, so don't be afraid to layer pillows, throws, and other fabrics for a rich look.
You can unify the space with a similar element throughout. Hanging lanterns or twinkle lights are the perfect way to do this. Using the same plantings, like trailing vines or flowers in the same palette, is another method of tying the space together visually.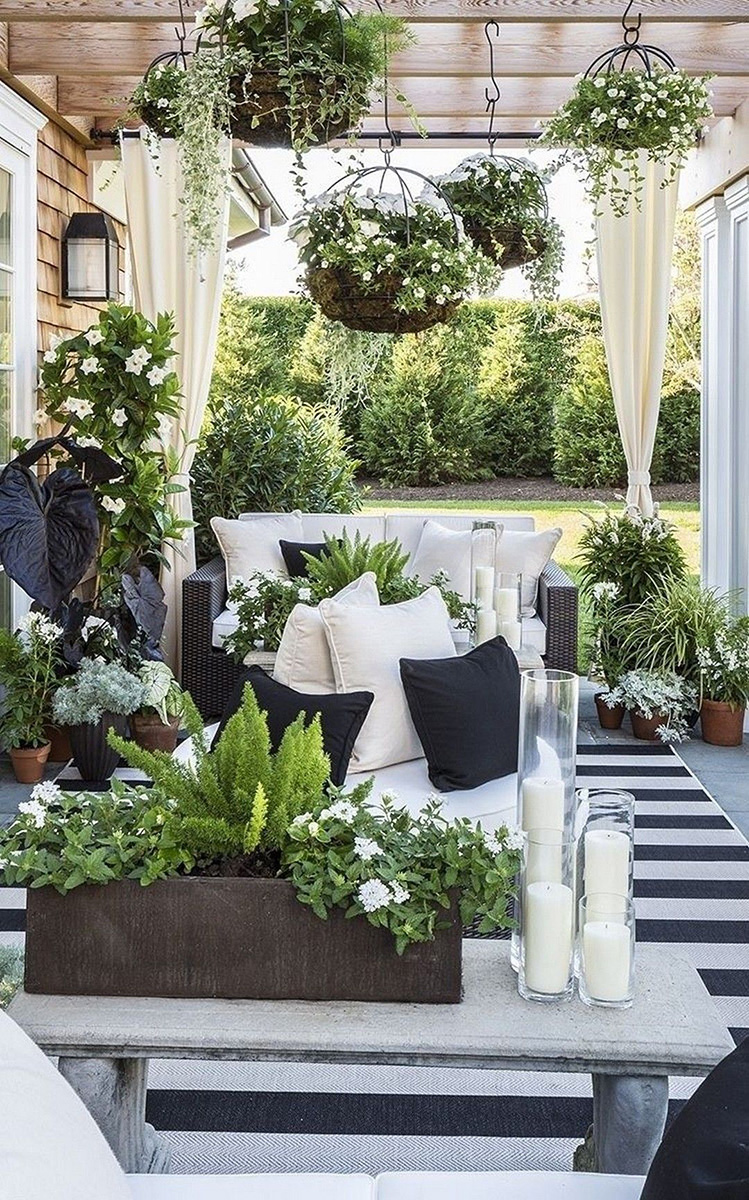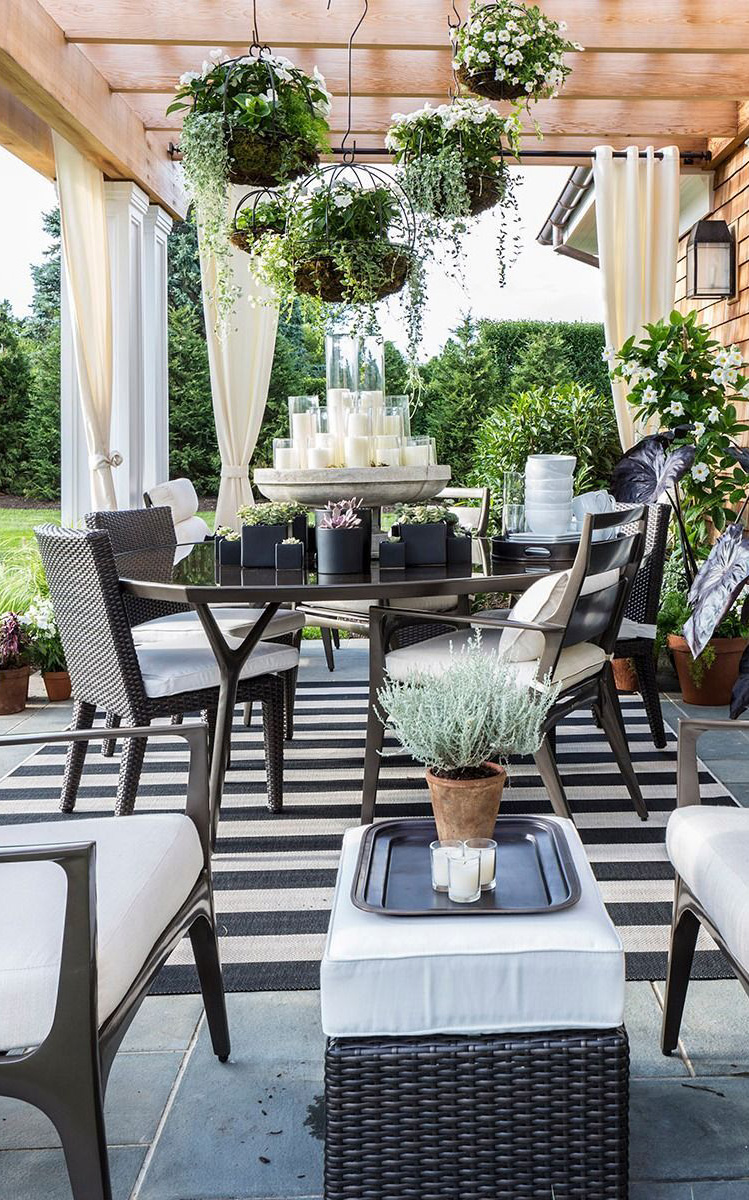 A small Outdoor Entertaining Area in Black & White
A lushly planted patio area with an arbor for shade. White candles and florals compliment the white fabric in the upholstery and throw pillows.
Expand Your Living with a Backyard Patio
A backyard patio can double your living space and provide a welcome warm-weather respite from our long Canadian winters. Make the most of your patio by approaching its design thoughtfully.
Blur the line between indoors and outdoors
You can make both your home and your backyard patio look immense when you minimize the division between interior and exterior spaces. If possible, go for sliding glass doors or accordion doors that let you open up a wall of your inside space onto the patio. The eye will travel easily from one to the next, giving the illusion of one huge space.
To make this continuity work, use similar tones and decor styles between the two spaces. Make your patio into a second living room with rugs, cushioned furniture, and lamps. Use the same layering techniques you employ indoors when decorating outdoors: artwork, throw pillows, and little tables go a long way in creating a welcoming space. 
Utilize weather-resistant items designed for outdoor use, and add some sneaky storage where you need it with resin trunks or cabinets made to look like rattan or natural materials.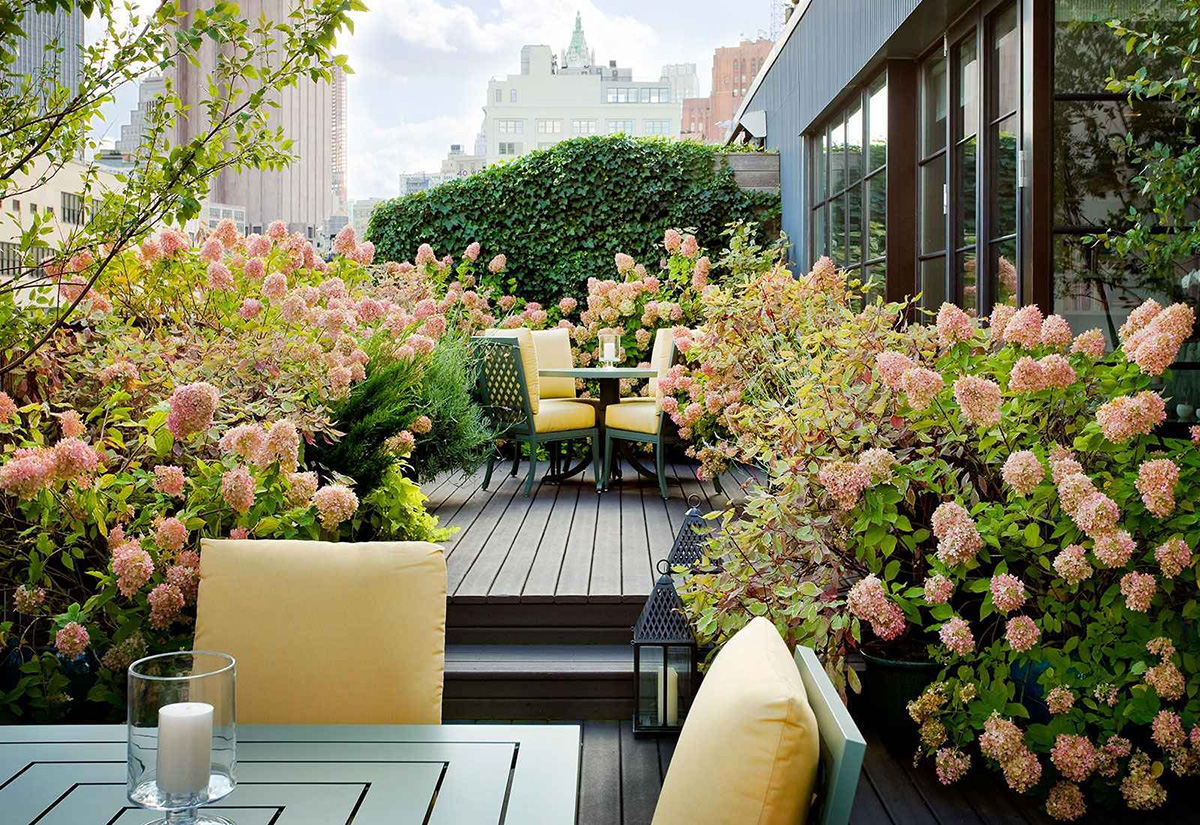 Rooftop Outdoor Garden
A beautiful rooftop outdoor oasis in hues of yellow, green and pink.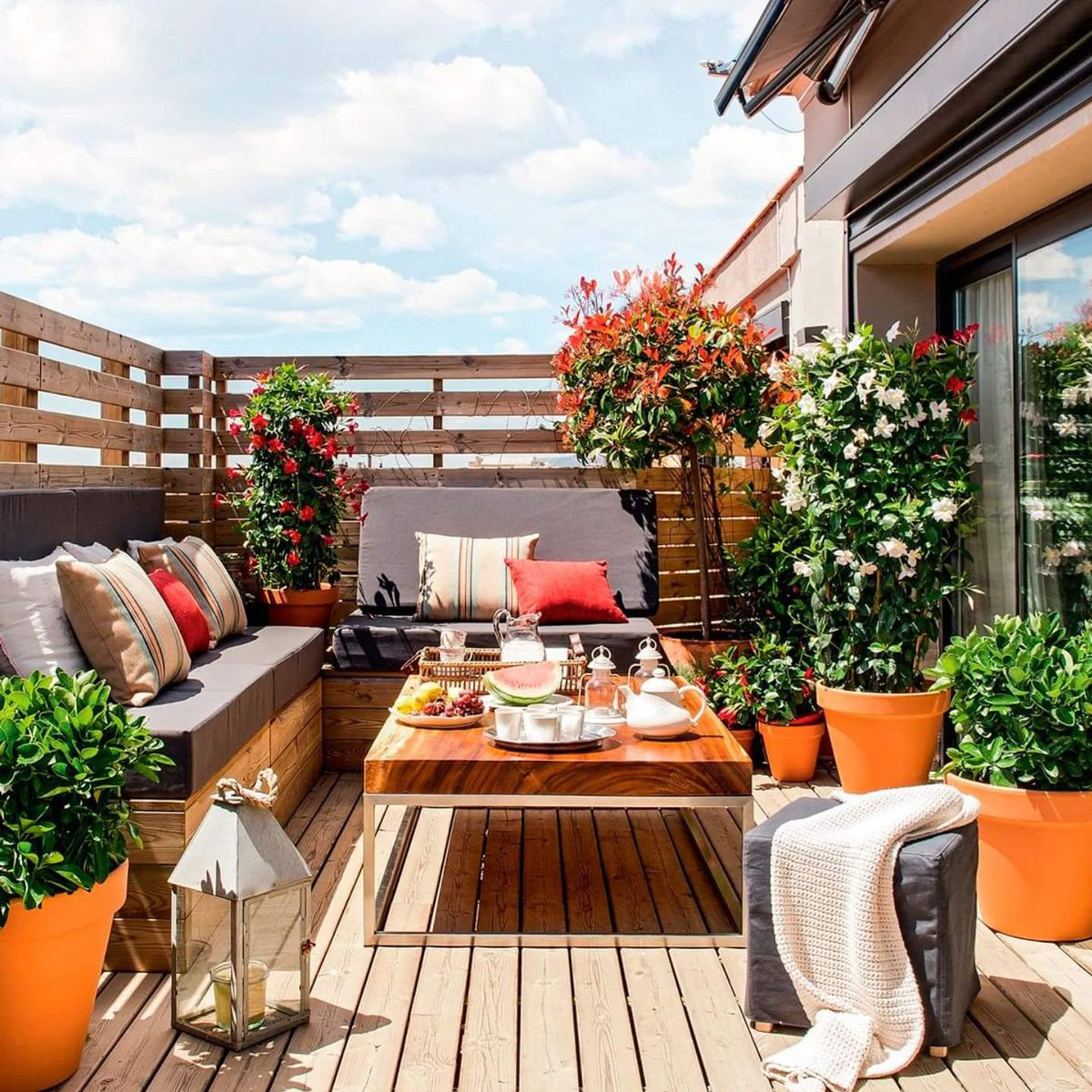 Cozy & Colorful Outdoor Area | Patio Design Ideas
This bright and fresh outdoor retreat incorporates sunny shades of red and orange.  Picking up accent colors from your interior and introducing that palette to your outdoor spaces through the use of pillows, throws, area rugs and decor accessories softens the transition between spaces and creates a harmonious flow.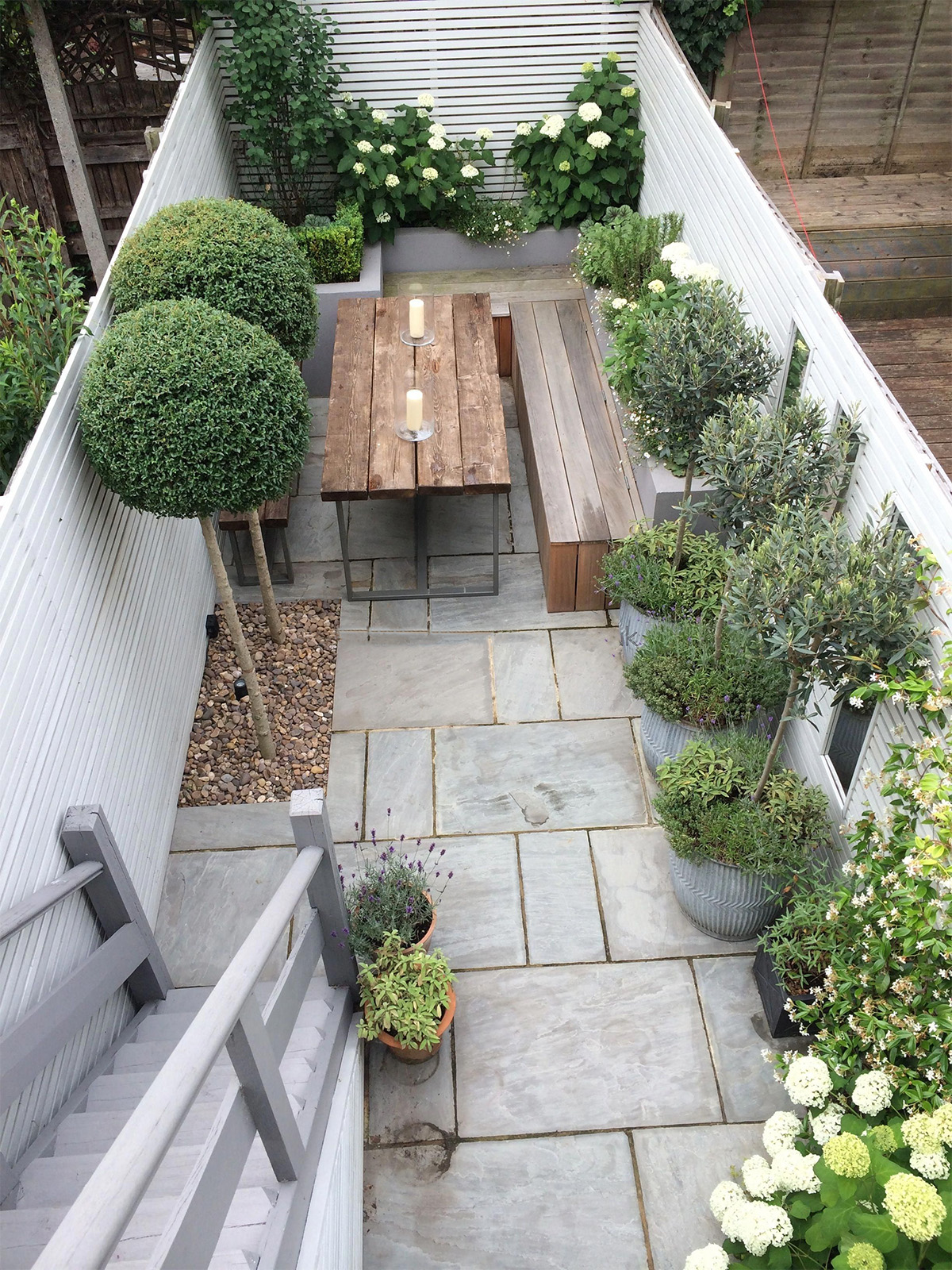 Small Well-Designed Outdoor Oasis | Patio Design Ideas
Here's a great example of creativity in a small outdoor space.  It's easy to imagine that this would be a comforting oasis from the hustle and bustle of city dwelling.  The white painted fencing keeps the area looking clean and crisp, while the potted plants add color, warmth and a connection to nature.  The stone tiles, rustic wood furniture and small stones add texture.  I think an additional element that would provide the opportunity for further texture and color would be a long padded bench cushion with a few outdoor pillows to provide comfort.  The bench could have also been designed as a storage area for the cushions for seasonal purposes. A few strands of string lighting secured to the top of the fencing would also provide additional ambiance. All-in-all, it's a fabulous retreat that sets itself apart from what clearly was an unfinished back yard area.
Give the patio a focus
You may also wish to give your backyard patio a focus that makes its purpose clear. Some popular patio uses include:
Alfresco dining

Barbecuing or pizza grilling

Bar and hospitality area

Sunning and lounging

Conversation corner

Herb, vegetable, or flower gardening

Yoga and meditation zone

Kids play station

Outdoor man cave
Go all-out when giving your patio a theme, so it feels like you're in a seaside inn or spa. For instance, tiki torches and a bar made of an old surfboard are more evocative than generic solar lamps and big box furniture. Look at pictures and videos online for inspiration and how-tos.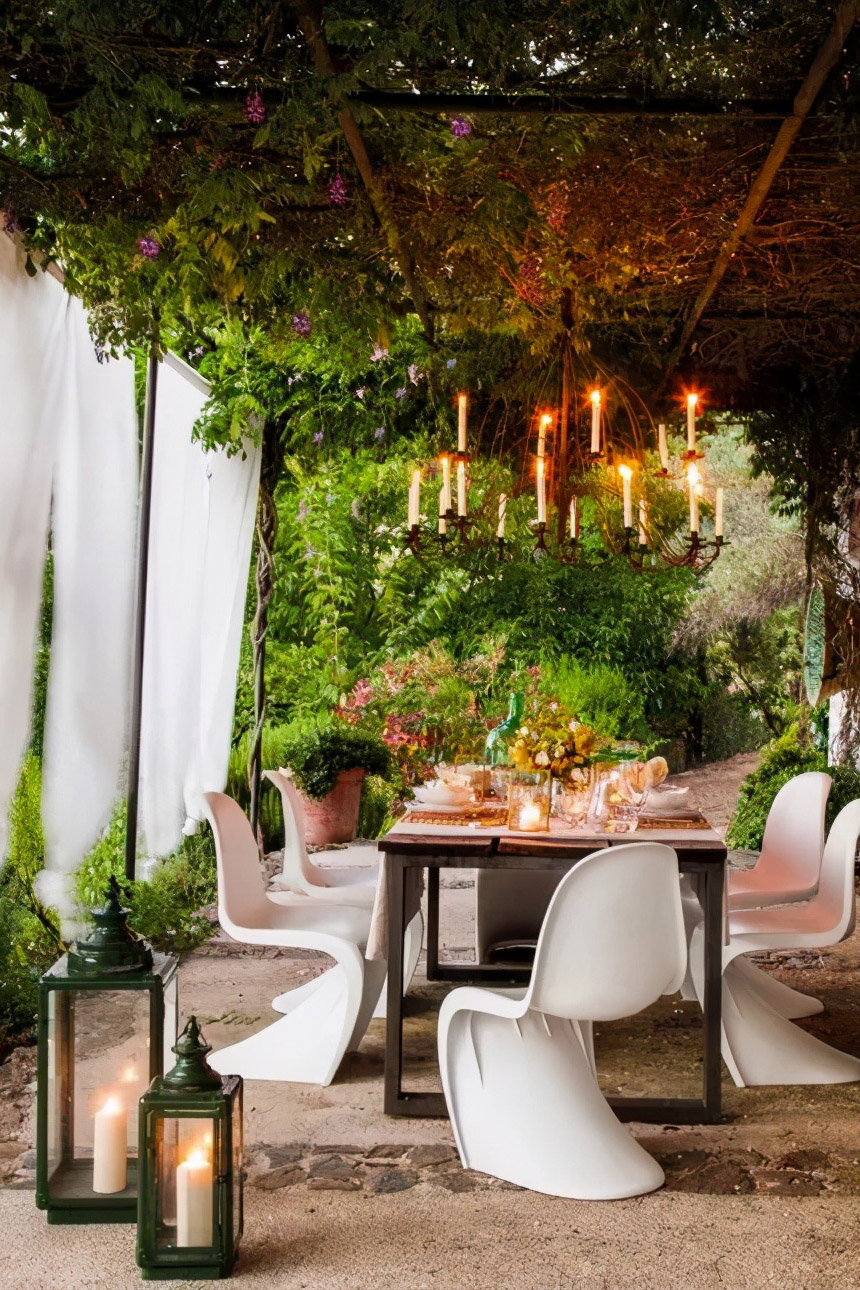 Romantic Outdoor Dining
Image courtesy of: Pinterest
An incredibly romantic outdoor dining area with overhead plants and sheer voiles that form a flowing wall of privacy.  The voiles are knotted at the base to provide weight in the breeze.  The chandelier, lanterns and table tealights add a warm ambiance.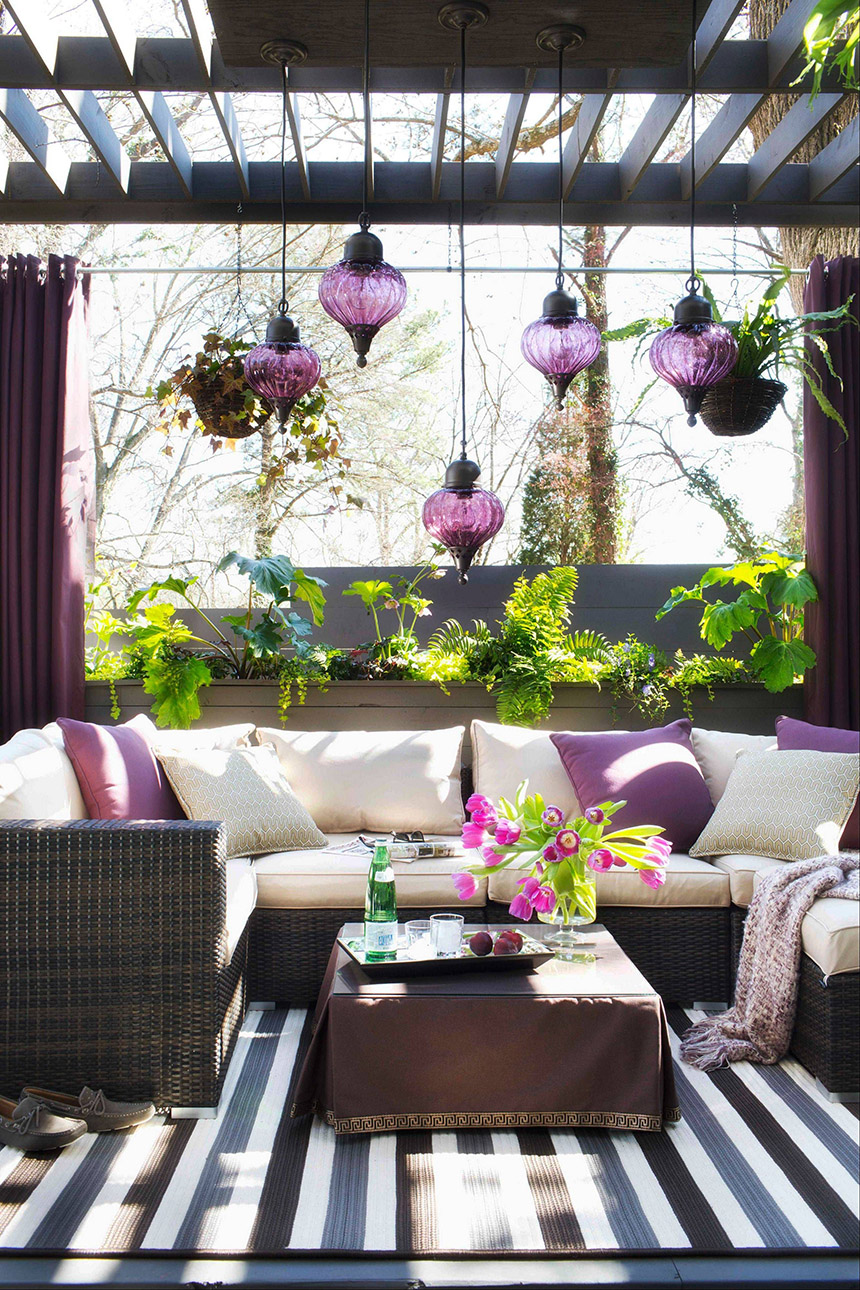 Outdoor Area with Purple Accents
Image courtesy of: HomeBNC
This fully furnished room uses color and high style to great effect. Elegant purple glass Moroccan lanterns hang from the beams, reflecting the color of accent cushions on the upholstered seating. Privacy drapes that echo the same color can be pulled as needed, and more creature comfort comes from the rug underfoot. Only the massed green plants make it obvious that this "room" is indeed out of doors.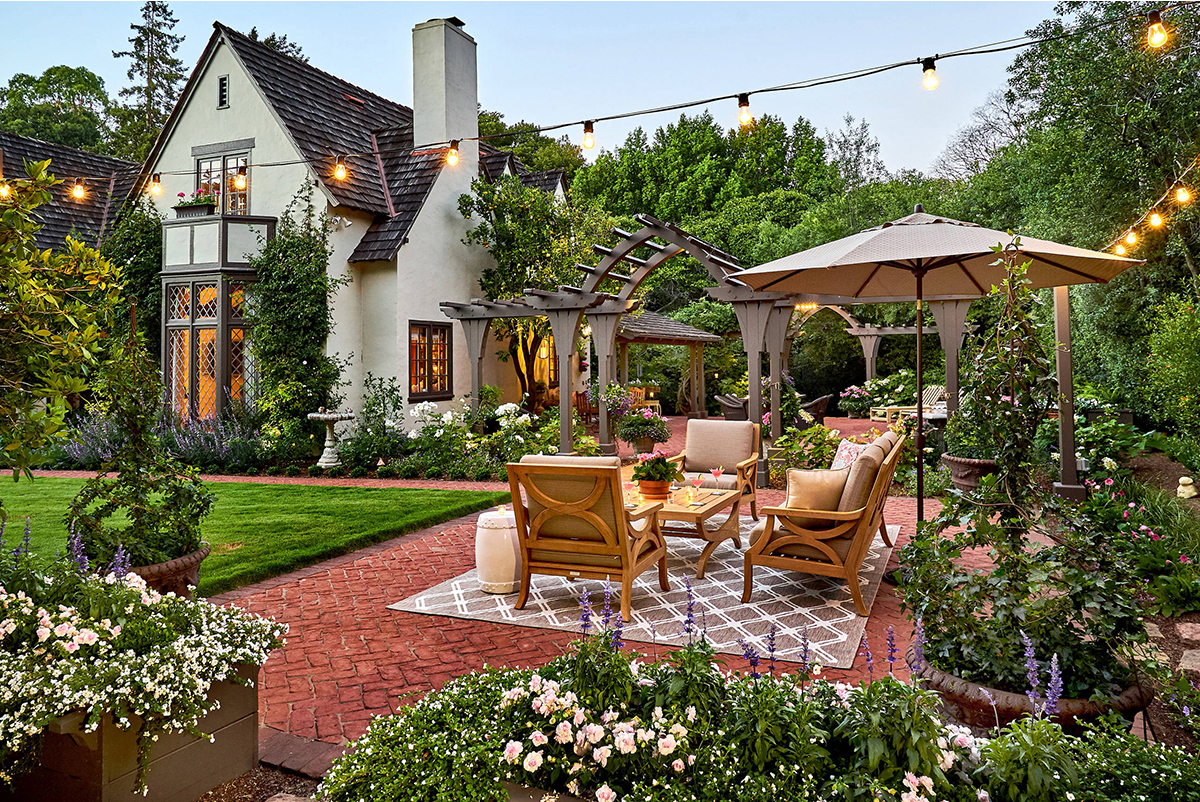 An Enchanted Evening by Casa Smith Designs | Patio Design Ideas
Image courtesy of: Canadian Log Homes Rustic Backyard Ideas
This design allows you to chose just the right "room" for your soiree. Designed for parties large and small, each "room" has a terrific view that leads into the next. Using symmetry and borrowing inspiration from the historical architecture of the home they created a design that is both time period correct and timeless.
Add a Backyard Fire Pit for Year-Round Warmth
There's nothing like a fire pit to give your backyard a focus and make it inviting any time of year. Follow these tips for making the most of your backyard fire pit:
Position the fire pit so you can use it 12 months a year. You don't want it too close to the house, but near enough that you can easily shovel a path through the snow if you're going to use it in winter. Install landscaping lighting to illuminate the way.

Make seating around the fire pit comfy enough to work for hours at a time. Add throws or blankets for cold-weather enjoyment.

Consider using a sunken pit area for more of an exotic or luxury feel.

Size your fire pit appropriately for the square footage of your yard. That will give you more room for seating if your yard is small.

If your yard is tiny, buy or make a fire pit with a fitted cover, so it can double as a coffee table when not in use. Another option is to purchase a gas-powered fire pit built inside a dining or coffee table.

Add amenities to make using your fire pit space more fun and convenient, such as a table for snacks and beverages.

Make safety a priority — always keep a bucket of sand or water handy, and don't use your fire pit unattended or near flammable fabrics or plants. For extra safety, surround your fire pit with pea gravel, stone, slate, or brick, which also makes four-season use tidier than grass.
Modern Outdoor Seating Area with Fire Pit Designed by JMJ Studio | Patio Design Ideas
Image courtesy of: Houzz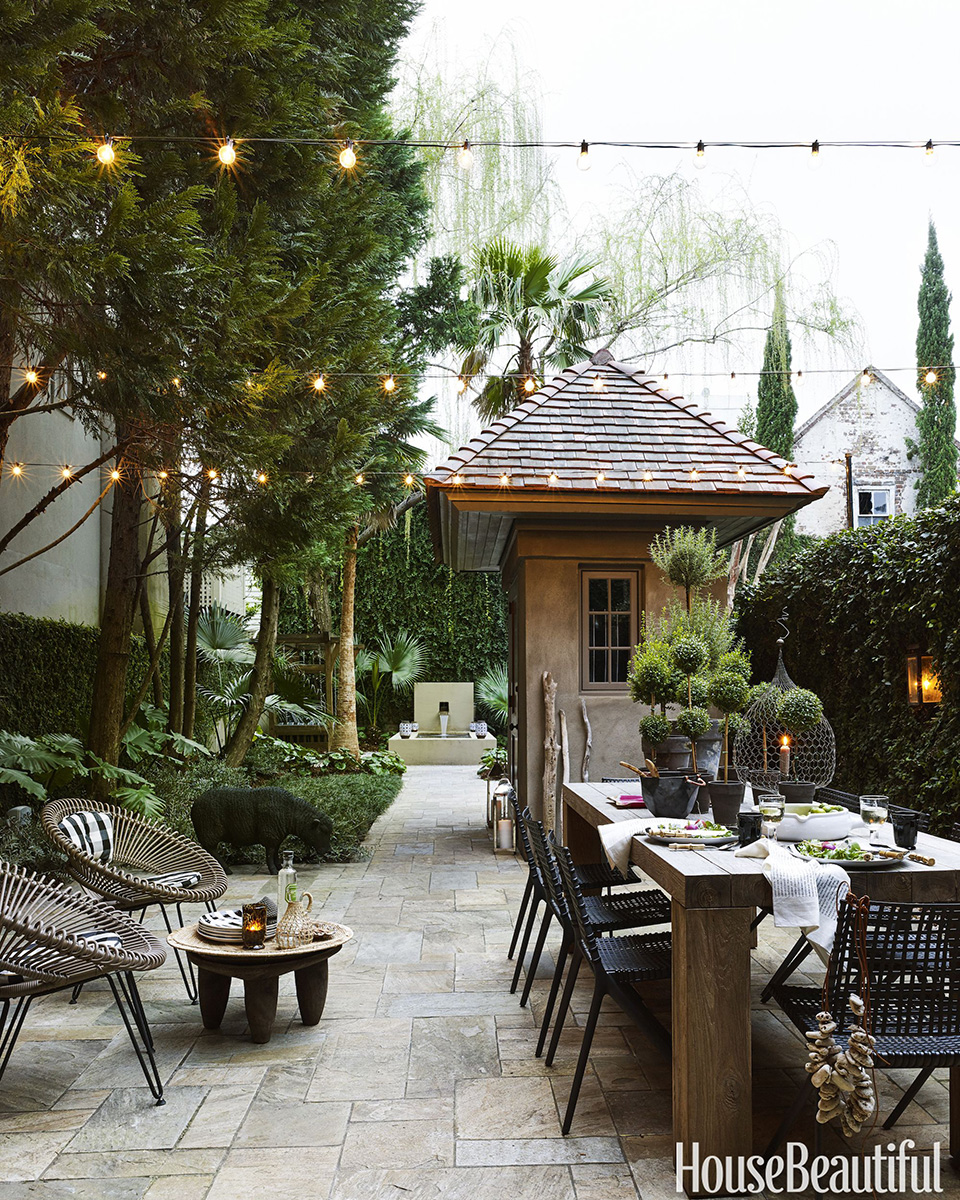 Outdoor Area Designed by Jill Sharp Weeks
Image courtesy of: House Beautiful
Designer Jill Sharp Weeks used string lights to make her garden feel like an extension of her home. The space even includes an outdoor privy, the only bathroom on the ground floor.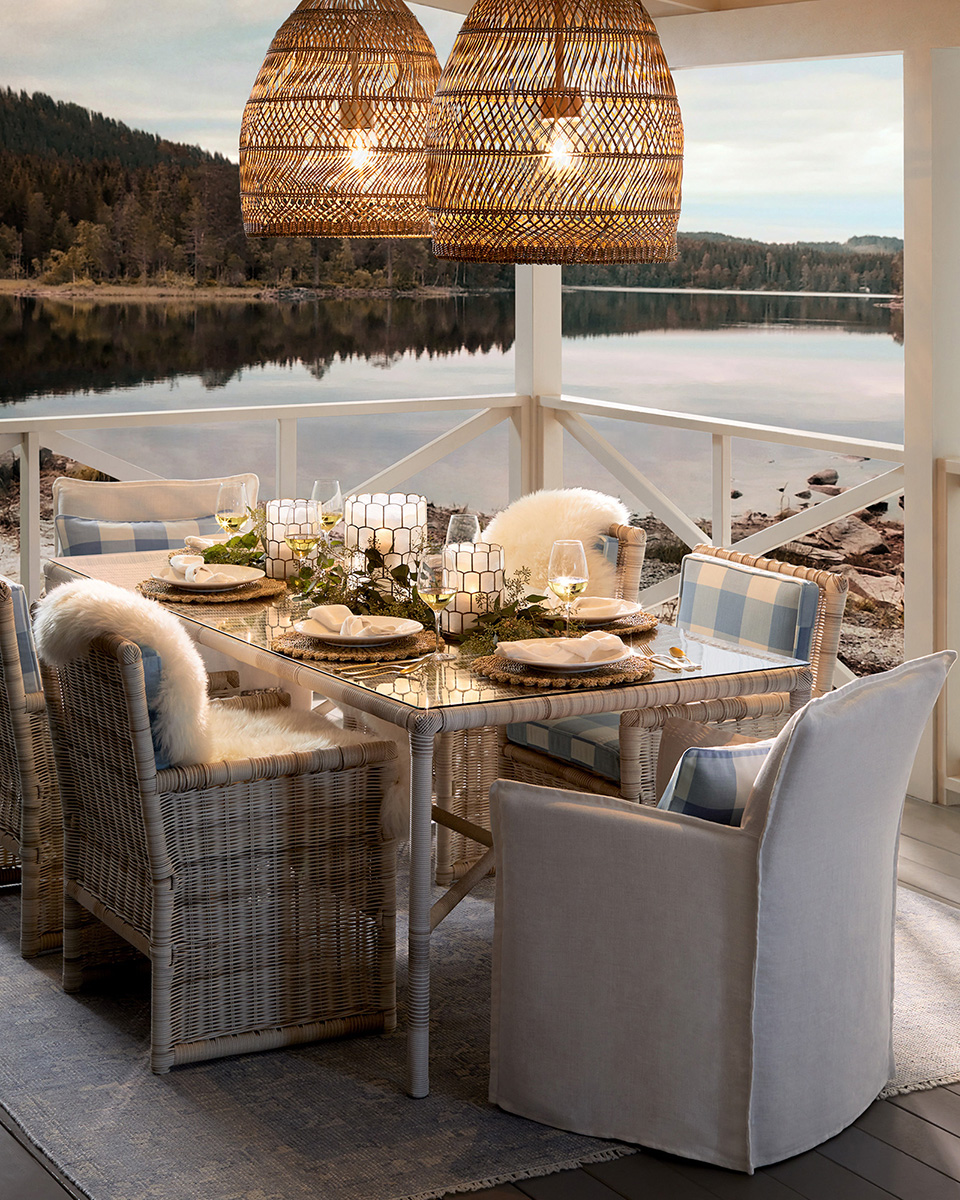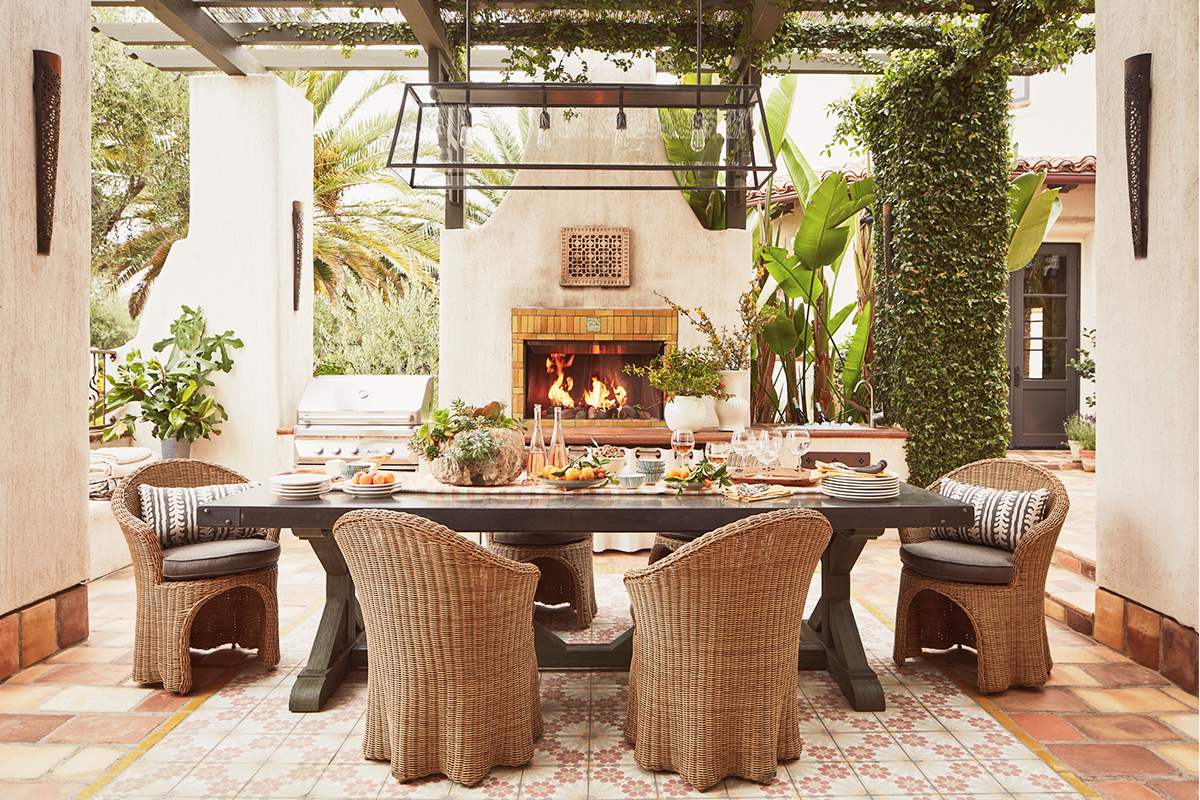 Spanish Remodel Mediterranean Patio | Patio Design Ideas
Image courtesy of: Houzz
A large Mediterranean courtyard tile patio in Los Angeles with a pergola and fireplace.
Make the Most of a Backyard with a Pool
If you're lucky enough to own a swimming pool, you may feel that it takes over your backyard. Usually, though, there's sufficient space to appreciate your pool and enjoy other backyard functions, too.
Design your pool to accommodate all your needs
If your pool is still in the planning stages, don't automatically go with the biggest pool you can fit in the yard. In most cases, you don't need that much pool space. Even if you like swimming laps, a long, thin lap pool will make room for other backyard activities, such as grilling, dining, or pet exercise, as well as non-swimmers who want to sit outside.
If your yard is already on the small side, perhaps an endless swimming pool or plunge pool is a better option. You can even make a pool out of a cattle trough or shipping container with a little sweat and ingenuity.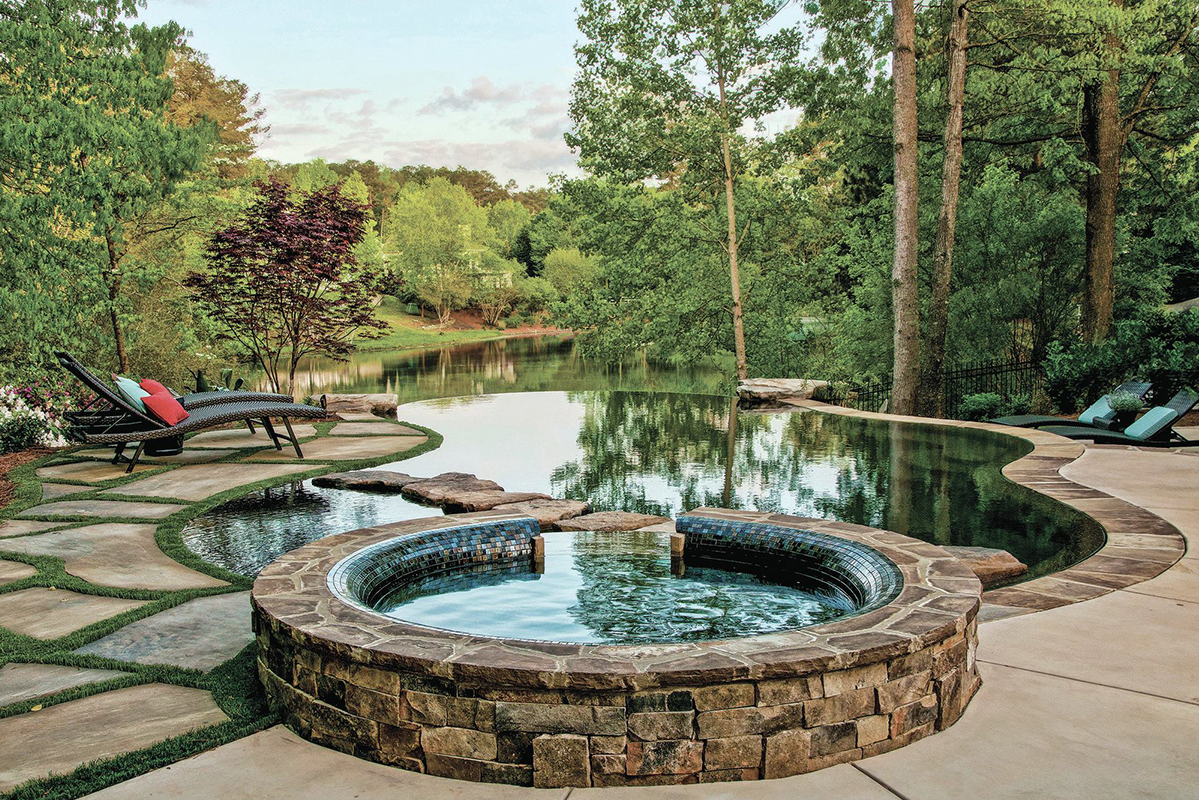 A Softly Curved Pool in Georgia that Appears to Flow into a Lake
Image courtesy of: Pool Spa News
The homeowner loved her garden and didn't want to interrupt it. To accommodate her, Shane LeBlanc, president of Selective Designs in Peachtree City, Ga., created a tranquil garden atmosphere and limited construction on the pool to 6 feet outside its perimeter. To outline the pool, he drew the drip lines of existing trees, as well as the eventual drip lines of a few he planned on planting. The finished product was a free-flowing shape that appears to merge with the lake in the background. The set of meandering, floating stepping pads line the outside of a 9-inch-deep sun shelf. They were placed by having the customer walk in that spot and measuring from one stride to the next.
Don't get locked into rectilinear decorating
Forego the idea that all pools have to be rectangles. A free-form pool looks more natural and less severe. If you already have a pool with 90-degree corners, you can soften the edges with potted plants and comfy seating, as well as strategically placed circular umbrellas or water features. Try not to have your fencing run right up to the edge of the pool. Leaving some open lawn space will make the entire area look bigger and less harsh.
Finally, you can use the same tips given above when decorating your pool area. Wrapping the entire backyard in string lights and making the pool the centre will give it a uniform look, whereas zoning the yard for swimming, dining, and fire pit seating will differentiate various uses and break up the yard visually. These days, your only real limit is how creative you want to be!
BHG's Outdoor Living | 7 Patio Design Trends
Images courtesy of: BHG
1. Outdoor Kitchens
Cooking has become an increasingly popular outdoor activity. In fact, a 2021 design trends report by the National Kitchen and Bath Association (NKBA) found that 60% of homeowners are looking to add outdoor kitchens." There is an increased interest in additional cooking elements such as grills and pizza ovens.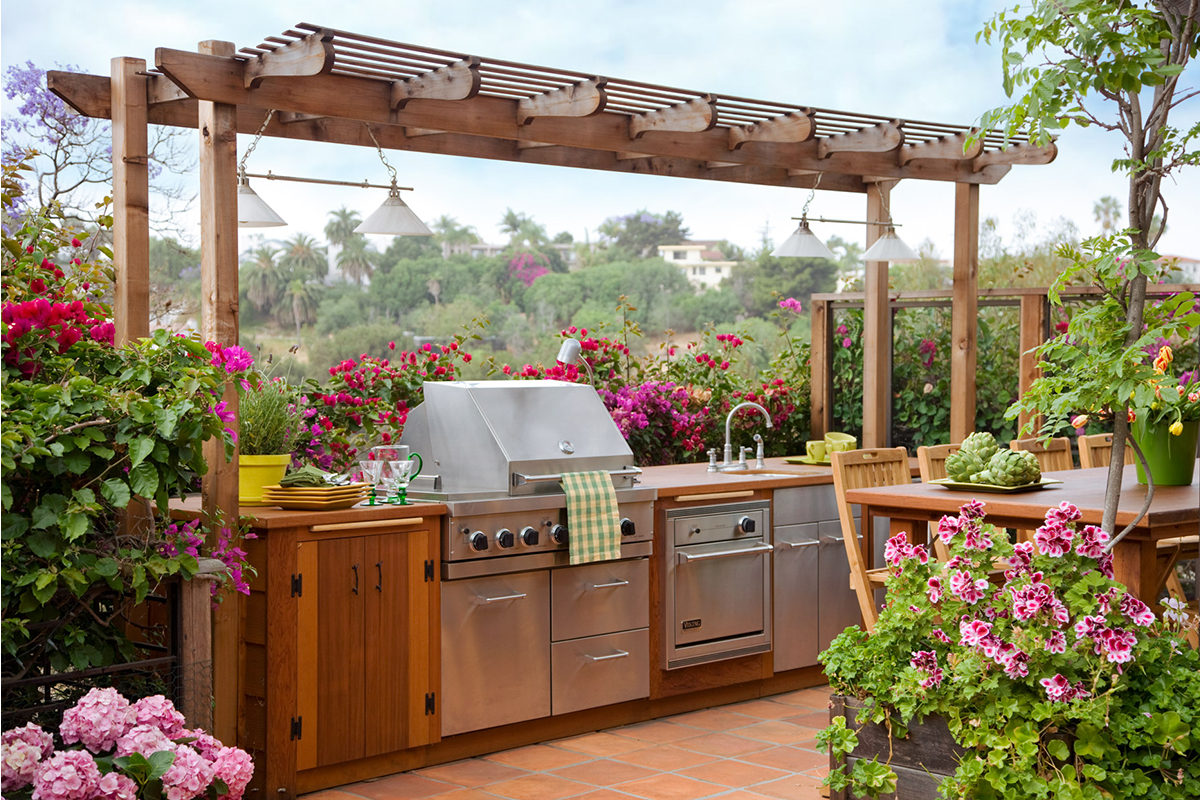 2.  Edible Gardens
Millions of people began gardening during the pandemic. Motivations varied from the desire to be outdoors to wanting a new hobby to fill the time at home. But one of the biggest reasons for an uptick in edible gardening was to supplement pantries with homegrown fruits, vegetables, and herbs.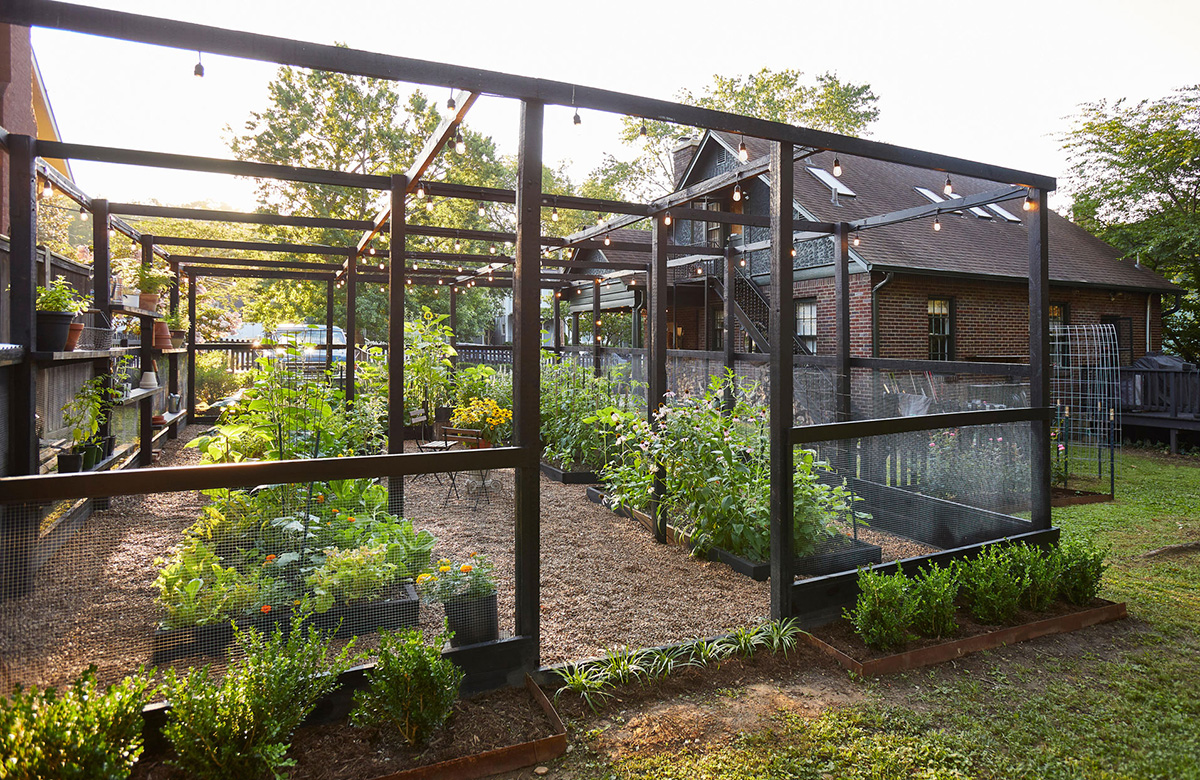 3.  Multipurpose Furniture
As entertaining became less of a focus in 2020, outdoor furniture has developed to accommodate both everyday living and anticipated social gatherings.
4.  Structures that Provide Privacy and Protection
As outdoor activity increases, so does the need for privacy, shade, and shelter from the elements. Whether it's a secluded space to practice yoga without distraction or a place to use your laptop without harsh glare, a mix of landscaping and hardscaping, and even furniture, can provide protection.
5.  Social Front Yards
Front yards are the newest home "addition," according to Blythe Yost, CEO and cofounder of online landscape design company Tilly. "Previously, front yards were often just curb appeal, but now why not utilize this space and get more out of your home," she says. "It's like having a new room to enjoy!"
6.  Outdoor Technology
As people integrate the outdoors into everyday living, they're "looking to incorporate all the technology they use on the interior, for the exterior," says Joe Raboine, director of residential hardscapes with Belgard. Activities like streaming movies and working from home have many people adding boosters to amplify Wi-Fi signal outdoors.
7.  Products that Extend the Living Season
"Furniture, accessories, and add-ons that help you stay outside longer are an especially popular upgrade. "The idea is to extend the days and hours you can enjoy being outside," says Gold. She identifies amenities like fire pits, heat lamps, misting systems, and fans as key products for extending the outdoor living season. In addition, Smith-Fitzgerald notes that outdoor rugs, throw blankets, and lighting can provide added comfort into the night or in cooler temperatures. Although these products and ideas aren't new, their usefulness in turning occasionally-used outdoor spaces into everyday living areas makes them especially popular."