Great Breakfast Ideas ~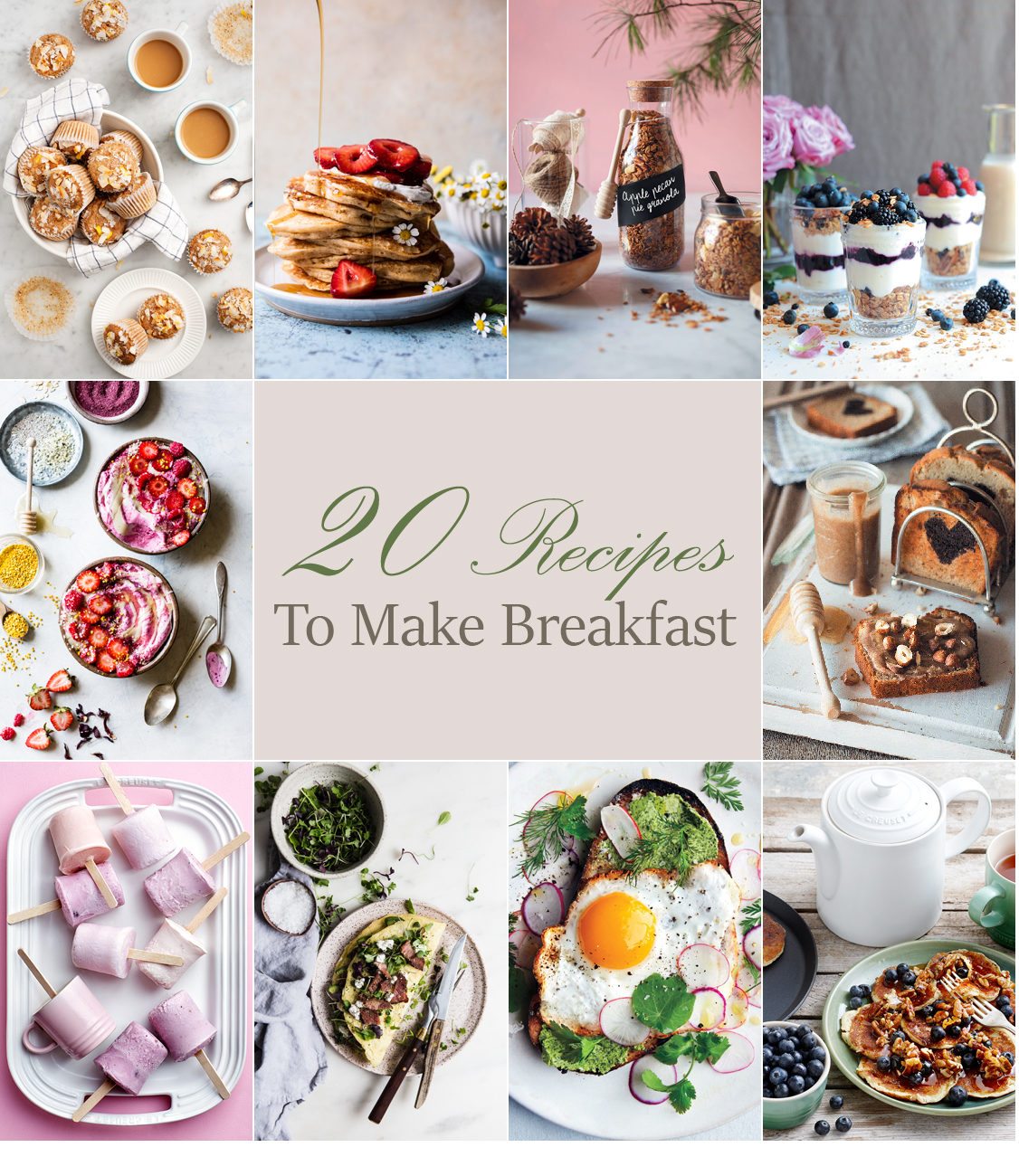 Looking for great breakfast ideas? Sometimes a bowl of cereal just won't cut it, yet we still need the essential nutrients to kick start our day. Apart from providing us with energy, breakfast foods can supply us with calcium, iron and B Vitamins as well as protein and fiber.
Breakfast doesn't only kick start our day, but our metabolism as well – helping us burn calories throughout the day. Skipping the morning meal can throw off your body's rhythm of fasting and eating.
Here's a fabulous collection of 20 great breakfast ideas from smoothie bowls to omelettes, pancakes, waffles, homemade granola, banana bread, muesli, shakshuka, breakfast tacos, quinoa, tropical salads and more!
1. Breakfast & Smoothie Bowls
Great Breakfast Ideas: Smoothie bowls have become the perfect breakfast staple – and for a good reason. You can create almost any combo of flavors and then top it off with your favorite fruits, cereal and nuts. These nutritious bowls are a huge hit on Instagram and are super trendy because they not only taste good, they are so pretty. Make one as a treat for yourself, or invite friends over and build them together.
Any type of fruit works, just make sure they are in bite sized chunks. Try bananas, blueberries, mango, pineapple, pomegranate seeds or sliced banana. You can add a delicious crunch by adding shredded coconut or coconut flakes, nuts or granola. Great health boosters to add can be hemp seeds, chia seeds or bee pollen. Sweeten with a drizzle of honey, maple syrup or agave.
Hibiscus Berry Smoothie Bowls 
These creamy hibiscus berry smoothie bowls taste like soft serve ice cream kissed with tart hibiscus and floral honey. They're packed with nutrients from hempseed, chia seed, oats, and cashew butter to keep you going long after breakfast. Hibiscus comes in several forms: fine hibiscus powder, tea-grade hibiscus which is finer, and larger blossoms and petals. You can find hibiscus tea bags in most grocery stores; look for hibiscus flowers and powder in the bulk section of health food stores.
View the complete recipe: Bojon Gourmet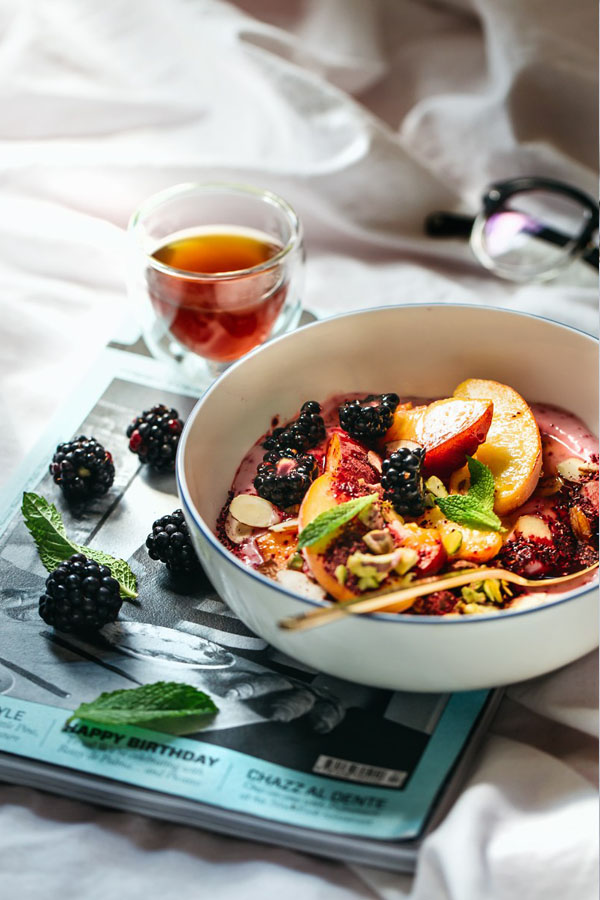 Tangy Hibiscus Yogurt with Warm Peaches and Honey
This recipe combines lose leaf hibiscus tea with plain non-dairy yogurt, pure vanilla extract, a peach, honey and chopped pistachios. You can add chia seeds, hemp seeds or any other booster of your choice. Simple and fresh, this breakfast is tangy and sweet.
View the complete recipe: The Artful Desperado
Tangerine Dream Smoothie Bowl
Here's another great smoothie bowl to add to your weekly routine. It combines tangerines, frozen peaches, frozen banana, lite coconut milk, raw cashews, vanilla bean paste as well as grated ginger and tumeric.
View the complete recipe: This Mess is Ours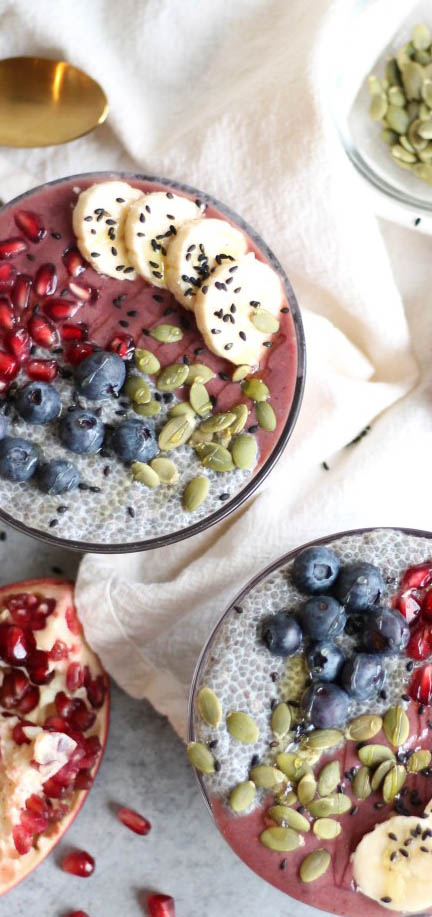 Acai Bowl with Chia Pudding
This combination is a texture lover's dream. The chia pudding is poured into one half of the bowl and the acai smoothie in the other. The recipe calls for a frozen acai packet, frozen strawberries, raspberries, blueberries, unsweetened vanilla almond milk and chia seeds.
View the complete recipe: Spices in My DNA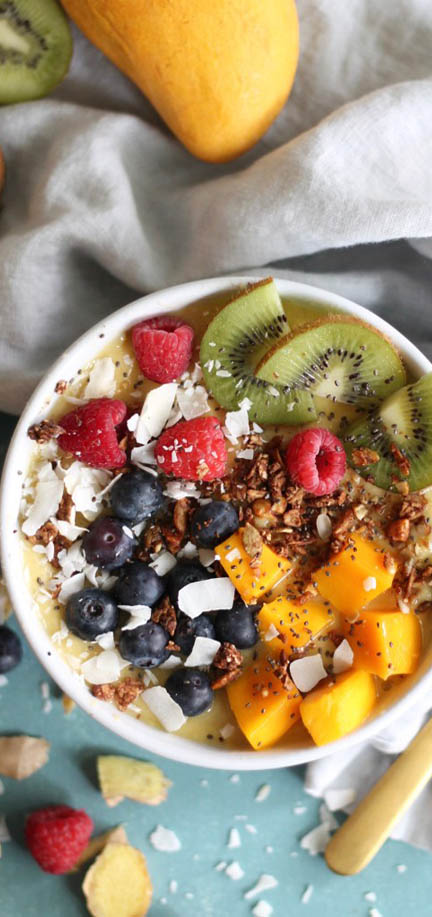 Mango Smoothie Bowls
What's more fun than piling a thick smoothie with a ton of toppings? This recipe combines a mixture of fresh fruit, chia seeds, nut butter, granola, honey, coconut, mango, banana, frozen pineapple and freshly grated ginger. The perfect summery and tropical breakfast.
View the complete recipe: Spices in My DNA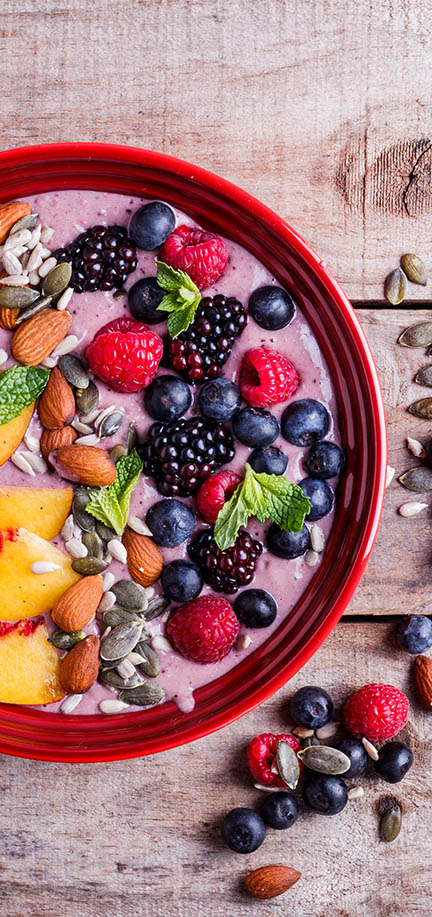 Berry Smoothie Bowl
This is a fantastic spin on a classic smoothie and adds even more goodness to the start of your day. Top the smoothie bowl with seasonal fruit, nuts and seeds to add more flavor, texture and nutrition.
View the complete recipe: Le Creuset
2. Breakfast Muffins
Great Breakfast Ideas: Muffins are the perfect grab-and-go breakfast option and there's something about muffins fresh out of the oven that makes everyone smile. You can get creative by adding nuts, fruit and a variety of fillings. They are the perfect crowd-pleaser and an easy and delicious alternative to a morning meal.
Coconut and Mango Breakfast Muffins
These muffins, made with Almond Breeze, are a great morning treat. They are mildly sweet with chopped mango and topped with toasted coconut flakes. The lime juice helps them rise and a mixture of flax binds them together.
View the complete recipe: Love & Lemons
3. Quinoa, Muesli, Oats & Granola
Great Breakfast Ideas: Whole grains are a breakfast-time staple in many cultures throughout the world and are a fundamental part of a healthy diet. They are low in calories, high in complex carbohydrates, fiber, protein and have many important vitamins and minerals. It can be difficult to incorporate heart-healthy grains into a breakfast routine. Her are a few whole-grain breakfast recipes to get you eating more of this diet essential.
Apple and Pecan Pie Granola
Nothing says "you matter" more than home-made and from the heart. This DIY apple and pecan pie granola is perfect for spreading comfort and joy Recipe, styling and photography by Katelyn Williams.
View the complete recipe: Food & Home
Caramelized Pear & Vanilla Bean Oats
This delicious oat recipe calls for Greek yogurt with the vanilla seeds. Serve the warm oats topped with the caramelized pears, pecan nuts, a drizzle of maple syrup and a dollop of the vanilla yogurt.
View the complete recipe: Food & Home
Puffed Quinoa Crumble with Macadamia & Candied Ginger
Maple sweetened puffed quinoa crumble studded with roasted macadamia nuts and candied ginger adds a spicy sweet tropical twist to your favorite tart & sweet yogurt bowl with blood orange supremes. Toss is over ice cream, pudding, or eat it by the handful as an addicting quick snack!
View the complete recipe: Snixy Kitchen
Cachew Coconut Rose Granola
Turn bagels into an irresistible feast by adding a combination sumptuous toppings such as cream cheeses, smoked salmon, thinly sliced vegetables and a variety of savory herbs.
Photography by: Eva Kolenko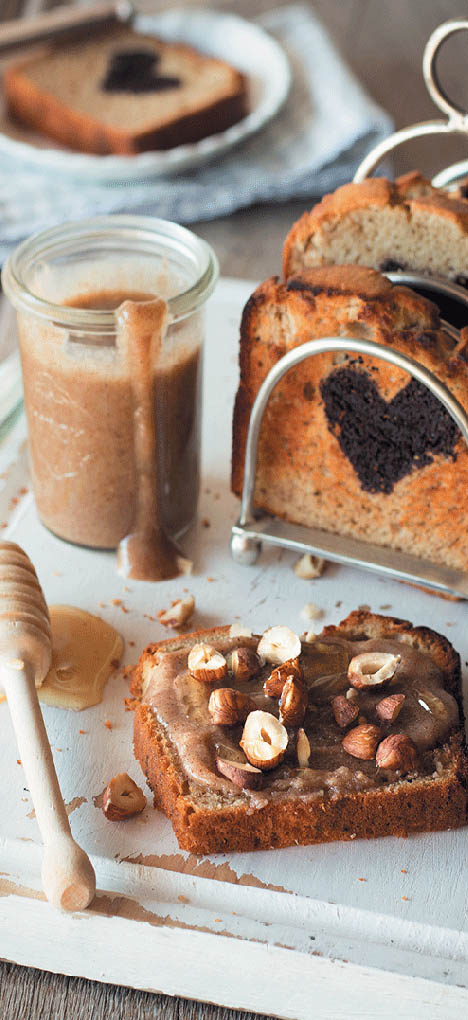 Banana Bread Toast with Hazelnut Butter
The best way to show someone that you're bananas about them is to serve up banana bread toast with homemade hazelnut butter and honey. This gorgeous treat just oozes with homemade goodness.Recipe by Katelyn Williams
View the complete recipe: Food & Home
Homemade Muesli Bars
These are excellent for a quick breakfast and work equally well as a lunchbox filler. They are stuffed to the brim with good-for-you seeds, oats and nuts.
View the complete recipe: Le Creuset
Earl Grey Strawberry Granola
This recipe has a winning combination of Earl Grey and strawberry. Sweet, tart, and totally addictive!
View the complete recipe: This Mess is Ours
Chai Latte Pecan Granola Parfaits 
Brunch is the new social "meet and eat" occasion and these chai latte pecan granola parfaits are perfect for make-ahead entertaining. Not only do they taste amazing, they're also gluten-free and lacto-vegetarian friendly! Recipe, styling and photographs by Dianne Bibby.
View the complete recipe: Food & Home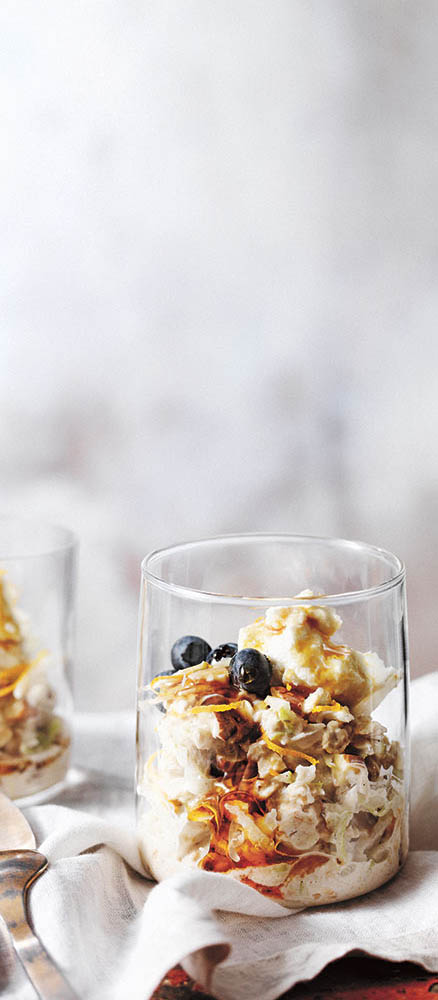 Cinnamon, Cardamom and Orange Zest Bircher Muesli
This recipe combines organic or gluten-free oats, finely grated orange zest, freshly squeezed orange juice, raw almonds, shredded coconut, 1 small pear and Greek-style yogurt. For those who prefer to eat gluten-free, you are welcome to use quinoa flakes, gluten-free oats or a combo of chia seeds and flaxseed instead of the oats.
Photography by: Food & Home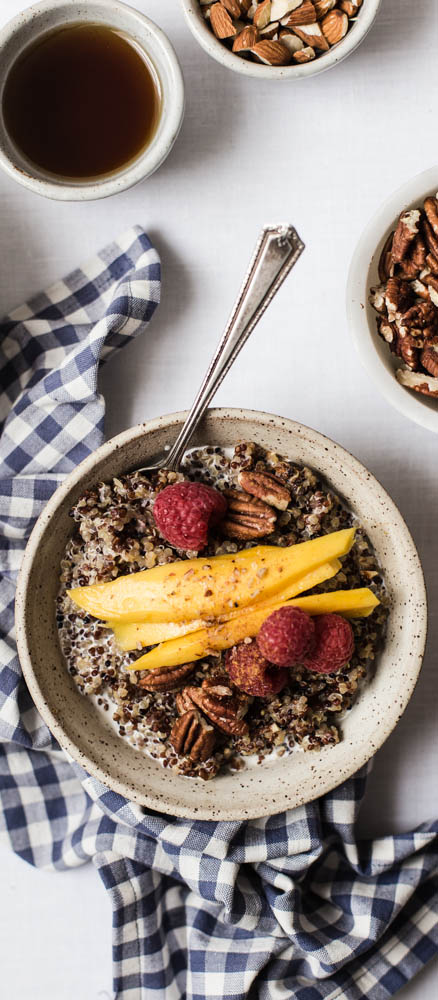 6 Ingredient Breakfast Quinoa
A rich and indulgent breakfast quinoa recipe with maple syrup and vanilla that leaves you feeling full, satisfied and with plenty of energy. Its similar to steel cut oats that many families enjoy, but using quinoa in its place adds a great new texture and even more nutrition.
View the complete recipe: The Modern Proper
4. Pancakes, Waffles & Flapjacks
Great Breakfast Ideas: Pancakes, waffles and flapjacks can be another healthy breakfast option depending on how each of these items are prepared. Moderation and portion size is essential to ensure a healthy breakfast, as well what ingredients are added to the batter. To increase the nutritional value, consider using whole grain flour or utilizing egg whites instead of whole eggs and adding fruit and nuts to the batter. Skip the sugary syrups and add whole fruits as a topping.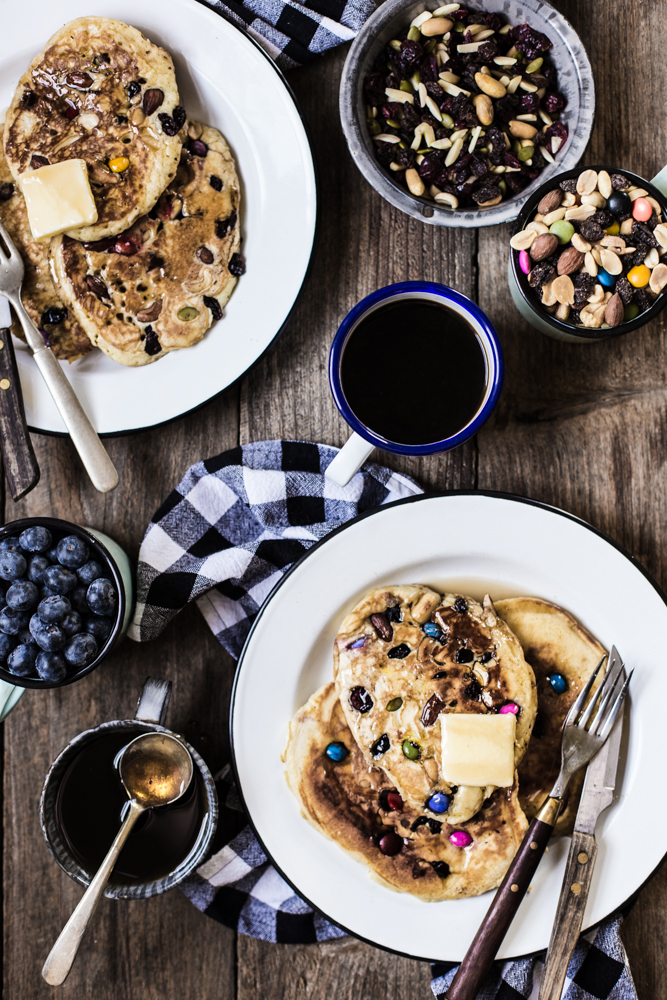 Trail Mix Pancakes
When you add trail mix to pancake batter, it transforms them into the perfect protein packed breakfast.
View the complete recipe: The Modern Proper
Amaranth Waffles with Chai Spiced Poach Pears
This sweet rendition is kissed with nutmeg and cinnamon and a hint of sugar. Earthy nutty amaranth balances nicely with the spiced chai poached pears and honeyed pear syrup. A few sprinklings of candied popped amaranth to add some crunch and a dollop of whipped cream clouds to finish it all off.
View the complete recipe: Snixy Kitchen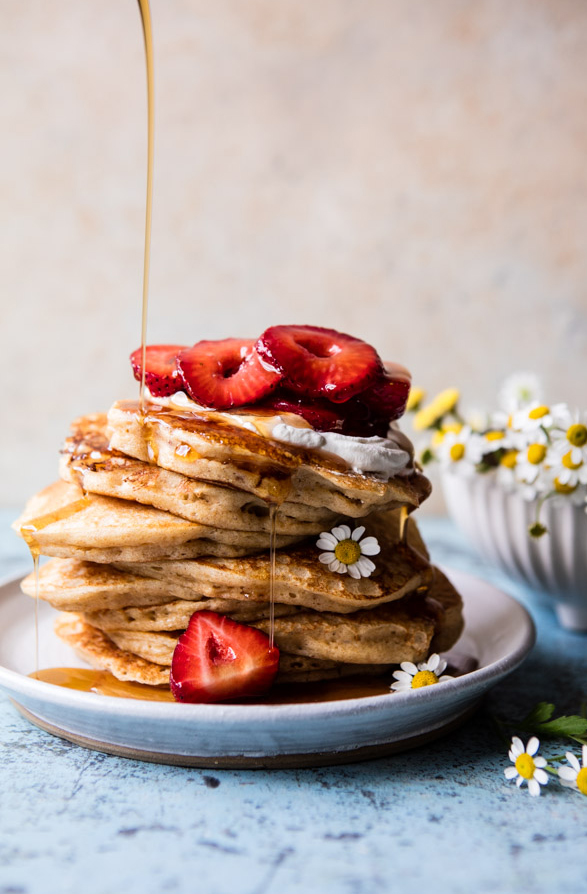 Buttermilk Pancakes With Chamomile Cream & Gingered Strawberries
A simple pancake recipe using a mix of buttermilk and plain Greek yogurt to keep the pancakes extra light and fluffy. Go heavy on the vanilla and add just the smallest pinch of cinnamon to bring a nice warmth to them. The chamomile adds a really nice floral touch to the pancakes and pair well with the strawberries.
View the complete recipe: Half Baked Harvest
Double Chocolate Flapjacks with Grilled Bananas
These chocolate flapjacks are a salty-sweet delight. The cocoa powder and chocolate pieces incorporated in the batter mean this mixture burns easily. Use a low, steady heat.
View the complete recipe: Food & Home
5. Bagels with a Kick
Great Breakfast Ideas: Bagels are rarely celebrated as a healthy breakfast option, yet who can resist the taste of a hot, fresh bagel first thing in the morning. Whole grain bagels do boast more fiber, vitamins and minerals than standard bagels.
Photography by : Eva Kolenko
5. A New Take on Eggs
Great Breakfast Ideas: Loaded with proteins, vitamins, and minerals, eggs are a healthy choice when it comes to breakfast—or any meal, for that matter! When our standard egg recipes get a bit monotonous, it's great to veer from the timeless classics and try a new approach.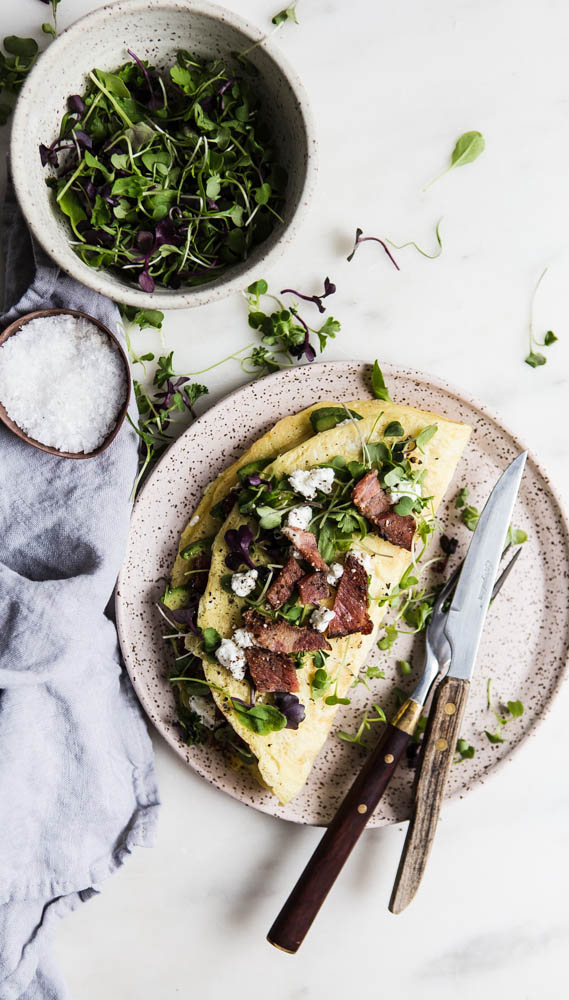 Avocado, Chevre & Bacon Omelette
The perfect omelette pairing of creamy chèvre, perfectly ripe avocado, and crispy bacon.
View the complete recipe: The Modern Proper
Fried Egg on Toast with Salted Herb Butter and Radishes
When you have some herbs threatening to go past their prime in the crisper drawer, preserve them by making herb butter, which just happens to be an excellent landing pad for a perfectly fried egg. Here's a few other ways to use and preserve herbs.
View the complete recipe: Bon Appetit
Breakfast Naan Pizzas
This recipe combines mushroom and spinach with white cheddar, chives, and a runny egg. You can do poached eggs, over easy, over medium, or however you like them best.
View the complete recipe: Spices in My DNA
Shakshuka with Spinach, Parsley and Harissa
A beautiful medley of eggs, avocado, microgreens, harissa paste, can crushed tomatoes, garlic, pepper and onions.
Photography by: Love & Lemons

6 Ingredient Breakfast Quinoa
A rich and indulgent breakfast quinoa recipe with maple syrup and vanilla that leaves you feeling full, satisfied and with plenty of energy. Its similar to steel cut oats that many families enjoy, but using quinoa in its place adds a great new texture and even more nutrition.
View the complete recipe: The Modern Proper
Shop the latest in home decor at Buyer Select