How to Make Epic Charcuterie Boards
Gathering with friends and family over the is all about entertaining with delicious appetizers, hearty meals, and delicious cocktails.
I'm looking forward to Easter this year and spending time with family. My son is finishing up his last year of University and my daughter is planning to attend another four years. We usually have about 15 at the table, so I've been busy collecting ideas for charcuterie boards. I absolutely love them!
I plan to greet our guests with a Mediterranean charcuterie board loaded a wide selection of cheese, crackers, olives, fresh herbs, sliced prosciutto, salami, and smoked salmon as well as olive oil, balsamic vinegar, and homemade basil pesto and sundried tomato spreads. Let the party begin!
How to Make a Charcuterie Board in 7 Easy Steps
Stylizing charcuterie boards isn't always as easy as it looks. I prefer to lay mine out on a large slab of wood, but a more modern approach to the base works just as well. It's important to vary the colors and textures, have a scrumptious selection of meats and cheeses, as well as lots of fresh items.
Charcuterie boards are not only gorgeous, but they contain a wonderful combination of flavors for a simple no-fuss party snack. They also can be enjoyed as a lunch or light dinner. Pronounced [shahr-koo-tuh-ree] the definition of charcuterie is the art of preparing meats which are often cured or smoke. A charcutier is a person who prepares charcuterie. A charcuterie board most often consists of a variety of meats and cheeses and often fruit or nuts; essentially a meat and cheese board!
Paired with the perfect glass of wine, charcuterie boards are a wonderful option to serve to guests. Here are a few items that you may want to include on your own board. I've also provided examples of Vegan options within this post.
Step 1: Find the right sized board to build your platter. This can be a large cutting board, marble or slate slabs or ceramic platters. I've used a large wooden pizza board several times, and have enjoyed working within the confines of a circular shape
Step 2: Choose a variety of cured meats. Everything works, from salami to prosciutto, pepperoni etc. Smoked salmon also makes a wonderful option.
Step 3: Lay on the cheese. It's best to use a variety of both hard and soft cheeses with varying milk types, texture, taste, and color. People have a wide range of preferences as to the type of cheese they prefer, so be sure to include mild varieties such as cheddar, to Havarti, Brie, Blue Cheese, Provolone, and Gouda.
Step 4: Add savory items such as cured olives, hummus, antipasti, mustards, pickled jalapenos, roasted garlic, marinated artichokes, and pickles.
Step
Step 5: Add additional spreads such as basil pesto, sundried tomatoes, bruschetta, honey, jams as well as sliced banquettes, crackers and breadsticks.
Step 6: Mix in a colorful variety of fresh and dried fruit, such as pomegranate, grapes, strawberries, pears, citrus, and persimmons. You can also include marinated cherry tomatoes and nuts.
Step 7: Garnish with fresh herbs such as basil, parsley, rosemary, dill or mint.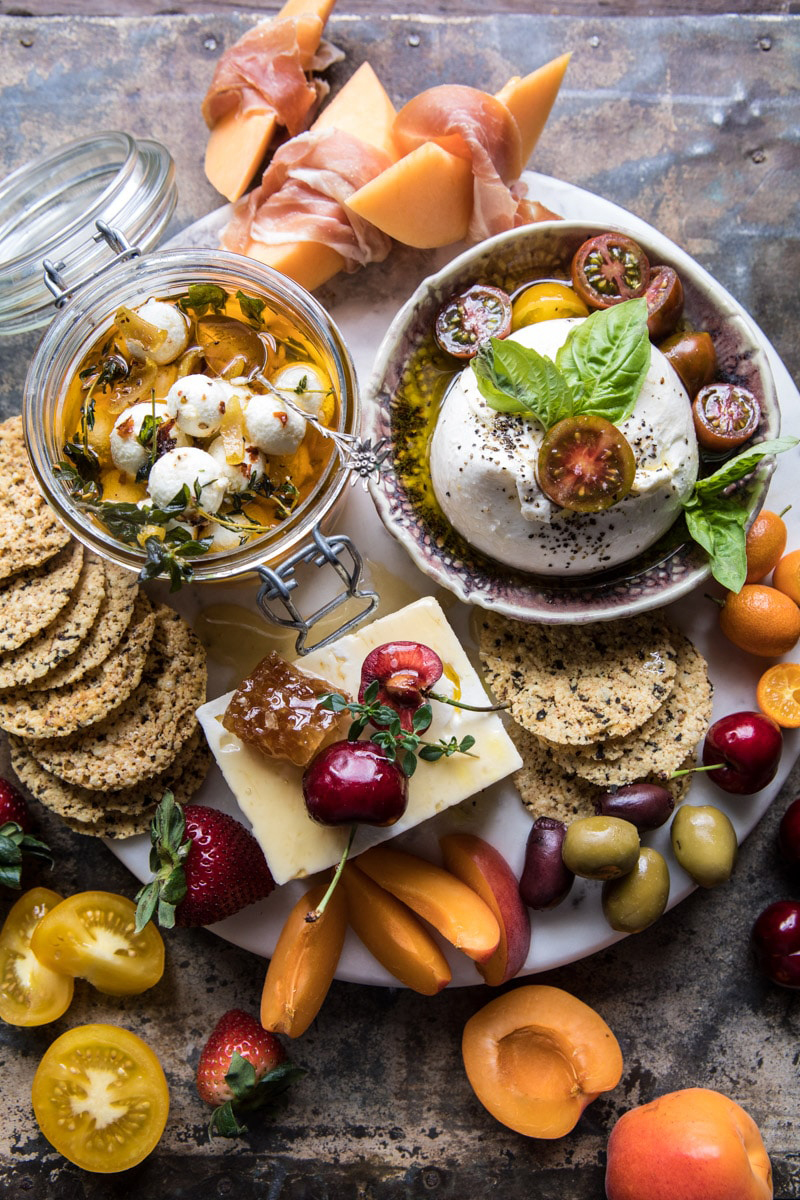 The Lighter Cheese Board
This beautiful cheese board has fresh burrata cheese, olive oil for drizzling, cherry tomatoes, kosher salt & pepper, feta cheese, honey for drizzling, marinated goat cheese, prosciutto as well as fruits, veggies, olives, and whole grain crackers.
Image courtesy of: Half Baked Harvest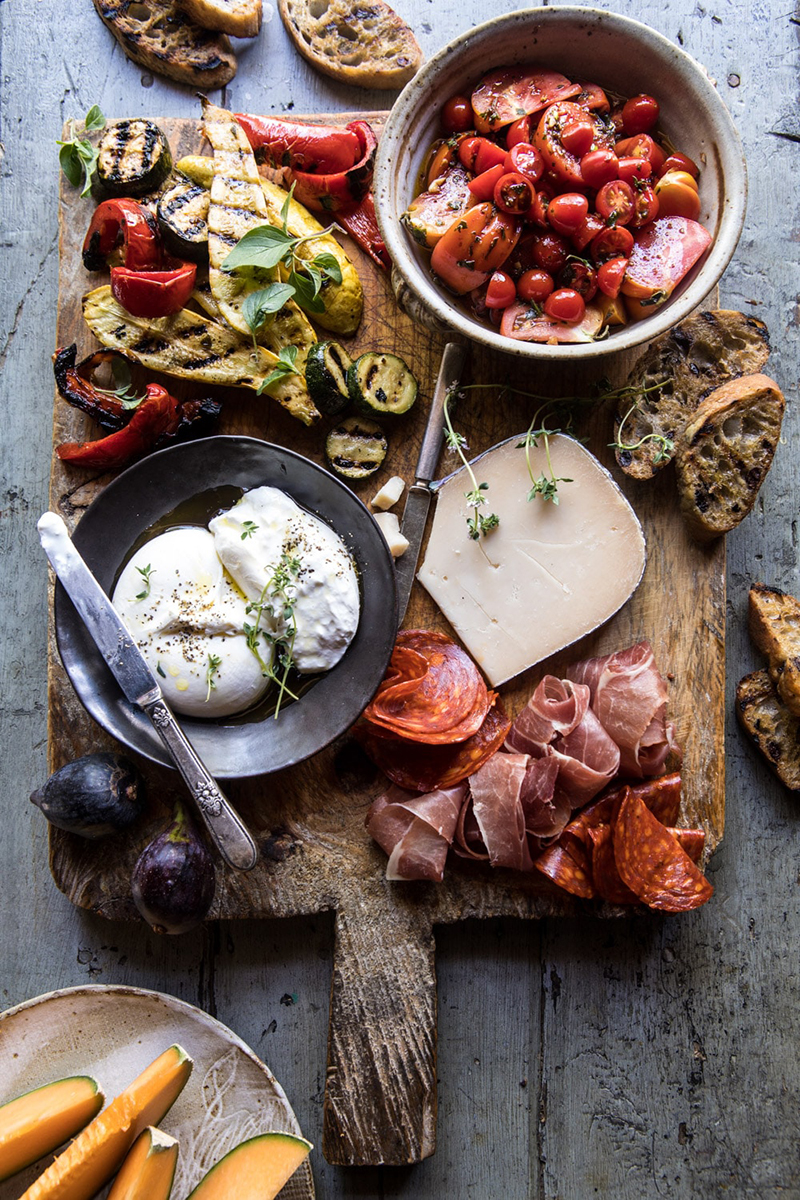 Marinated Tomato & Grilled Veggie Board
A simple cheese board consisting of marinated tomatoes, grilled veggies, bread, burrata cheese, and sweet fruits. The marinade is a simple mix of olive oil, balsamic vinegar, fresh herbs, and garlic.
Image courtesy of: Half Baked Harvest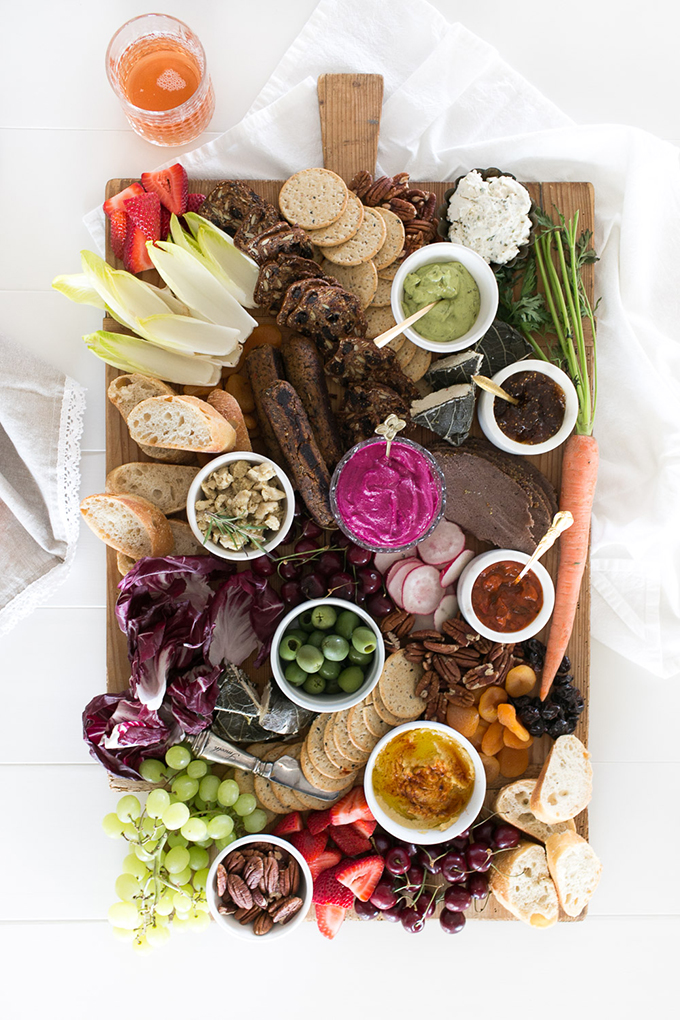 Vegan Charcuterie Board
A vegan charcuterie board with fresh veggies, vegan butchers sausage, baguettes, olives, fresh fruit, mustard, hummus, tapenade, beet dip, vegan roast beef, dried fruit and mustard.
Image courtesy of: Jillian Harris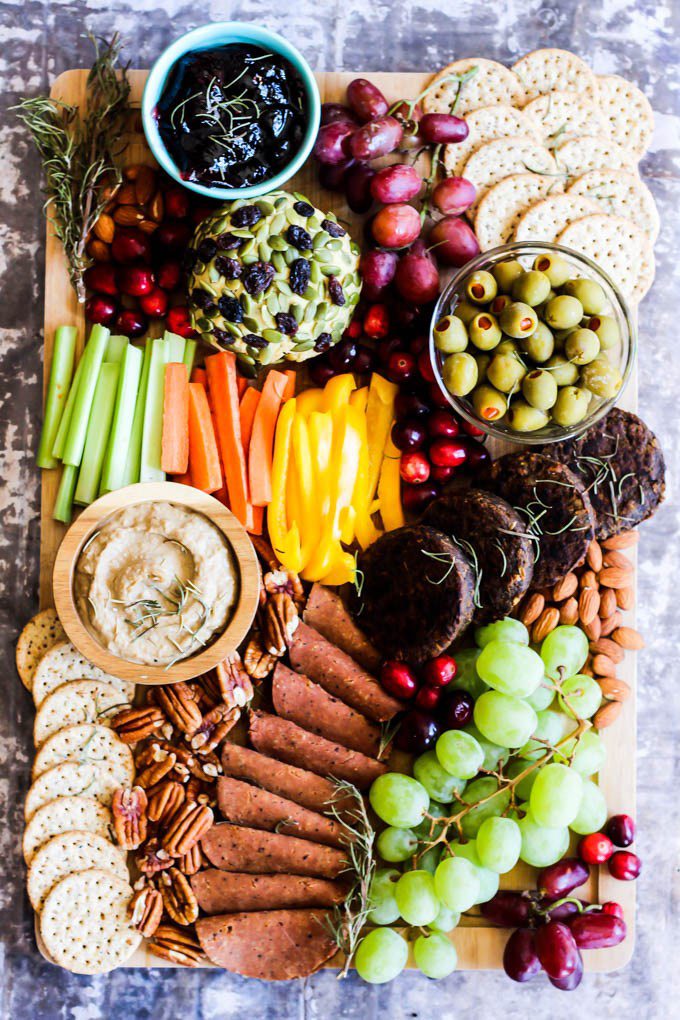 Epic Vegan Charcuterie Board
Serve this epic Vegan Charcuterie Board at your next party as a fun appetizer!  It's loaded with veggie meats, dairy-free cheese, fruit and vegetables.
Image courtesy of: Emilie Eats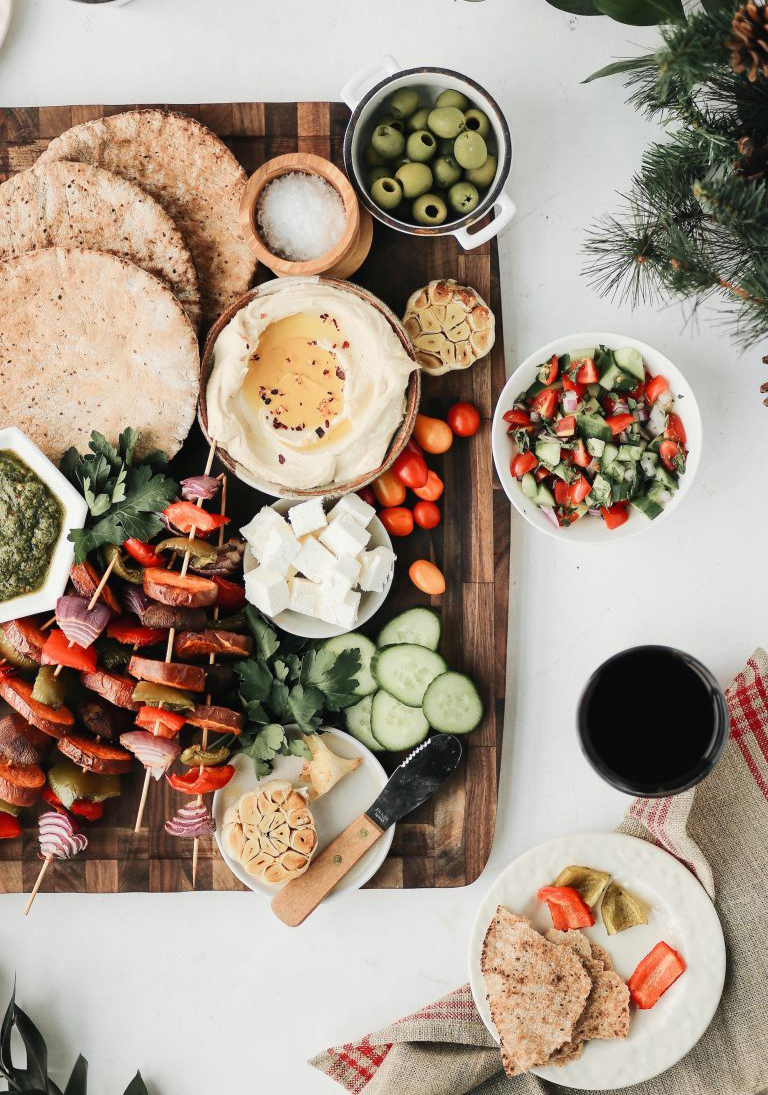 Mediterranean Kebab Board.
A Mediterranean Charcuterie board with pitas, hummus, zhoug, (A spicy Middle Eastern Cilantro Sauce that has a multitude of uses and gives dishes a huge burst of flavor), cubed feta, roasted tomatoes, olives, sliced cucumbers, diced veggie salad, roasted garlic and veggie or meat kebabs.
Image courtesy of: Camille Styles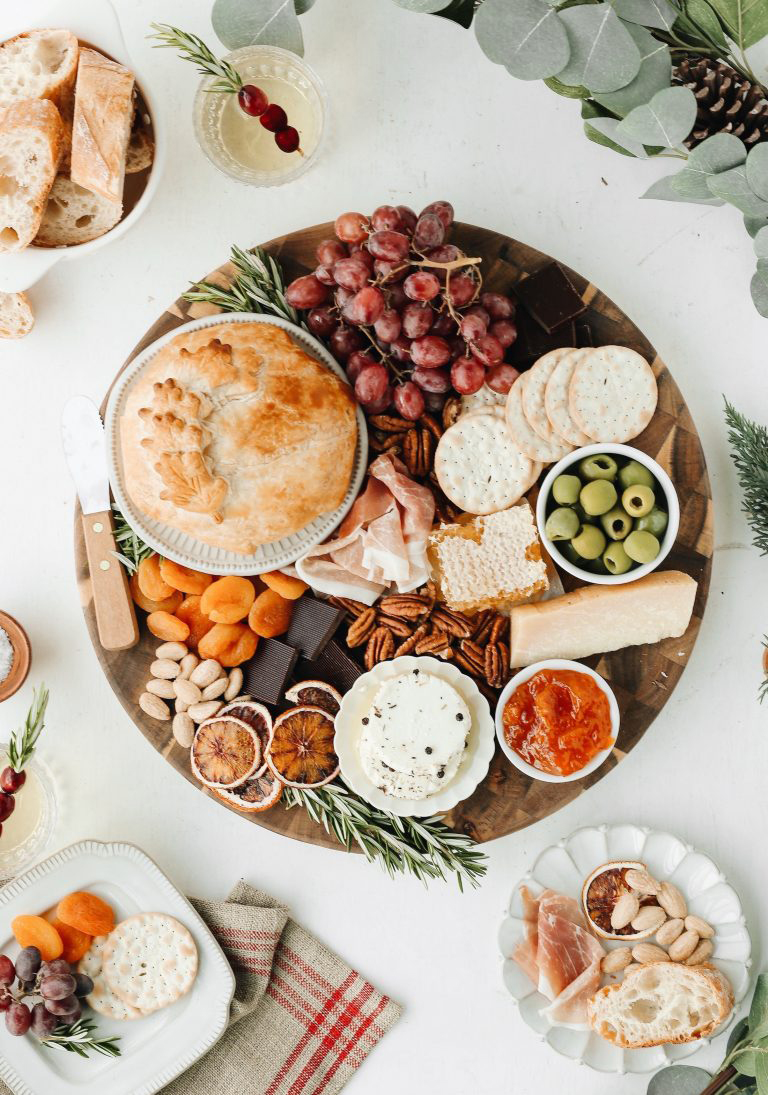 Holiday Cheese Board
A cheese board with baked brie, red grapes, toasted nuts, citrus, honeycomb, green olives, jam or chutney, dried fruit, prosciutto, chocolate, assorted cheese, crackers, sliced baguette and herbs for garnish.
Image courtesy of: Camille Styles