EASTER DECORATING IDEAS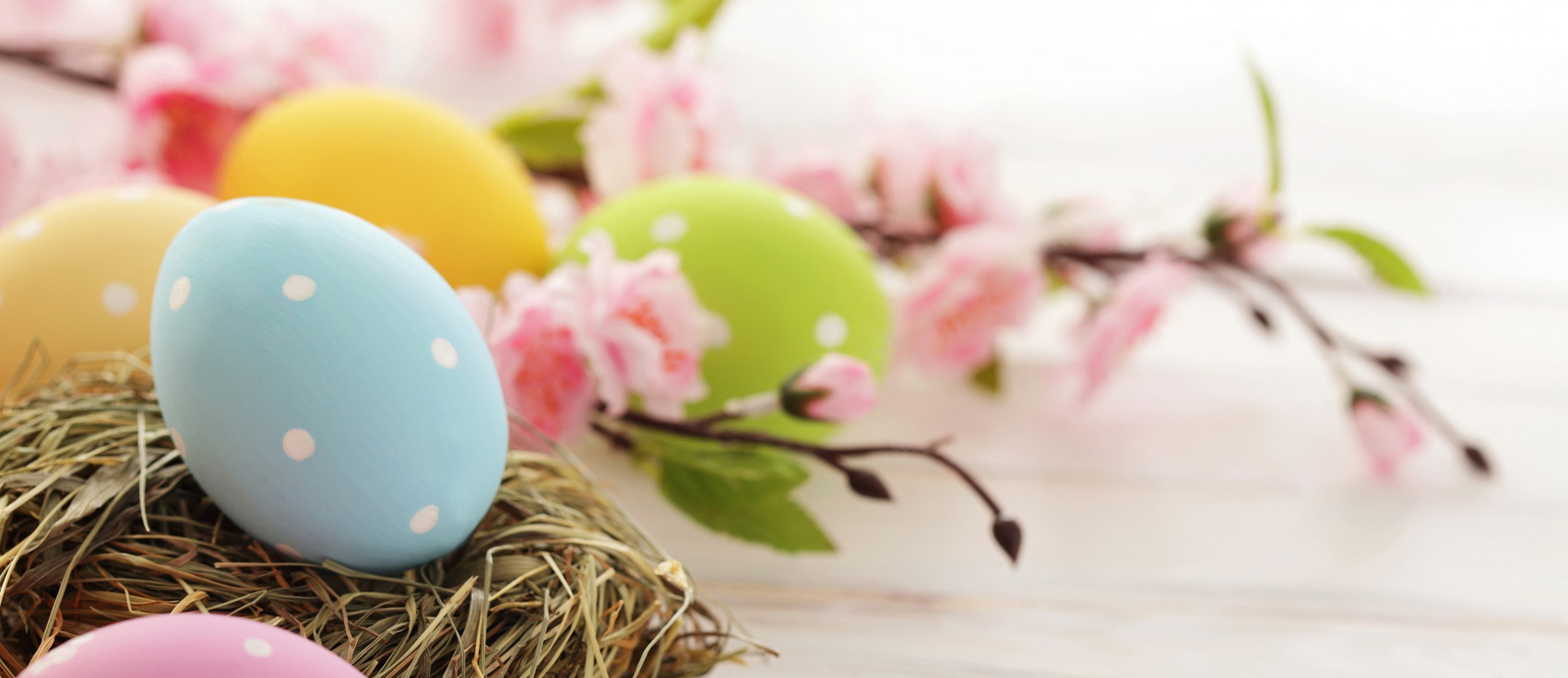 Easter is on the horizon. If the holidays call for a fresh new look in your home, your decor changes don't have to be the familiar ones. Why not add a little more individuality this year, whether its sophistication and glamour or a quirky sense of playfulness?
In addition, you can make some spring changes that will last beyond the holiday itself, and enliven your surroundings for months to come.  You can still give a nod to the traditional, but why not move it to a new level? Here are a handful of  Easter decorating ideas, designed for maximum impact: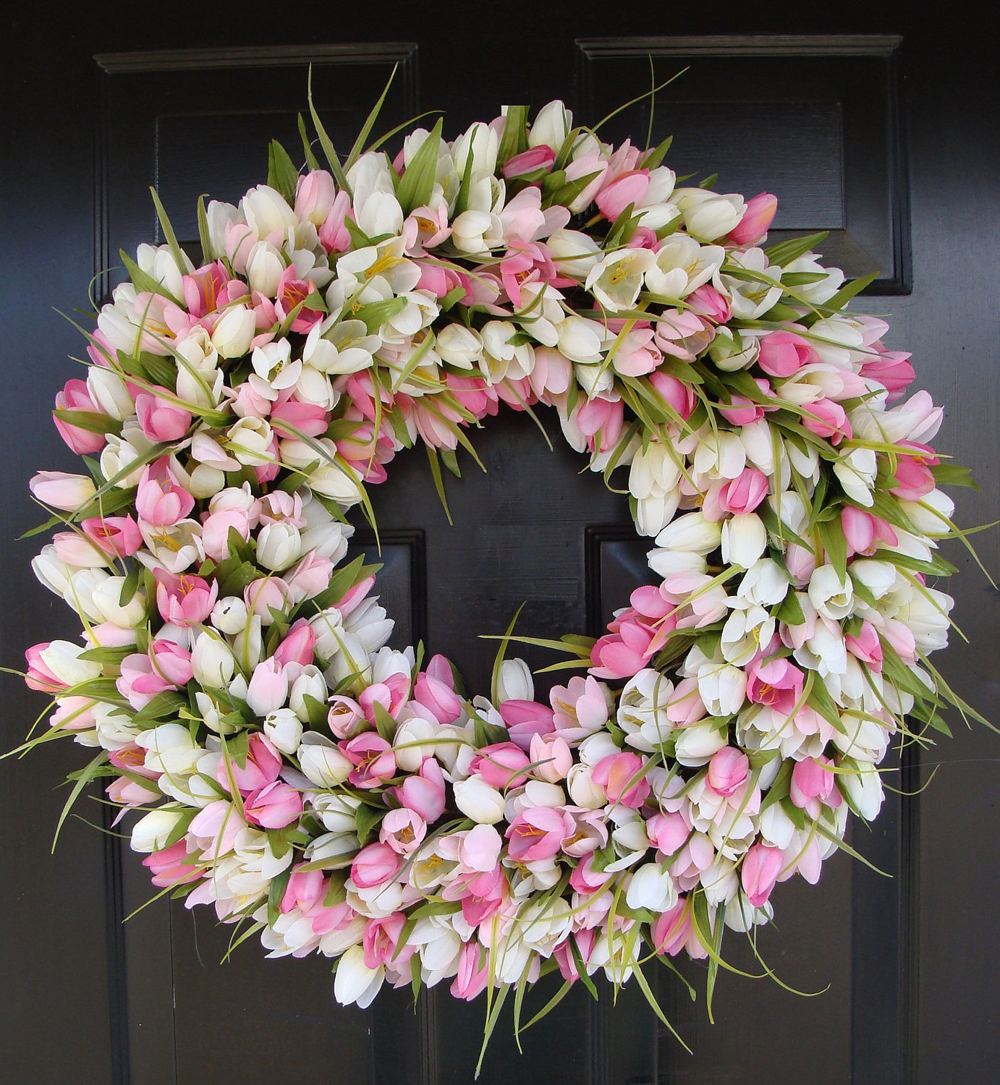 Easter Decorating Ideas: Vintage

Think blue and white. It's a well-loved color scheme for all kinds of celebrations, appropriate for almost any season, and adaptable to any style. This year, look to a clear, medium blue — the color of spring skies filled with fluffy clouds; hold that vision as inspiration as you decorate your home for the holiday and beyond. It's versatile, it's timeless, and it's a fresh expression for this new year.
White linens, white china, and white accessories are perfect throughout your home. Whether your interiors are currently filled with neutrals, or you have a more colorful shell you work with, chances are that a few new touches of blue or green will complement rather than compete with what you have. Add some new throw pillows and even sprinkle some white ceramic bunnies around. Fill vases with colorful flowers or simple green grasses. Blue and white decor is always serene and calming, looks as good in daylight as by lamplight, and is flexible enough that you can spice it up any way you choose to do so.
Set your holiday table with a textured white cloth; use blue and white china if you have it, or keep the setting all white, but add blue napkins and blue candles. Celebrate with family and friends in your own special way.
Images courtesy of: Pinterest
Easter Decorating Ideas: Rustic
Who doesn't love Easter baskets? This may be the season to bring out all your weathered baskets, faded-paint wire containers –even old birdcages — and worn wooden trays, silverware caddies and tool boxes. I love the look of rusted metal farm implements and well-used kitchen tools, colored depression glass (especially in vintage green) and 1930s-era kitchen prints, especially old flour-sack prints.
Dress up your kitchen and dining area with reminders of the past, even if your spaces are sleek and modern. The reminder of simpler times may just be the catalyst you need to celebrate with new style this year.
Instead of doing the expected for Easter eggs, stock up on brown eggs and stamp or write messages on those great "colored" shells. Embellish them with gold or silver paint for a bit of elegance, or tie up sprigs of herbs with twine or raffia and attach them to "bare" eggs for an appealing and edible centerpiece. As an alternative, dye white eggs in natural fruit or vegetable juice — beet, blackberry, raspberry, and grape, or dip them in strong coffee or black tea. You'll have unusual colors and a unique and memorable Easter display.
Easter Tablescape

This lovely tablescape was created by Tomkat Studio for a Mother's Day casual brunch. They started with a fresh spring color palette inspired by a range of melon hues (watermelon, honeydew and cantaloupe). This palette would work as well for Easter Brunch – if touches of Easter Decor were included.  Image courtesy of: The Tomkat Studio
Easter Decorating Ideas: Natural
Think spring and pull out all the stops. No matter what your location, picture in your mind the look of fields sprouting new grass, delicate flowers bursting forth on trees, blue skies filled with fluffy white clouds, the warmth of spring sun. With this kind of background, you could plan an all white decor for your dining room, or your entire home. Let flowers and greenery provide all the appeal and energy of the season.
Hang a mossy wreath on your front door, highlighted by the misty tones of live succulents, and let nature speak loud and clear to bring home the message of rebirth and renewal.
Easter is a season to celebrate life, so don't hesitate to place armloads of fresh flowers throughout your home. Plant garden pots with blooms, place topiary trees on either side of your front door, grow herbs in your kitchen windowsill. If you're in the mood, create an unusual table centerpiece using eggshells and tiny blossoms fresh from your garden. Make a home-baked poundcake with the eggs!
If you just can't forego the chocolate bunnies and marshmallow Peeps, the pastel mints and colorful jelly beans, then celebrate them by placing overflowing candy dishes throughout your home.

Images courtesy of: Pinterest
Easter Decorating Ideas: Organic
Instead of bunnies, look to a spring vegetable garden this year. And if you love orange, pick carrots for your theme. They're a perfect tie into the traditional, with a zesty twist. Bright orange and white won't have you stuck in a sea of pastels, but you can still place a cottontail or two on your table without straying from a more modern aesthetic. Take your inspiration from carrots — after all, they're bunny favorites and use a circus-tent mix of orange and white stripes and polka dots, pure white china and accessories, and vases full of white and orange tulips.
If you're handy with a sewing machine, stitch up a bunch of bright fabric carrots with green tops to use as a centerpiece, and add a bit of lighthearted humor with some cartoon-style bunnies.
Even the most adamant traditionalist would be charmed by an informal Easter brunch done up with such a zesty theme. If you want to go "whole hog" with your decor updates for Easter, look for contemporary bunnies in orange and white fabric for throw pillows, napkins and table linen. The look can be as upscale or as frivolous as you wish, and it's sure to set you apart from the crowd.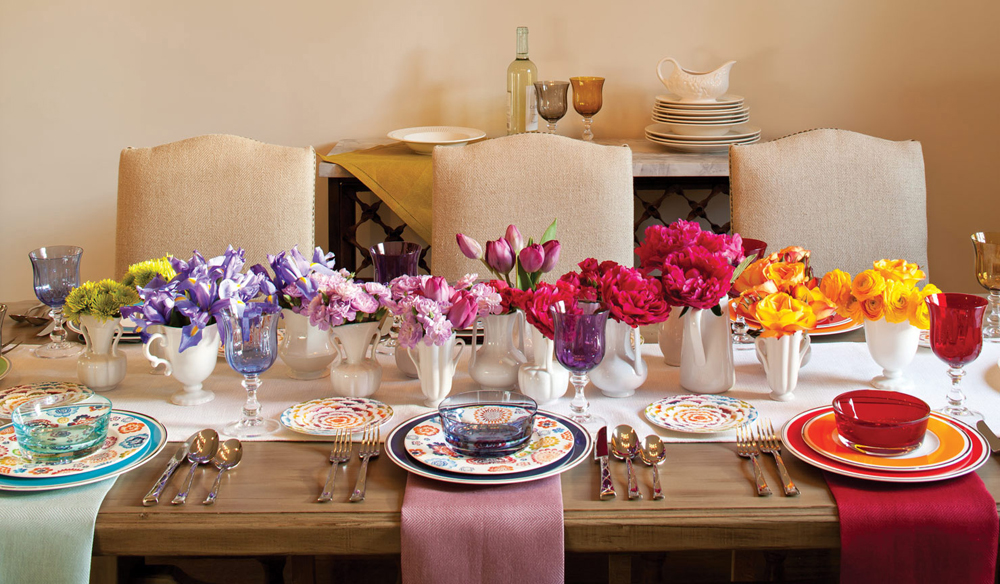 Easter Rainbow Table
Image courtesy of: Chatelaine.com
Easter Decorating Ideas: Classic Traditional
There may be little that speaks of opulence and grandeur as much as a Faberge egg. If this is your style, if you love setting a holiday table fit for royalty, or if it's your year to host the entire family for Easter dinner, make it a truly "over-the-top" celebration. Pull out your best china and crystal, shine the silver, and find accessories to reflect your fascination with the glories of Russian art and history. You don't have to own a Faberge egg, or even a replica, in order to pay homage to the imperial elegance that inspired their creation.
Whether you serve rack of lamb, a beautifully prepared ham or a simple roast chicken, put some planning into the menu. Dress up the dining room with garlands of greenery, use starched and elegant white or colored table linen Take the time to find an antique silver or china compote to use as an elegant centerpiece filled with white flowers and greenery. Place name cards at each setting. Create an elegant dessert that you can showcase at the table before cutting it into individual servings; perhaps a stunning Strawberry Dream Cake.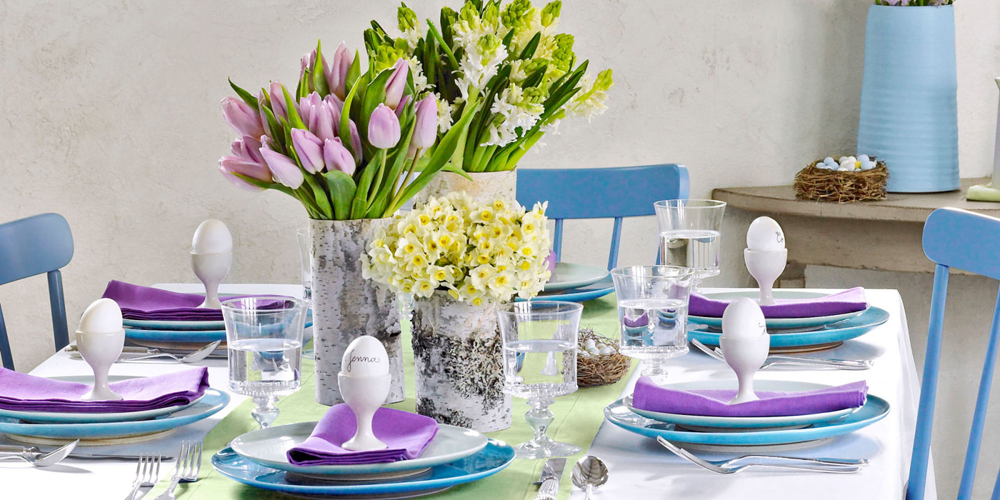 Easter  Tablescape in Purple
Gorgeous hues of lavender, soft green and pale yellow create a stunning Easter Tablescape.
A Nod to the Children
If you have young children, don't think you have to banish those chicks and bunnies from the scene — we all know that the Easter Bunny is real! You might not only give in to the fantasy, but embrace it wholeheartedly. Bring on the bunnies and chicks — in small ceramics or paper mache, in glass or plastic, for outdoor banners or indoor art — in any form that fits with your budget and your philosophy. But then take it one step further. Add a few lambs, some ducks and calves, even a piglet and a colt — after all, what's more fun that a whole houseful of baby animals? If you have a backyard Easter egg hunt, the prizes might be cuddly stuffed animals; let each child pick a favorite. Chances are the adults will enjoy it all just as much as the toddlers.
Whether you choose to be formal or frivolous, what's important is that your celebration and your home decor reflect your values and your personality. Don't ever let decorating for a holiday or a special occasion become a chore! Keep it fun and make it personal.
Easter  Tablescape in Vibrant Colors
This vibrant tablescape combines spring florals in shades of pink, white and purple. Soft blue glasses and tulips tied with lavender ribbon add the perfect finishing touch.
Easter Rabbit Napkins
Easter-rabbit-shaped napkins are a festive detail for the holiday table, and they only require a few simple folds. Well-starched crisp cotton or linen will transform into the sturdiest bunnies. Fold napkins the day before your meal.
Images & instructions courtesy of: MarthaStewart.com
Fold starched napkin into thirds to form a rectangle. (If you're using a square napkin, you'll need to fold in half, and then fold in half again to get a long rectangular shape.)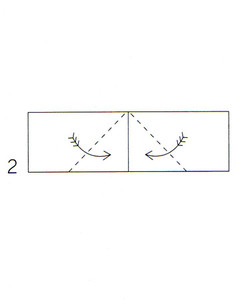 Crease in half to create a center line for reference; fold top corners down along this line.
Fold up from bottom corners along dotted lines.
Bring left and right edges together on center line.
To fasten: Fold left and right corners back; tuck one corner into the pocket of the other.  Pull out bunny ears first; open up base.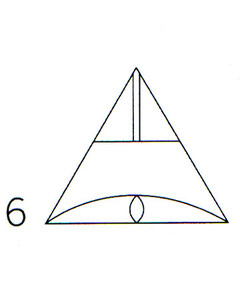 Bring a bright burst of color to the table with lemons and oranges combined with colorful florals.
EASTER HOME DECOR
Shop Easter Decor