Farmhouse Master Bedroom Ideas
Looking for farmhouse master bedroom ideas? Traditional farmhouse bedrooms are comfortable, cozy, and inviting. Here, the finer details matter, old is gold and it's important to keep things authentic. Think exposed beams overhead, floral curtains, subtle rustic decor, salvaged goods, and implementing raw and organic materials in the foundation.
In recent years, modern farmhouse style has become increasingly popular. Harnessing country elements with a contemporary spin, modern farmhouse decor blends clean lines, neutral color palettes, layered textures, and natural materials to create a timeless look that's bursting with character.
"Farmhouse interior design has its specific features, that on one side create a relaxed vibe and on the other make for a cohesive and curated style. To start with, the perfect modern farmhouse style should achieve a balance of practicality and elegance. In other words, nothing should look too fragile to be touched, but the space should still retain a certain sophistication.
To achieve that, hard-wearing materials should be preferred and mixed with cozy accessories for a home that is welcoming, stylish but also extremely practical for everyday life. The other main feature of modern farmhouse interior design is that it is a collected style. You'll never see a bedroom set in a farmhouse home and matching chairs are also not so common. In short words, matchy-matchy is a big no in farmhouse style!" ~ Decorilla
In this post, I have included images of both traditional and modern farmhouse master bedrooms as well as design tips for inspiration.
The elements of Farmhouse Master Bedrooms:
1.  Neutral Colors
2.  Industrial Accents
3.  Exposed Brick
4.  Layers of Linen
5.  Plenty of Texture
6.  Soft Lighting
7.  Mixed Metals
8.  Greenery & Branches
9.  Reclaimed Objects
10.  Embracing Imperfections
11.  Shiplap
12.  Farmhouse Bedding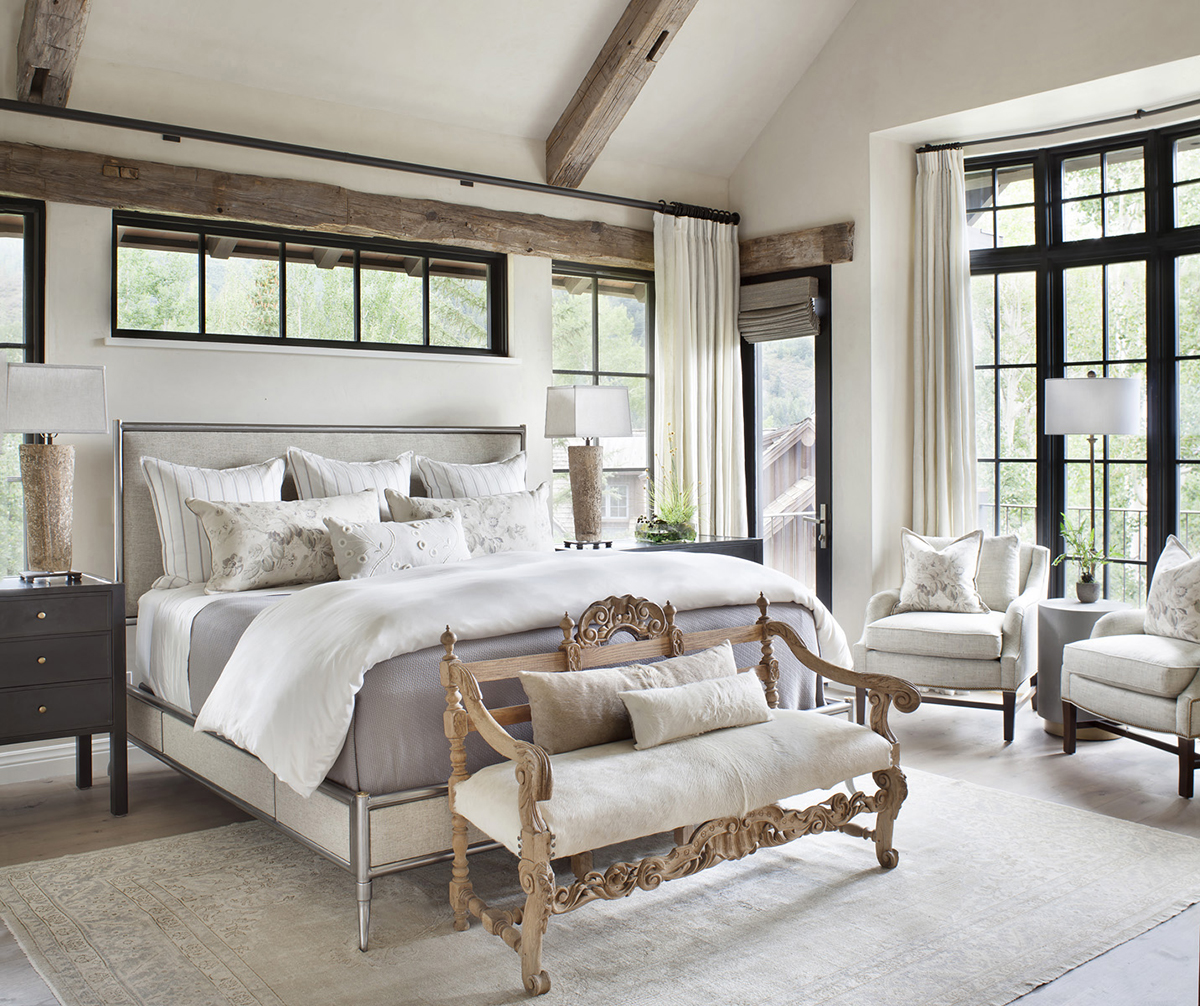 Image courtesy of: Gibeon Photography
Designed by: Katy Allen
In the master bedroom of this farmhouse home, an upholstered metal bed by Century Furniture is juxtaposed with a carved bench with a hair-on-hide-seat from Thrive and Design in Atlanta.  Found objects were repurposed in the lamps, which rest on a metal nightstands by Made Goods.  The rug is by Boga Oriental Rugs, and the draperies were made with Anna French Fabrics.
This neutral farmhouse bedroom combines masculine and feminine elements in a subtle and sophisticated design.  The wood beams add rugged texture, and the eclectic seating at the end of the bed adds a creative and personal touch. When working with a neutral space, it's important to incorporate coordinating pattern and texture to provide a unified feel to the space.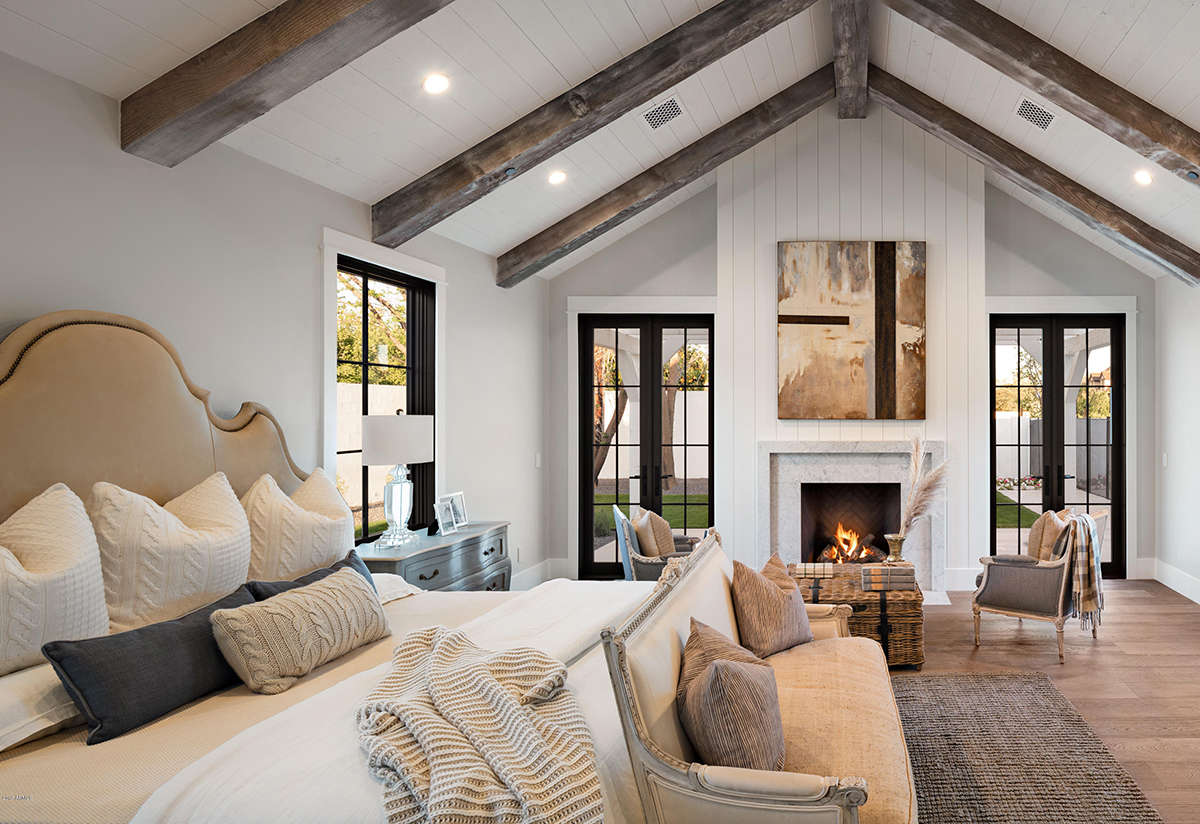 Image courtesy of: Jaimee Rose Interiors
Graceful lines and a warm elegance embody this newest collaboration between famed team Two Hawks Design & Development and Jaimee Rose Interiors. Completed in April of 2019, this home's timeless aesthetic and comfortable living spaces are what life in Arcadia proper is about. Carefully curated finishes like hand-painted wood beams, generous marble countertops and lighting fixtures embellish each room to give the spaces their own unique look.
I love everything about this warm and inviting bedroom as it is a perfect example of a well-executed and harmonious design. It also shows how effective it can be to start the design of any room with a stunning piece of artwork.  This is a technique that many interior designers use to create a cohesive feel to the space.  You can see that the designer has pulled out the warm golden shades into the headboard and loveseat at the foot of the bed, and the grey tones into the rugs, accent chairs and nightstands.  The deep ochre shades can be found in the throw pillows and the wicker table. The black framing around the windows adds contrast.  Here you see a beautiful interplay between pattern and texture – that instantly creates a warm and cozy place to relax.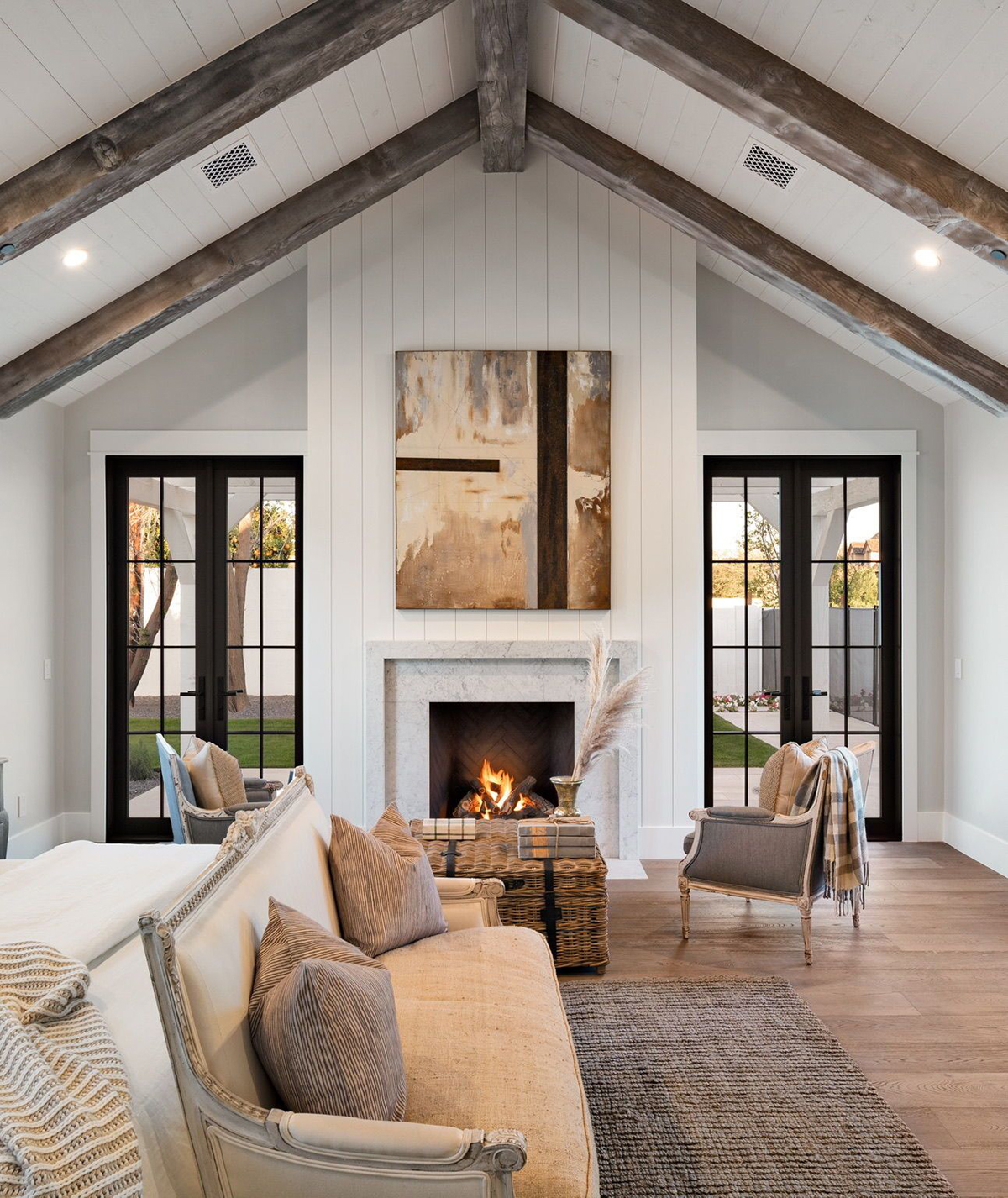 Image courtesy of: Jaimee Rose Interiors
Elements of Farmhouse Bedrooms
Neutral Colors
 Almost all farmhouse bedrooms incorporate a neutral palette, combining different shades of brown or gray. Great shades for farmhouse bedrooms are:
-warm neutrals (buttermilk, camel, cream, straw, and wheat)
 -cool neutrals (grey, greige, khaki, and stone)
 -natural blues and greens (duck-egg blue, robin-egg blue, Wedgwood blue, and sage green)
 -spicy hues (cinnamon, saffron, pumpkin, and mustard)
 -earth tones ( chestnut, mushroom, umber, sepia, and terracotta)
Industrial Accents
When one thinks of industrial design, hard finishes and raw textures come to mind. However, when paired with vintage wall signs and delicate textiles, the result is a sophisticated farmhouse style.
Exposed Brick
Exposed brick provides a raw texture that works perfectly in a farmhouse style of home.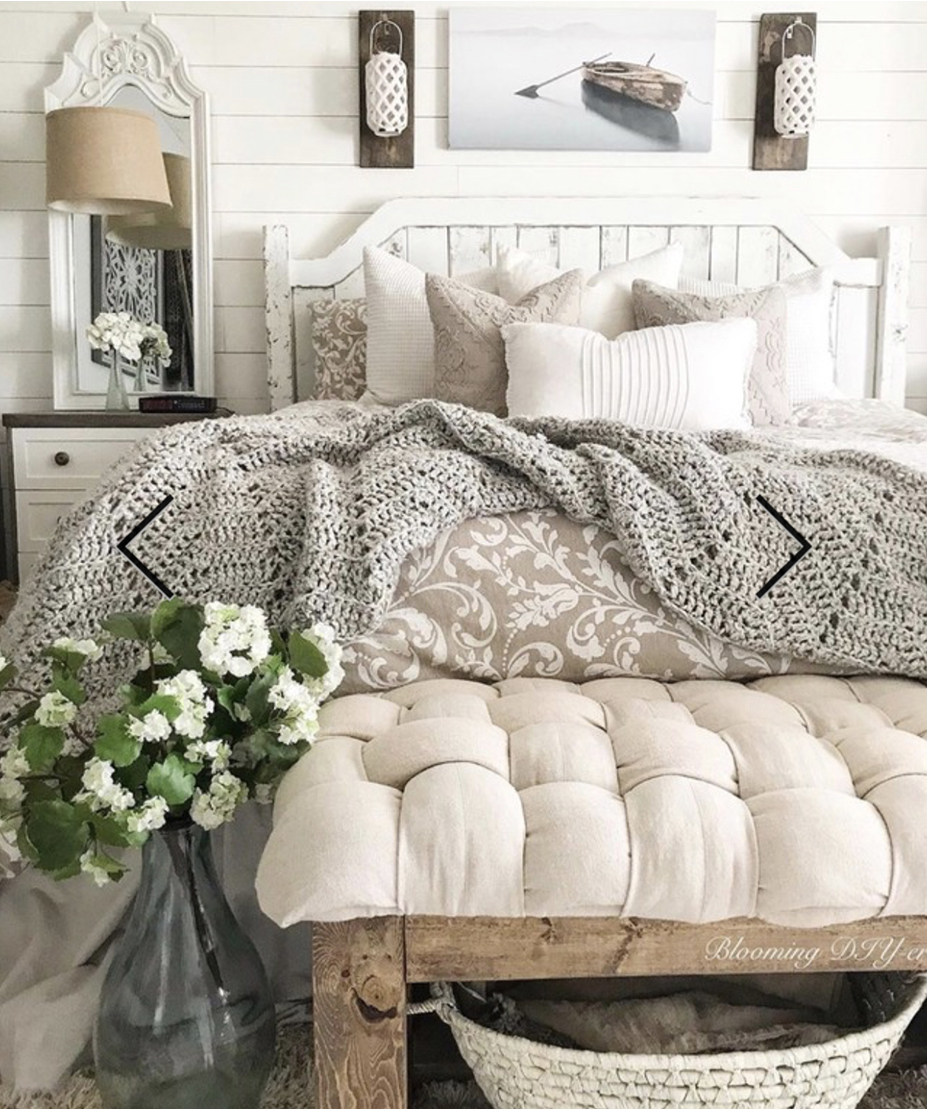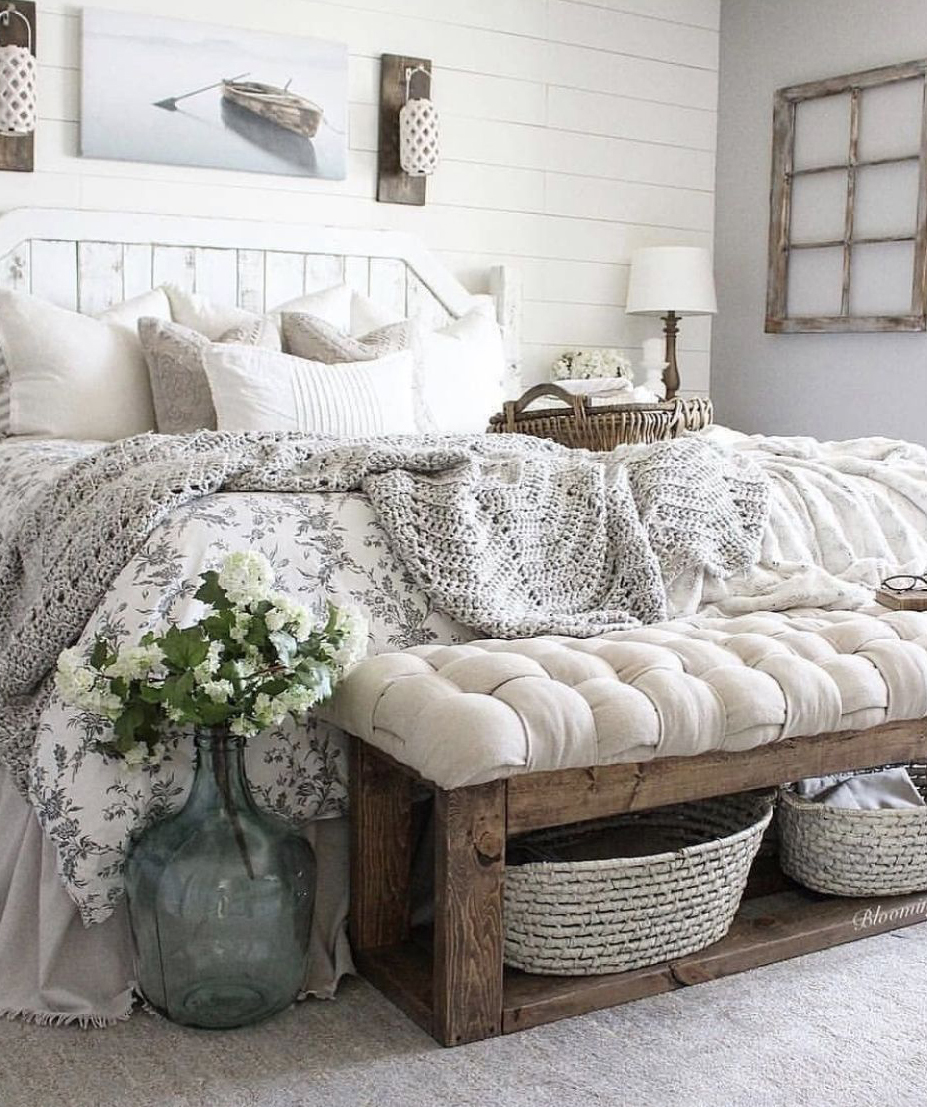 Image courtesy of: Blooming DIY-er
These images show the subtle difference that the choice in bedding can have in a bedroom.  Both have a neutral palette, with the bedroom on the left bringing in warmer tones.
Layers of Linen
Linen is a perfect choice for a farmhouse bedroom. Lightly textured and irresistibly soft, there is a lot to love with the lived-in look of linen. It's also available in gorgeous and subtle earth tone hues. Try mixing solid color linen bedding with stripes, checks for a designer look.
Play with Textures
Farmhouse bedrooms should have plenty of texture in not only textiles but in the furniture and accessories as well. Be sure to include natural fiber rugs, cozy knitted blankets, and faux fur pillows. Wicker and rattan complement this design aesthetic a few beautiful baskets or rattan accent chairs add warmth and charm.
Image courtesy of: Locati Architects
A stunning farmhouse designed to respect the agricultural heritage of its surroundings by Locati Architects & Interiors, is nestled below Ross Peak, in the small community of Springhill, Montana.
This tranquil farmhouse bedroom provides the perfect view to wake up to each morning.  The designer has created a serene retreat with rustic wood walls, warm wood flooring and cozy linen bedding.
Soft Lighting
Farmhouse light fixtures tend to table lamps that have a white, or slightly off-white base with unadorned white shades. Chandeliers are typically made of light wood or metal with some ornamentation.
Image courtesy of: Pinterest
I have included this image, as it shows a gorgeous interplay of color, texture and pattern with a great balance between white, black and hues of golden-brown. It has an earthy, vibrant and eclectic vibe not typical in traditional farmhouse bedrooms.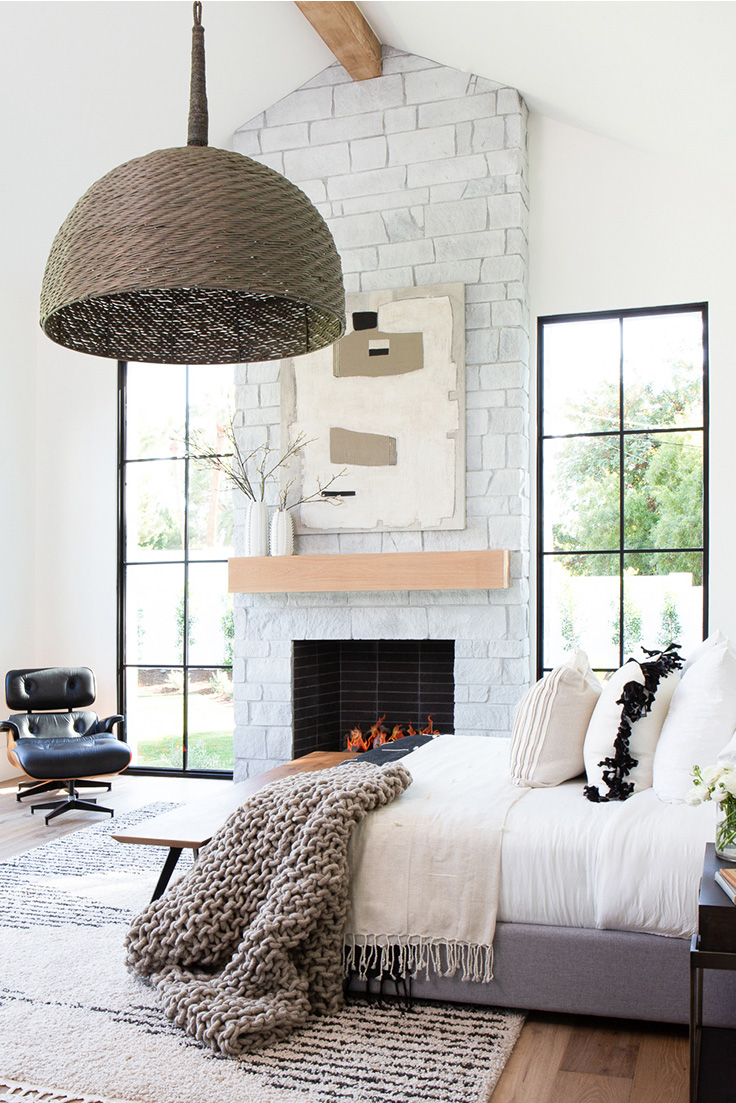 Image courtesy of: Jaimee Rose Interiors
Another modern farmhouse bedroom with layers upon layer of texture.  The use of black in this room works to ground the space, and contrasts perfectly with the wood floors, chunky throw and textural pendant lighting.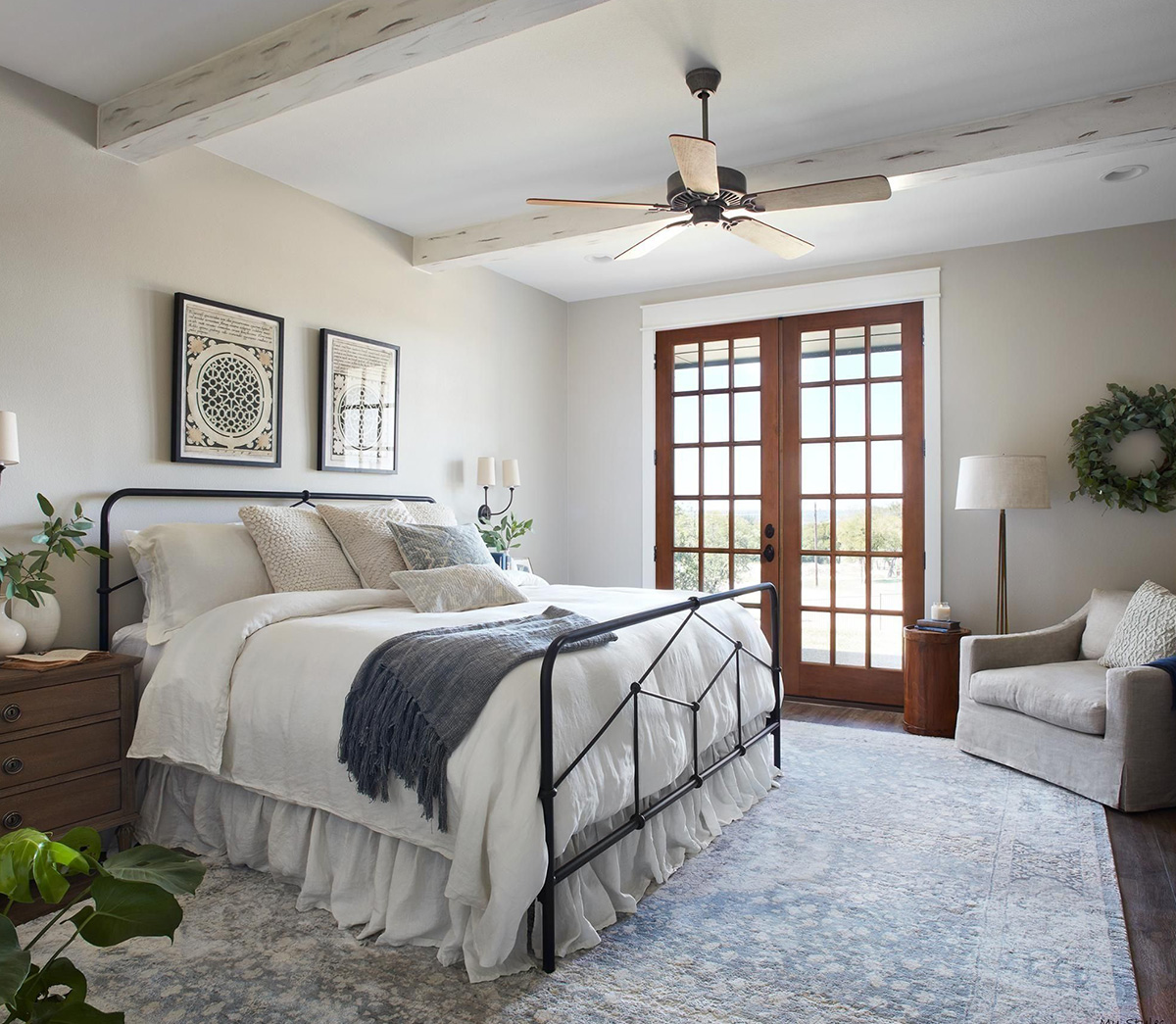 Image courtesy of: Joanna Gaines
A serene bedroom designed by Joanna Gaines that combines neutral tones with hues of soft bluish-grey. A bit of greenery brings the outside and in, while adding an organic feel.
Mixed Metals
Modern farmhouse design mixes metallic textures such as iron, copper, brass, and chrome. Gunmetal grey metals are a popular choice in farmhouse design as they add elegance and contrast to the space.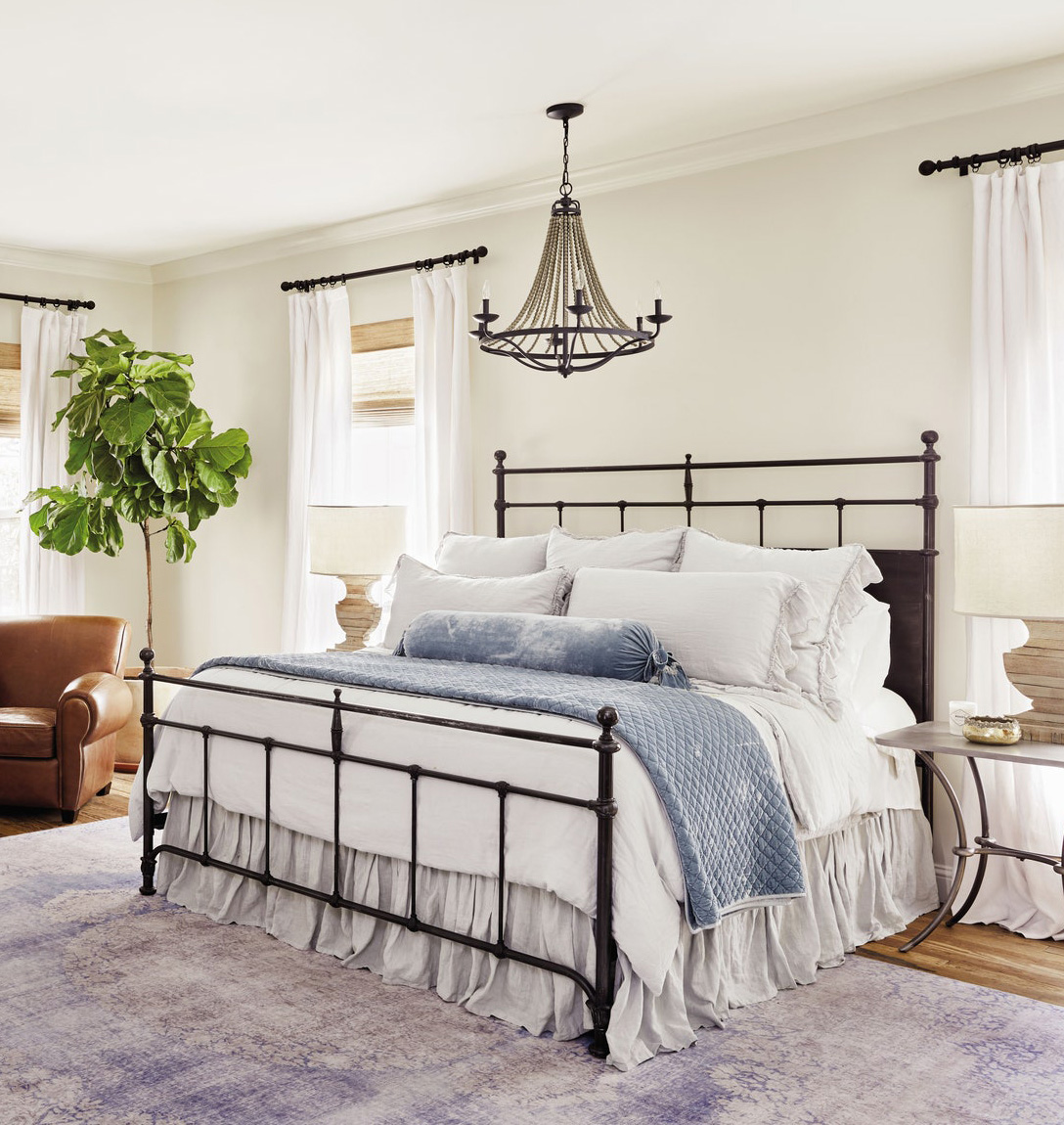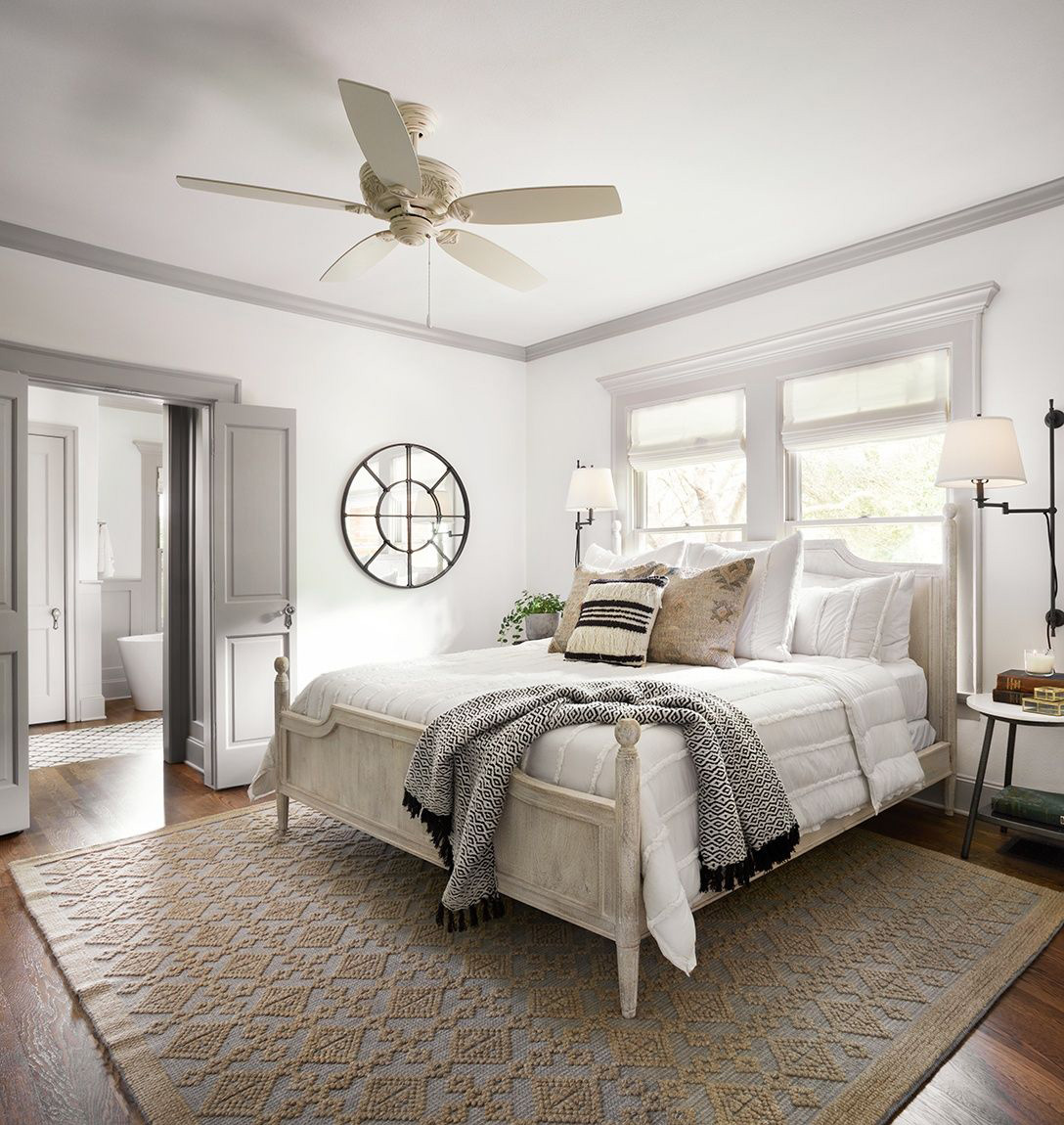 Image courtesy of: Joanna Gaines
Greenery & Branches
Adding greenery instantly brings life into any room and provides a curated feel. From cotton buds to eucalyptus branches displayed in vintage glass jars and vases, these elements provide rustic and organic charm.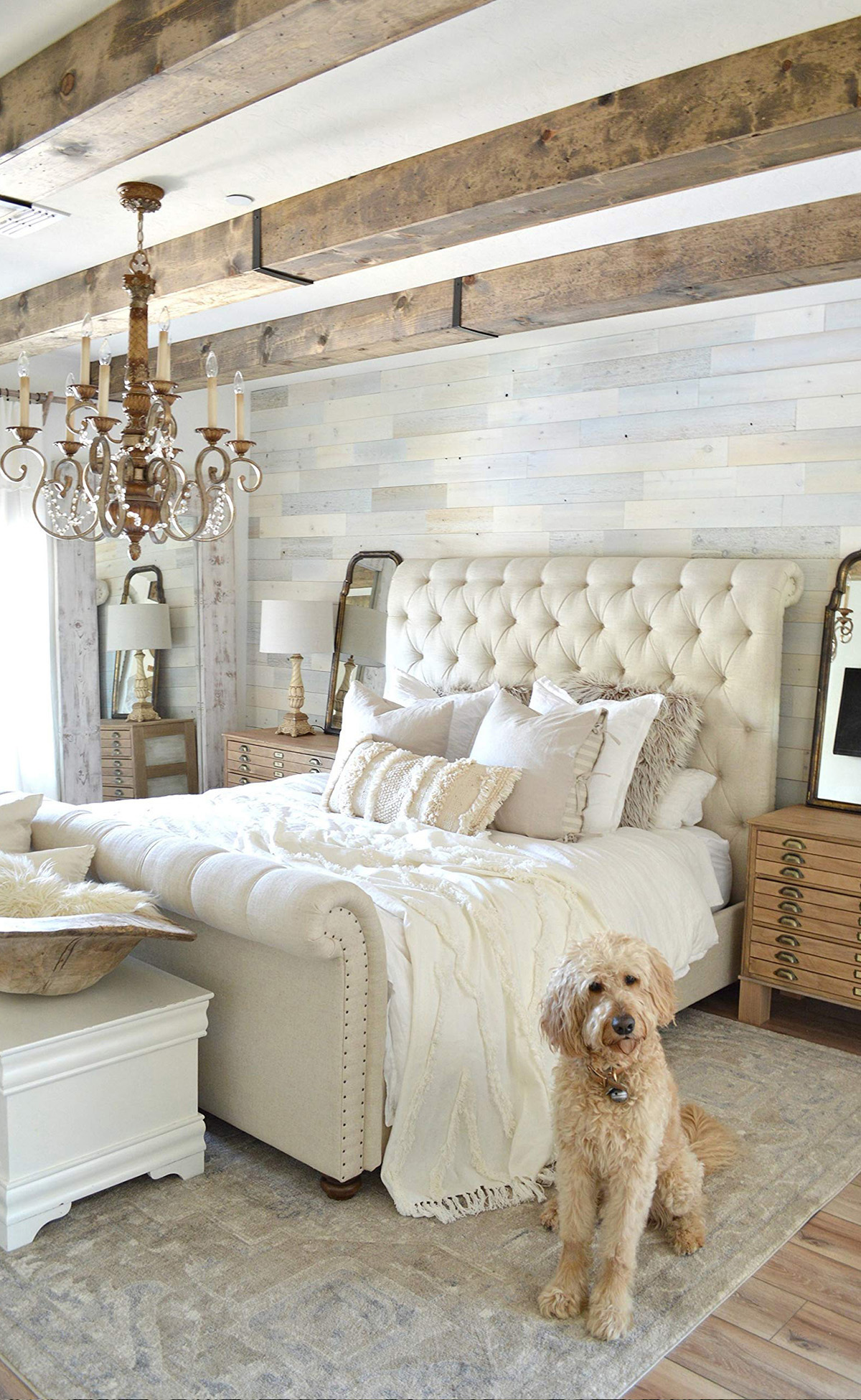 Image courtesy of: Pinterest
Reclaimed Objects
Add a touch of vintage to the room with beaten up wood boxes, glass vessels, and favorite flea market finds.
Embrace Imperfections
Farmhouse style finds the beauty in imperfection – worn floorboards, weathered metal, and antiques with a hardworking history have a place here.
Shiplap
Shiplap is a mainstay in farmhouse design. While it has plenty of traditional looks and uses, shiplap is getting a makeover as contemporary designers learn to capitalize on its clean lines to enhance a variety of interiors.
Farmhouse Bedding
Your bed is the focal point of your room, and choosing the right bedding set that reflects your style is an important decision. Traditional farmhouse bedding can instantly make any room feel warm and cozy. Vintage farmhouse bedding includes white bedding sets (often with lace trim), florals, gingham, checks, plaids, and stripes.
As with any bedroom, it's important to pile on plenty of layers to the bed. This is especially important in farmhouse design. Drape a quilt or throw blanket at the foot of the bed and a soft sheepskin rug on the floor. Quilts and coverlets also add plush comfort and provide a cozy touch to the bedroom.
Decorative pillows are arguably the easiest way to transform the bedroom. Compliment the bedding with soft pillows for additional texture and pattern.
SHOP THE LOOK

Summary
Article Name
Farmhouse Master Bedroom Ideas
Description
Farmhouse Master Bedroom Ideas, including the 15 Elements that should be included. Find design tips and stunning images of beautifully designed farmhouse bedrooms.
Author
Tracy Svendsen, Interior Design
Publisher Name
Publisher Logo