Modern Farmhouse Design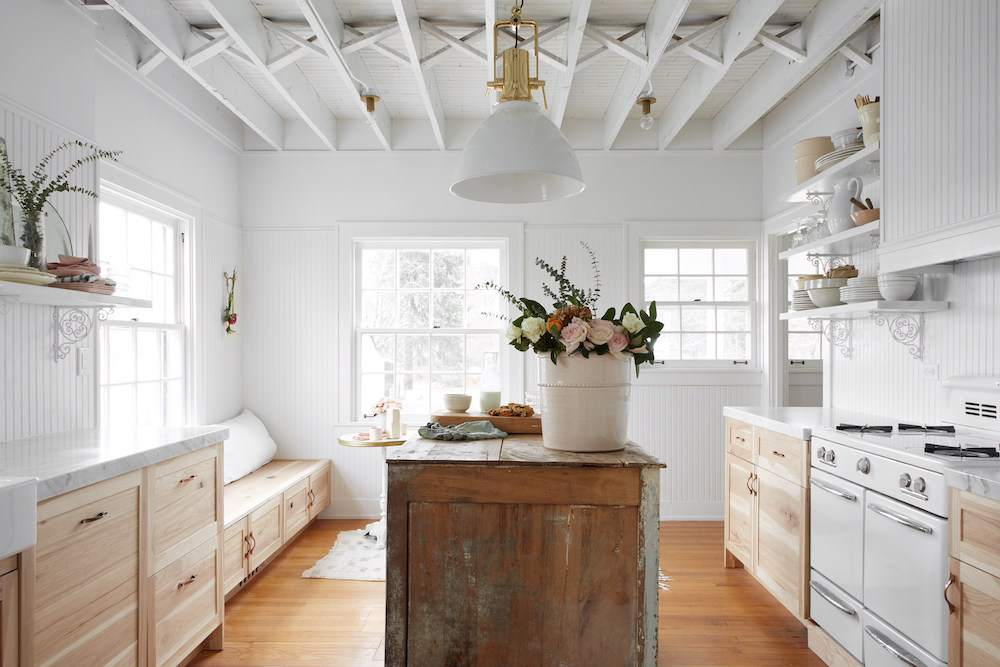 What is Modern Farmhouse Design?
Rustic yet refined, modern farmhouse design is one of the most sought-after styles. It celebrates the distinctive design aesthetic that blends traditional country elements with both modern and industrial influences. This covetable look seamlessly blends the old with the new in masterful ways resulting in a fresh and timeless interior.
When it comes to the modern farmhouse style, its all about infusing character, warmth, and personality into the home, with a hint of minimalism. Think wood accents, neutral hues, and furniture with clean lines. It's about striking the right balance of pastoral and refined while maintaining a utilitarian approach.
Just like with any other design style, planning is the key. Modern farmhouse design has a primary focus on functionality and usage and its important to carefully survey your space with function in mind.
How to Create a Modern Farmhouse Design
For a modern farmhouse interior, it's all about creating a warm and comfortable retreat. Organic and natural materials are the foundation as well as a neutral palette. Here are several key factors in creating a contemporary feel to the traditional farmhouse design.
1.  Begin with a Neutral Palette
There's a good reason many interior designers choose a neutral color palette for the walls, as it provides the perfect backdrop for textural elements, as well as allowing the lines of the furniture and the architecture of the room to stand out.
Farmhouse kitchens are typically light, bright and airy. Begin with a color palette of warm or cool neutrals and then layer in natural wood tones.
As always with good design, you'll want to keep the 60-30-10 rule in mind. This classic decorating rule states that 60% of the room should be a dominant color, 30% should be the secondary color or texture and the last 10% should be an accent. With farmhouse design, white is the natural choice for the dominant shade. For the other two colors, you could introduce earth tone shades such as gray, tan or brown. The 10% accent color can also be bold or subtle depending upon the look you want to achieve.
Image above courtesy of: Leanne Ford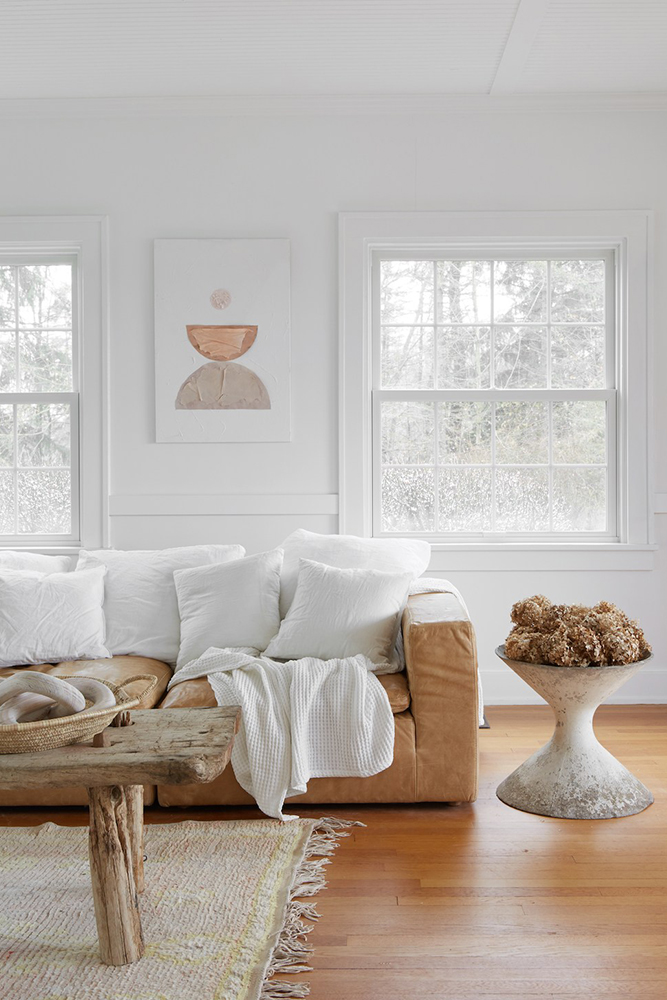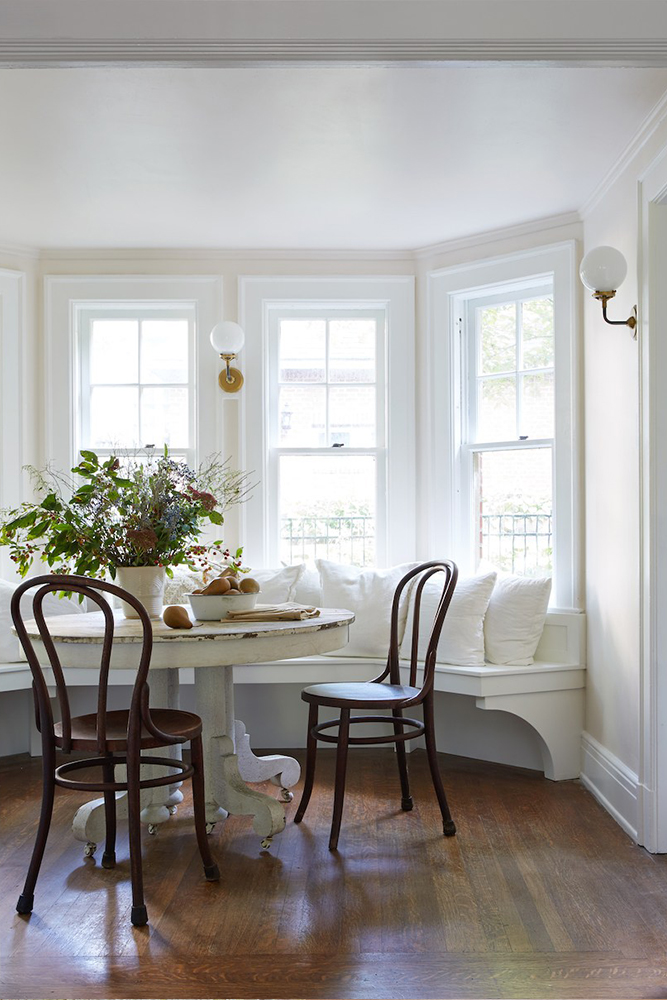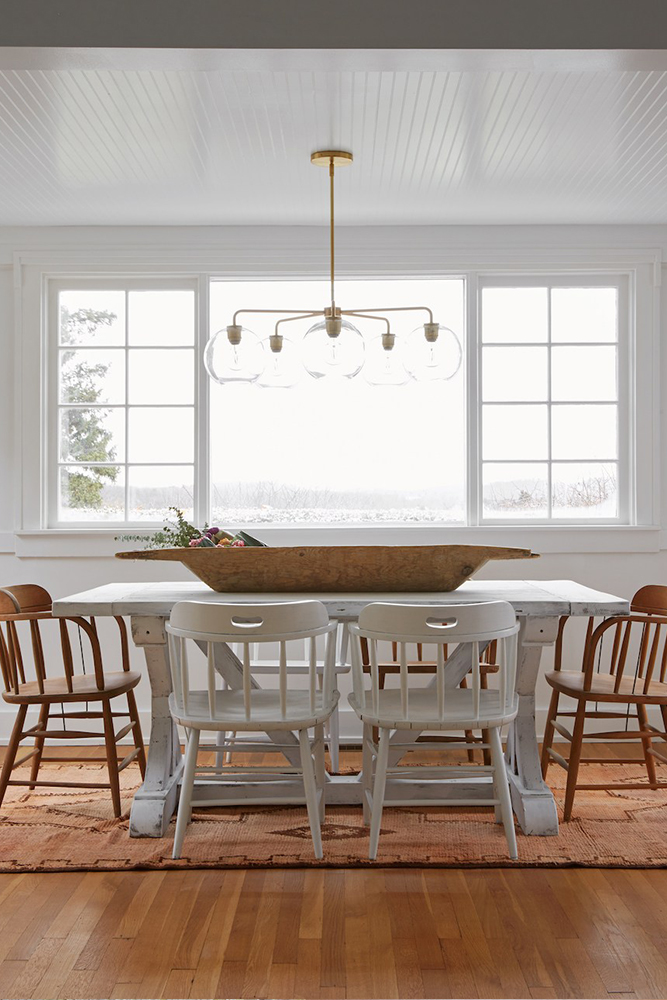 The four spaces above were designed by Leanne Ford in her signature style.  The walls are painted a bright white and wood is used to add warmth. I love how she incorporates gorgeous textures, from rough-hewn tables to white-washed brick walls, baskets and area rugs.
2.  Play with Contrasts
As with any design style, a variety of texture adds warmth, depth, and interest to a space. Be sure to edit carefully to create a pared down and relaxed style – the classic mantra that less is more is key.
You can mix wood and metals as well as a blend of fabrics such as cotton, wool, chenille, and burlap. These textures keep the neutral farmhouse palette from appearing flat.
Layer in mixed metals in architectural details, furniture, light fixtures, and hardware. A general rule is to limit it to no more than three metals per rooms.
The kitchen is the perfect place to play with contrast. Here you can combine rough-hewn wood and organic textures with polished materials such as Carrara marble counter-tops and glazed subway tiles. Rustic farmhouse stools, industrial pendants and reclaimed wood shelves give the space that warm and inviting country feel.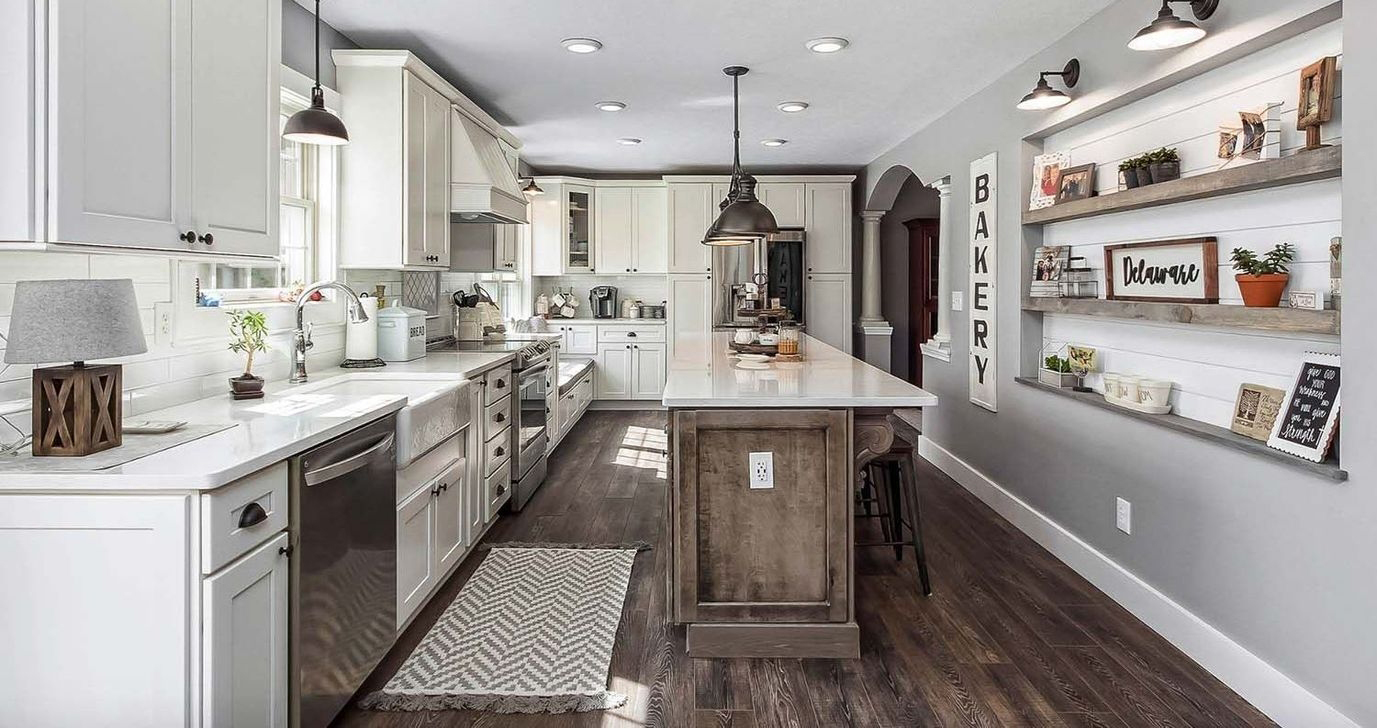 A stunning modern farmhouse design by J.H. Holderby that layers in contrasting elements perfectly.
3.  Add Industrial Elements
Round out the room by adding industrial and antique elements. These pieces work to ground the space in tradition and provide a thread to finish off your look. Use these pieces sparingly to avoid creating a room that appears dated.
With farmhouse design, the best accents can also play a functional role, such as galvanized metal storage buckets, wooden mantels, and iron light fixtures.
Exposed brick adds an industrial edge and when paired with rough wood shelving adds a sophisticated element to this style of design.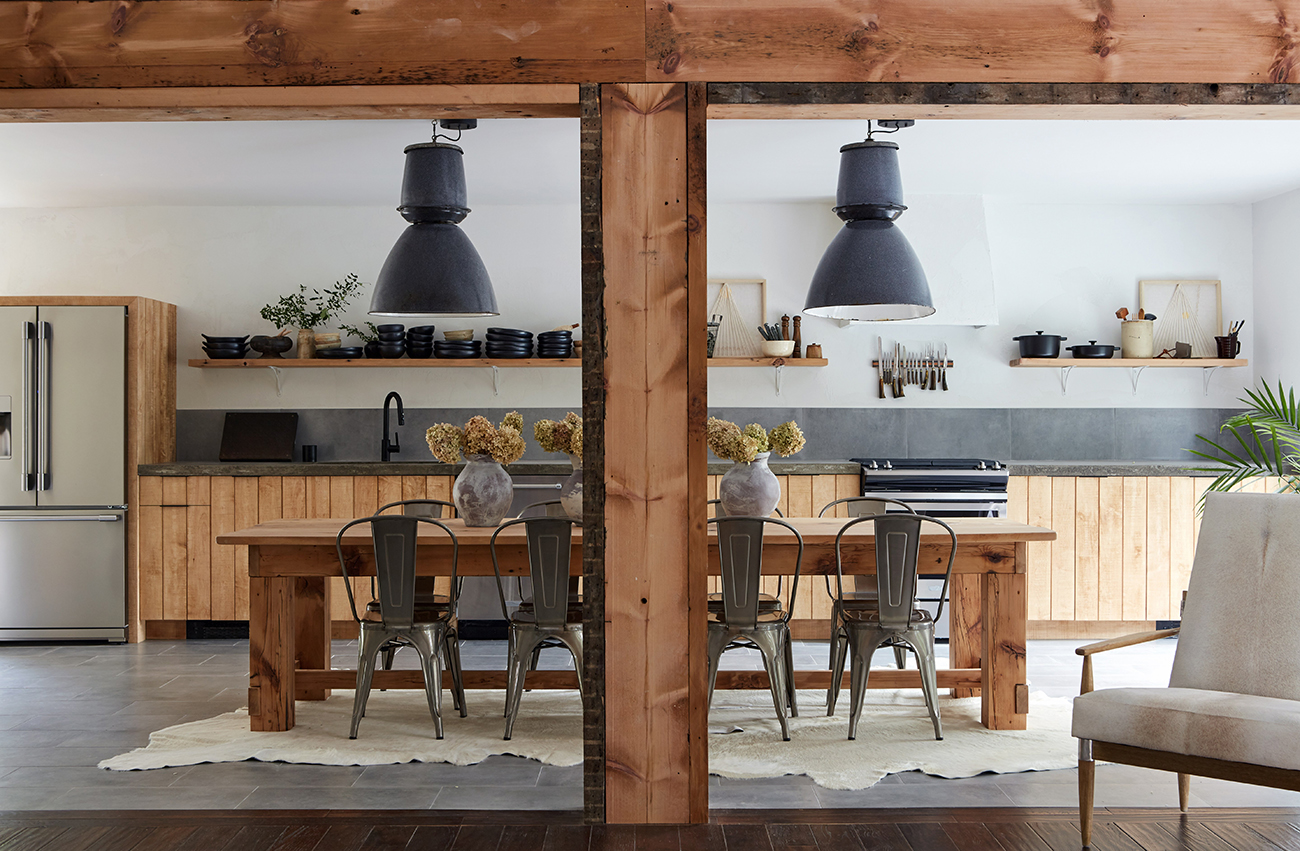 A sophisticated farmhouse kitchen with industrial elements designed by Leanne Ford.
4.  Utilize Natural Fibres and Organic Elements
Adding natural materials on top of a neutral base goes hand-in-hand in farmhouse design. It's also all about bringing the outdoors in. Organic materials such as wood, linen, and hemp work perfectly to make this connection. Think about introducing stone as well as natural materials such as wicker, rattan, and sisal.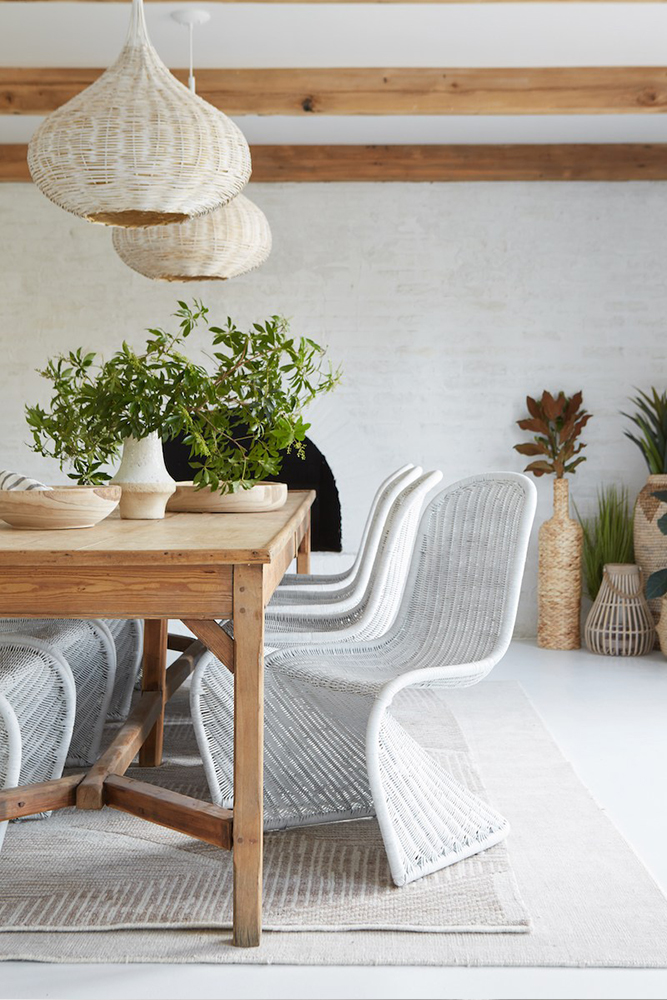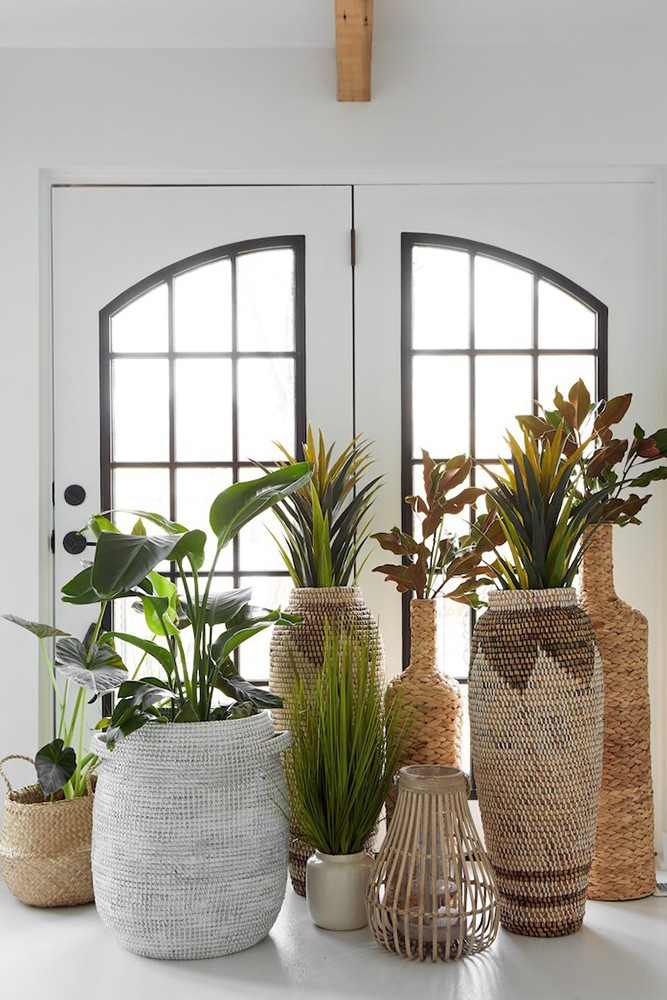 Interior designer Leanne Ford introduces both natural fibres and organic elements into the space to add interest and depth.
5.  Use Upholstery with Clean Lines
Sofas and sectionals with modern silhouettes provide the perfect visual counterpoint to rustic architecture. For a modern approach to traditional farmhouse design, balance out the natural materials in the room with plush couches, cushioned bar stools and comfy accent chairs.
A California home designed by Ken Linstead for a family returning from a long sojourn out East. While the exterior of the Colonial home was altered only minimally, the floor plan was entirely rearranged to promote flow and showcase a serious art collection. Like the layout, the materials palette was pared down: recycled wood, limestone, and soft fabrics are used throughout the interior.
6.  Use Restraint
Accessories are an important element in design, and a few well-placed items are all you need to achieve a space that is both rustic and modern. It's easy to go overboard when it comes to introducing accessories, so be sure to edit and eliminate everything in a space to ensure that the design remains effortless and not overwhelming.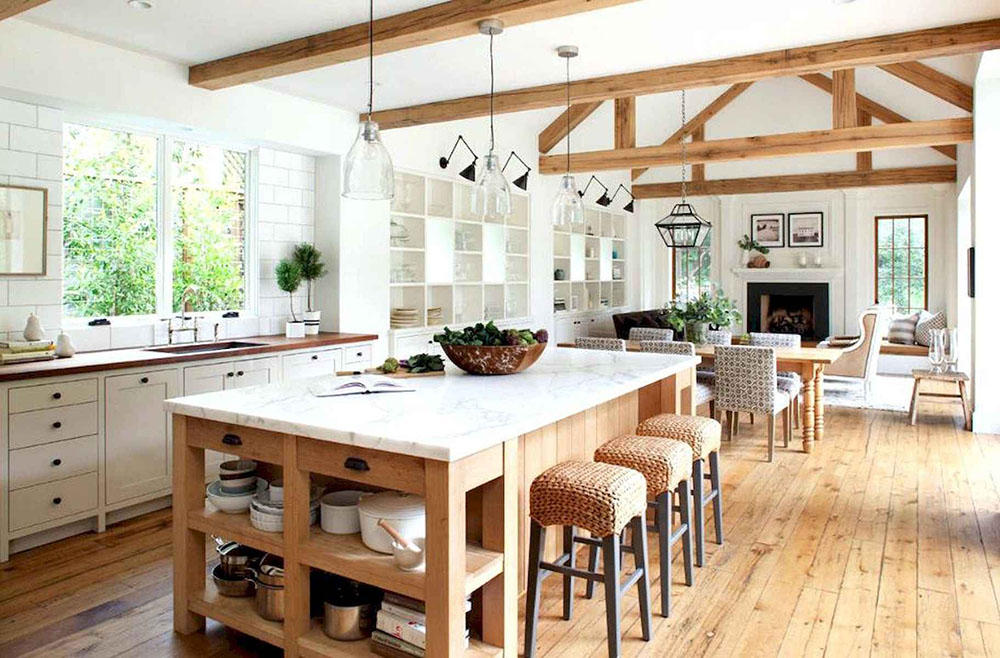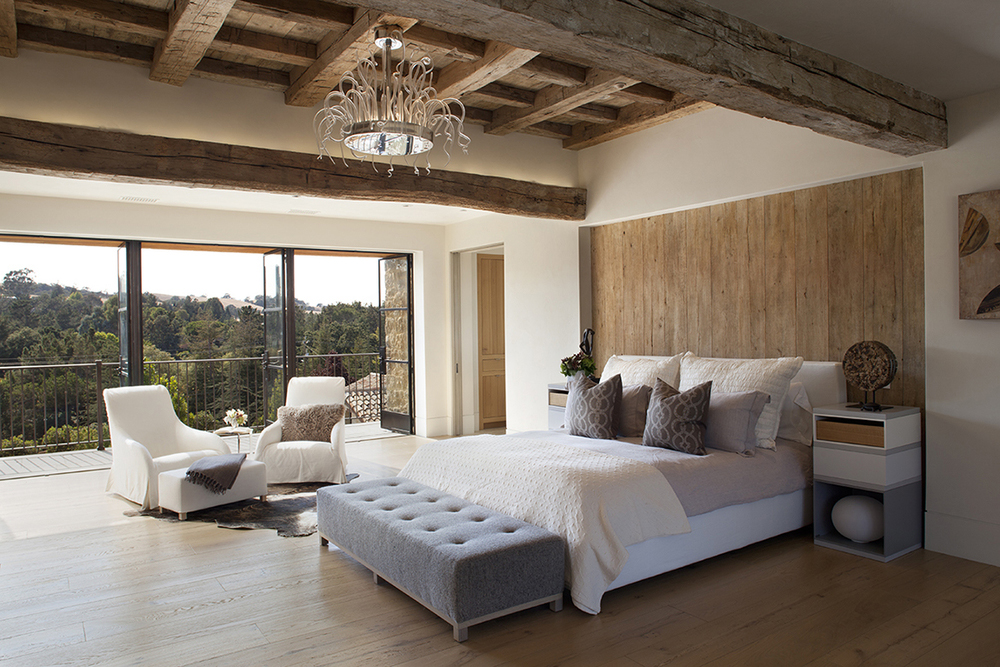 Image courtesy of: Ken Linstead
7.  Cozy Textiles & Texture
Cozy textiles are reminiscent of days curled up in a comfy space with a book in hand. Texture adds visual weight, balance and helps define how a room looks at first glance. It's also very important when working with a neutral palette, as it provides much-needed contrast.
The easiest way to add texture in the home is through both fabric and textiles. These are typically pieces that are smaller in scale, like pillows and throws that can be easily moved or replaced. From sheepskin cushions to cowhide rugs and wicker baskets, these textures add instant warmth. Area rugs placed in one key spot can quickly tie in all the design elements in a room together.
Adding texture is all about layering and a few pieces goes a long way.
Summary
Article Name
Description
What is modern farmhouse design? Rustic yet refined, modern farmhouse design is one of the most sought-after styles. This covetable look seamlessly blends the old with the new in masterful ways resulting in a fresh and timeless interior.
Author
Publisher Name
Publisher Logo