My Modern Coastal Bedroom
Welcome to a tour of my modern coastal bedroom. I thought I would create a section on the blog where I would feature some of the interior design projects I have recently been working on, including my own home. I have almost completed the design of two separate homes for two sisters – which was a lot of fun to do! It involved many hours of shopping with them, and always a fabulous lunch during the day where we'd sit and unwind and discuss our progress and the purchases made so far.
I'll post photos once both projects have been fully completed. One is a large neutral home with cozy furniture and rich warm accents, and the other is a small and very modern condo designed in black and tan and highlighted with gleaming silver. I designed a custom gallery wall for each client to pull all the elements together.
The project in the photographs featured below is of my own modern coastal bedroom. Although it's a general rule of thumb to keep the design consistent throughout a home, I wanted to design a master bedroom that felt like a private retreat from the rest of the home with a unique color palette. Not to mention that we also live in a beautiful coastal city with a ten-minute drive to two beautiful beaches. I wanted a space that brought to mind the ocean, the sand and the beautiful expanse of skyline that exists in our area. The living room and kitchen area on the main floor is open-concept with a neutral base and modern rustic furniture and décor and so this is definitely a switch-up. I did repeat some of the home decor I had purchased for the main living area into the bedroom. My attempt at keeping some consistency.
Having purchased a new home last year, I wanted to try something different that would incorporate gorgeous shades of blue that would contrast with crisp white bedding and silver accents. The bedroom is our sanctuary, and it's the perfect place to experiment with a whole new design aesthetic.
*There are images with links to the products I purchased with additional products I feel would work well in a modern coastal bedroom at the bottom of the post. Images optimized for Pinterest can be located below product list.
I was always start with a 'vision board' for myself as well as my clients, with shoppable items. It's the easiest way to show the initial concept and design intent. I save the images from the merchant websites and arrange them using adobe photoshop. It's also a great way to develop a sophisticated palette. You can see how the print of the abstract seagulls led to the choice in fabric and decor.
I love starting the design stage using artwork as inspiration. I found this beautiful print online called 'Serenity' by Angela Maritz, an artist from New Zealand's North Island. She experiments with her medium, finding exquisite beauty in both raw, earthy, organic color, as well as in the brilliance of a bright, powerful and expressive palette. I was drawn to the print right away, as I loved the abstract interpretation of seagulls on the beach. It also has a very calm and soothing vibe – perfect for a bedroom.
The print was under $50.00, but I had it custom framed with very high-end matting and a gorgeous wide silver frame that added to the expense. The print is also available pre-framed, which is much more cost efficient. I chose silver as I had already purchased silver bedside lamps, vases and display tray. I used the print to determine the palette of the entire room, including the window treatment, fabric, and décor.
The dresser below the print was refinished using Ralph Lauren paint. It used to be dark and looked rather dated. This denim refresh works well in the space and picks up some of the blue shades in the artwork.
I wanted to step away from a traditional coastal approach, as my personal aesthetic runs toward modern. I also wanted bold and eclectic pattern in shades of indigo, denim and softer hues of blue, woven baskets as well as organic and textural elements.  It's easy to make a bedroom cozy by adding lots of throw pillows, warm blankets, complementary artwork, décor, and a few plants.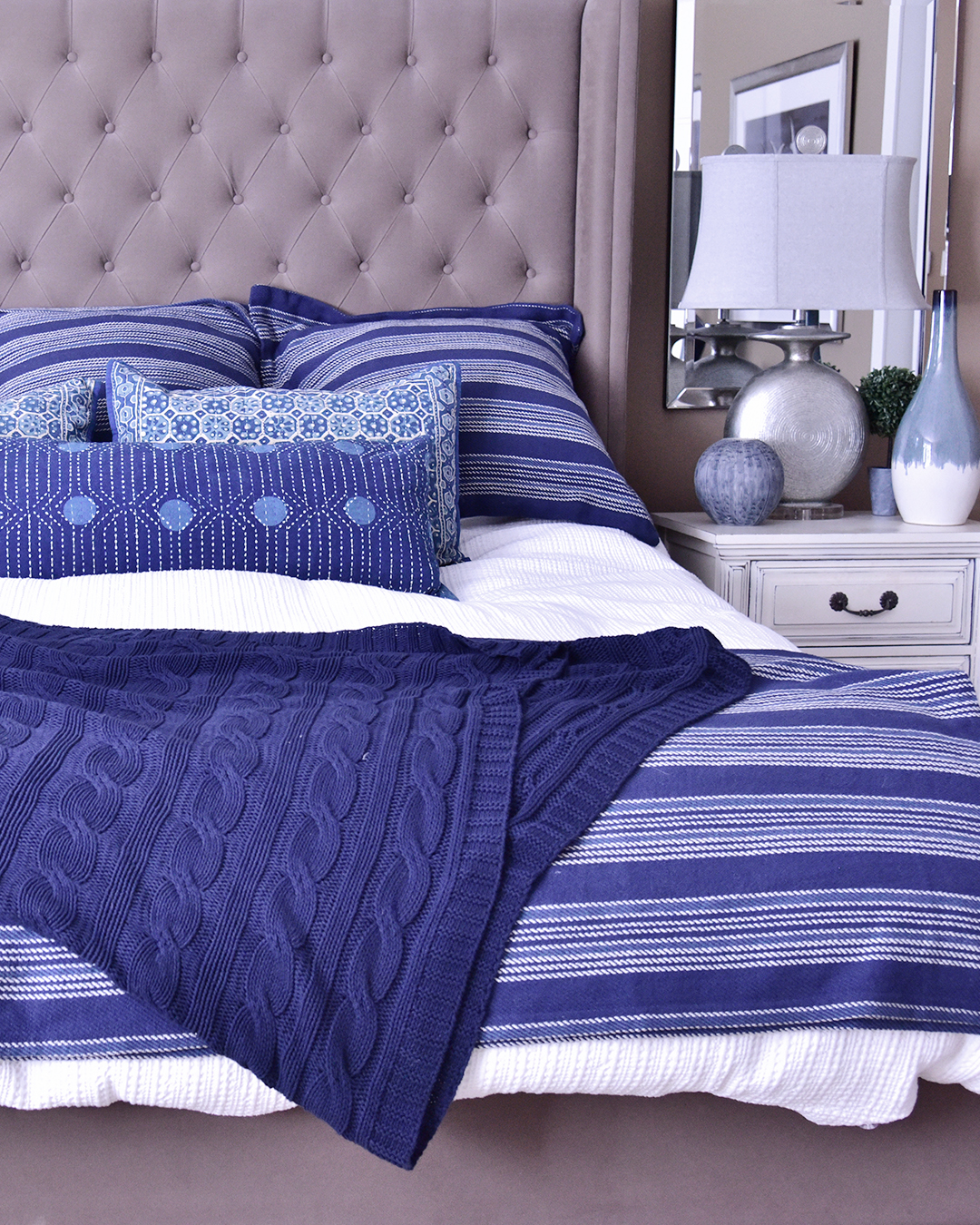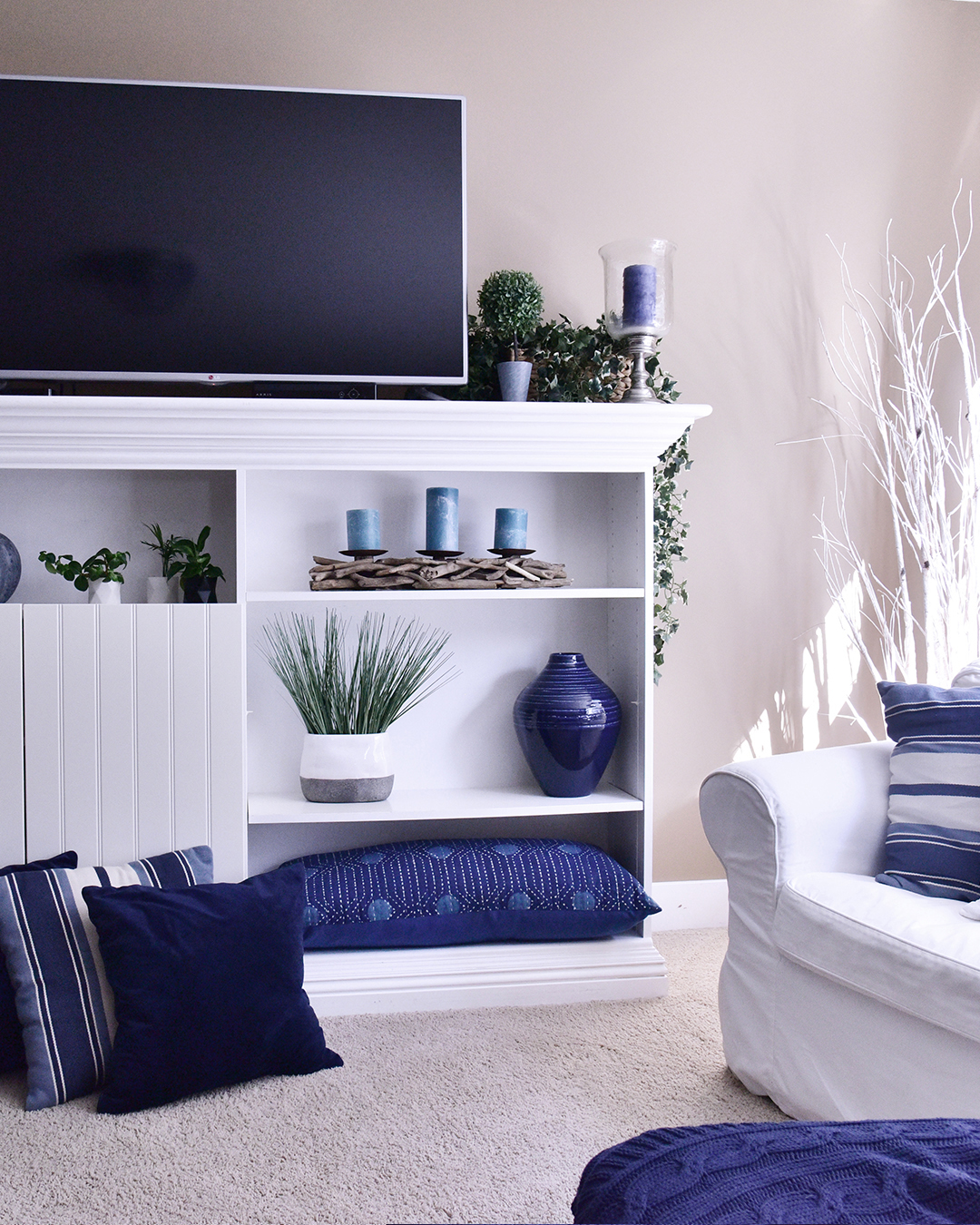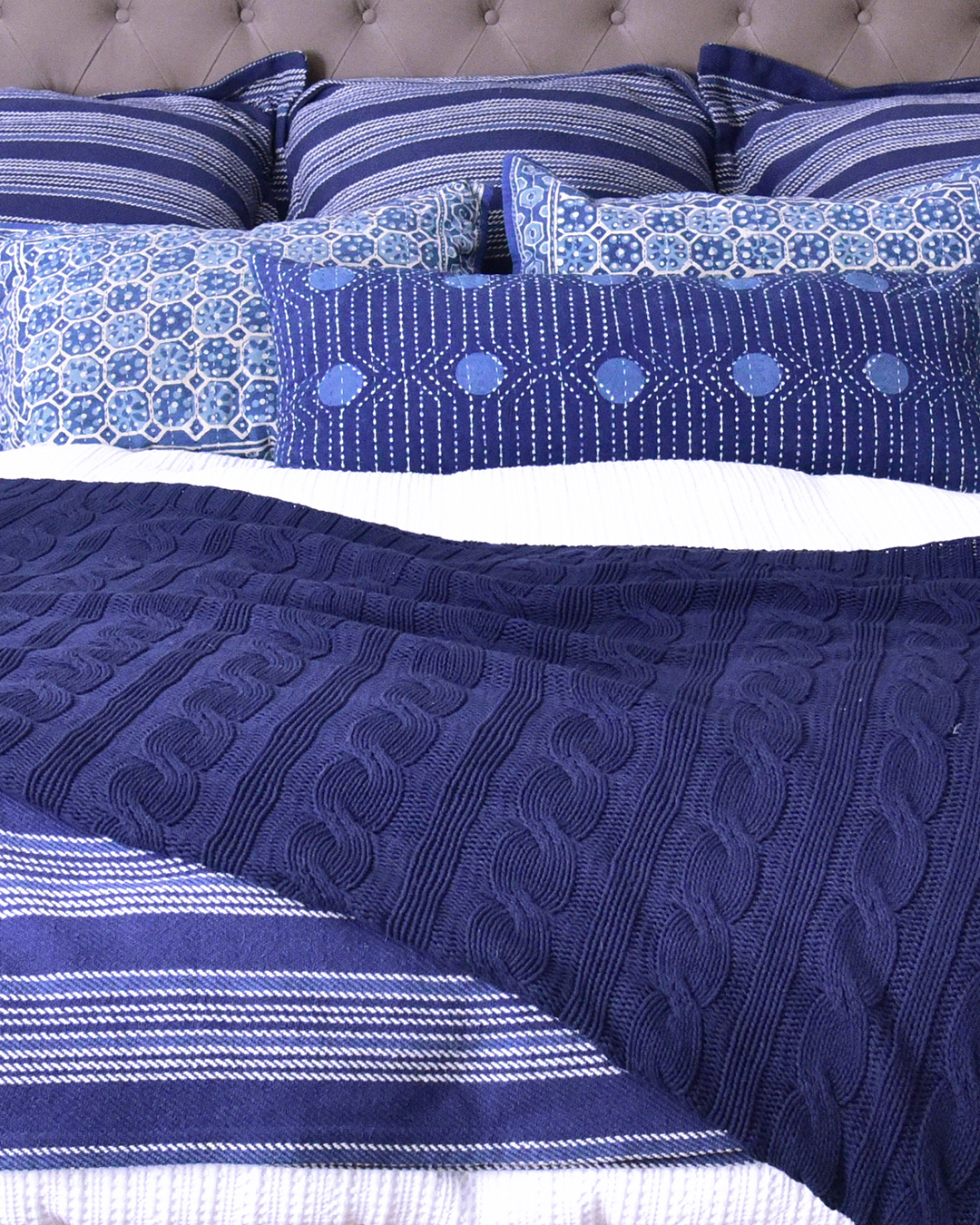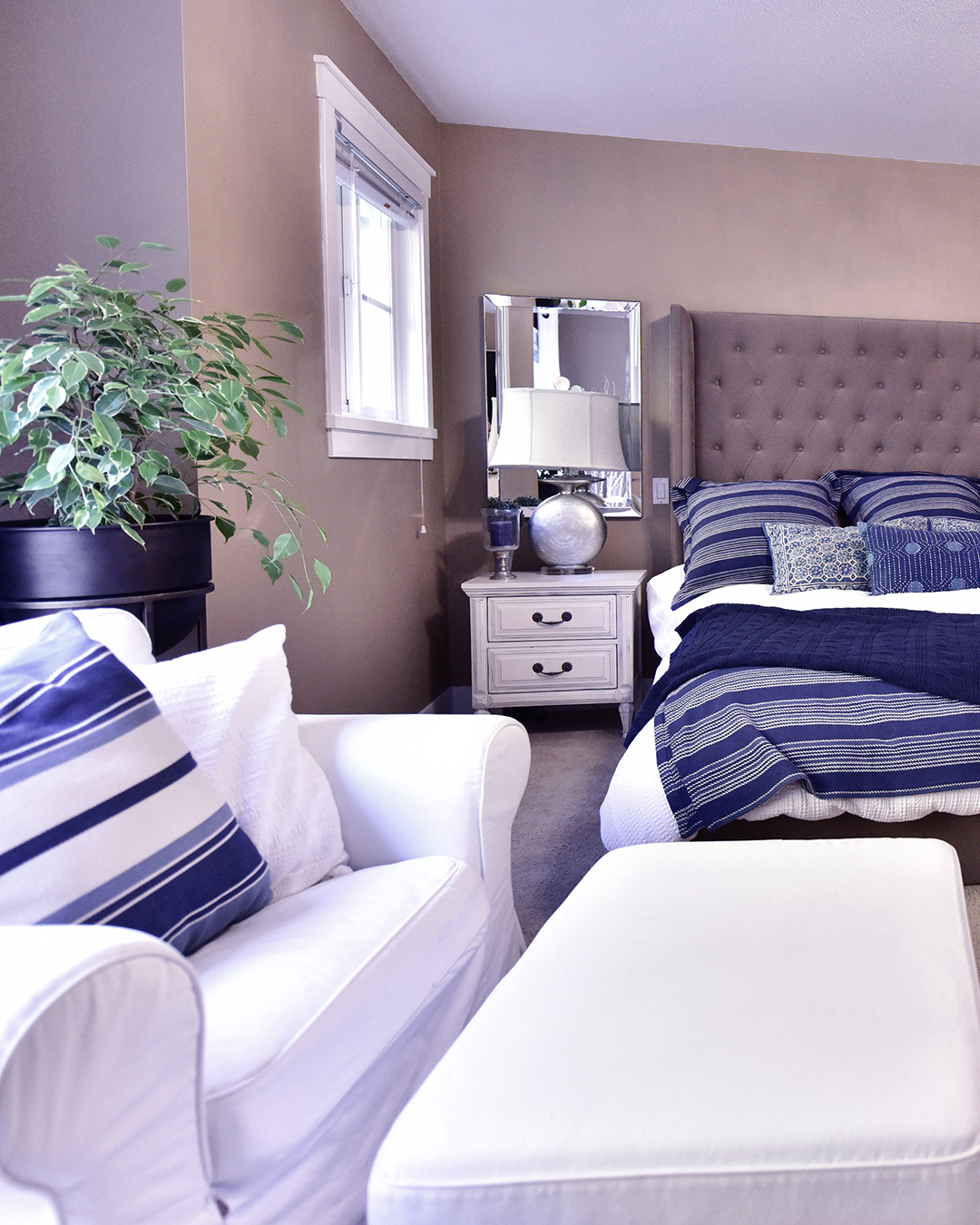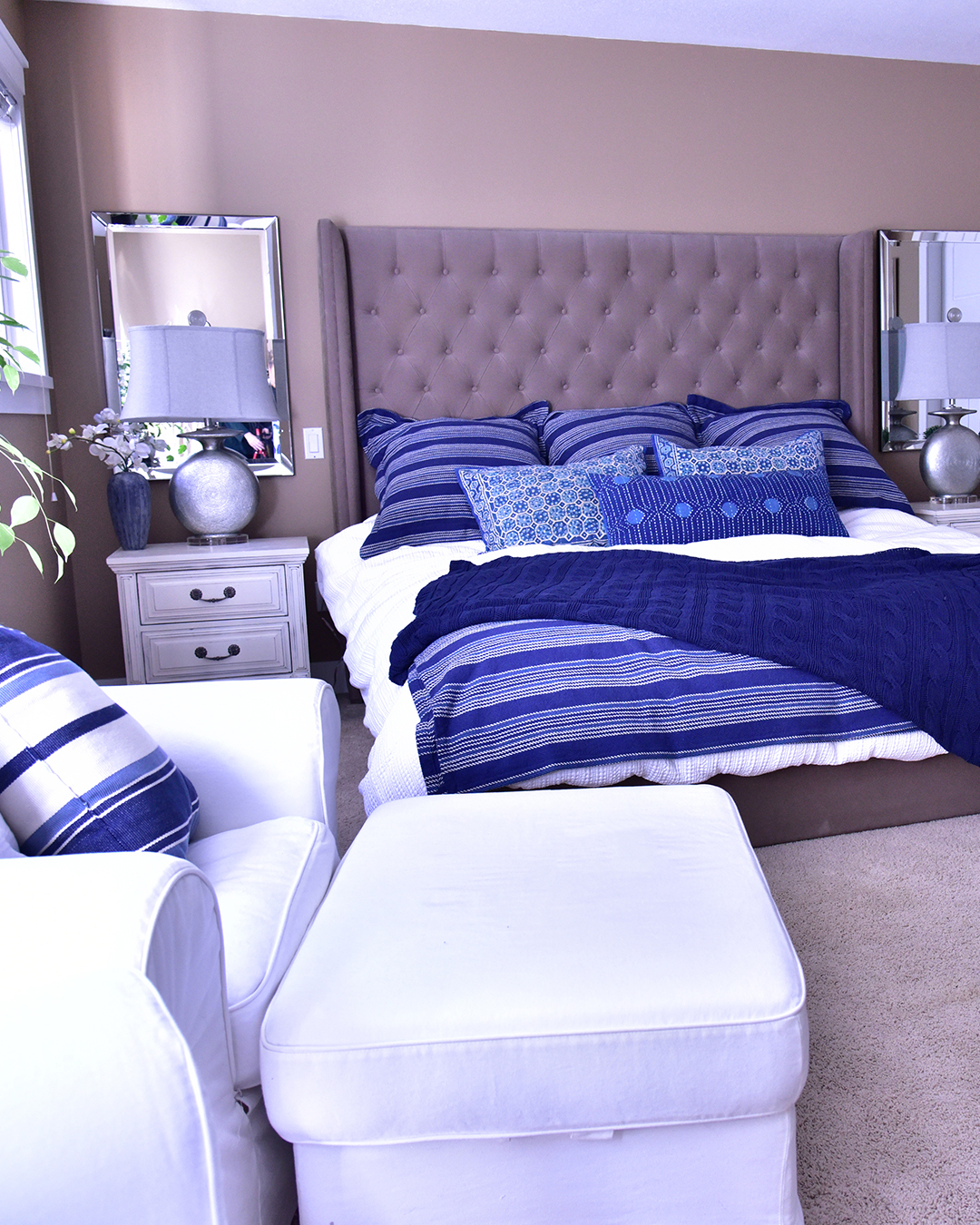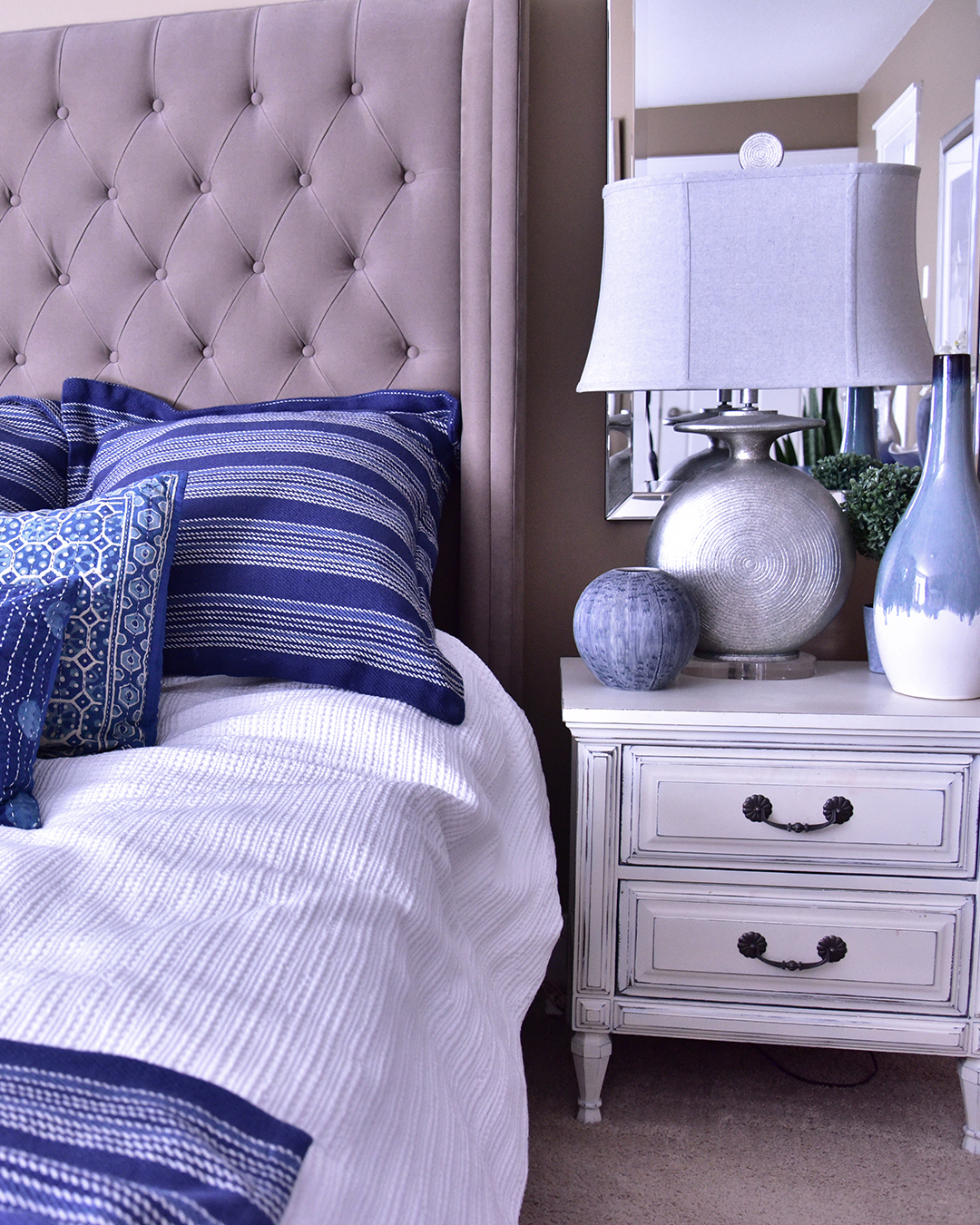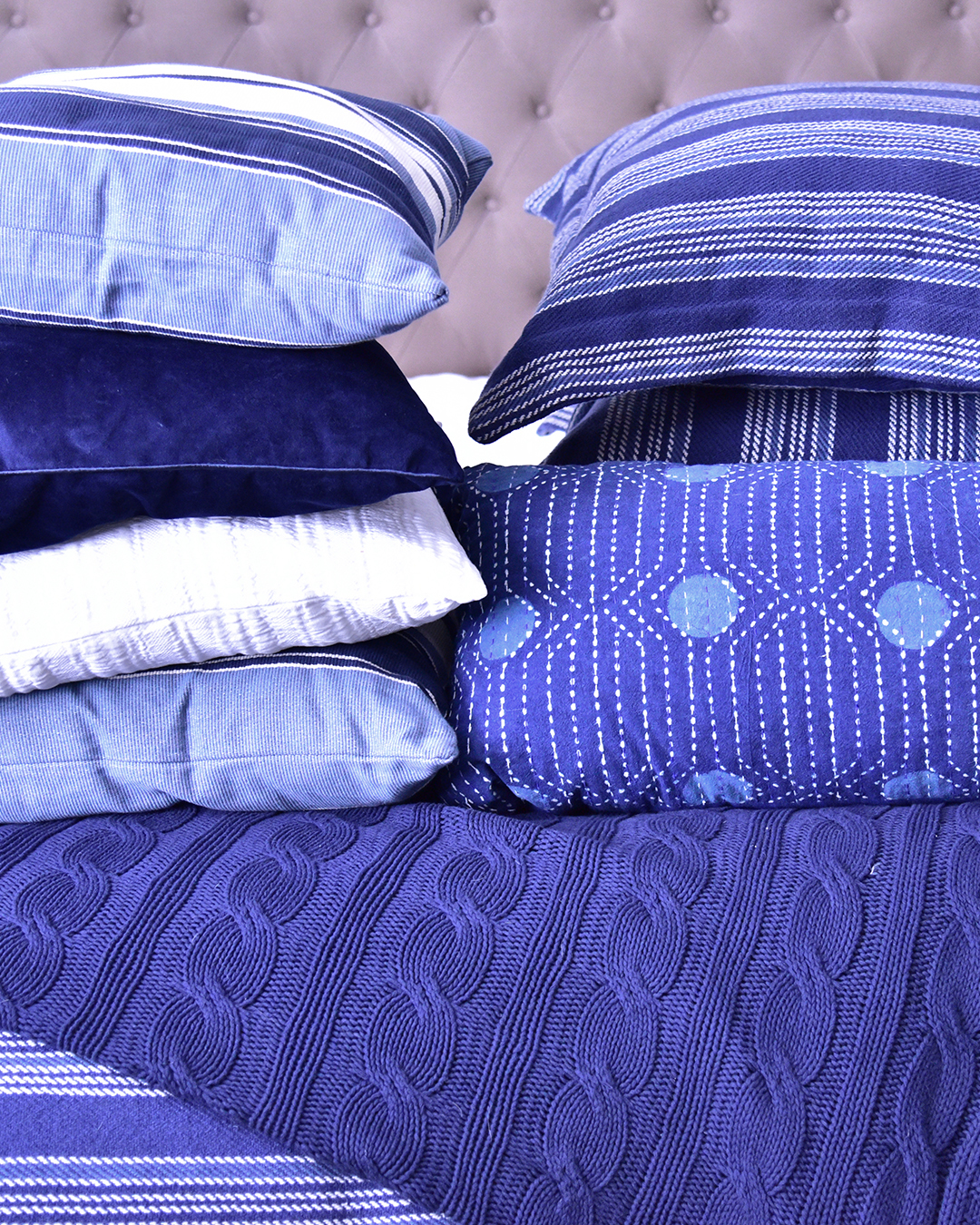 Shop the Modern Coastal Bedroom Post