Fall Home Decor & Fall Decorating Ideas
Harvest & Fall Home Decor:
It's Time for a Little House-Warming
Autumn is a time of stunning natural beauty with decorating ideas just waiting to be discovered. I've been gathering the best in fall decor and decorating ideas. From lustrous gourds and breath-taking fall foliage to pine cones, birch bark, dried leaves and twigs, it's easy to create a stylish, cozy and memorable setting for gatherings with friends and family. Nothing is as inspiring as the fiery colors and inviting textures that Fall captures.
Create a stunning fall home decor centerpiece with gilded pumpkins, soft candlelight and hand blown hurricanes filled with dried pomegranates, nuts, cranberries and leaves. Vintage wood trays can be loaded with various sized pine cones and fall foliage. Fill empty spots with a striking array of Autumn leaves. Fill a buffet with earth-tone serving pieces and linens with fall-inspired napkin rings. Create a popup bar on a chest or console. Use wreaths and other holiday decor throughout the home. Mix formal and rustic to create a relaxed yet elegant setting. Chase away the chill with cozy accents that warm the soul and invite relaxed and easy conversation. Finish the warming effect with soft throws in subtle harvest shades from wheat to cranberry. Images above photo courtesy of: Southern Living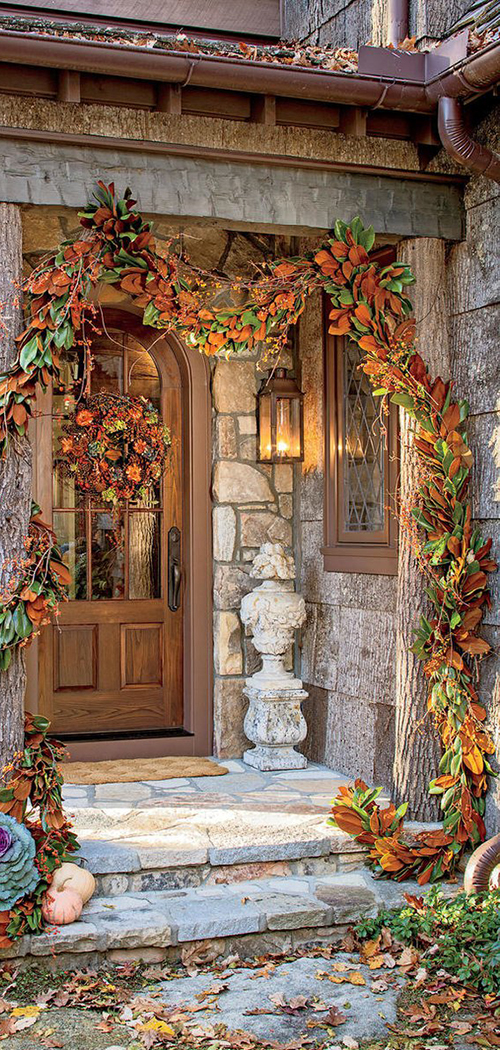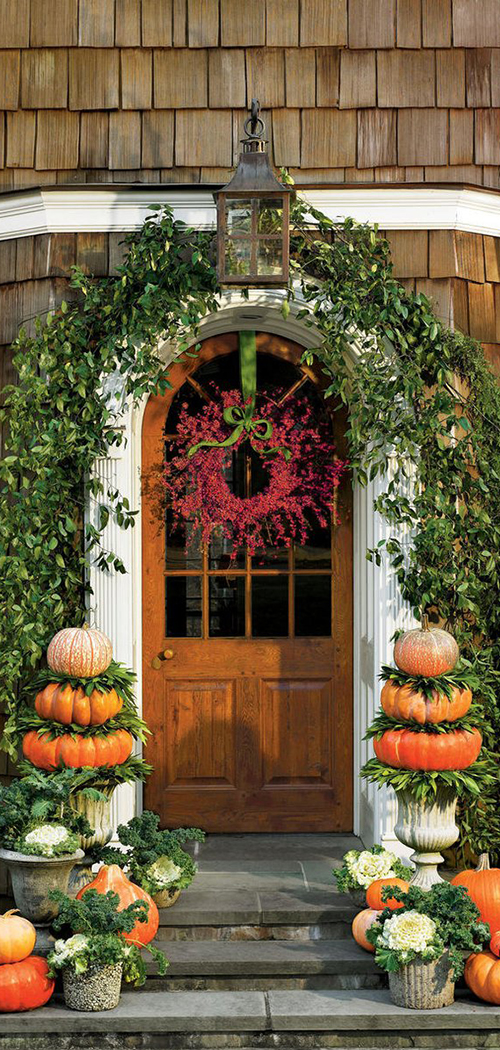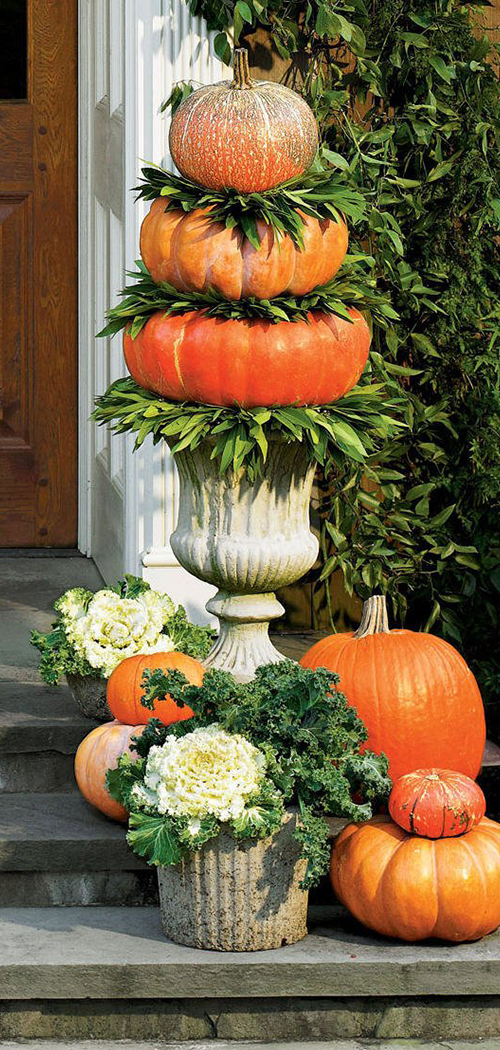 Fall Home Decor & Decorating Must Haves

Heirloom pumpkins
Fall table runner and napkins: a seasonal table runner in rich Autumn tones
Fall-themed dishes, pillows and throws
The building blocks: white porcelain dinnerware and serving pieces go well with seasonal decorations.
Mums in the same fall hue
Go a little nuts: Scatter colorful leaves, real or faux around your table, along with a few one of a kind fall accent pieces and mixtures of nuts
Autumn inspired candles
Branches from outside
A Golden Glow: think of the autumn sun giving off a soft, warm glow. Capture that pure natural beauty with a glass hurricane or jeweled lantern
Briarwood Cottage Wreath Garland Foliage
Lend calming countryside beauty to your home with the rustic look of our Briarwood Cottage Foliage. Composed of white hydrangeas with blush tips, berry accents, and autumn leaves, this collection creates an inviting ambiance with colors that capture the softer side of fall.
Apple Spice Foliage
Bring rich autumn colors to your home with bountiful arrangements of red apples and hydrangeas mixed with cinnamon sticks and fall leaves. Crafted and painted by hand, this collection complements your seasonal décor with inviting warmth and texture. Place orchard-inspired fall foliage on your front door or mantel to set the stage for festive fall celebrations.
Fall Home Decor & Decorating Ideas From SouthernLiving
Natural Tablescape
Simple white plates paired with timeless flatware and thin stemware keep a  rustic setting looking elegant. Bold orange napkins add a pop of seasonal color.
Etch Your Pumpkins
Announce your address in style by cleverly etching your house number (or your initials or name) into a pumpkin. You can pile a combination of traditional and heirloom pumpkins on your front steps, and top with your etched design.
Fall Home Decor Foliage Arrangement
The key to arranging leaves is to group them by size and color as you would flowers. Fiery red maple makes a beautiful focal point when countered with the feathery foliage of dawn redwood laden with globes of gray-green-fruit on the fringes.
Line Your Steps
There's a reason you see mums each fall—they work. Once buds begin to open, you're guaranteed blooms whether your display is in sun or shade. To prolong the show, water when dry and remove spent flowers. Pair with Mexican sage and boxwoods for this stunning display.
Make Pomanders: Display oranges studded with dried whole cloves for a festive and fragrant addition to your fall decor.
Fun Serving Pieces
Topped with silver serving pieces, pale gray and green pumpkins add interesting height to your buffet.
Fall Home Decor Front-Door Harvest
Pair pumpkins with potted kale to create a warm welcome. Grace an entry with a garland made of clippings from the garden.
Pile Them On
For a quick and easy approach, group your favorite tiny pumpkins on a side table, and let the collection speak for itself. There is no right or wrong way to create this display. This arrangement looks unintentional, adding a carefree, casual seasonal touch.
Blooming Pumpkin
To make an arrangement, choose your favorite pumpkin (we like the flat-bottomed Fairytale) and pick up some violas, pansies, red and green leaf lettuce, thyme, and rosemary to decorate. Clean the pumpkin with a Clorox wipe, cut a hole in the top, and scoop out seeds. Line with aluminum foil or a plastic bag, and fill three-quarters full with potting soil and plants.
Pumpkin Topiary
Vertical displays make a big statement at the front door. Tucking in cool-weather edibles such as ornamental flowering cabbages, kale, and bay leaves adds a distinctive twist. To create topiaries, sandwich bay wreaths between pumpkins stacked in concrete urns, and top with a small pumpkin.
Make Custom Candleholders
Transform mini pumpkins into luminarias by cutting a 1-inch-wide circle into each pumpkin, scooping out the centers with a tablespoon, and inserting votive candles.
Fall Home Decor Fancy Pumpkin Display
It's simple to decorate pumpkins with just a few supplies from the hardware or crafts store. Create stylish seasonal decor with some gold and black paint and place them all around the house.
Rustic Centerpiece
Naturally shed antlers lend a new twist to table decor. Pile them up with different-colored pumpkins, pine cones, and loose nuts and bring the outdoors in.
Add Height to Your Pumpkin Display
Arrange branches, dried grasses, moss, squash, and small pumpkins in a vase as you would a traditional flower display. Then, choose a single pumpkin with an interesting shape or a twisted stem to showcase. Place it on a smaller table or stool to help set it apart from the rest.
Cornhusk Garland
Construct an easy-to-assemble Indian corn garland beginning with a piece of sisal rope. If you like, dye it dark brown or a golden maize shade. Wrap it with broomcorn, corn tassels (stalks are available at farmers markets), or other dried grasses. Place corn along the rope single file or gathered in bundles of three. Wire corn securely in place, and then tie raffia on top for a finishing touch. Hang your garland across a door or from your mantel.
Mantlepiece Arrangement
Celebrate the bounty of fall with multiple show-stopping arrangements. Orchids, lotus pods, rose hips, and cattails brighten this dining room.
Candlelight Dinner
Complete your tablescape by adding candles in fun lanterns that complement your color palette. Mix in simple canning jars for a more casual affair.
Traditional Pumpkin Mantel
Choose an assortment of small pumpkins and squash in muted colors that complement the surrounding style. Bring in other items from around your home that you wouldn't normally think to pair with pumpkins, such as julep cups and old books covered in elegant paper. The key is to keep the look simple by sticking to the same basic color tones.
Tabletop Garden
For an arrangement that will last through Thanksgiving, place a potted oncidium orchid in a large, lined cachepot, and surround it with water-soaked florist foam. Insert cut fall foliage into the foam along with dried crepe myrtle pods and rose hips. Then add stems of orange dendrobiums in water-filled florist tubes.
Vibrant Fall Colors
Combine the season's hottest hues in a vibrant mix of 'Snapshot Orange' snapdragons, 'Purple Pixie' loropetalum, and bright 'Penny Clear Yellow' violas. Tuck in the showy foliage of 'Sparkling Burgundy' heuchera to complete the look.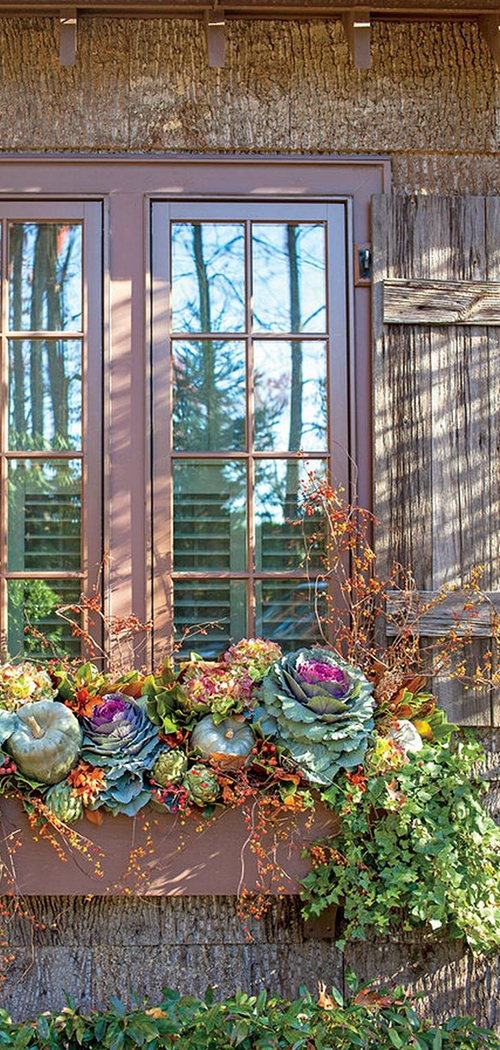 Share This Story, Choose Your Platform!