12 Beautiful Christmas Trees
Nordic Frost Ornament Set
Celebrate Christmas with the understated elegance of Scandinavian design. These hand-painted glass ornaments feature delicate hues of white, red, and silver complemented by hand-applied beading and glitter accents.
Shop the Look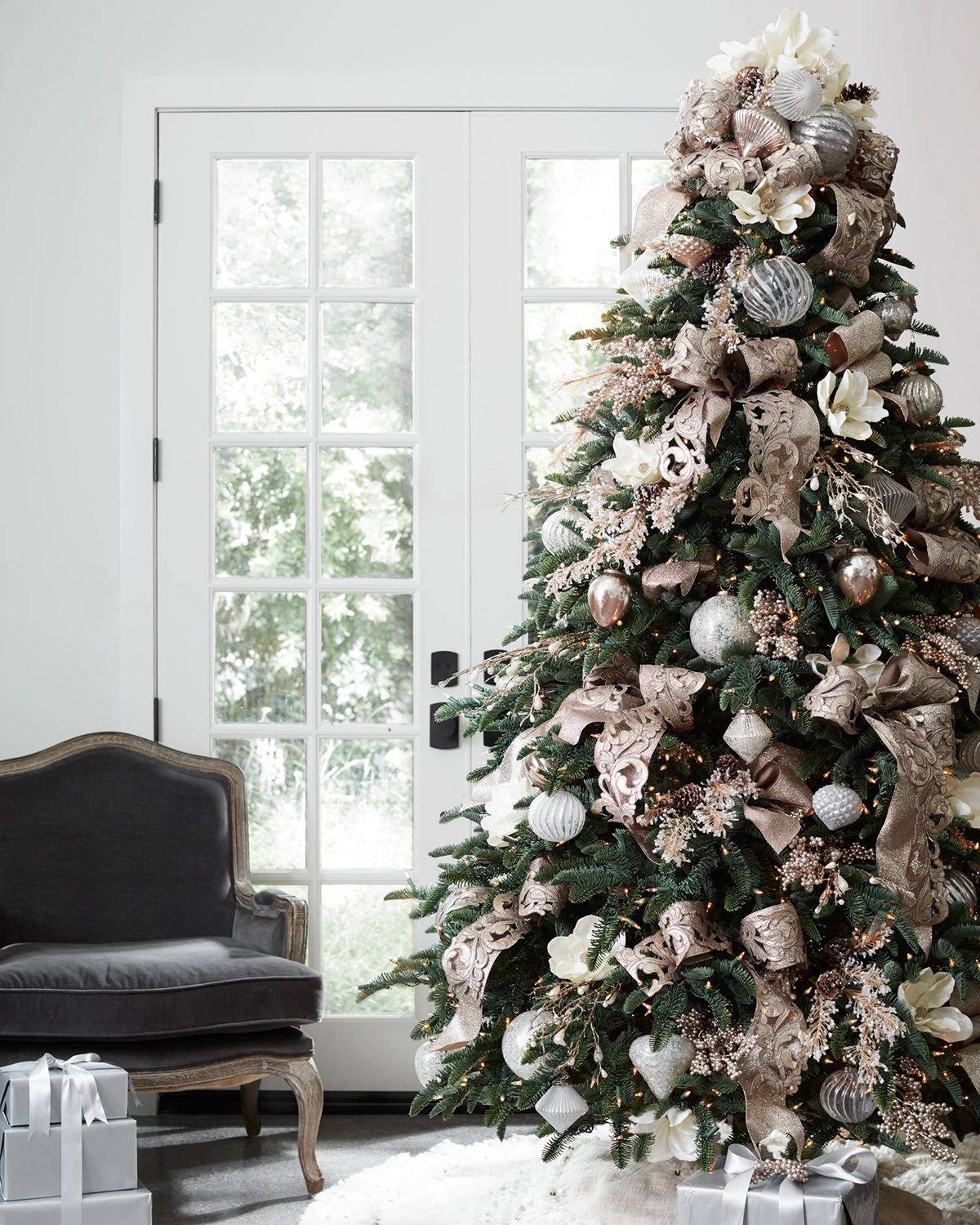 French Country Ornament Set
Inspired by antique French baubles, these glass ornaments are reminiscent of the subtlety and sophistication of French design. Each piece is handcrafted from thick mercury glass and comes in a variety of finishes that add texture and contrast to your holiday decorations.
Shop the Look

Winter Wishes Ornaments
This stunning Christmas Tree was designed using ornaments in gold, blush with ivory accents. Complete the enchanting look by pairing this collection with holiday floral picks for a touch of romantic elegance.
Shop the Look

Royal Blush Ornaments
Dress your tree in a dream-like collection featuring hand-painted chinoiserie designs, pottery-inspired shapes and opalescent and dew-kissed finishes. Despite its whisper-soft palette, this collection of mouth-blown glass ornaments captivates with hand-applied gemstones, trim, sequins and beading.
Shop the Look

Delft Blue Christmas Ornaments
Dress your tree in the unexpected freshness of delftware, translated from porcelain to mouth-blown glass. The richly handpainted Delft Blue 40-piece Ornament Collection includes varied floral designs in the style's blue-and-white palette, complemented by a sprinkling of gold for holiday sparkle.
Shop the Look

My Christmas Tree

Here's my own Christmas Tree this year.  Last year I made the decision to get rid of the red and green ornaments we'd been using for the past 15 years and update with metallics in silver, gold and blush.  Our tree looks a little sparse before being decorated, so I purchased larger scale flowers and shimmering leaves to fill in the gap. I ordered the bows for the gifts from Amazon, and was surprised they had to be assembled.  On a good note – they were super easy to make.  You just have to pull two loose strings and they automatically form a beautiful bow.
I ordered the Satin Wired Glitter Ribbon from Michael's and used it to create a bow at the top of the tree.  Next year I'll order more and use it throughout the tree, as it's stunning! It has a beautiful color, with just enough bling.
Shop the Look

Midnight Frost Ornament Set
This glass ornament set gives your Christmas tree the enchanting look of a moonlit winter evening. Featuring icy shades of blue embellished with sparkling details, our collection complements a wide variety of decorating themes.
Farmhouse Christmas Ornament Set
This exclusive set offers an eclectic mix of traditional designs to spruce up your Christmas tree with rustic charm. This collection includes assorted glass ornaments hand-painted in an updated Christmas color palette of sage green, burgundy, and blue. The mixed materials ornaments include miniature sleds and ice skates, fabric reindeer, and vintage sleigh bells, charming pieces that evoke the cozy look of a wintry countryside cottage.
Shop the Look

Burnished Metal Christmas Ornaments
Create stunning contrast with earthy tones and hints of gold. Add luster to your tree with the blend of glittery glamour and old-world elegance of these metallic ornaments.
Shop the Look

Winter Frost Glass Ornament Set
This collection features intricately hand-painted blown glass ornaments in the stunning colors of frost blue, champagne, and platinum for a captivating wintry effect.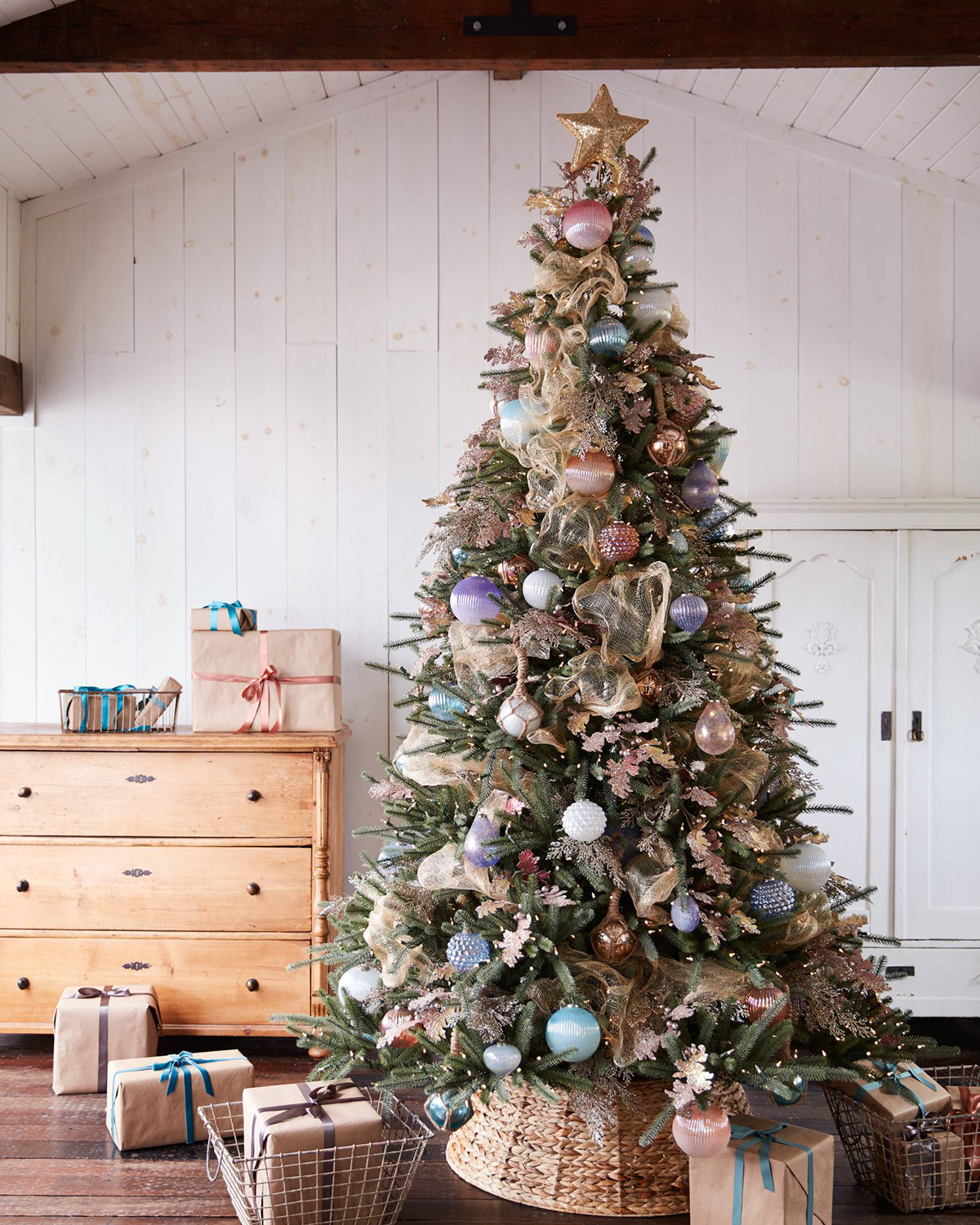 Coastal Elegance Ornament Set
Add a splash of seaside beauty to your Christmas tree with coastal ornaments in pearlescent pastel hues. The 25-piece set includes classic spherical shapes with gentle ombré color effects and varying textures resembling that of sea glass. Larger-sized ball ornaments deliver a bold statement of style, while knotted rope ornaments reminiscent of traditional glass floats impart an understated nautical charm to your holiday display.
Silver & Gold Glass Ornament Set
Christmas Decorations