Coastal Decorating Ideas ~
Bring Home the Beach
Coastal decorating & design is more than just a look, the coastal decorating style lets in the breezy laid-back vibe of the beach with a gorgeous palette of crisp white and maritime blues. It also works well with a sandy palette and gentle hues of blues and greens paired with whitewashed accents.
Nothing says "coastal living" quite like an open living room, oversized sofas, nautical stripes, and sea-inspired accents such as ropes, sailboats, and sea-side prints.
"The coastal decorating style is more than stripes, shells or shoreline – it's both a mood and a look. Breezy and laid back, Coastal draws inspiration from the arid climates of Southern California to the charm of the Carolinas. With a neutral foundation and your favorite nostalgic accents, you'll be well on your way to capturing the easy, breezy vibe of coastal living."
Pottery Barn's Tips on Coastal Decorating
1. Form a sun-drenched foundation with whitewashed woods.

Refine your furniture's color palette to warm earth tones and light finishes to bring in some sun-drenched sophistication. Set the tone for a naturally inspired space by layering different textures like distressed wood and natural fiber rugs.
2. Nod to the nautical with stripes, whites and blues.
Put some prep in your step with throw pillows in iconic stripes and primary hues. Let bright whites, cherry reds, and royal blues do the heavy rowing. Pile on comfy pillows featuring classic stripes and plaids, then mix it up with crab designs and macramé.
3. Cast off a vacation vibe with cheerful, beachy accents.
While burlap bordered pillows and rope-wrapped lamps are coastal staples, we dare you to dip into the shimmer pond. Place a silver hammered tray atop a reclaimed wood side table, and bedeck your bed or sofa in sequined and embroidered pillows with shell and coral motifs.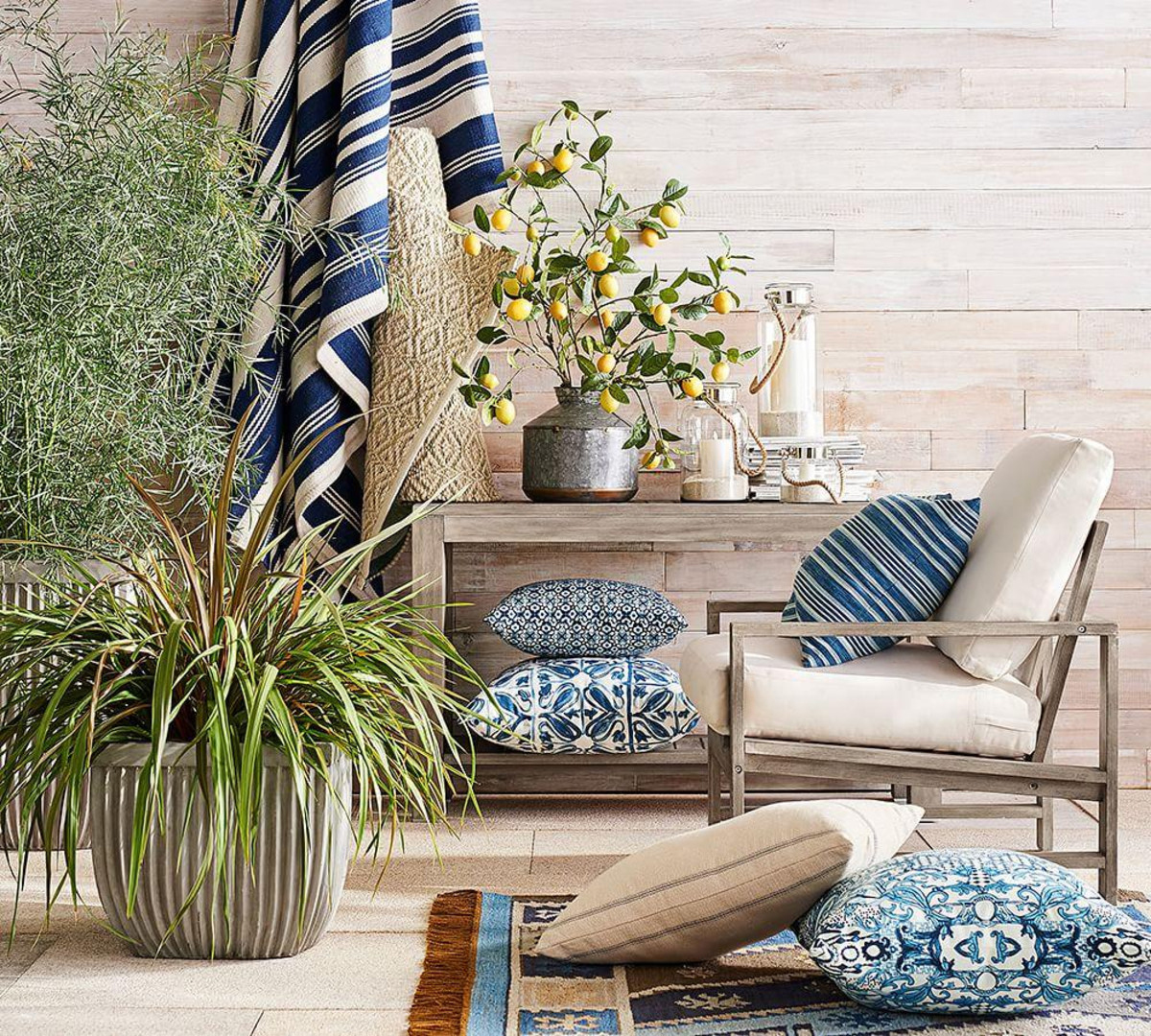 Shop Coastal Decor

Coastal Decorating Ideas Inspiration
The following images are courtesy of Steve and Brooke Giannetti, the owners of Giannetti Home.
This beautiful coastal home was inspired by the sand and sea. The soft hues harmonize perfectly with the home's casual beachy intent that begins in the living room with the seating in durable indoor/outdoor coverings. " We like to say our designs are ageless, classic and calm, " Brooke says, emphasizing the latter. In accordance, every room throughout the house benefits from an easy merger of sandy beige and aqua blue.